SABAP2
A Honeyguide conservation project
All Honeyguide's holidays in southern Africa — South Africa and Namibia — support SABAP2. This web page explains about project and our support, and has other conservation stories from South Africa.
The second South African Bird Atlas Project (SABAP2) is one of the most intensive monitoring programmes ever undertaken in South Africa. Many areas are difficult to access but critically need atlas work and ongoing monitoring work for BirdLife South Africa to understand the bird conservation challenges in these remote sites.
---
First, catch your rockjumper
Cape rockjumpers live in craggy parts of South Africa's SW Cape - rocky slopes and scree in the fynbos zone. How much connection is there between potentially isolated populations?
To study gene flow within the species, researcher have been trapping rockjumpers to get DNA samples. That's quite a challenge - and obviously so if you've seen where they live.
BirdLife South Africa reports here on recent efforts. The work continues.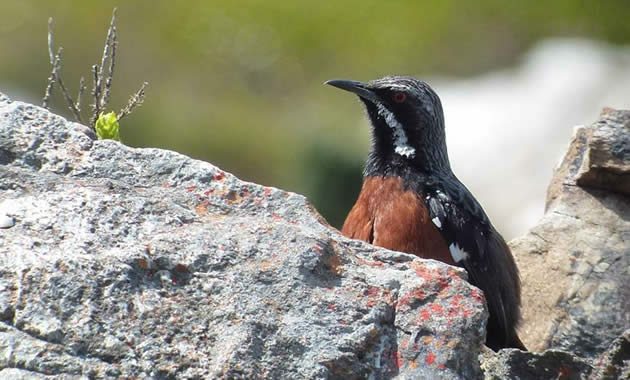 This story is part of a wider project on the conservation status of Cape endemics. Geoff Crane, Honeyguide's leader in South Africa, donated 2,000 rands to the Cape endemics conservation fund following Honeyguide's SW Cape holiday in autumn 2015 (report here), complementing Honeyguide's donation to bird survey project SABAP2.
_______________________
Thanks from BirdLife South Africa (October 2012)
"Your annual support of SABAP2 is gratefully appreciated. For a project like SABAP2, a donation of R8700 can go a long way to achieving the project goals (such as sending atlasers to an unatlased area). SABAP 2 is providing very valuable information which is supporting a number of important projects, including the Important Bird Areas Programme."
Mark D. Anderson
Chief Executive Officer, BirdLife South Africa
This was in response to Honeyguide's donation of £650 (inc Gift Aid). In addition, Geoff Crane has donated R4000 (about £280) on behalf of Crane's Cape Tours & Travel and Honeyguide to MammalMap, which is seeking to map mammals, throughout Africa, much as SABAP2 is doing for birds in South Africa.
_______________________
Honeyguide supports second South African Bird Atlas Project (2010). News about our support for SABAP2 though this holiday - £610 from Honeyguide, with an additional donation of R6,000 from Crane's Cape Travel - is on the SABAP2 website or go straight to the account here.
You can view a brief (eight slides) summary of year-by-year progress here.
_______________________
South African Secretarybirds tracked by satellite. News of this project, run by BirdLife South Africa and two other bodies, here (on the BirdGuides website).
_______________________
Honeyguide supports South African Bird Atlas (2009). The SABAP2 website (the full story is here) explains how Honeyguide's Garden Route holiday in 2009 supported the project, on that occasion raising £542 (approx 7200 rands) for SABAP2. That continued with our holiday in 2013, when a further £350 was donated. Similarly, we support SABAP2 through our other holidays in southern Africa, in Kruger NP, the SW Cape and Namibia.