Welcome to Honeyguide
Coronavirus, various updates: see news.
Welcome to Honeyguide Wildlife Holidays, with our 31st season of natural history holidays in very different circumstances to the previous 30 years.
There will be no Honeyguide brochure for 2021 on account of the uncertainties due to the coronavirus pandemic, which makes longer-term planning difficult as rules and advice about travel overseas change on a regular basis.
Therefore, this website becomes the main reference for Honeyguide's holidays. The programme is more limited and changeable than usual, with the main focus on UK short breaks for the time being. Breaks planned for November 2020 had to be called off and could run later this winter if rules allow and there is interest.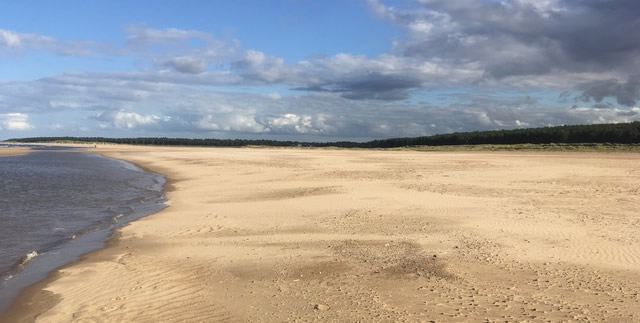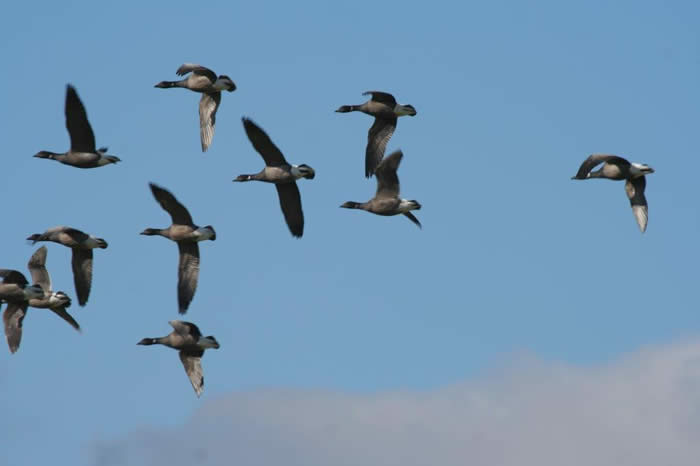 Holkham Beach, North Norfolk; brent geese, icon of Wild Essex.
These two follow up our successful Norfolk breaks in September, which could run again this winter. Weekly local walks in Norfolk have started (though suspended from 5 November for a month): contact us if you'd like to go on the circulation list for these.
We are pleased to help with group holidays – a holiday for (say) five friends could work with current restrictions. Please browse our nature notes too.
* * * * * * * * * * *
The website's menu on the left hand side lists oversea holidays for autumn 2020 and early 2021, as originally set up. However none of the overseas holidays this year (2020) will run.

Below that (and also on our calendar) are plans for 2021. However for now we are not taking bookings for holidays listed here, in case travel is not possible. That especially applies for countries where travel is contrary to FCO advice, such as Spain and France. There is no sense in taking bookings until we know travel is possible. If things become easier and an appetite for travel overseas returns - about which hearing from you helps a great deal - we'll look at additional holidays.
If you would like an old Honeyguide Wildlife Holidays brochure, please contact us.
Some holidays run in the past are in our archive section, and many of these could return to the programme in a future year.
The Honeyguide Wildlife Charitable Trust remains strong, though inevitably there are far fewer donations to conservation projects in 2020 than usual. This works through a conservation contribution with each overseas holiday of £40, which goes through the Honeyguide Wildlife Charitable Trust.
This idea, still surprisingly rarely copied, remains a simple and effective way of helping to protect the wildlife we enjoy. Donations to conservation projects linked to our holidays in 2019 totalled £6,840, and our running total since 1991 is £136,412 (to April 2020). Through the Honeyguide Charity, the taxman tops up our contributions.
Holidays give the typical flights we use, but where practical we can arrange flights from airports near to where you live, or help with other arrangements. Carbon offsets are part of each holiday's price. Prefer not to fly? We're happy to make that possible, more on our ATOL page.
Rules about selling travel insurance mean if you want Honeyguide's insurance you need to go straight to our broker rather than buying a policy directly from Honeyguide. Details are on our booking page and there is also help here on how to book parking and hotels at airports.
I hope you'll want to find out more by exploring this website further.

Chris Durdin
| | | |
| --- | --- | --- |
| Advice from FCO: | What does the ATOL logo mean? Read more here > | |