Picos de Europa
17 — 24 June 2019
Mountain wildlife in stunning scenery
Imagine stepping back in time when meadows were full of flowers and butterflies, with traditional management for hay and livestock. Picture this with a backdrop of jagged limestone mountains and you have a feel for the glorious wildlife and landscape in this corner of northwest Spain.
Variety starts with the range of habitats, with a Mediterranean feel at lower levels to alpine rock-gardens, but dominated in between these by hay meadows known as some of the most diverse in Europe. Many of the 150 species of butterflies and 1500 plant species are strongly linked to the limestone, though high altitude acid peat bogs add to the variety.


Puerto de las Señales
Flowers
Orchids are often the first flowers studied – more than 20 species on Honeyguide's previous Picos visit. These orchids included lizard, frog, Provence and the two colour forms of elder-flowered orchid, heart-flowered serapias and a local species of vanilla orchid. There is, of course, so much more: asphodels, rock-roses, pinks, saxifrages, globularias, gentians, the lovely 'three-birds' toadflax Linaria triornithophora – the list could go on.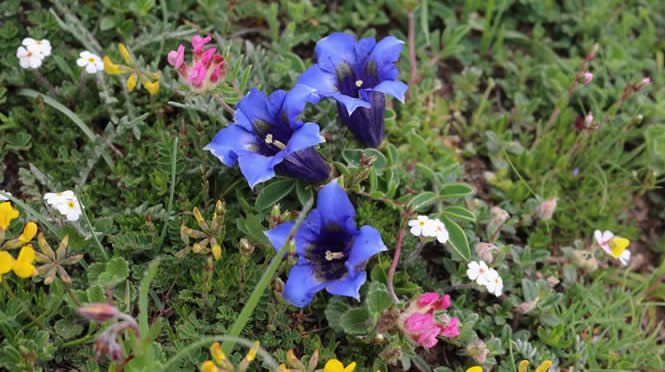 A trumpet gentian Gentiana angustifolia subsp occidentalis plus supporting cast.
Birds
Griffon vultures are the most numerous bird of prey, plus a few Egyptian vultures and an outside chance of seeing one of the reintroduced lammergeiers. Short-toed eagle, Montagu's harrier and honey buzzard are possible and black kites likely on several days. Higher areas have easy to see alpine choughs and a fair chance of finding alpine accentors, snowfinches and that most intriguing of birds, the wallcreeper. Rock bunting, red-backed and Iberian grey shrikes, rock sparrow, crag martin, Bonelli's warbler and bee-eater are more birds you wouldn't expect to see in the UK.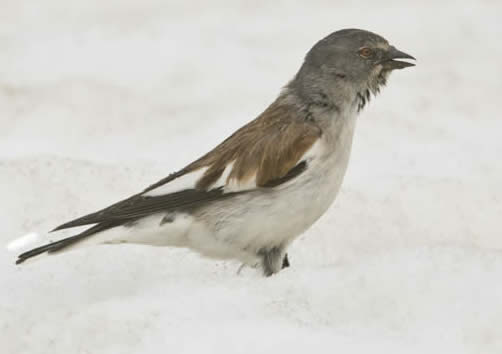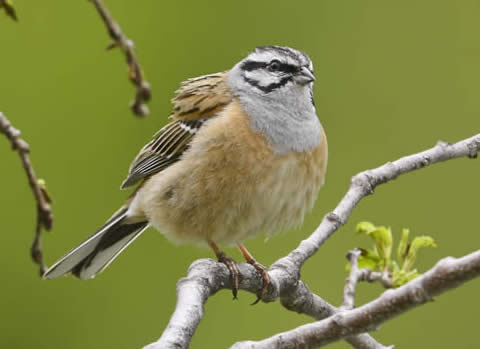 Snowfinch and rock bunting (Kevin Simmonds)
Butterflies and other insects
If you like butterflies, the Picos de Europa will appeal. Chequered skipper, marsh fritillary and purple-edged copper are good-looking butterflies: Cleopatra, swallowtail, Provençal fritillary and black-eyed blue a few of the supporting cast. There's a huge range of moths, day- and night-flying, for anyone with interest and expertise, plus various interesting looking beetles, spiders and more.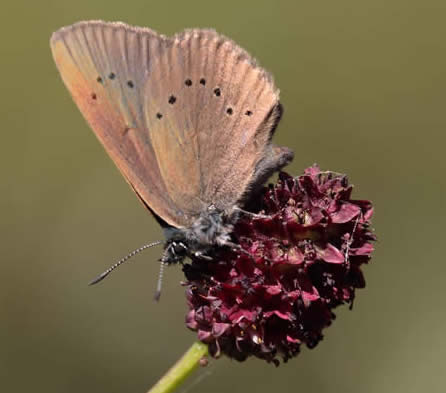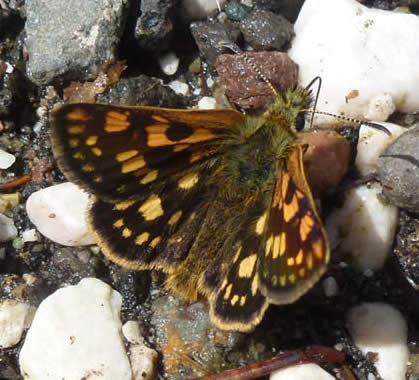 Dusky large blue, chequered skipper
Other wildlife
The Cantabrian chamois Rupicapra pyrenaica parva is the local subspecies of the Pyrenean chamois or isard, and is widespread, though not common, in craggy areas. With a little luck we might find a red squirrel or snow vole; wild cats and brown bears are present in the Picos but secretive. The most sought after reptile is Schreiber's green lizard and marbled newt is the star amphibian to look out for.
Pretty towns, rushing mountain rivers and some of the finest scenery in Europe give a charming context for the wildlife.
Holiday details
Our base is the Hotel Tierra de la Reina in the small town of Boca de Huérgano, where a Roman bridge over the River Esla is within walking distance. Excursions are a mix of local trips and drives to farther afield, including Puerto de las Señales mountain pass, Valle de Valdeón, a Spanish juniper forest, and by cable car to the high plateau at Fuente De.
Price: £1,450 per person in twin room fora full week (Wednesday to Wednesday).
Single room supplement: £100
En suite facilities
Flights: Scheduled Ryanair flights Stansted to Santander
17 June: FR2612 depart London Stansted 11:45 arrive Santander 14:45.
24 June: FR2613 depart Santander 15:10 arrive Stansted 16:05. 
Deposit: £300
Maximum number (two leaders): 14
Leaders
Pau Lucio lives near Valencia and runs a wildlife tour company Birdwatching Spain. Locally he is involved in conservation projects on bird migration and the importance of Spanish coastal wetlands for species such as the moustached and Savi's warblers. He is our regular guide in Valencia and La Mancha but also spends time every year in the Picos de Europa.
Chris Durdin is the driving force behind Honeyguide, running holidays since 1991. For many years he combined this with his work for the RSPB in Eastern England, often the Society's spokesman, but has been concentrating on Honeyguide full-time since 2009. Chris is the co-author of a book about Norfolk's cranes and leads regular walks on his local wildlife trust nature reserve, Norfolk Wildlife Trust's Thorpe Marshes. He's also been involved in youth soccer for ten seasons, and is a barbershop singer. As a naturalist, Chris is an all rounder.
Conservation project
Asociación Zerynthia is a small Spanish NGO dedicated to the study and conservation of butterflies and the places where they live and to promoting public interest in them.
| | |
| --- | --- |
| A current project in northern Spain is habitat restoration to encourage white-letter hairstreaks, including planting disease resistant elms, the larval food plant. | SUPPORTING |