NWT Thorpe Marshes
The paths are OK, wet and muddy here and there, though that could change at any time. Overtopping of water into the marshes is possible if there's a high tide on the River Yare. 18 February.

Recent blogs: Three swans a-swimming ... on the path (January 2019, slightly updated from version in December 2019); A wet day in November (November 2019); October at NWT Thorpe Marshes (October 2019); Notes from Thorpe Marshes (August 2019). There is a full blog list in the right hand column.
Thorpe St Andrew Marshes – NWT Thorpe Marshes for short – is one of the Norfolk Wildlife Trust's newest nature reserves, established in 2011. It's in the Norfolk Broads yet on the edge of Norwich in Thorpe St Andrew. It also happens to be my local patch – just down the road from home and the Honeyguide office, writes Chris Durdin.
Winter — December to February: the refuge value for birds of the marshes and and especially the broad increases when it's cold. Tufted ducks normally outnumber pochards; goldeneyes were regular in the autumn, though have moved on now. Teal and snipe numbers build, but vary. Cetti's warblers often sing and there's a regular stonechat, sometimes two.

 
Tufted ducks (mostly), pochards, gadwalls, 24 January 2018 (Derek Longe).
Publications about NWT Thorpe Marshes
Key bird records for NWT Thorpe Marshes in 2019 are in James Emerson's The Birds of Whitlingham & Thorpe 2019, which includes Thorpe Marshes reserve in the area it covers.
There are Thorpe Marshes wildlife reports for 2012-2017, including a range of wildlife records, a review of the year and other activities on the nature reserve. For these , scroll down to 'Wildlife reports & guide'. A wildlife report for 2018-19 is coming soon: contact Chris if you'd like an advance copy.
Local history
These two blogs give an insight into Thorpe Marshes in the 1960s.
Thorpe Marshes in the 1960s (January 2018) and Thorpe Marshes in the 1960s part 2 (April 2018).
NWT Thorpe Marshes Volunteer Group
This group meets once a month on a Friday at the pedestrian railway bridge at the end of Whitlingham Lane, Thorpe St Andrew.  Activities vary and are a mixture of practical conservation work (especially in winter) plus surveying and wildlife ID.
Dates for 2020, all Fridays: 31 January, 28 February, 27 March, 24 April, 29 May, 26 June. All are 10am-1pm. Contact alanm@norfolkwildlifetrust.org.uk
Thorpe Marshes are at the end of Whitlingham Lane, Thorpe St Andrew, Norwich, NR7 0QA, OS Grid reference TG 266 083.  Please note that this is the Whitlingham Lane which is North of the river, NOT the one accessed from Trowse. 
Willow Emerald damselflies
Thorpe Marshes is a great place to see this damselfly in season (late July to October) and to discover more. Willow Emerald egg-laying scars are clear if you know where to look throughout the winter. A local discovery at Thorpe Marshes (January 2018) is Willow Emerald egg-laying scars on domestic apple - a first for the UK. More about this and other unusual places for scars here.
Blogs about Willow Emeralds:
■ What are the chances of that happening? (August 2017) [by Derek Longe].
■ Pretty damsels (September 2016).
■ Willow Emeralds return to Thorpe Marshes (October 2015).
■ A Gem of an Emerald (September 2014).
Gallery of photos of dragonflies and damselflies of NWT Thorpe Marshes on Facebook here includes several Willow Emeralds. A Willow Emerald at Thorpe Marshes on 6 November 2017 appears to be have been the last sighting for 2017 in the UK.
Willow Emerald Damselfly paper, featuring Thorpe Marshes: "WILLOW EMERALD DAMSELFLY CHALCOLESTES VIRIDIS OVIPOSITING INTO BRAMBLE" by Derek Longe (10MB pdf). In Atropos Issue 58, 2017, and is reproduced here with the kind permission of the editor. See also Derek's NWT blog. Autumnwatch's feature on Willow Emeralds is here on YouTube - the piece on Willow Emeralds starts at 16:26.
Recent sightings
2020
18 February, guided walk: excellent view of female stonechat, cormorant in breeding plumage (white thigh patch), little egret seen well, a handful of tufted ducks, teals and gadwall, water rail heard, singing reed bunting and song thrush. Lesser celandine, coltsfoot, cherry plum and deadnettles in flower.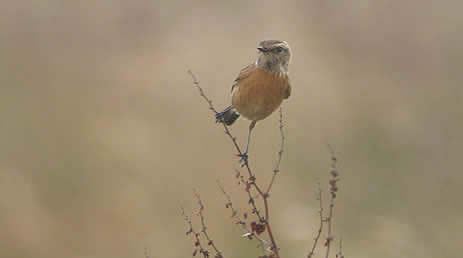 Good views of the female stonechat today, despite windy conditions.
14 February: 2 pied wagtails flew over, 2 stonechats, pheasant, still low duck numbers. Coltsfoot and cherry plum in flower.
6 February: stonechat, water rail heard, low duck numbers in this mild and sunny weather, bits of bird song e.g. robin, great tit, Cetti's warbler. First Coltsfoot in flower near the river (see 'look out for'). The link is to an old blog dated late March, which shows it's early this year.
29 January: 2 stonechats (♂&♀), sparrowhawk. Wildfowl as follows: 50 tufted ducks, 9 gadwalls, c.8 teal (mostly hidden in vegetation), 3 mallards, 1 great crested grebe, 2 cormorants, 1 moorhen. Fairly typical for a mild spell.
26 January: mild weather continues. Duck numbers still relatively low. Pheasant, ♀ flew in from south of the river.
15 January, guided walk: buzzard, little egret, ♂ stonechat, low numbers of teal, tufted duck and gadwall. Water rail, pheasant & Cetti's warbler heard. 2 song thrushes singing; excellent view of great spotted woodpecker. Jelly ear fungus still easy to see.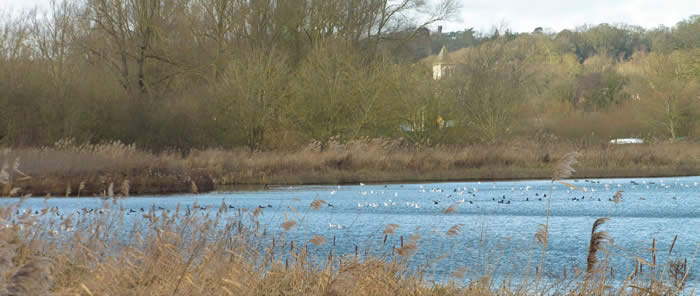 Gulls and ducks gathered at the more sheltered western end of St Andrews Broad on 11 January.
9 January: 1♂ wigeon with a few tufted ducks, gadwalls and teal. 2 stonechats (♂&♀), pheasant. Buff-tailed bumblebee on this very mild day.
1 January: c.300 gulls, mostly black-headed, also common, herring, lesser black-back. 2 pochards, several gadwalls; teals gone this morning. Sparrowhawk.
2019
31 December: 1 stonechat, water rail & Cetti's warbler heard, a good sprinkling of teals, tufted ducks and gadwalls.
30 December: 2 stonechats (JE).
20 December: 2 little egrets, stonechat.
17 December, rather wet guided walk: good numbers of teals, other duck numbers still low. Kestrel, 3 snipe, Cetti's warbler, stonechat, mixed tit flock.
13 December during wildfowl count visit: 2 red kites, marsh tit, coal tit, 2 goldcrests and a treecreeper with c35 long-tailed tits in a flock (JL).
11 December: ducks in low numbers: most of the diving ducks absent today. Stonechat, water rail heard.
4 December: 5 little egrets! Stonechat, 3 goldeneyes, vocal teals.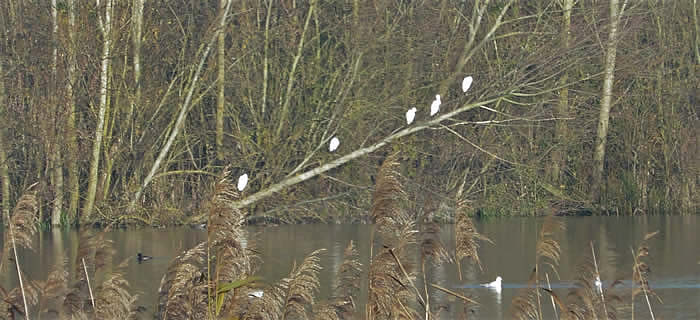 Five little egrets, St Andrews Broad, 4/12. Not the best of photos, but still identifiable.
1 December: water rail vocal near reserve entrance. Stonechat, reed bunting. c.90 tufted ducks, pochards, 5 goldeneyes.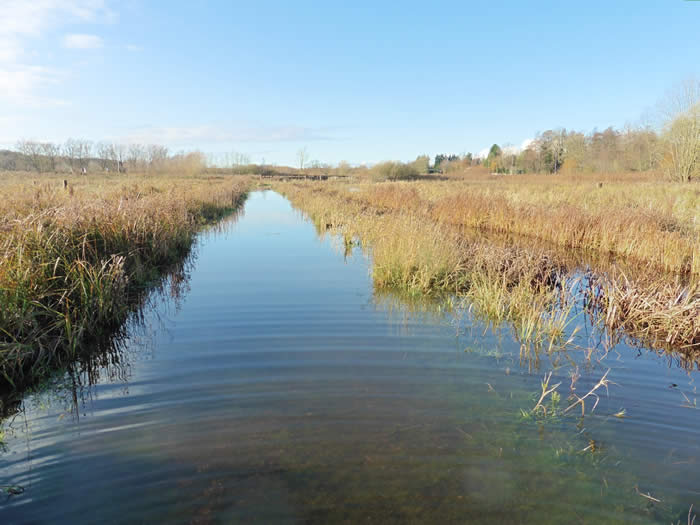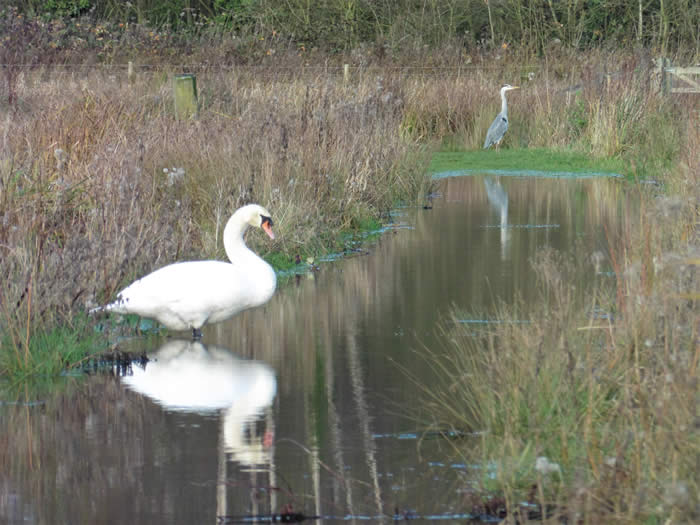 1 December: flooded paths through the marshes, one with a mute swan and heron.
29 November: big flock of pink-footed geese flying over, heading east.
22 November: 187 tufted ducks, 19 pochards, 3 goldeneyes, male stonechat.
16 November: 3 goldeneyes still, stonechat, water rail heard.
15 November: cattle depart.
14 November, very wet guided walk: jelly ear fungus, lots of tufted ducks, 3 goldeneyes still there.
13 November: water rail heard; no sign of stonechat; 3 goldeneyes (2♂, 1♀) [5 goldeneyes recently (MB)].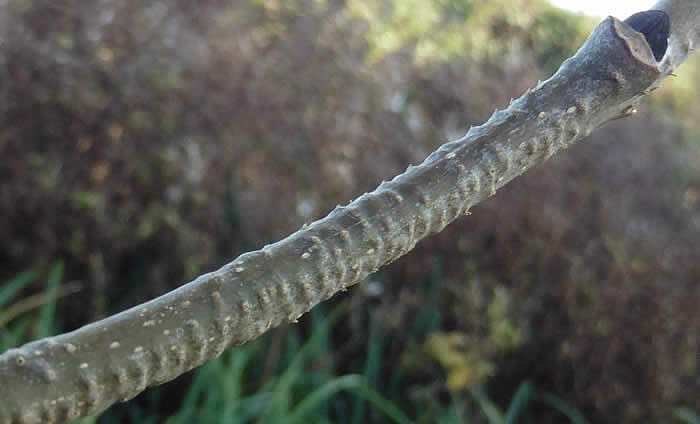 Bare twigs make it easy to look for willow emerald damselfly egg-laying scars: these are on ash.
6 November: stonechat, meadow pipits, water rail heard. Duck numbers still low but a nice variety: gadwall, mallard, teal, tufted duck and 3 goldeneyes.
28 & 29 October: flocks of pink-footed geese flying over. 29 October: 2 goldeneyes in the corner of the Broad.
18 October, guided walk: a small toad (unusual record here). 3 stonechats, rook. Spindle: 3 small bushes with berries discovered. Willow emerald damselfly (photo here on Facebook), migrant hawker (after most people had gone).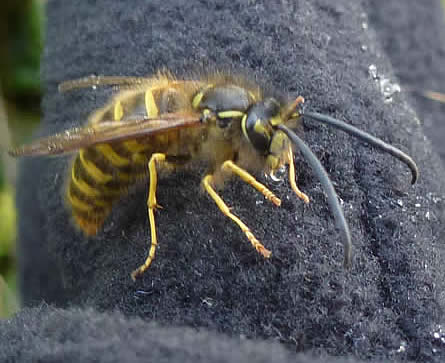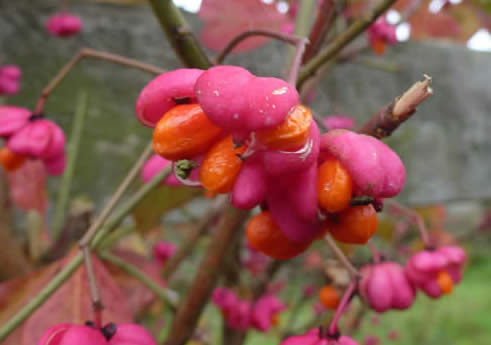 Median wasp Dolichovespula media we think; spindle berries.
17 October: willow emerald damselfly, common & ruddy darters. Red admiral. Stonechat, buzzards, meadow pipit, Cetti's warbler singing.
8 October: 3 house martins, 2 stonechats near bramble patch, skylark over; 2 meadow pipits, snipe, Cetti's warbler singing.
30 September: stonechats returned a few days ago (MB).
18 September: cattle arrive.
13 September, guided walk: 4-spot orb web spider (see right), kingfisher, willow emerald damselfly, migrant hawker and common darter dragonflies. Female southern hawker in flight. Ivy bee found in Whitlingham Lane after end of guided walk. Lots of flowers still, such as the September selection above.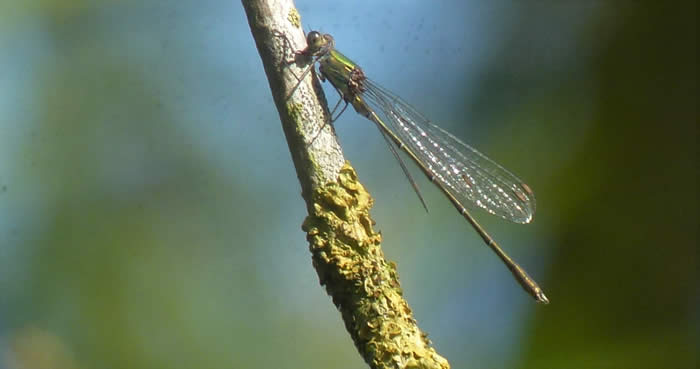 Willow emerald, 13 September 2019.
24 August: willow emerald damselfly in three places; migrant hawkers in large numbers, brown hawker, common & ruddy darter. Lots of butterflies, especially painted ladies and red admirals.
6 August, guided walk: sparrowhawk, buzzard, heron, several lapwings, 2 eclipse plumage tufted ducks. Lots of painted ladies, red admirals, peacock, small tortoishell, female common blue butterfly. Common and ruddy darters seen well through the telescope. Small red-eyed damselfly on vegetation in the mooring basin, alongside more numerous red-eyed damseflies. Elephant hawkmoth caterpillar - see below. Square-stalked St John's-wort, haresfoot clover and skullcap among many plants.


Elephant hawkmoth caterpillar walking across the bridge along the marsh track.
1 August: small red-eyed damselfly, still a few Norfolk hawkers, brown hawker egg-laying. Hemp agrimony and other high summer flowers looking very colourful.
29 July: small red-eyed and willow emerald damselflies; common and ruddy darters; last few Norfolk hawkers. Mother-of-pearl moth (DL).
23 July: Norfolk hawkers still on the wing. Marsh vegetation looking lush and colourful.
4 July, guided walk: Norfolk hawkers out late, 3 oystercatchers. Lots of plants including first (of year) marsh woundwort and square-stemmed St John's-wort.
Great pied hoverfly Volucella pellucens (Susan Weeks).

A good year for them, according to hoverfly enthusiasts.


Knot Grass Acronicta rumicis moth larva (ID by Derek Longe).
3 July: variable damselfly pair, teneral (just emerged) willow emerald damselfly, marsh harrier (DL).
30 June, Family Fun Day: lots of good views of Norfolk hawkers, four-spotted chasers, reed bunting and more.
29 June: summer flowers coming out e.g. purple loosestrife, meadow-rue, meadowsweet. Birds fairly quiet, a few murmurs from reed warblers and reed buntings. Oystercatcher, lapwing. Butterflies including painted lady, red admiral, small tortoiseshell, small copper. Dragonflies: lots of Norfolk hawkers, four-spotted chaser, emperor, black-tailed skimmer. Second record of variable damselfly for the reserve.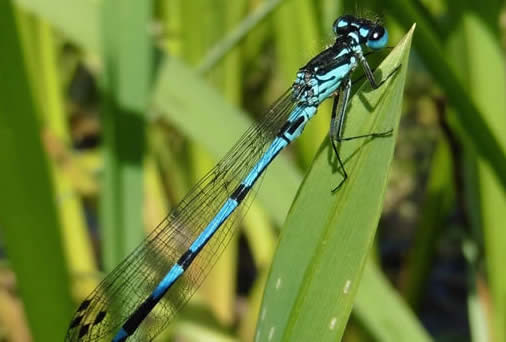 Variable damselfly, 29 June.
14 June: sunshine after the rain: lots of bird song. Linnet at bramble patch. Irises going over, valerian coming into flower.
12 June: nesting lapwings flooded out by recent heavy downpours (MB).
5 June: Norfolk hawkers out in good numbers. Male broad-bodied chaser. Lots of damselflies (as for 24 May). One (and only one) early marsh orchid this year. Counted 15 thick-legged beetles on ox-eye daisies on the track running up to the stile (see photo in 'look out for').
3 June, evening guided walk for South Yare Wildlife Group: a pair of lapwings appears to be nesting. Grasshopper warbler, faintly heard. Reed buntings and reed warblers. Two shelducks flew over. 8 tufted ducks (4 pairs) and gadwall on broad. Mute swans with 6 cygnets.
31 May: garden warbler in tall willow scrub by the riverside path.
24 May: 6 species of odonata: common blue, large red, red-eyed, azure and banded demoiselle damselflies, hairy dragonfly. Clouded border (below) and small china mark moths (DL).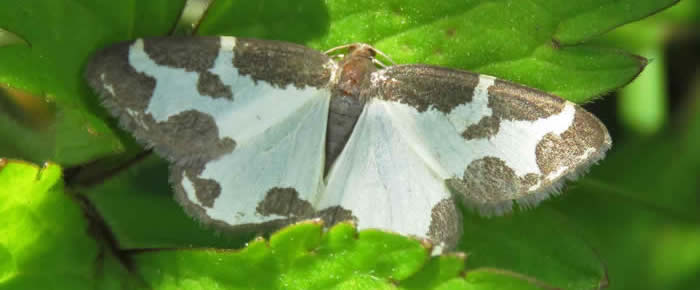 Clouded border moth (Derek Longe).
12 May: nothing new, but it sounded like there's been quite an influx of reed warblers.
8 May, guided walk in the rain: little egret on the 'flood'. At least 100 swallows over the broad, with a few sand martins and house martins. Sedge, reed, willow and Cetti's warblers singing, also whitethroat, chiffchaff and blackcap.
1 May: variable damselfly (male), first record of this species for the reserve (SW). Photos here.
21 April: whitethroat in full song, lots of sedge warblers (c.10), 2 male goldeneyes, 5 ♂ orange tips.
18 April, guided walk: good view of sedge warbler, reed bunting and chiffchaff, willow and grasshopper warblers heard. Butterflies: peacock, orange tip (several males) brimstone, small tortoiseshell, holly blue. Large red damselfly. 4 goldeneyes (2♂+2♀), pair of pochards with tufted ducks, 4 lapwings. Pied shieldbug again, alder flies.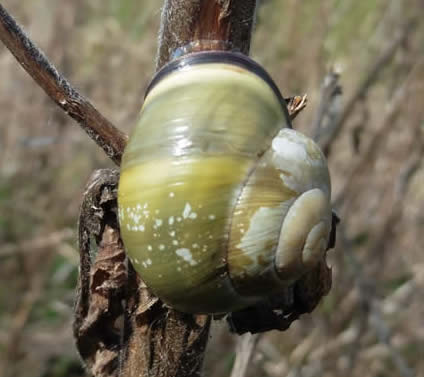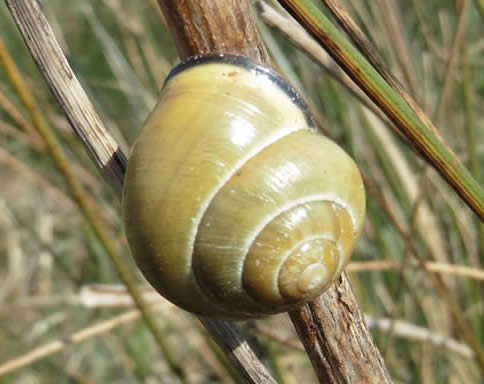 Same species, slightly different look: brown-lipped snails Cepaea nemoralis.
17 April: first orange tip butterfly (male). Several sedge warblers, kingfisher, 2 chinese water deer. 4 goldeneyes (1♂+3♀), 49 tufted ducks, 2 oystercatchers. Grasshopper warbler reported.
15 April: no sign of garganeys. 4 goldeneyes (2♂+2♀), 45 tufted ducks, at least 7 teals. 6 swallows, willow and sedge warbler (heard one of each). Lady's smock coming into flower.
14 April: pair of garganeys, 5 goldeneyes, swallow, little ringed plover and sedge warbler heard. MB/Drew Lyness.
4 April: many ducks have gone, no goldeneyes, though one pochard with remaining tufted ducks, 3+ teal. Lapwing displaying over the water.
29 March, guided walk: 5 buzzards, several singing reed buntings, chiffchaffs in several places. 3 goldeneyes (all females), 2 lapwings. Brimstone, peacock and small tortoiseshell butterflies. Common carder bee.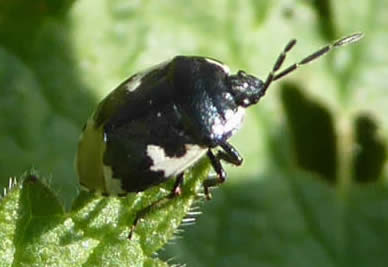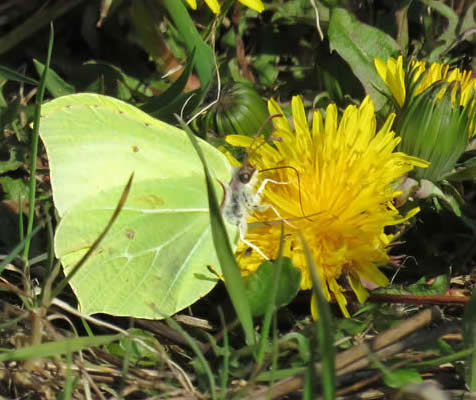 29 March: pied shieldbug Tritomegas bicolor (Susan Weeks); brimstone on dandelion (Derek Longe).
27 March: singing chiffchaffs, song thrush, green woodpecker, linnet (Whitlingham Lane). Buzzard, male shoveler, tufted ducks and gadwalls in fairly good numbers. Marsh marigolds flowering.
22/23 March: little gull (MB)
10 March: 2 little grebes, 2 great crested grebes, 4 goldeneyes (but for how long?), 2 shovelers. No sign of red-crested pochard.
8 March: little grebe, 4 goldeneyes, little egret, 2 shovelers, oystercatcher, kingfisher. Coltsfoot in peak flower on the river bank. Red-crested pochard, male, origin unknown (MB).
2 March: 2 buzzards, 5 goldeneyes, 60 tufted ducks, 2 shovelers, 3 oystercatchers. First marsh marigold in flower and coltsfoot on the river bank.
23 February: 122 tufted ducks, 1 pochard, 2 Canada geese, 3 goldeneyes (2♂+♀), 4 shovelers (2♂,2♀).
22 February: 5 goldeneyes, red kite (MB).
15 February, guided walk: reed buntings singing, buzzard, Chinese water deer. On St Andrews Broad: 2 goldeneyes (♂+♀), 2♂ shovelers, teals, gadwalls, tufted ducks, pochards, mallards, little egret, 2 oystercatchers.
10 February: long-tailed duck, 2♂ goldeneyes, 2 stonechats (MB). 4 little grebes, little egret.
9 February: 4 little egrets (MB).
16 January, guided walk: 7 duck species: imm ♂ goldeneye, tufted ducks. pochards, gadwalls, mallards, teals, 3 ♂ shovelers. Redwings settled in a tree across the river. Hogweed, angelica, shepherd's purse and white dead-nettle in flower.
8 January: little egret on the flood. 3 (possibly 4) goldeneyes.
1 January: 146 tufted ducks (probably more, they kept diving!), 33 pochards, 4 goldeneyes, a scattering of teals and gadwalls.
---
Sightings from 2012 - 2018 here.
Wildlife reports & guide
Guide: click here to see NWT Thorpe Marshes map and guide.
2018 James Emerson's The Birds of Whitlingham & Thorpe 2018.
2017 Thorpe Marshes wildlife report for 2017.
James Emerson's Whitlingham Bird Report 2017. 
2016 Thorpe Marshes wildlife report for 2016.
James Emerson's Whitlingham Bird Report 2016.
2015 Thorpe Marshes wildlife report for 2015.
James Emerson's Whitlingham Bird Report 2015.
2014 Thorpe Marshes wildlife report for 2014.
James Emerson's Whitlingham Bird Report 2014.
2013 Thorpe Marshes wildlife report for 2013.
James Emerson's Whitlingham Bird Report 2013.
2012 Thorpe Marshes wildlife report for 2012.
James Emerson's Whitlingham Bird Report 2012.
Reports are in PDF format.
Wildlife habitats
The three key habitats at Thorpe St Andrew Marshes are the ditches, gravel pit and grazing marshes - see below.
Other habitats, which are all part of the rich mix, include:
rough marsh of willowherb and nettles, attracting many sedge warblers
sallow (pussy willow) scrub, good for Cetti's warbler
the adjacent tidal River Yare
adjacent wet woodland
areas of reed, including a reed rond on the river, attracting reed warblers.
Ditches
Many ditches – also called dykes in Norfolk – have abundant water soldier and frogbit, both aquatic plants. These are indicators of good water quality.

In the Broads, the occurrence of the Norfolk hawker dragonfly, which is the symbol of the Broads Authority, is strongly linked to water soldier. The best place to see these is over the ditches close to the cattle corral.

Water rails and water voles use the ditches, though both are difficult to see.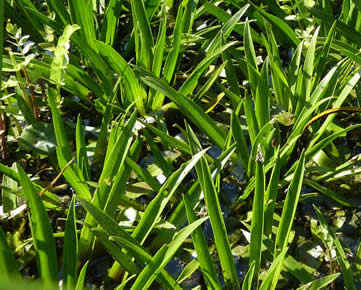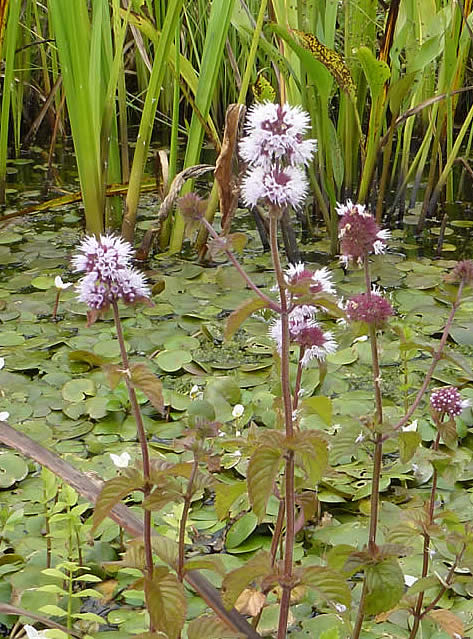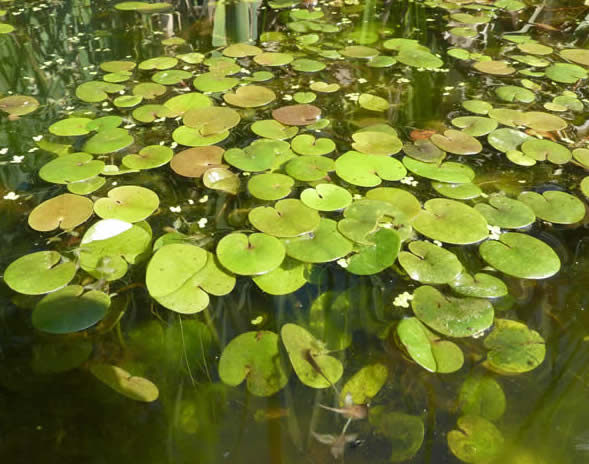 Ditches rich in water soldier (left), water mint (centre) and frogbit (right).
Gravel pit
Gravel extraction – as at Whitlingham Country Park across the river – has led to the creation of a lake, which has filled naturally with river water. Some may call this a 'broad': the true broads are man-made, too, though from flooded peat diggings, and typically are much shallower.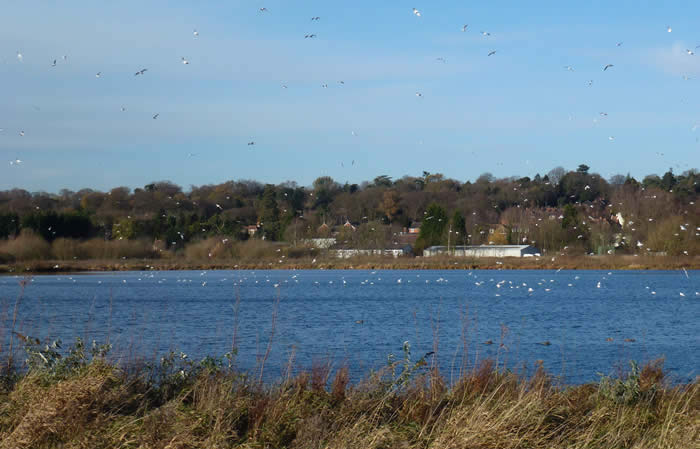 Gulls over the gravel pit, December 2011
The gravel pit here attracts wintering ducks, especially tufted ducks (picture below), pochards and gadwalls, moving between here and the Country Park. Unusual ducks call in at times, including smew, goldeneye, red-crested pochard and ferruginous duck over the 2011/12 winter.
Gravel beaches attract 'loafing' ducks and wading birds, which include little ringed plovers in spring/summer. Stock doves often feed on plant seeds on the gravel.
Grazed marshes
Livestock are essential to manage the open grazed marshes habitat.
Without them, thick grasses and sedges would dominate even more, and would in time be taken over by scrub.

More heavily grazed and trampled areas have a distinct structure of lumps and hollows that attract feeding snipe, and have flowers such as marsh marigold and lady's smock.

The flood: the grazing marshes include a 'flood', periodically under water, then drying out, here with a greylag goose and mallards in March 2012. The bright green shoots are emerging yellow flag iris plants.