Thorpe St Andrew Marshes
Wellies time. Some over-topping of the bank from the river, on occasions, and the river side path is muddy. The 'marsh track' is under water. Cattle have gone. 13 December
Recent blogs: A Tale of Two Bugs (November 2018); In Praise of Ivy (written October 2018); Red bartsia bee discovered at Thorpe Marshes (September 2018); Oasis in the drought (July 2018) plus photos on Facebook. Norfolk hawkers at Thorpe Marshes (June 2018); Thorpe Marshes in the 1960s (January 2018) and Thorpe Marshes in the 1960s part 2 (April 2018).
Thorpe St Andrew Marshes – NWT Thorpe marshes for short – is one of the Norfolk Wildlife Trust's newest nature reserves, established in 2011. It's in the Norfolk Broads yet on the edge of Norwich in Thorpe St Andrew. It also happens to be my local patch – just down the road from home and the Honeyguide office, writes Chris Durdin.
Winter — December to February: the refuge value for birds of the marshes and and especially the broad increases when it's cold. Tufted ducks normally outnumber pochards. Teal and snipe numbers build, but vary, and sometimes a scarcer duck like a goosander or goldeneye appears. Cetti's warblers often sing.

 
Tufted ducks (mostly), pochards, gadwalls, 24 January 2018 (Derek Longe).
Publications about NWT Thorpe Marshes
The Thorpe Marshes wildlife report for 2017 includes a range of wildlife records, a review and of the year and other activities on the nature reserve. Key bird records for NWT Thorpe Marshes in 2017 are in James Emerson's Whitlingham Bird Report 2017, which includes the reserve in the area it covers. For reports for previous years, scroll down to 'Wildlife reports & guide'.
Willow Emerald damselflies
It's Willow Emerald season. Thorpe Marshes is a great place to see this damselfly in season (late July to October) and to discover more. Recent sightings: see below. A local discovery at Thorpe Marshes (January 2018) is Willow Emerald egg-laying scars on domestic apple - a first for the UK. More about this and other unusual places for scars here.
Blogs about Willow Emeralds:
■ What are the chances of that happening? (August 2017) [by Derek Longe].
■ Pretty damsels (September 2016).
■ Willow Emeralds return to Thorpe Marshes (October 2015).
■ A Gem of an Emerald (September 2014).
Gallery of photos of dragonflies and damselflies of NWT Thorpe Marshes on Facebook here includes several Willow Emeralds. A Willow Emerald at Thorpe Marshes on 6 November 2017 appears to be have been the last sighting for 2017 in the UK.
Willow Emerald Damselfly paper, featuring Thorpe Marshes: "WILLOW EMERALD DAMSELFLY CHALCOLESTES VIRIDIS OVIPOSITING INTO BRAMBLE" by Derek Longe (10MB pdf). In Atropos Issue 58, 2017, and is reproduced here with the kind permission of the editor. See also Derek's NWT blog.
Last autumn's Autumnwatch's feature on Willow Emeralds is here on YouTube - the piece on Willow Emeralds starts at 16:26.
NWT Thorpe Marshes Volunteer Group
This group meets once a month on a Friday at the pedestrian railway bridge at the end of Whitlingham Lane, Thorpe St Andrew.  Activities vary and are a mixture of practical conservation work plus surveying and wildlife ID.
Next event: 14th December. All are 10am-3pm. Ring: Mark Webster 07843 069 567 Email: markw@norfolkwildlifetrust.org.uk
Thorpe Marshes are at the end of Whitlingham Lane, Thorpe St Andrew, Norwich, NR7 0QA, OS Grid reference TG 266 083.  Please note that this is the Whitlingham Lane which is North of the river, NOT the one accessed from Trowse. 
Recent sightings
2018
13 December: 4 goldeneyes today.
11 December: 2 stonechats, male marsh harrier. Broad: 2 goldeneyes, 1 male shoveler, groups of teal, a few pochards and gadwalls, large numbers of tufted ducks though not counted. Spent time today with two beetle and invertebrate experts, Martin Collier and Steve Lane. Finds included pseudoscorpions, mole fleas (the largest species of flea in Great Britain), various ramshorn snails and these: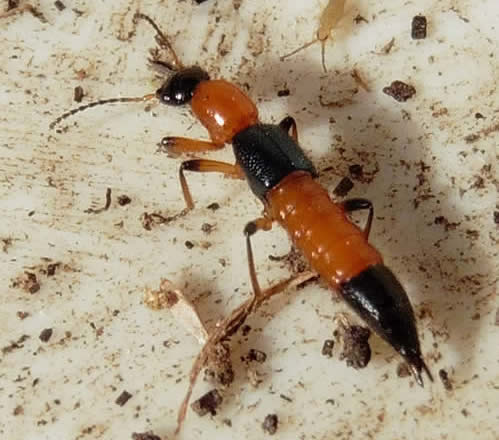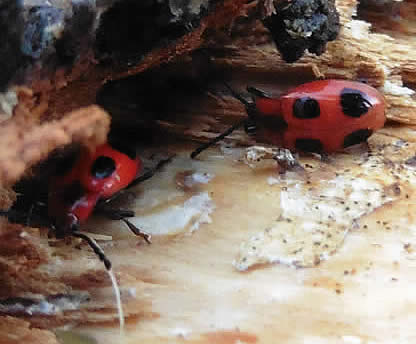 Paederus riparius a rove beetle in ditch edge vegetation; false ladybird Endomychus coccineus under some bark.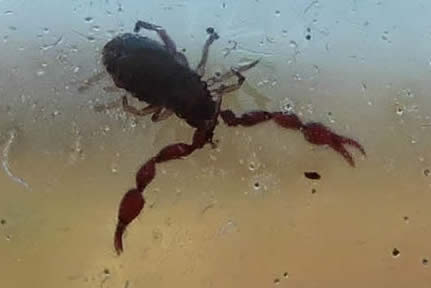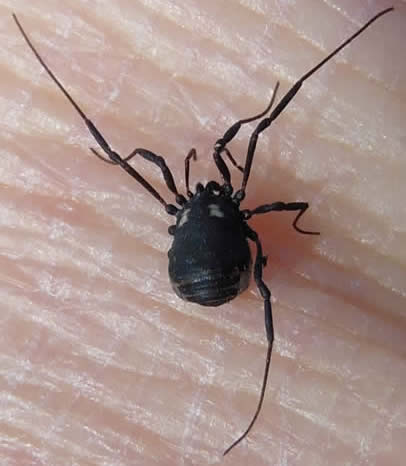 Pseudoscorpion, species unknown (examined in a specimen tube); a tiny harvestman with two white spots Nemostoma bimaculata (on my hand).

3 December: fewer ducks today, just one goldeneye. Little grebe.
30 November: male stonechat. Good morning for winter ducks: 185 tufted ducks, 6 pochards, 4 goldeneyes, 3 teals, 3 gadwalls.
6 November, guided walk: male & female stonechat, several meadow pipits, big flock of goldfinches (c.70). Male shoveler, female tufted duck, 2 gadwalls over but overall a lack of ducks. Two nice bugs - see pictures and captions. Groundsel leaf rust fungus Puccinia lagenophorae found and ID by Roger & Jenny Jones.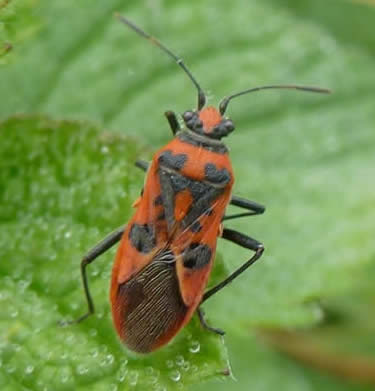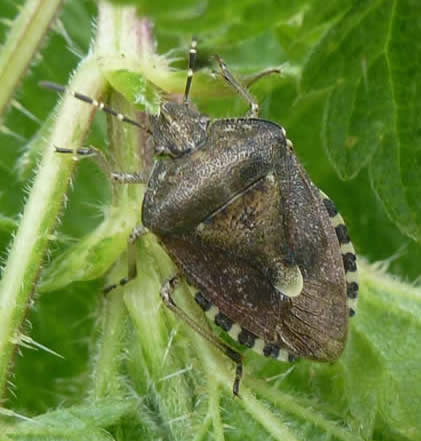 Corizus hyoscyami, a scentless plant bug called 'cinnamon bug' or 'black & red squash bug'; hairy shieldbug (aka sloe bug) Dolycoris baccarum. See also blog A Tale of Two Bugs (November 2018);
4 November: low duck numbers, single shoveler, teal, gadwall, 8 tufted ducks. Redpoll. Probable chiffchaff (call and brief & poor view). No sign of the stonechat today.
28 October: 3 goldeneye (2 ♀/imm, 1 imm ♂), 9 shovelers, teals, tufted ducks, gadwall, 7 wigeon flying over. Stonechat ♂ on bramble patch, meadow pipit. Sparrowhawk, kestrel.
27 October: 2 goldeneye, 2 stonechats, little grebe (MB).
19 October: 2 stonechats, good group of meadow pipits. 5 shovelers, teal, tufted ducks, gadwalls, 2 buzzards, snipe. Dark bush cricket and long-winged conehead. Peacock, red admiral. Ivy bee (new record for reserve and the local area) on ivy near railway bridge. Fungi: yellow field cap, brown-edged bonnet. Ruby tiger moth caterpillar and common plume moth. Marsh harrier, curlew and water rail reported.
4 October: still plenty of willow emeralds, common darters and migrant hawkers. Meadow pipit, sparrowhawk; no sign of stonechat. Red admiral, ivy alive with ladybirds, mostly harlequins.
30 September: stonechat reported.
27 September: willow emerald count: 24 seen on reserve, one just off, including several pairs; egg-laying into ash tree seen from railway bridge. Still lots of common darters and migrant hawkers. Snipe, 4♀ shovelers near little group of gadwalls. Hornet, red admiral, peacock, small tortoiseshell.
Left: a rather faded small copper.
26 September: 30 willow emeralds counted by Derek Longe in 4-hour survey, plus 4 just off the reserve.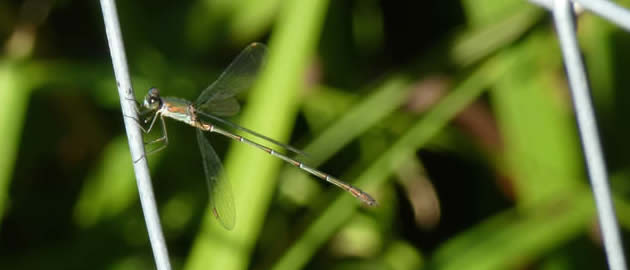 Unusual perch for a willow emerald, on a wire fence (27 Sept).
13 September, guided walk: Little egret, about 3 snipe, buzzard, sparrowhawk, close views of willow emeralds and mating migrant hawkers (the latter usually dashing past at great speed); very nicely posing long-winged coneheads and dark bush cricket; spider Araneus quadratus. Photos on Facebook here.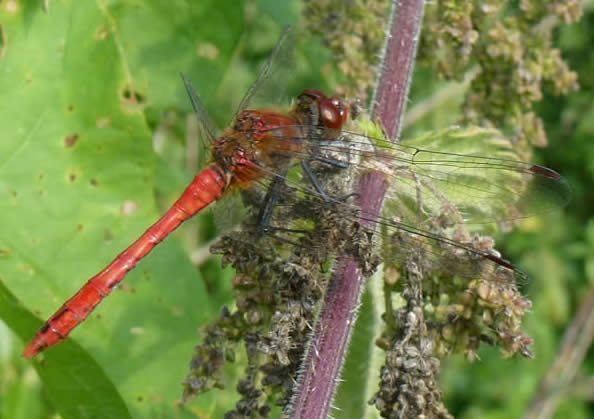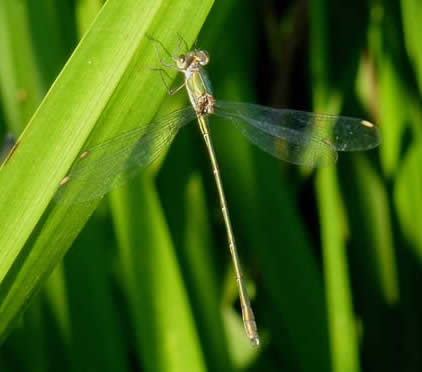 Pictures from 3 September (see them full-size on Facebook here): ruddy darter on nettle, willow emerald damselfly. Little egret still there, 3 tufted ducks.
2 September: little egret. Willow emeralds, common darters, migrant hawkers.
22 August: 10 willow emeralds in 7 places, including three from the railway bridge and one egg-laying pair. 1 red-eyed damselfly on a lily; must be nearly the season's end for these. 2 little egrets, buzzard, green sandpiper with a limp. Couldn't find red bartsia bee again, and the flowers are mostly gone over.
17 August, guided walk: 3 green sandpipers, buzzard, Cetti's warbler heard, quiet for birds. Lots of common darters egg-laying, ruddy darters, migrant hawkers, 2 willow emeralds, red-eyed & common blue damsels. Dark bush cricket. Couldn't find red bartsia bee. Lots of common hemp-nettle by path adjacent to wood that leads to Bungalow Lane.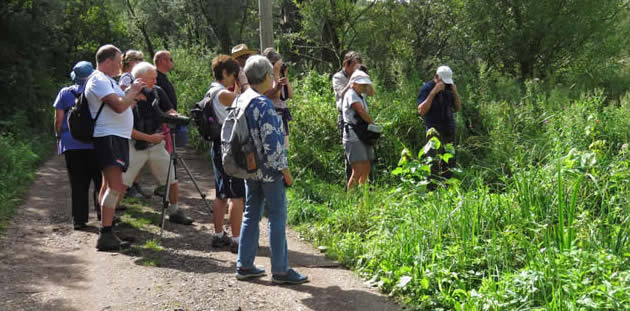 Today's group in Bungalow Lane, watching a willow emerald damselfly..
11 August: lots of summer flowers, not many birds. My first willow emerald damselfly of the year, on ditch parallel with Bungalow Lane. Also red-eyed and common blue damsels. Ruddy darter outnumbering common darter, migrant & brown hawkers. Red bartsia bee: more information on the blog here.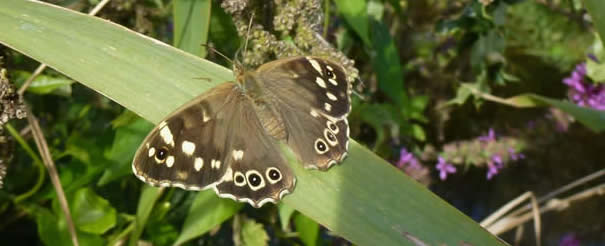 Speckled wood butterfly: usually a species of mixed light and shade in woods or gardens, so a surprise to see perched on a reed today.
29 July, Thorpe Marshes Family Fun Day: 49 attended, which is pretty good on a wet day.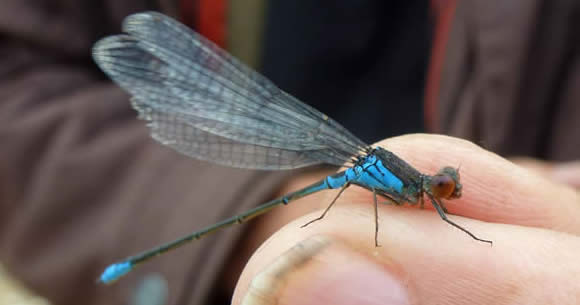 Small red-eyed damselfly found and held by Butterfly Conservation's Andy Brazil, 29 July. Fits into recent pattern of records: singles seen on 4 August in last two years.
23 July: 25 lapwings, 2 oystercatchers. As for 21 July, plus brown hawker, gatekeepers. Peacock and red admiral butterflies on the buddleias by the reserve's entrance.
22 July: reports of a pair of scaup, provenance unknown (no sign 23 July).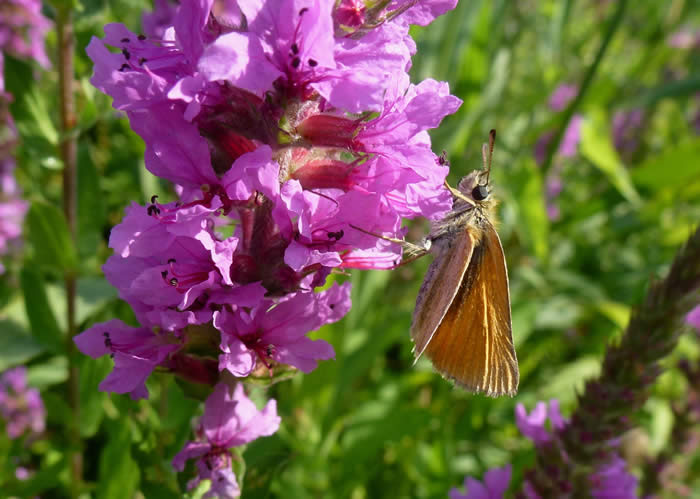 Essex skipper on purple loosestrife, 21 July.
21 July: minimum of 16 lapwings, little egret, grasshopper warbler heard, sparrowhawk. Dragonflies: last few Norfolk hawkers, ruddy & common darter, emperor, black-tailed skimmer. Damselflies: common blue, azure, red-eyed, blue-tailed. Butterflies included painted lady, small & Essex skippers, comma, holly blue. Silver-Y moth.
18 July, evening guided walk: little egret, green sandpiper, grasshopper warbler heard in the distance. Lots of flowers, of course; moths below.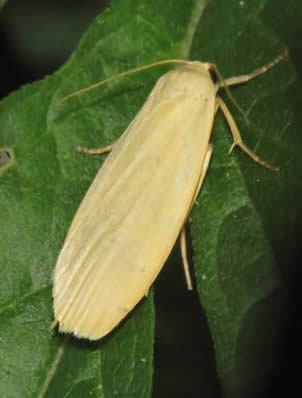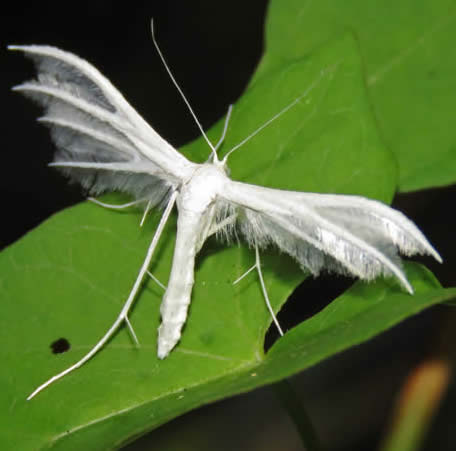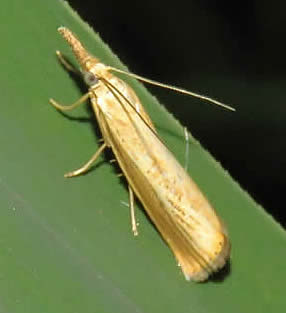 Moths on 18 July 2018: Dingy Footman var stramineola; White Plume Moth; Straw Grass-veneer Agriphila straminella.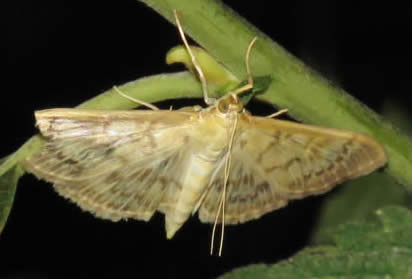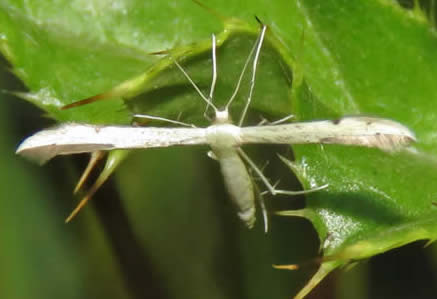 Mother of Pearl; Hemp Agrimony Plume. IDs and photos by Derek Longe.
14 July: butterflies on a hot afternoon included painted lady and ringlet. All (of many) skippers seen well were small skipper. Still a few Norfolk hawkers, plus brown hawker, emperor, black-tailed skimmer, common darter. Group of 10 lapwings on shingle exposed by falling water levels.
5 July, evening: grasshopper, reed and sedge warbler song in bursts. Norfolk hawkers still plentiful but past late June peak. Kingfisher, common tern over river. Swans + 2 cygnets. Lots high summer flowers e.g. meadowsweet, marsh woundwort.
Tufted vetch by the marsh path; cinnabar moth caterpillars on ragwort (5/7).
28 June: 'flood' now dry. Grasshopper warbler singing, common tern. Norfolk hawkers and black-tailed skimmer in good numbers. Butterflies included large skipper, ringlet and meadow brown. Flowers of high summer: meadowsweet, purple loosestrife, marsh woundwort.
20 June: 73 Norfolk hawkers, a record count; large skipper (DL). Also comma, little egret, song thrush in fine voice, grasshopper warbler singing.
18 June, guided walk: hobby, little egret, buzzard, common tern. Good views of heron and reed bunting. Norfolk hawker (+ exuvia) & black-tailed skimmer. Sporadic song of reed, sedge and Cetti's warblers. Swans + 2 cygnets (Polish cygnet has gone). Two tufted ducks loafing (♂+♀); non-breeders or failed breeders? Mullein moth caterpillars on water figwort.
14/15 June: report of grasshopper warbler singing, evenings.
14 June: female gadwall, two male tufted ducks, two lapwings. Anyone seen any signs of any of these species breeding? One or more lapwing has been regular in May and June: non-breeder(s)? Lots of Norfolk hawkers despite windy day, black-tailed skimmer, lots of damselflies (4 species).
9 June: mute swans on the broad have three cygnets, one the white 'Polish' form. Valerian in flower.
6 June: peregrine, count of 5 early marsh orchids (well away from paths and inaccessible without wellies). Dragonflies: broad-bodied chaser inc female egg-laying, emperor, hairy dragonfly, lots of Norfolk hawkers, four-spotted chaser.
29 May, guided walk: 2 herons, 2 kestrels, buzzard, reed & sedge warbler singing, reed buntings. Damsels & dragons as noted for 24 May, with good views of four-spotted chaser especially, and a Norfolk hawker seen. Water vole droppings on a platform; silver-Y moth; orange-tip caterpillar on wintercress. See photos below of a few invertebrates today.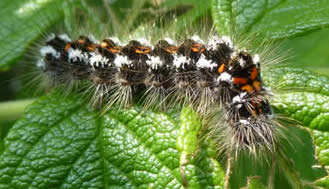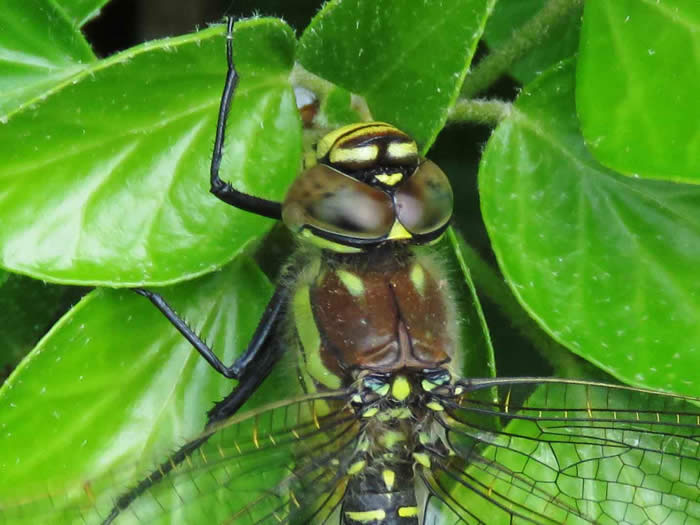 Yellow-tail moth caterpillar on Rosa rugosa (also known as beach rose or Japanese rose); hairy dragonfly close-up (DL).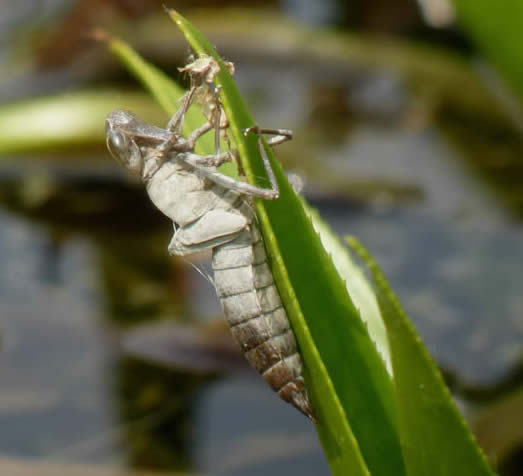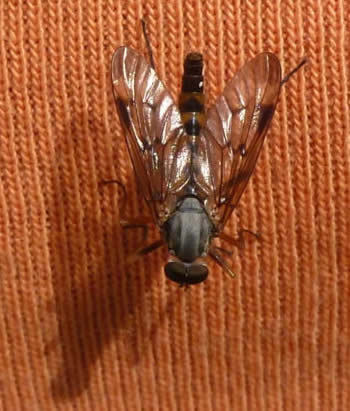 Norfolk hawker exuvia (shed larval skin), gripping a water soldier. Downlooker snipefly Rhagio scolopaceus: the background colour is a walk participant's jumper. 'Downlooker' refers to how they characteristically look downwards. Non-biting (to humans).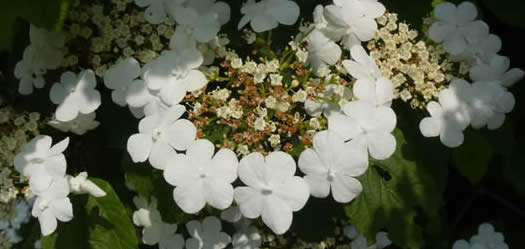 Guelder rose is in flower.
24 May: water vole, common blue butterfly (SW). Damselflies in good numbers: common blue, large red, red-eyed, azure, occasional banded demoiselles. Four-spotted chaser and hairy dragonflies, broad-bodied chaser has been seen.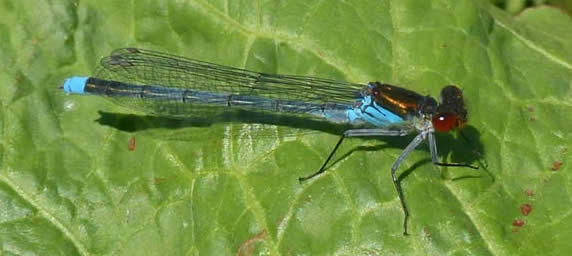 Red-eyed damselfly, 22 May 2018
7 May: hairy dragonfly, 2 ♂ gadwalls (could ♀♀ be on nests?), oystercatcher, lapwing, common tern.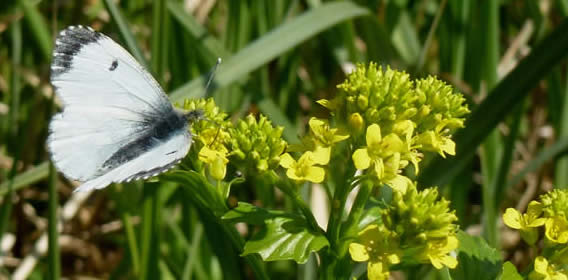 Female orange-tip nectaring on wintercress, 7 May.
5 May: large red damselfly (DL) while on orange-tip survey.
4 May, evening: cuckoo flying over, also heard from Thunder Lane 5 May 07:00.
27 April, guided walk: grasshopper warbler (perhaps two), mute swan on nest. Pair of gadwalls, two pairs of tufted ducks: could they be staying to nest? Chinese water deer.
26 April: lots of bird song including sedge, reed and willow warblers, whitethroat. Oystercatcher, winter ducks gone. Marsh marigolds and lady's smock coming into flower.

21 April: wheatear (James Emerson), photo left.
7 April: water rail; several peacock butterflies; 118 tufted ducks (perhaps extras from Whitlingham on a warm weekend?); ♂ shoveler still present, but for how long?
4 April: paths flooded in places. Chiffchaff singing; little egret.
29 March, guided walk: chiffchaff singing (but a late year so not the many you'd expect); Cetti's warbler, which had gone quiet; buzzards; fast-flying kingfishers for an alert few.
A few lingering ducks including shovelers, teal and pochard; 2 lapwings.

Small tortoiseshell butterflies tempted out by a sunny morning. Coltsfoot, cherry plum (read Wikipedia here about this naturalised shrub) and lesser celandines in flower.

Right: small tortoiseshell taking nectar on a willow catkin (DL).



6 March: female smew on St Andrew's Broad (also here yesterday, from reports, & previously at Whitlingham). 3 wigeons (1♂, 2♀).
Left: digiscoped smew (James Emerson)
3 March: 2♂ pintails flew round and headed west; ♂ goosander round over the gravel pit and headed west.
2 March: 4 pintails, brown rat (MB). 1 March: 2 redshanks (MB). 28 Feb: 6 wigeons (MB).
27 February: good day for raptors in the snow: marsh harrier, kestrel, buzzard. Good numbers and variety of ducks and gulls on St Andrews Broad, which is about 5% ice.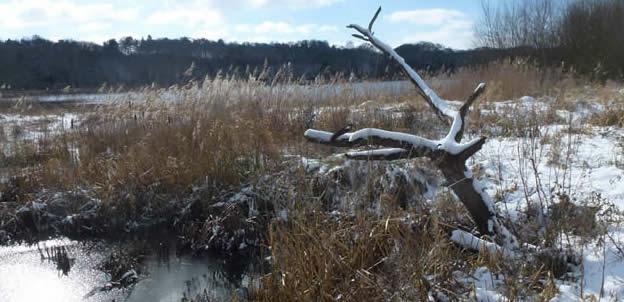 Snowy conditions today.
19 February, guided walk on a wet morning: stonechat, several singing reed buntings, several snipe. Good selection of wildfowl species: tufted duck, pochard, shoveler, teal, mallard, gadwall, great crested grebe in breeding plumage, coot, moorhen, cormorant. 4 lapwings, 1 oystercatcher.
17 February: chiffchaff, stonechat, ♂ wigeon, 2 little grebes. Recent scrub management work by the ponds.
2 February: 2 wigeons (1♂, 1♀), reed bunting in weak song.
25 January: great black-backed gull, 7 lapwings. kingfisher, stonechat. Duck numbers much reduced from yesterday on a still, sunny and mild day.
24 January, walk with Bure Valley Conservation Group: stonechat, grey wagtail, a few snipe, Cetti's warbler singing. Fungi: oysterling sp on bramble, common jelly spot. Big and jumbled concentrations of ducks mostly sheltering on a windy day at west end of gravel pit: impractical to count while with a group but in the region of 250 tufted ducks, 100 gadwalls, 20 shovelers, 50 pochards, 100 teals. Lapwings, 3 stock doves, c.15 cormorants. 1 of 2 great crested grebes in spring plumage. Unidentified object on the Whitlingham side of the river could be a dead seal.


Tufted ducks (mostly), pochards, gadwalls, 24 January (Derek Longe).
19 January: male stonechat, pochard x ferruginous duck.
17 January: bearded tit seen by one of the guided walk group ( I missed it, again!)
16 January: 18 shovelers, kingfisher.
12 January: noisy great spotted & green woodpeckers on a bright day. 2 x pochard x ferruginous duck hybrids with usual mix of ducks. 2 lapwings.
1 January: great black-backed gull, bearded tit (JL), pochard x ferruginous duck (x 2 reported, JL), 29 shovelers, 4 lapwings, kingfisher.
---
2017
28 December: little grebe in channel by former shingle spit.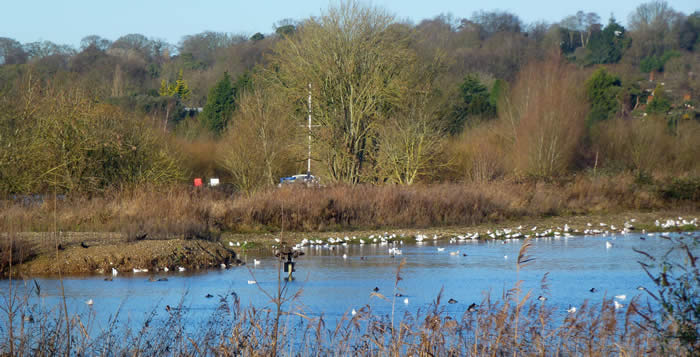 A regular pattern: gulls on 'west bank' and ducks congregate near the former shingle spit.
23 December: little grebe, male stonechat, 6 duck species including 7♂ shovelers.
16 December: male goosander (TB).
13 December: RSPB Strumpshaw Fen volunteers saw bearded tit (there again 22/12, JE), marsh harrier, stonechat, otter signs. NWT guided walk saw 2 buzzards, sparrowhawk & kestrel, so a good day for birds of prey. Good numbers of ducks including teals and shovelers. Mixed siskin & goldfinch flock early on; vocal water rail and Cetti's warbler.
8 December: 16 cormorants, c.50 teal, 6♂ shovelers, stonechat, buzzard.
30 November, with Lowestoft RSPB local group: 2 siskins in alders over railway line, male stonechat, buzzard, 5♂ shovelers.
29 November: male stonechat, goldcrest. At least 50 pochards, many (at least 150) tufted ducks.
24 November: 3 drake goosanders (RC)
17 November: male stonechat. Good day for ducks: 3 wigeon (2♂, 1♀), minimum of 200 tufted ducks, pochard, shoveler, teal, mallard, gadwall. Top count of 14 cormorants (8 on/by gravel pit, 6 overhead).
14 November, guided walk: male stonechat, green sandpiper, several meadow pipits, snipe, sparrowhawk, goldcrest in riverside scrub, water rail. Pochards, tufted ducks, shovelers, gadwalls, great crested grebe, cormorants on gravel pit. Good number of late flowers - details here.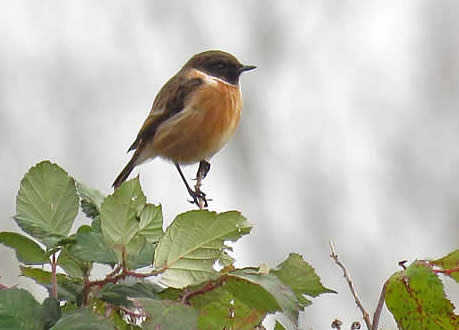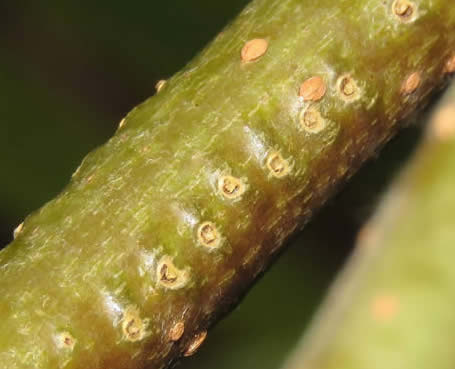 Male stonechat; recent Willow Emerald egg-laying scars (Derek Longe).
10 November: male stonechat, 45 pochards, c.23 shovelers.
6 November: male stonechat, and I hear that the female is being regularly seen but far away near the railway line. Buzzard, pochards, 1 late Migrant Hawker, several Common Darters, red admiral - and my first November Willow Emerald Damselfly.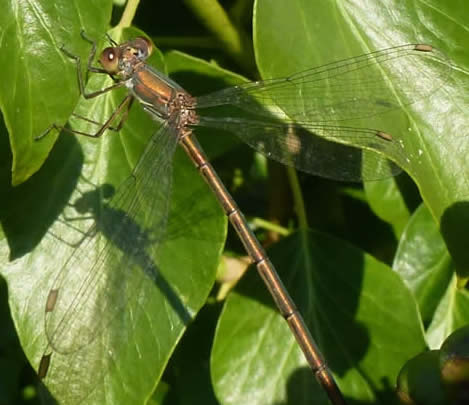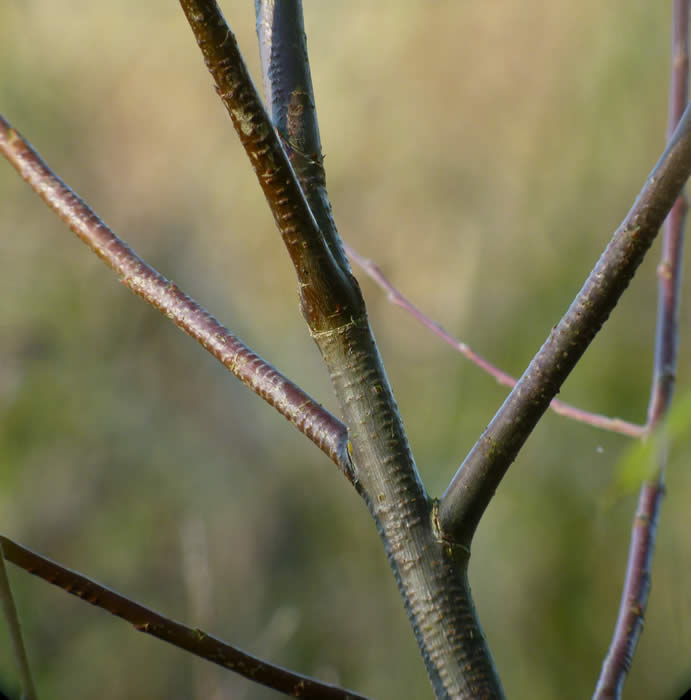 Willow Emerald + shadow on ivy, 6 November 2017; egg laying scars of Willow Emerald, on a willow in the ditch by Bungalow Lane.
3 November: stonechat, shovelers, goldcrest in riverside trees, Common Darters. Searched and failed to find Willow Emerald on a warm afternoon, so looks like their season has finished.
31 October: male stonechat. Good numbers of winter ducks: 2 goldeneye, 19 pochards, 157 tufted ducks, c.70 gadwall, 4 male shovelers, 2-3 wigeon.


Tufted ducks and pochards, 31 October.
27 October: c.70 tufted ducks, 6 shovelers, a few gadwalls, 3 redpolls.
23 October: Willow Emeralds, minimum of 4, on ditch by Bungalow Lane.
22 October: 28 gadwalls, 1 wigeon, c.25 tufted ducks. No sign of the stonechat.
16 October, guided walk, Indian summer weather: stonechat, meadow pipit, redpoll & skylark over. 16 shovelers, gadwalls, tufted ducks. 3 x Willow Emeralds, Common Darters and Migrant Hawkers. Water chickweed and meadowsweet in flower.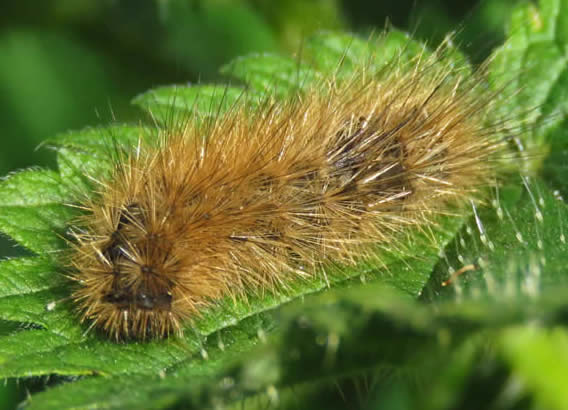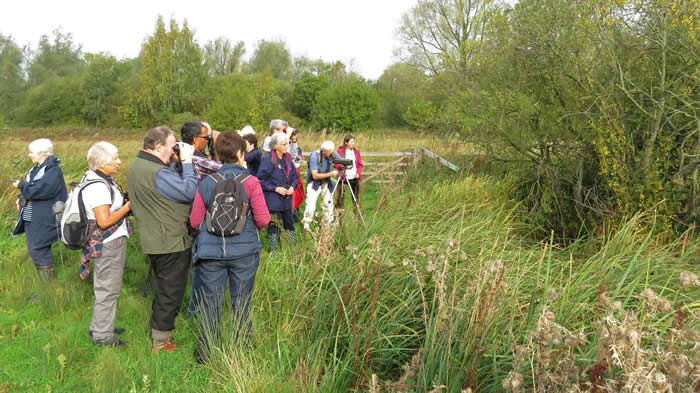 Ruby Tiger Moth caterpillar; the group searches for scars created by egg-laying Willow Emerald damselflies.
15 October: Stonechat - male on the bramble patch. Back for the winter? 60 tufted ducks, 60 lapwings, water rail calling. 1 Willow Emerald - last of the season? Lots of caddis flies on hogweed blooms.
11 October: single Ruddy Darter. Buzzard, bullfinch. 1 wigeon, 14 shovelers, 41 gadwall, 26 tufted ducks.
6 October: in a brief warm spell Willow Emeralds (2), Common Darters and Migrant Hawkers still present. 75 gadwalls a high count for autumn.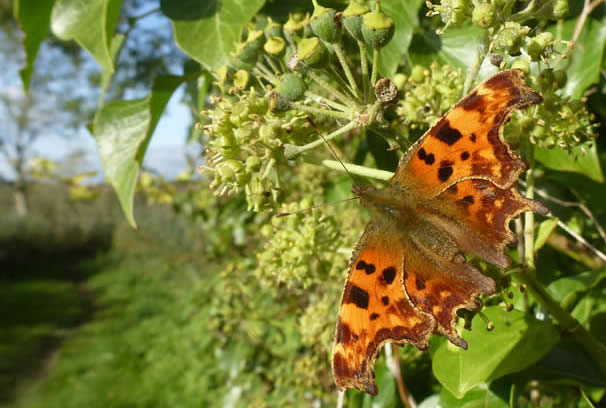 Comma, 'ivy corner', 6 October.
28 September, afternoon: Willow Emeralds (11 counted today), Common Darters and Migrant Hawkers all very obvious in a sunny spell. 19 tufted ducks and 10 coots are good numbers for autumn: they seem to be benefitting from low disturbance levels.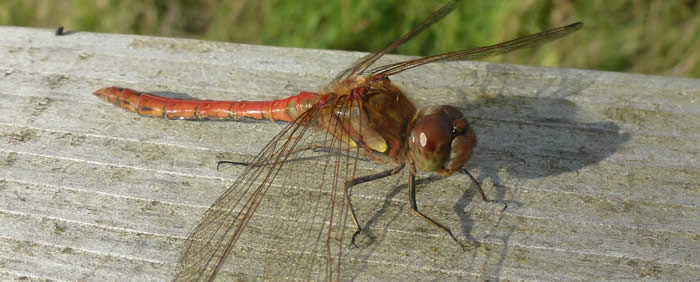 Common Darter, 28 September: they like the warmth of wooden gates and fences.
22 September: minimum of seven Willow Emeralds over ditch by former shingle spit. 88 lapwings.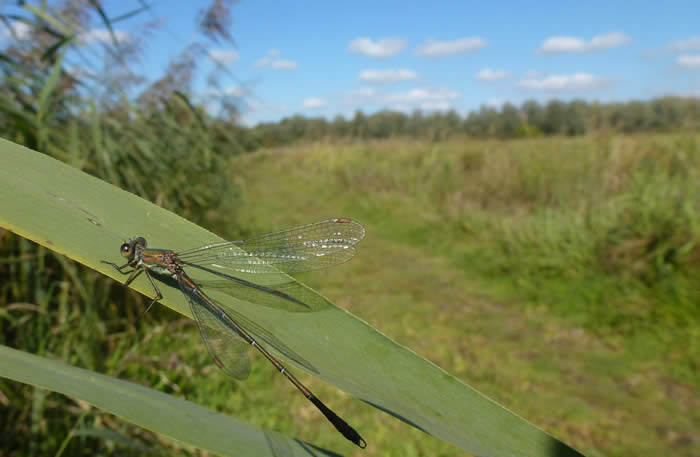 Willow Emerald damselfly, showing why this species is called a 'spreadwing'.
20 September: hobby. Recent report of otter (MB).
16 September, guided walk: peregrine, little egret. On Broad: 58 lapwings, gadwalls, tufted ducks and mallards. 5 white cattle, recently arrived.
1 September: whinchat (MB).
28 August: a water vole scampers across a ditch on a carpet of frogbit. Willow Emeralds from railway bridge.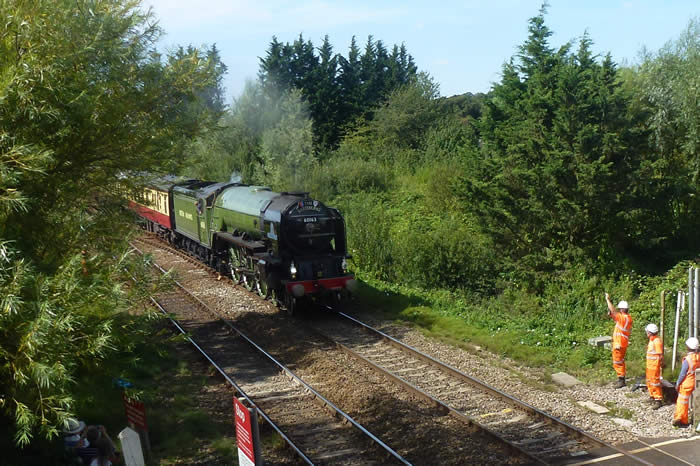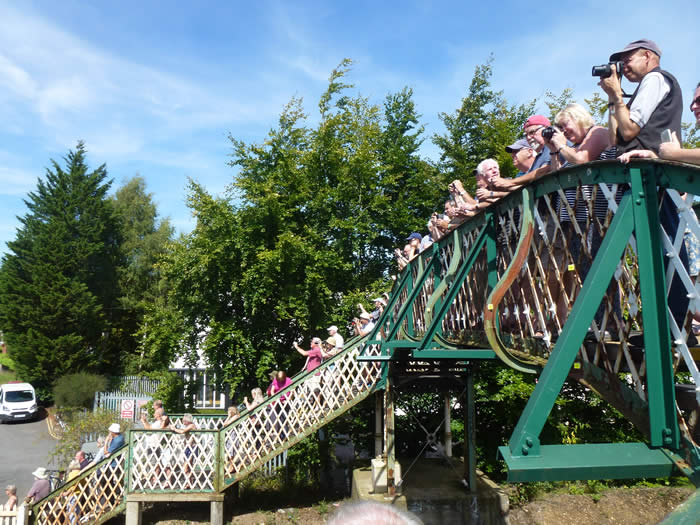 Bank holiday Monday: a crowd gathers on the railway bridge to see the Tornado steam train replica on its way to Great Yarmouth.
25 August: warm day, good for dragonflies: lots of Migrant Hawkers, many Brown Hawkers, Common and Ruddy Darters. 3 Red-eyed Damselflies on lilies in river - they'll soon be gone. Big lapwing flock on shingle.
24 August: 2 teals on 'flood' - sign of autumn.
23 August: Willow Emeralds galore: a count of 27 Willow Emerald Damselflies by Derek Longe. Afternoon is the best time to see them.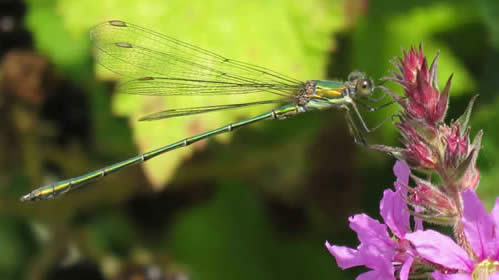 Willow Emerald Damselfly on purple loosestrife (DL)
4 August, guided walk: a colourful variety of flowers, including all those pictured above. 37 lapwings and 4 oystercatchers on the gravel bank.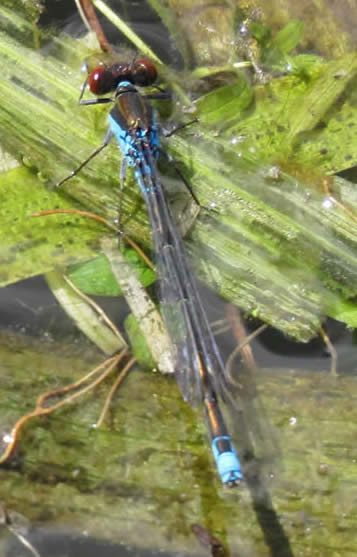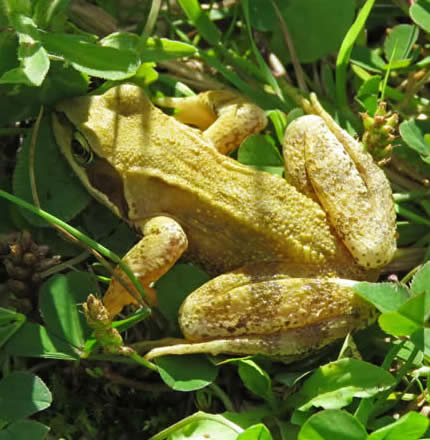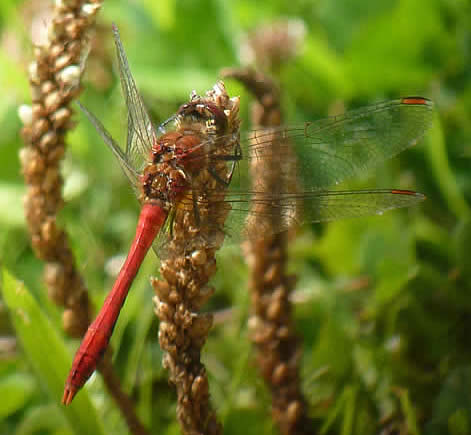 Small Red-eyed Damselfly on floating vegetation at the mooring basin and common frog (Derek Longe) were both notable records. This Ruddy Darter (right) allowed very good telescope views while perched on a plantain, despite the wind.
19 July, guided walk, evening: 2 x Willow Emerald Damselflies, kingfishers, late-flying Norfolk hawkers.


A Willow Emerald Damselfly lands on ... Derek Longe's paper in Atropos about egg-laying choices for Willow Emeralds (DL). See also Derek's NWT blog.
17 July, guided walk for RSPB Norwich local group: common redstart, juvenile, open area by mooring basin. Lapwing flock still present, oystercatcher too. Notable plants: arrowhead and marsh sowthistle. Full report here.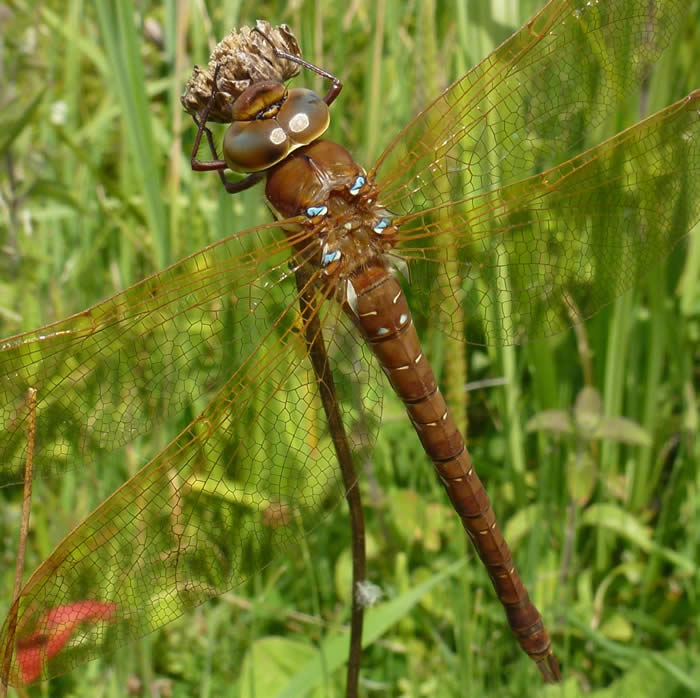 Excellent views of Brown Hawker and linnet on today's walk.
12 July: Ruddy and common darters. Orange balsam in flower, also square-stalked St John's-wort.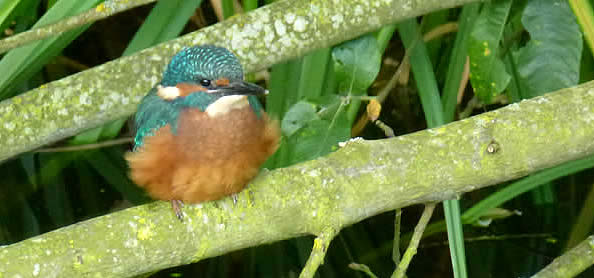 Close encounter with a young kingfisher. Not quite as close as this looks - the photo is zoomed and cropped.
7 July: black-tailed godwit (below), from early afternoon until it flew south with lapwings (37 in total) at 18:27. 53 Norfolk hawkers on survey (DL); brown hawkers and ruddy darters (DL). Grasshopper warbler.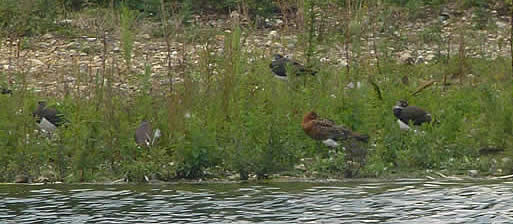 6 July, evening: grasshopper warblers (2) still singing, though muted. Cinnabar moth caterpillar found on marsh ragwort as well as even more on common ragwort.
2 July: 51 Norfolk hawkers on survey transect.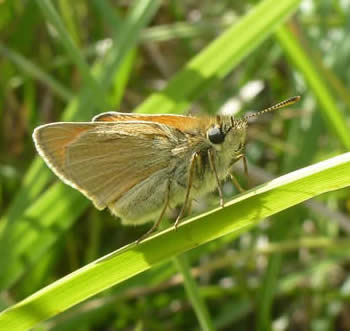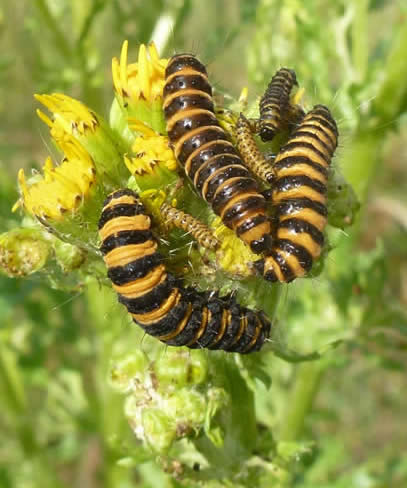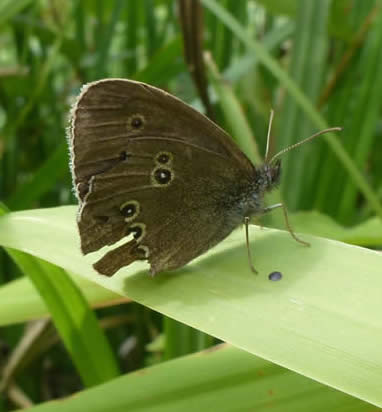 Small skipper; cinnabar moth caterpillars; a tatty looking ringlet, all 2 July.
27 June, another guided walk, in the rain: grasshopper warbler still singing. Ragwort has cinnabar moth caterpillars.
22 June, NWT guided walk: good view of grasshopper warbler singing (left, photo by Derek Longe). Norfolk hawkers.

21 June: at least six Four-spotted Chasers. Large skipper.
15 June: male marsh harrier.
14 June: count of 35 Norfolk Hawkers (SW).
4 June: female Broad-bodied Chaser a highlight in six species of dragonflies: others were Hairy, Norfolk Hawker, Emperor, Four-spotted Chaser and Black-tailed Skimmer. 5 damselfly species including many Red-eyed Damselflies on ditches, not just the river lily pads. 3 lapwings, 2 oystercatchers, 1 common tern. Skullcap in flower.
1 June: Norfolk Hawkers out in force; marsh harrier (DL).
31 May: early marsh orchid; clouds of damselflies; lots of bird song.
26 May, guided walk: little ringed plover, lots of singing warblers, little egret. 6 damselfly species (as 25 May). Hairy dragonfly and four-spotted chaser (below). Common blue butterflies.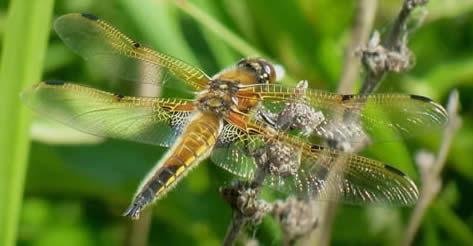 25 May: lapwing, 2 oystercatchers. Hairy Hawkers and 6 damselfly species: Common Blue, Azure, Blue-tailed, Large Red, Red-eyed and Banded Agrion. Yellow flag irises looking superb.
13 May: hobby (DL). Also recent reports of sanderling and whinchat.
10 May: sunshine at last. First Common Blue Damselfly, common sandpiper, buzzard.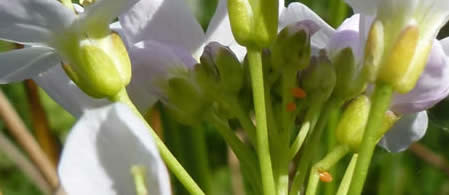 Orange-tip butterfly eggs on lady's smock.
9 May, evening: grasshopper and willow warblers. Great crested grebe chick or chicks hatched and on parent's back.
28 April, guided walk: water vole, 2 swifts, house martins and swallows.
Seven warblers: grasshopper warbler heard distantly; sedge, Cetti's & reed warblers, whitethroat seen well, chiffchaff & blackcap. Orange-tip egg on a lady's smock.

Water vole (Derek Longe).
16 April: little egret, 3 buzzards, sparrowhawk, grasshopper warbler.
11 April: common scoter and jack snipe photographed (RC).
8 April: sedge warblers (2) singing, redshank, male marsh harrier (flushed snipe), buzzard over, little egret. Great crested grebe still on nest; brood of (semi-domestic?) mallards. Several small tortoiseshells. Blackcap, chiffchaffs, linnets, reed buntings, Cetti's warbler. Shovelers gone, tufted duck numbers declining, pair of teal still, gadwall present.
3 April: marsh marigolds in flower. 92 tufted ducks, but gadwall down to one, pair of shovelers still present, 3 little grebes. 6 lapwings, 2 oystercatchers.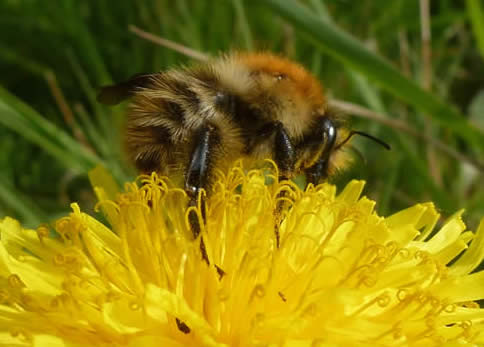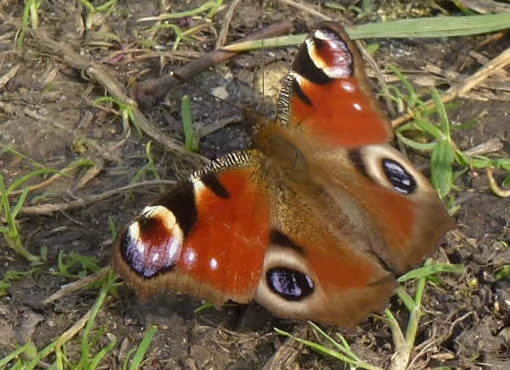 Sunshine brings out bees and butterflies. Common carder bee on dandelion; peacock butterfly.
29 March, guided walk: chiffchaffs, Cetti's warblers, great crested grebe on nest, little egret, 2 male shovelers, first lady's smock in flower, buzzards.
26 March: chiffchaffs singing, green woodpecker, grey wagtail.
8 March: lesser celandines flowering.
7 March: stonechat and little egret still there; oystercatchers displaying, male shoveler. Coltfoot coming into flower - see old Coltsfoot at Thorpe Marshes blog here.
21 February: 3 little grebes, little egret, oystercatcher (2 yesterday).
17 February, guided walk: little egret, 2 stonechats, 1 male shoveler, water rail heard, 2 reed buntings singing, 150 lapwings over.
10 February: black-necked grebe, present since about 1 February.


Black-necked grebe with tufted ducks, 10 Feb (Derek Longe).
24 January: 95% ice cover on the Broad, with ducks (including male pochard) concentrated in the 5%.
19 January: 90% ice cover on the Broad. A few ducks on the far side (from the viewing area) only.


Canada geese, seen on the guided walk on 16 January (Derek Longe).
16 January, guided walk:
3 shovelers, 2 little grebes, Chinese water deer, lots of gadwalls, teals and tufted ducks on the Broad. Water rail and Cetti's warblers noisy today.

Left: Chinese water deer on the broad's edge, from the viewing area (Derek Longe).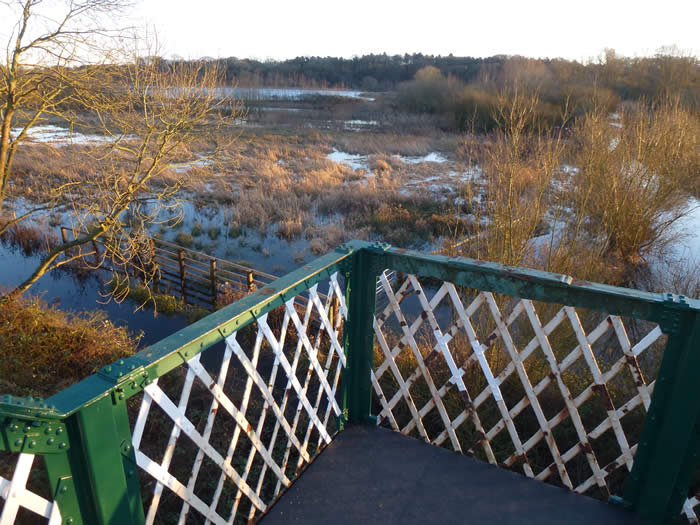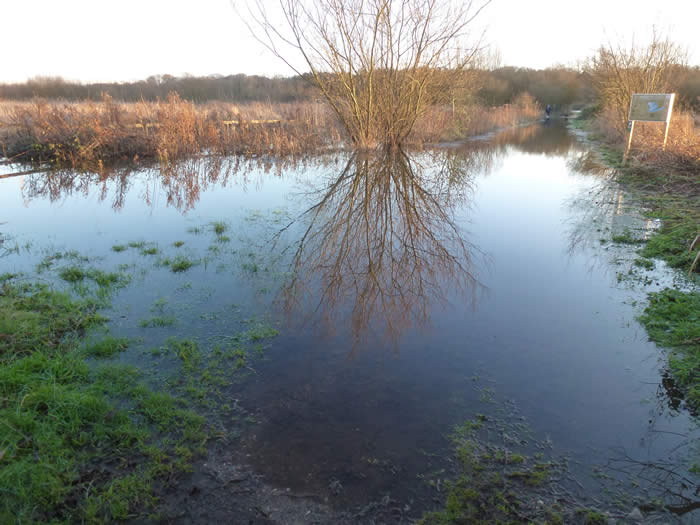 Reserve under water, 14 January. Left, from the footbridge. Right: from just over the footbridge, looking along the path towards the mooring basin.
5 January: 2 stonechats. Routine numbers of gadwall/teal/tufted ducks on the Broad. Water rail seen rather than heard, for a change.
Sightings from 2012 - 2016 here.
Wildlife reports & guide
Guide: click here to see NWT Thorpe Marshes map and guide.
2016 Thorpe Marshes wildlife report for 2016.
James Emerson's Whitlingham Bird Report 2016.
2015 Thorpe Marshes wildlife report for 2015.
James Emerson's Whitlingham Bird Report 2015.
2014 Thorpe Marshes wildlife report for 2014.
James Emerson's Whitlingham Bird Report 2014.
2013 Thorpe Marshes wildlife report for 2013.
James Emerson's Whitlingham Bird Report 2013.
2012 Thorpe Marshes wildlife report for 2012.
James Emerson's Whitlingham Bird Report 2012.
Reports are in PDF format.
Wildlife habitats
The three key habitats at Thorpe St Andrew Marshes are the ditches, gravel pit and grazing marshes - see below.
Other habitats, which are all part of the rich mix, include:
rough marsh of willowherb and nettles, attracting many sedge warblers
sallow (pussy willow) scrub, good for Cetti's warbler
the adjacent tidal River Yare
adjacent wet woodland
areas of reed, including a reed rond on the river, attracting reed warblers.
Ditches
Many ditches – also called dykes in Norfolk – have abundant water soldier and frogbit, both aquatic plants. These are indicators of good water quality.

In the Broads, the occurrence of the Norfolk hawker dragonfly, which is the symbol of the Broads Authority, is strongly linked to water soldier. The best place to see these is over the ditches close to the cattle corral.

Water rails and water voles use the ditches, though both are difficult to see.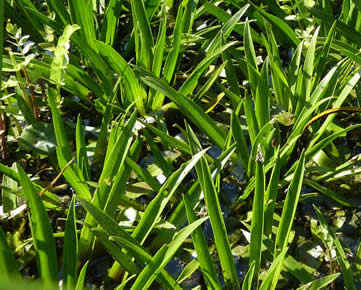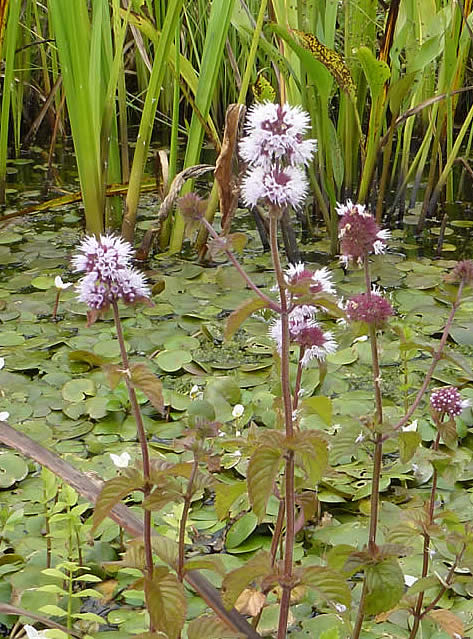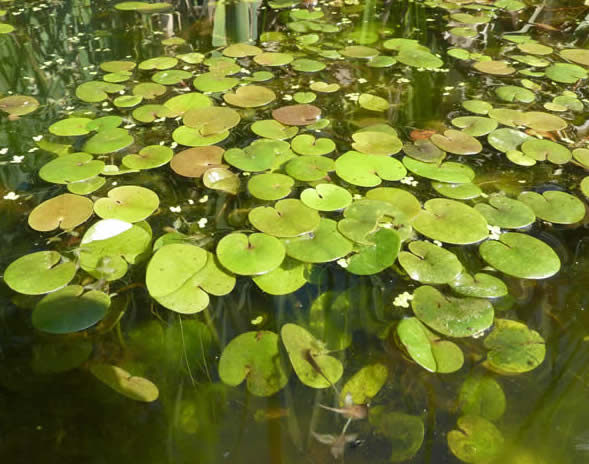 Ditches rich in water soldier (left), water mint (centre) and frogbit (right).
Gravel pit
Gravel extraction – as at Whitlingham Country Park across the river – has led to the creation of a lake, which has filled naturally with river water. Some may call this a 'broad': the true broads are man-made, too, though from flooded peat diggings, and typically are much shallower.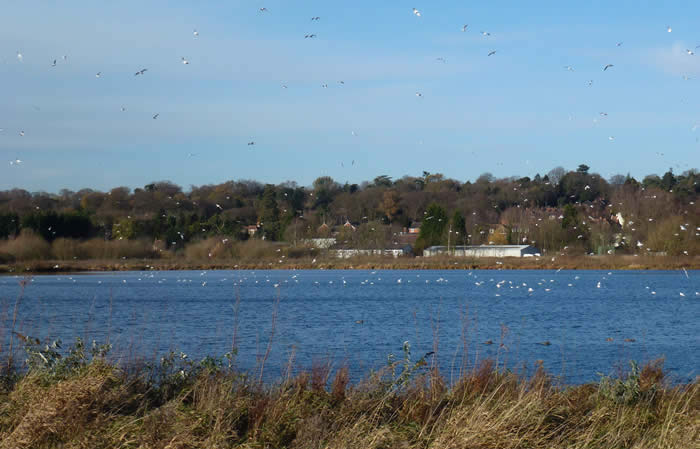 Gulls over the gravel pit, December 2011
The gravel pit here attracts wintering ducks, especially tufted ducks (picture below), pochards and gadwalls, moving between here and the Country Park. Unusual ducks call in at times, including smew, goldeneye, red-crested pochard and ferruginous duck over the 2011/12 winter.
Gravel beaches attract 'loafing' ducks and wading birds, which include little ringed plovers in spring/summer. Stock doves often feed on plant seeds on the gravel.
Grazed marshes
Livestock are essential to manage the open grazed marshes habitat.
Without them, thick grasses and sedges would dominate even more, and would in time be taken over by scrub.

More heavily grazed and trampled areas have a distinct structure of lumps and hollows that attract feeding snipe, and have flowers such as marsh marigold and lady's smock.

The flood: the grazing marshes include a 'flood', periodically under water, then drying out, here with a greylag goose and mallards in March 2012. The bright green shoots are emerging yellow flag iris plants.