Honeyguide holiday calendar
The Honeyguide brochure for 2020 was sent out in September 2019 and should have arrived for everyone on Honeyguide's mailing list in both the UK and overseas.
If you'd like another copy or are not on the mailing list and would like a brochure, please contact us.
In the column on the right you can also view a PDF of the brochure for 2020. For booking information, click here.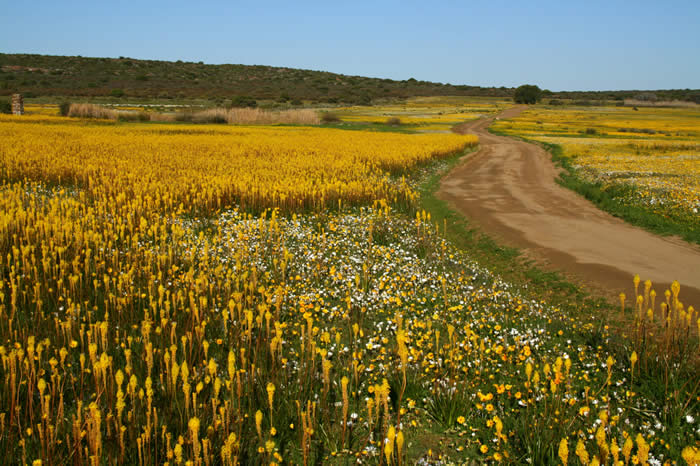 Farm track - Papkuilsfontein farm (Geoff Crane): South Africa: spring flowers
Below you can see our holiday calendar in one place, check availability and click through to our holiday pages. For prices, look under the 'holiday details' for each holiday. Last updated 21 May 2020.
Holidays for 2020
Below is the programme for 2020, with availability notes. For autumn holidays, we are waiting to see developments (or lack of) on coronavirus restrictions. We hope these holidays will run and that it may be possible to run additional holidays.
Holidays successfully completed
South Africa's Garden Route 25 January - 9 February 2020
Valencia 10-17 March
Holidays cancelled due to coronavirus
Crete 21-28 April
Menorca 17-24 April - one week earlier than in the printed brochure
South of Salamanca, Spain's Wild West 8-16 May [not in the 2020 brochure]
Spanish Pyrenees 17-24 June [not in the 2020 brochure]
Picos de Europa 15-22 June
Iceland 21-29 June, in collaboration with Christopher Hall of New Horizons (see Falsterbo)
Bulgaria's Western Rhodopes 26 June - 3 July
South Africa: spring flowers 22 August - 4 September
Autumn holidays
Falsterbo, Sweden 1-6 September one place available
Spanish Pyrenees, autumn 3-10 October places available
The Gambia, 4-15 December places available


Our holiday base at Casa Sarasa in Berdún - see Spanish Pyrenees, autumn.
2021
Bookings are open for the early season Portugal in Winter holiday. Expressions of interest in other holidays are very welcome, though we are not yet taking formal bookings in case the coronavirus epidemic leads to any changes in plans.
Portugal in winter 23-30 January 2021. Bookings are open for this holiday.
Serranía de Ronda 25 February-3 March 2021
Fuerteventura 13-19 March 2021
Extremadura 15-23 March 2021
Morocco 17-24 March 2021 (dates may be fine-tuned).
Crete 20-27 April 2021
Corsica 9-16 May 2021 (web page almost complete). 14 names (= fully booked) are already noted for this holiday.
Iceland 21-29 June 2021
Links in this section may be to holiday pages yet to be updated.