Honeyguide holiday calendar
There is no Honeyguide brochure for 2021 on account of the coronavirus pandemic, which both limits overseas travel and adds uncertainties that make planning difficult: a brochure is likely to be out of date very quickly. The same may be true for 2022.
Holidays and UK breaks will instead be promoted through this website. Keep an eye out for updates; the rest of this page gives a guide to plans for coming months.
Weekly Honeyguide walks are running in Norfolk, with information emailed to Honeyguiders and a few others in this area. Highlights of walks to date are on the Honeyguide blog. Please ask if you'd like to be added to the circulation list.
There will be a small programme of walks in north Essex and south Suffolk in July and August led by Honeyguide's Chris Gibson. Please contact us if you'd like details or to be added to the circulation list.
Below you can see our holiday calendar in one place, check availability and click through to our holiday pages. For prices, look under the 'holiday details' for each holiday. For general booking information, click here. Last updated June 2021.
UK breaks and holidays
Three UK breaks were initially set up for autumn 2020, now providing frameworks for breaks in May/June 2021. More breaks like these can be organised if we know there is interest. A Norfolk break in the second half of June, anyone?

Norfolk break with Chris Durdin 17-21 May 2021 (successfully completed)
North Norfolk with Rob Lucking 17-21 May 2021 (successfully completed)
Wild Essex with Chris Gibson 24–28 May 2021 (successfully completed)
Norfolk break with Chris Durdin 31 May - 3 June 2021 (successfully completed)
The Lizard, Cornwall, with David Collins 27 September – 4 October 2021 (three places available).
We plan more of the above this autumn, 2021: if you'd like to come sooner, please say.
2021
The return of international travel remains uncertain, and may be to a limited range of countries. Many overseas holidays previously planned are now carried forward to 2022.
Expressions of interest in holidays are very welcome, including for those listed for autumn 2021, though we are not yet taking formal bookings for any of these until we are certain travel overseas is possible.
Links in this section may be to holiday pages yet to be updated.
Autumn: these three we can run if it's practical:
Falsterbo, Sweden 31 August — 5 September
Menorca 6 — 13 October
Crete 19 — 26 October
2022
Portugal in winter 22 — 29 January 2022
Serranía de Ronda 24 February — 2 March 2022
Morocco 15 — 22 March 2022
Extremadura 15/16 — 23 March 2022
Crete 12-19 April and 19-26 April 2022
Corsica 15-22 May 2022. 14 names (= fully booked) are already noted for this holiday.
Iceland 20-28 June 2022
The Gambia Friday 25 November – Tuesday 6 December 2022 (12 days 11 nights)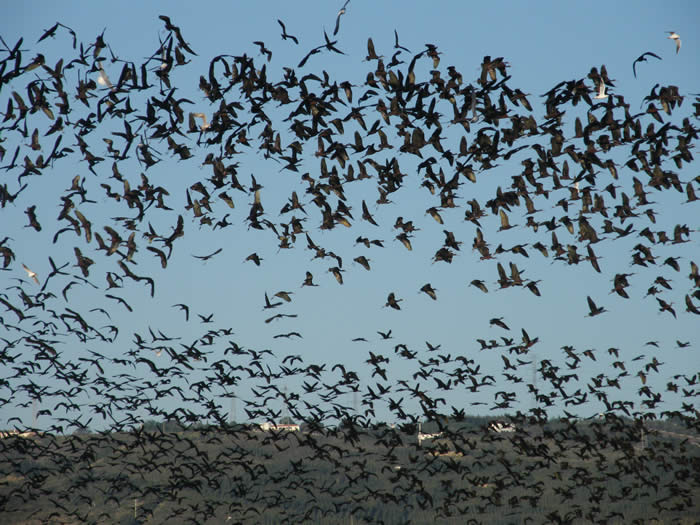 Portugal in winter: there can be thousands of glossy ibises (SPEA).
---
Below are links to friends and partners overseas, namely Geoff Crane in South Africa and Pau Lucio in Spain. We have run many holidays with both Geoff and Pau and they also run their own holidays. These links were on the Honeyguide 'home page' but they are here for now while the Foreign Office is discouraging non-essential travel to South Africa and Spain.
Southern Africa with Honeyguide
| | | |
| --- | --- | --- |
| Your South Africa helps you to put together a wildlife holiday with dates and an itinerary that suits you. Click here for more. | | |