Honeyguide holiday calendar
Our brochure for 2017 was sent to everyone on Honeyguide's mailing list early in September 2016. If it hasn't arrived, please ask for another. If you'd like a brochure for 2017, please contact us. In the column on the right you can also view a PDF of the brochure for 2017. For booking information, click here.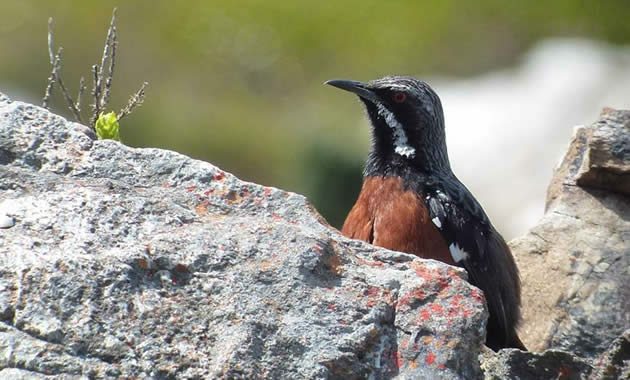 Cape rockjumper in South Africa's Southwest Cape.
Dates for 2017
This helps you see our holiday calendar in one place, check availability and to click through to our holiday pages. For prices, look under the 'holiday details' tab for each holiday. Last updated 28 June 2017.
These are the dates for holidays in the brochure/programme for 2017, with links to their web pages.
Tarifa & Morocco 27 February - 7 March holiday successfully completed
Fuerteventura 11 - 17 March holiday successfully completed
Extremadura 14 - 22 March holiday successfully completed
Crete 19 - 26 April (one day later than the dates in the brochure) holiday successfully completed
Poland 13 - 21 May fully booked, holiday under way
La Mancha 16 - 23 May holiday successfully completed
Slovenia 18 - 25 May holiday successfully completed
Hungary (private group) 24 - 31 May holiday successfully completed
Cévennes 31 May - 8 June holiday successfully completed
Estonia 4 - 11 June holiday successfully completed
Danube Delta 10 - 17 June with Carpathians extension 17 - 21 June holiday successfully completed
French Pyrenees 6 - 13 September (one day later than the dates in the brochure) fully booked
Pantanal 22 October - 3 November fully booked
Algarve & Alentejo 4 - 11 November places available
South Africa's Southwest Cape 8 - 23 November places available
Additional group holidays can be arranged.
Destinations from previous years we keep on the website in the archive section. They may be available for group bookings and others may return in a future programme – especially if we receive requests for them.
Dates for 2018
It will be some weeks before all dates are available. Honeyguiders are invited to suggest holidays from our regular programme and archive of destinations that they would like to take, and that will influence next year's programme. Pencil bookings can be made at any time.
Dates for 2018 once confirmed are noted here. Links take you to a web page that has details from when the holiday was most recently run: these are still to be updated with dates, prices etc for 2018.
Valencia 8 - 15 March 2018
Fuerteventura 17 - 23 March 2018 (four places of seven held already)
Menorca 13 - 20 April 2018
Crete 17 - 24 April 2018 [partly booked by a group of c.6 flying from Manchester]
Central Portugal 22- 29 April 2018 (provisional)
Dordogne 10 - 17 May 2018
Camargue 22 - 29 May 2018
Latvia 20 - 27 May 2018
Bulgaria's Western Rhodopes 20 - 27 June 2018
Namibia 11 - 26 November 2018 (dates from the UK, dates in southern Africa 12 - 25 November)



Caterpillars of the pine processionary moth, photographed in Gibraltar