Carbon credits
We're serious about our responsibility to tackle global climate change. That's why Honeyguide is offsetting its CO2 emissions by buying 'carbon credits' for every holiday flight.
Air travel makes up only a small fraction of the UK's greenhouse gas emissions at present, but that fraction is growing. As an environmentally minded company, we aim to keep our carbon emissions as low as possible, but we all realise it's hard to cut our pollution entirely.
Some Honeyguiders travel to our holiday destinations by public transport, and their holiday price is reduced by the cost of flights plus carbon offsets.
Carbon offsets
Realistically, most of our travellers will fly. Carbon Credits can be bought in projects that prevent the same amount of carbon dioxide from entering the atmosphere. In the early years, this was through projects that remove carbon dioxide from the air by replacing polluting technologies with clean ones. We now try to support projects that benefit wildlife and local communities, too.
Gola Rainforest in Sierra Leone
Our aim - often a challenge - is to find carbon offsets projects that achieve the 'gold standard' in terms of measuring carbon savings (see below) while also contributing to nature conservation and local livelihoods – the 'win-win-win' of the best projects, with wildlife gains a key priority for us.
For a fourth time, we have bought carbon credits that protect tropical forest in Gola Rainforest National Park in Sierra Leone. The September 2019 purchase was for 131 tonnes of carbon credits (certificate here).
The third occasion, in September 2018, was a purchase of 105 tonnes of carbon credits (certificate here). Work with camera traps in Gola Forest has given interesting results: more on that and wildlife-friendly chocolate on the RSPB's website here.
Last year (September 2017) we bought 104 tonnes of carbon credits - certificate here - for the same Gola Forest project (thank you to Honeyguide here). This was our second purchase: the first, in July 2016, covered three previous years with 250 tonnes of carbon credits (certificate here).
The project is jointly managed by the RSPB, the Conservation Society of Sierra Leone and the Government of Sierra Leone. There's a video about the project on YouTube here.
The wildlife benefits of protecting this rain forest, an Important Bird Area, are immense. White-necked picathartes is one of the flagship bird species, but there is so much more. Read about the wildlife of Gola Rainforest here.
Though announced in the RSPB's magazine in autumn 2014, the formal establishment of this REDD project (right) took nearly two more years to be up and running.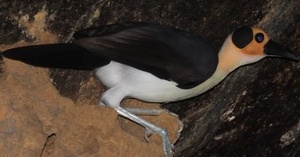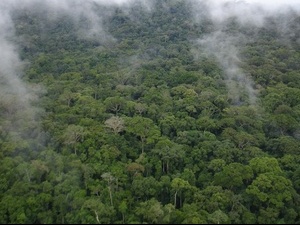 White-necked picathartes (Neil Lambert, RSPB) and Gola Rainforest c/o www.golarainforest.org
Gold standard
There are various schemes on the market to buy carbon offsets, but they vary in quality. We seek carbon offsets that conform to the measurable standards agreed by the industry (Voluntary Carbon Standard or Gold Standard). Other schemes may have carbon benefits but are not clearly measured or measurable.
A particular challenge is that money paid for by some voluntarily 'offsetting' makes no net reduction in emissions: what you've paid for, the Government no longer has to.
Carbon offset projects supported through Carbon Clear, 2009-2013
For six years, Honeyguide bought Carbon Credits through Carbon Clear www.carbon-clear.com and we're grateful for their help in this period..
For 2013, we bought Carbon Credits in two places in East Africa. Some of these are again at Kibale National Park reforestation in western Uganda - details under 2012.
One Honeyguider, Margaret Dixey, visited Kibale when her daughter was working on a VSO programme in Uganda. Margaret says, "I am thrilled Honeyguide has chosen to support Kibale. I was very impressed with the work there, particularly the programme for chimpanzees and was very excited to see a family of chimps during a guided walk there."
The other project we are supporting in 2013 is the Kasigau Corridor REDD project in Kenya, west of Mombasa and close to the border with Tanzania. This is preventing deforestation in an area that forms a valuable wildlife corridor linking Tsavo East and Tsavo West National Parks. This REDD project (see right hand column) is the first to gain Voluntary Carbon Standard validation. More information here.
Both projects appeal to us as they combine measurable, verifiable carbon credits with clear biodiversity gains, plus benefits for the local human community.

For 2012, we bought 71 tonnes of Carbon Credits in Kibale National Park reforestation in western Uganda, at a cost of £535. This reforestation project, run in cooperation with the Uganda Wildlife Authority, aims to establish new forest cover over 6,213 ha of degraded land inside the park through the planting of fast growing indigenous tree species. More information here (PDF) There is a brief write-up on Kibale National Park and the reafforestation efforts on Wikipedia here, and a lot more on the long-term sustainable management of the area here: this link takes you to a PDF of the Equator Initiative of the United Nations Development Programme.
This project appeals to us as, for the first time, it combines measurable, verifiable carbon credits with clear biodiversity gains. This '3-legged stool' is our own measure for a good project, in addition to the principles applied by Carbon Clear (see below).
In 2011, Honeyguide bought 30 tonnes of Carbon Credits in a small hydropower project in Turkey. This generates clean hydroelectricity from a small 5MW plant, reducing carbon emissions by displacing fossil fuel use. The project supports the local economy by providing jobs and a sustainable fishery. More information here.
This amount is lower than previous years as we used to predict and buy in advance. For the first few years this was roughly correct, but we over-provided in 2010 because of holidays cancelled due to volcanic ash and an air traffic control strike. This has been taken into account in the latest calculation and we now buy carbon credits retrospectively.
Our project in 2009 and 2010 was to offset our emissions by investing in a project to replace firewood cooking stoves with low smoke LPG stoves in Darfur, Sudan. These reduce carbon emissions, benefit wildlife by reducing wood cutting and provide huge health benefits for families.
Carbon Clear applies the following principles to all its projects: They must be efficient. Funds should not be diverted to unnecessary bureaucratic overheads, waste or middlemen. They must have additional, long-term benefits to the communities that undertake them. These range from employment opportunities to the protection of endangered species of plants and animals. They should follow the spirit of the Kyoto agreement. Projects must make pollution reductions over and above their normal level, and it is only this additional benefit to the environment that Carbon Clear supports.
---
Carbon offsets are relatively new. Ideally, we'd move towards carbon offsets in a country that Honeyguide visits, but that may not happen soon, not least as you get good value for money through projects in the developing world.
This is a small step in tackling such a big problem, but we hope by establishing this principle that more holiday businesses will follow. Hope rather than expect: the simple steps of printing our brochure on recycled paper and including a conservation contribution in the holiday price were applied from Honeyguide's first holidays in 1991 (the donations now routed through the Honeyguide Wildlife Charitable Trust) but remain highly unusual.