News
A successful Honeyguide holiday in southern Slovenia has just been completed, based in accommodation on the Logar family farm in Žerovnica on the eastern shore of Lake Cerknica with both wryneck and red-backed shrike in the garden.
The Notrajnska region of Slovenia is largely karstic, with limestone mountains separating broad damp plains called poljes. Highlights included six species of fritillary butterfly (larvae and adults) on the flowery meadows at Senožeče, the amethyst meadow squill at its only site in Slovenia and a magnificent male large copper feeding on fen ragwort at the Isola della Cona Nature Reserve, our last site before proceeding to the airport. Contributed by Paul Tout.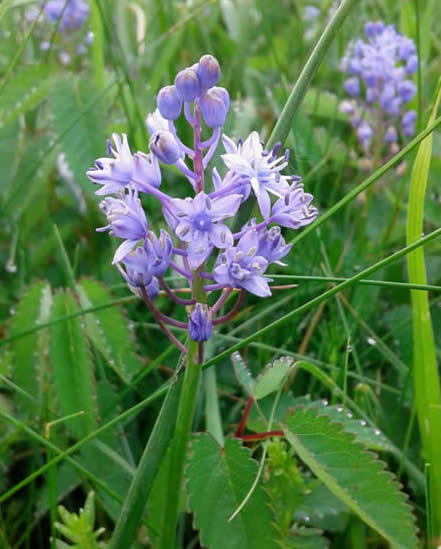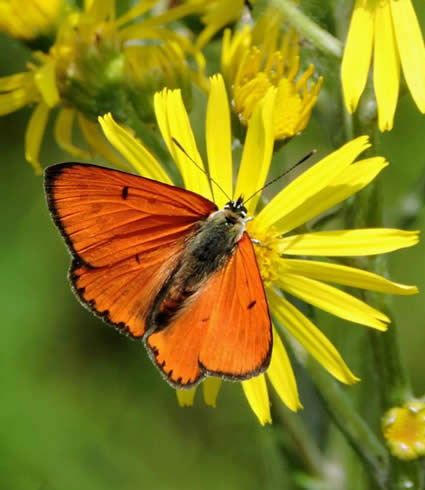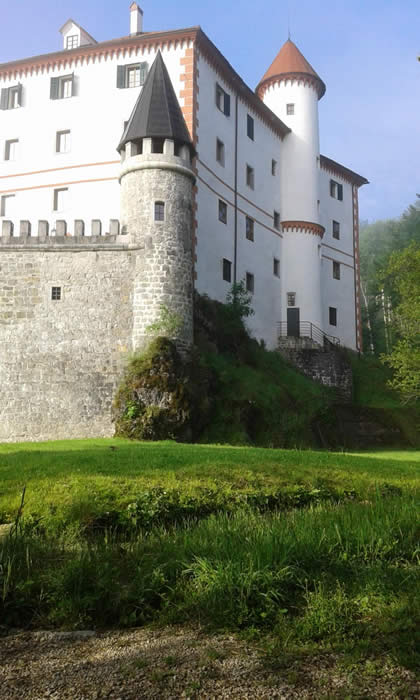 Amethyst meadow squill (Scilla litardierei), a southern Balkan species with a single station in Slovenia. Male large copper (Lycaena dispar) on fen ragwort (Jacobea paludosa). Snežnik Castle, a 13th-century castle located just south of Lake Cerknica.

It was an excellent year to be on Crete. The orchids above Spili were as good as I've seen them and the tulips, crown anemones and widow irises on the Omalos Plateau the best I've seen writes Chris.
One wet day gave ideal conditions for falls of migrants: flycatchers everywhere, including my first ever semi-collared, golden orioles, wood sandpipers and little stints. Co-leader David Collins had a surprise going through photos of migrant swallows in Plakias: a red-breasted eastern Mediterranean swallow (right). Lovely warm weather on most days and tasty taverna meals all added to a great experience. See also Cretan Bluet (damselfly). Holiday report here and photos on Facebook here.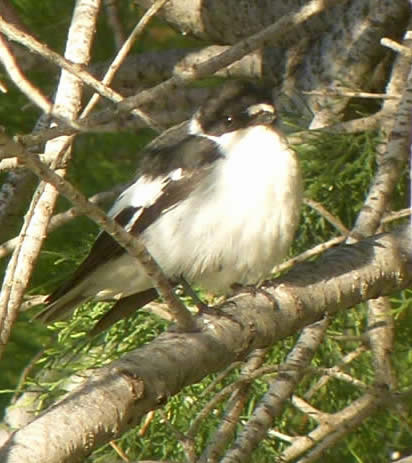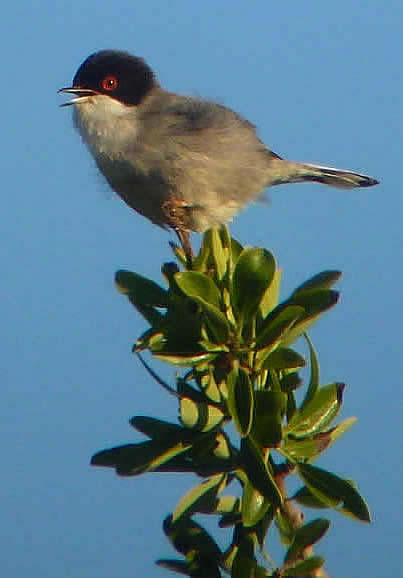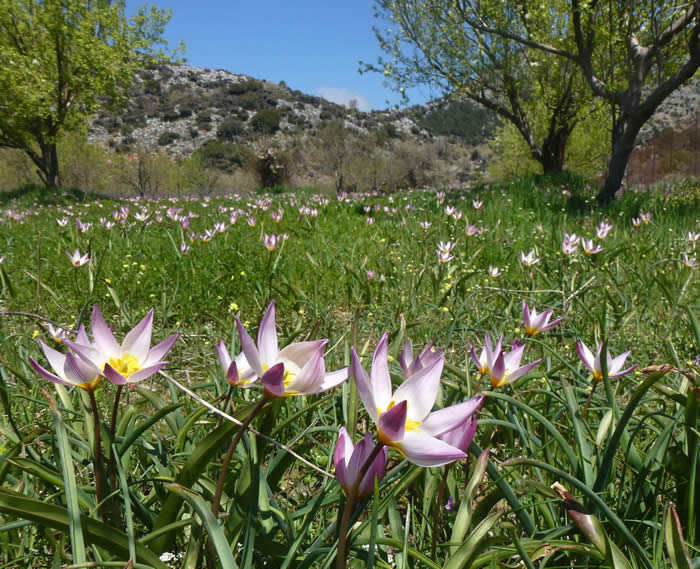 Semi-collared flycatcher, Sardinian warbler, Tulipa bakeri on Omalos Plateau
There were plenty of holiday highlights in Extremadura writes Chris. My best ever view of Spanish imperial eagle was almost outdone by a plummeting short-toed eagle by the same cliffs in Monfragüe National Park. Male and female lesser spotted woodpeckers were drumming nearby on one pre-breakfast walk.
We found a hoard of feeding griffon vultures making a good job of tidying up a sheep carcass. Three species of wild daffodils were at their best as were Iberian fritillaries and orchids close to our base at Finca Santa Marta. Honeyguide's 20th group at the Finca mostly went to familiar places, but Mérida's Roman Bridge was a novelty, from where there was a close purple swamphen.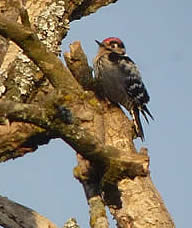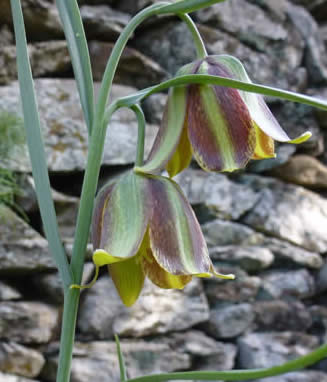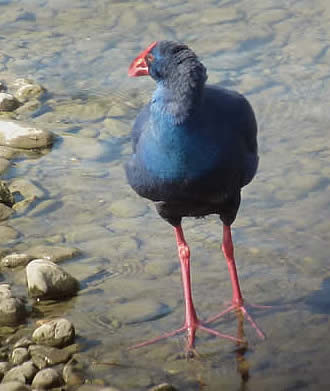 Lesser spotted woodpecker, Iberian fritillary and purple swamphen in Extremadura. More photos on Facebook, and holiday report here.
The Tarifa & Morocco holiday in Feb/March, write Simon Tonkin and Niki Williamson, had three bases – the tranquil eco-lodge of Huerta Grande in the village of Pelayo near Tarifa; a characterful colonial-style hotel in the bustling Moroccan town of Larache; and a traditional family-run guest-house in the exquisite blue-washed Moroccan mountain town of Chefchouen. It yielded a great quality bird list from European farmland and cork oak forest, Moroccan mountain habitats and wetlands and salt pans on both sides of the Straits, as well as views of hundreds of migrating black kites, short-toed eagles and other raptors.
Highlights included excellent views of Moroccan marsh owl, lesser kestrels, black-eared wheatear, hawfinches, northern bald ibis, slender-billed and Audouin's gulls, blue rock thrush, great spotted cuckoo, brown-throated and crag martins and purple swamphen. Non-avian highlights came in the form of monarch and Spanish festoon butterflies, Portuguese sundew, and of course superb local food and culture throughout. Holiday report here.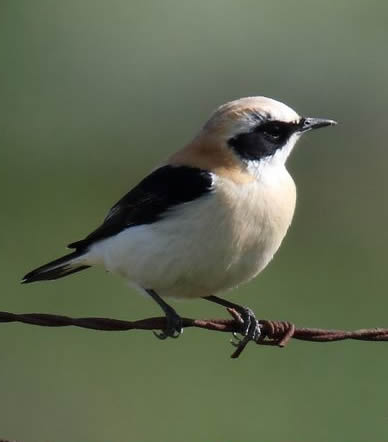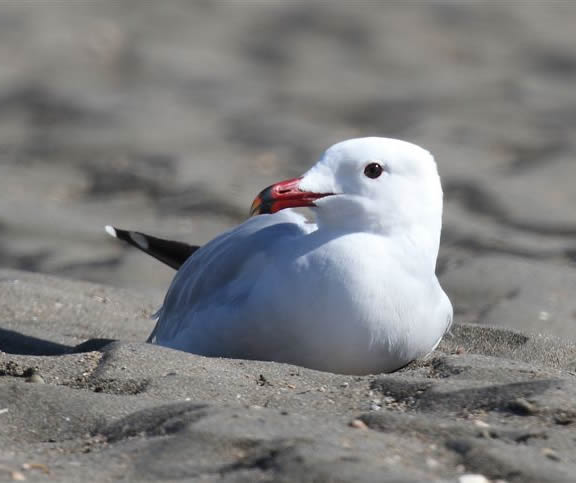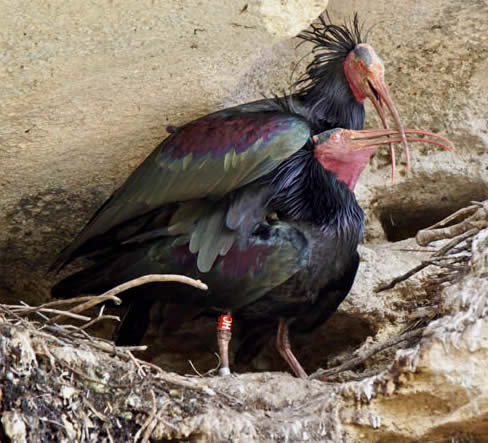 Black-eared wheatear and Audouin's gull (Rob Carr); bald ibises on the nesting cliffs (Simon Tonkin and Niki Williamson). Honeyguider David Bennett's photos from 2017 on OneDrive here.
---
Where to start describing two weeks late Jan/early Feb in the Drakensberg Mountains and Zululand? Wonderful mountain scenery, exotic and varied birds and mammals outside the three accommodations, from gentle warmth to tropical heat, good hospitality everywhere. A fortnight on and participants are still sorting through thousands of photos: here are just a few.
General photos - places, some mammals and birds - on Facebook here. I made a special effort to record dragonflies and damselflies of the Drakensbergs and Zululand writes Chris: Facebook album here from the holiday. Also orchids of the Drakensbergs on Facebook here and a set of butterflies here. Holiday report here.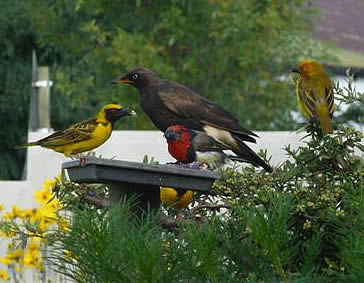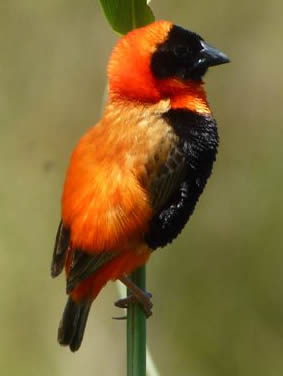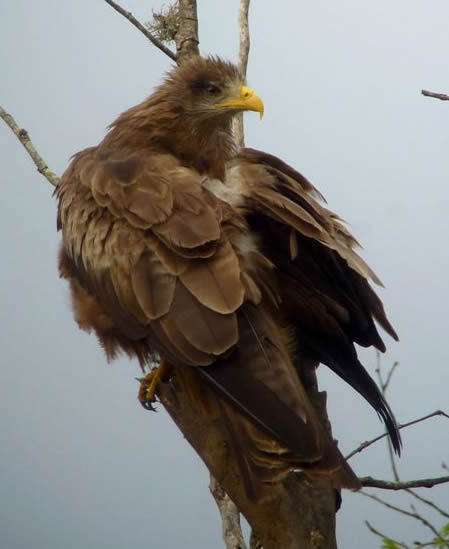 Bird table at Wakkerstroom, with southern masked weaver, pied starling, black-throated barbet and Cape weaver; red bishop; yellow-billed kite.
---
Are wood-meadows an under-appreciated habitat? Reading a paper in British Wildlife makes me think so, writes Chris Durdin. Here is a new web page to celebrate the wonderful wood-meadows of Estonia.

Wood-meadow with alpine bistort.
Pau Lucio, Honeyguide leader in La Mancha and Valencia, has just returned from a successful Iberian lynx trip in Andújar Natural Park, Andalucía. He took the photos of this superb mammal, below. The 2016 census of lynx is nearly complete and states that there has been an increase of 28 to a total of 389, compared with the 2015 census when 361 individuals were recorded. The provisional count confirms the upward trend that has been occurring during the last year despite the negative influence that hemorrhagic disease has had on the wild rabbit populations in the Iberian Peninsula. A summary of the report in English) can be read here.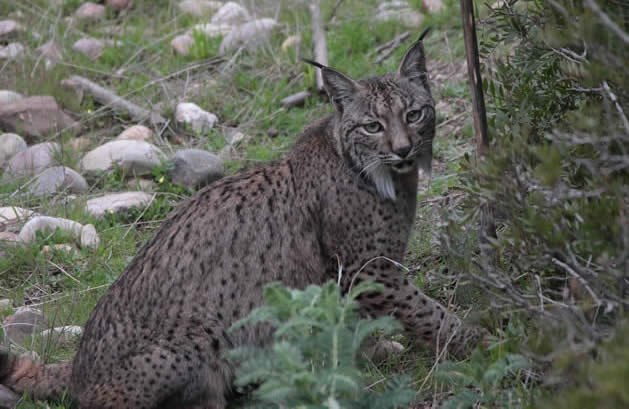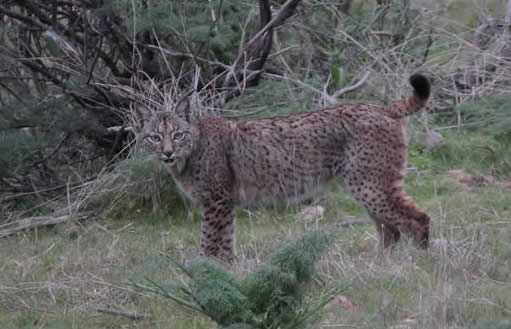 Honeyguider leader Ivan Nethercoat's daughter Katie is, like dad, a keen photographer. They went to Poland on a photographic challenge to take bison photos. These are two of Katie's pictures below; there's a set on Honeyguide's Facebook here and more on her website.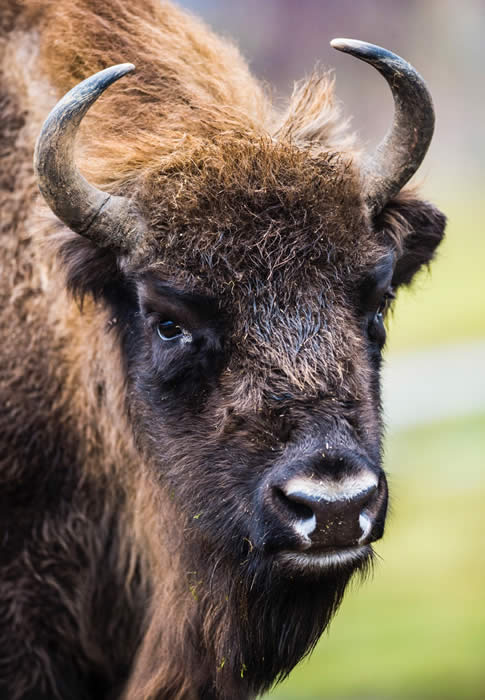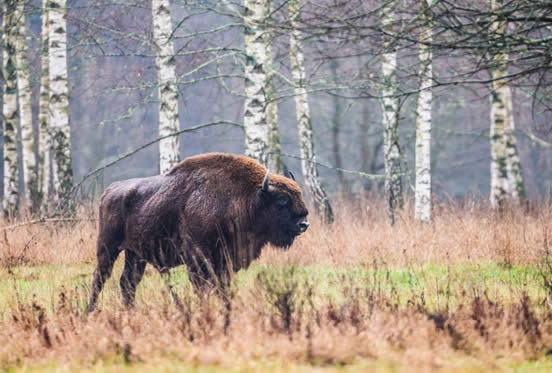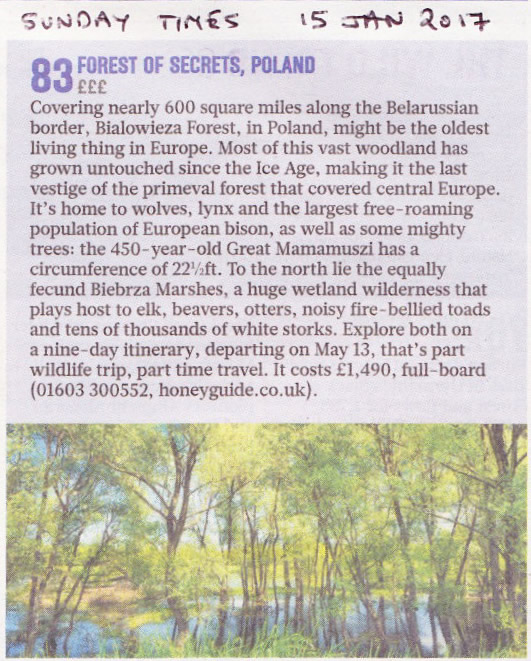 Honeyguide's Poland holiday in the Sunday Times: 'The Best 100 Holidays of 2017' Sunday Times supplement of 15 January 2017 includes our holiday in Biebrza Marshes and Białowieża Forest, Poland.


Trujillo from a distance, September 2016; the castle is on the left.
News from Extremadura: Game of Thrones fans may like to know that they were filming at Trujillo Castle in late November - details and some photos here. In December they were in Cáceres - this link has a spoiler alert as story elements are revealed.
Closer to home - our home from home in Extremadura, that is - I've learned about a video on YouTube that shows before and after pictures of the transformation of Finca Santa Marta to the place Honeyguiders know and love. There are still places on our Extremadura holiday in March if you'd like to join us.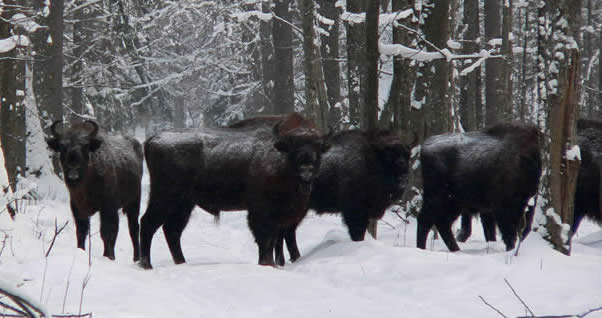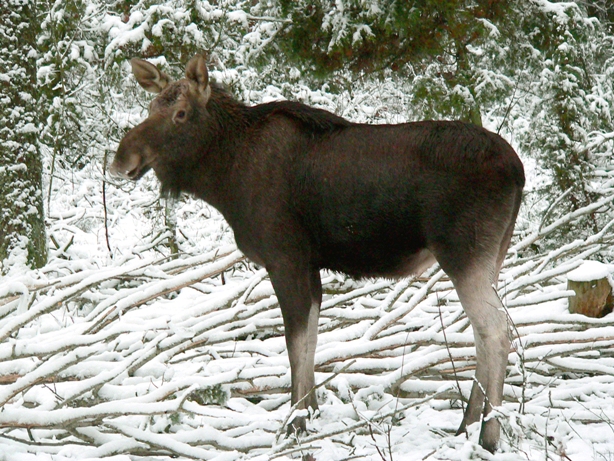 Winter has arrived in north-east Poland. Local Honeyguide leader Artur Wiatr says his family's first snowman in the garden was made on 19 November.
Artur writes: "Lower temperature and natural behaviour forces some animals to change their habit. The largest herbivore in Poland, the European bison in Białowieża Forest, has formed larger herds, sometimes of 60 individuals. This is for safety – easy defence against wolves – and feeding; they are helped by hay supplied once in a while by the rangers. This also keeps the bisons within their natural range. They stay in the woodland rather than moving into farm fields where they cause damage as their population is still growing. Based on last census in 2016, there are 578 free roaming bison on the Polish side of the forest. When spring comes again, the big herds split into smaller ones and these huge animals become very shy and difficult to encounter in the woods, though Honeyguiders in May 2016 were lucky (see the 2016 report).
"Similarly the elk (the largest herbivore in the Biebrza Valley) has already left the core zones of the marshes, moving into Scots pine forest and farm fields in drier parts of the valley. It's easier to find food there e.g. pine bark and needles and farm crops. Biebrza National Park holds the largest elk population in Poland which amounts up to 600 individuals. They do not form such a big herds as the bison. Usually it's the cow and calf from last year and the previous year. The population has grown since the year 2000 when hunting for the elk was stopped." The last group of Honeyguiders were lucky to watch an elk 'face to face' on their very day of arrival in Poland.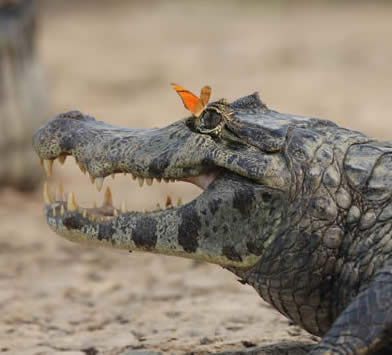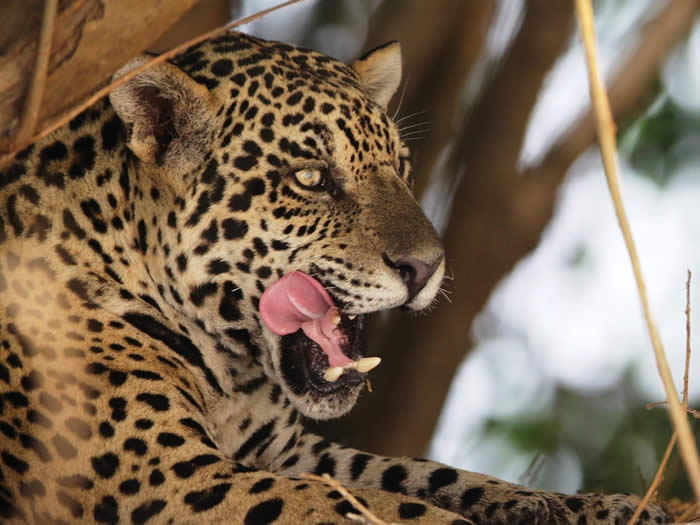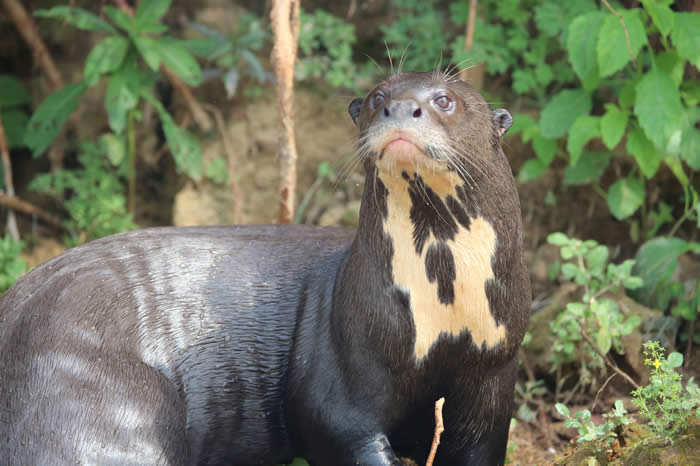 Yacaré caiman, jaguar and giant otter (Gabor Orban). Seen these on Planet Earth II and want to find them in the wild? Join us in The Pantanal, Brazil, in autumn 2017.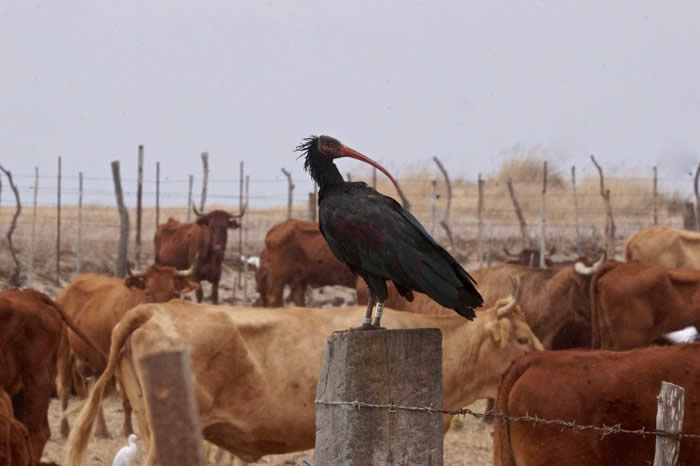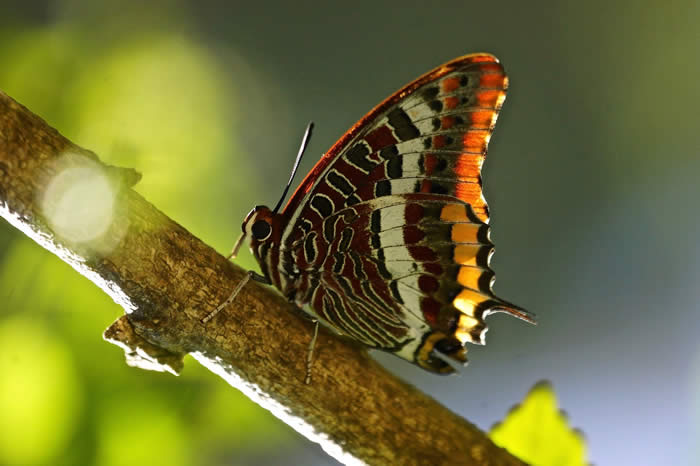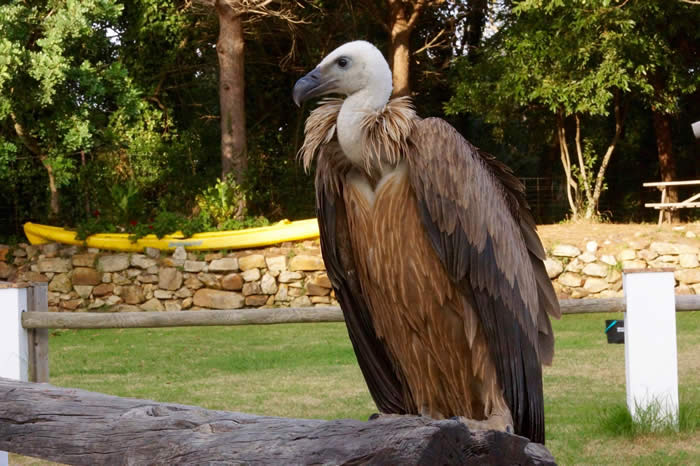 Some photos from Huerta Grande, our base for Tarifa & Morocco. Bigger versions and one more on our Facebook page.
---

Have I got old news for you? News 2016 . . . News 2015. . . News 2014 . . . News 2013 . . . News 2012 . . News 2011 . . . News 2010 . . . News 2009 . . . News 2008 . . . Back to top of this main news page