Painted lady invasion, 2009
2012 update: return migration revealed
Research has uncovered that painted ladies return to Africa - but fly at a high altitude, so are rarely seen.
'Radar in Hampshire operated by Rothamsted Research revealed that around 11 million high-flying Painted Ladies entered the UK in spring 2009 with 26 million departing in autumn' says Butterfly Conservation.
More here from Butterfly Conservation or on BirdGuides.
---
The year 2009 was a bumper year for painted lady butterflies.
Painted ladies were in high numbers on our holidays on Menorca in April and in the Dordogne in May. In hindsight, they were in good numbers in Extremadura, Crete and Eastern Greece, but not so much that it seemed remarkable. Group members in Menorca and Dordogne there thought this might be good news for this invasive but erratic species in the UK, especially after last year being so poor.
One in the front garden here in Norwich on 20 May was an early taste of a huge invasion on Sunday 24 May. I counted 120 flying north up Thunder Lane, Thorpe St Andrew in 20 minutes, running up to midday. The stream continued after that, slowing down during the afternoon: I reckon at least 1,000 came through. (See note * on right)
Most were just a brown blur, flying like a bat out of hell, but the odd one stopped to take nectar.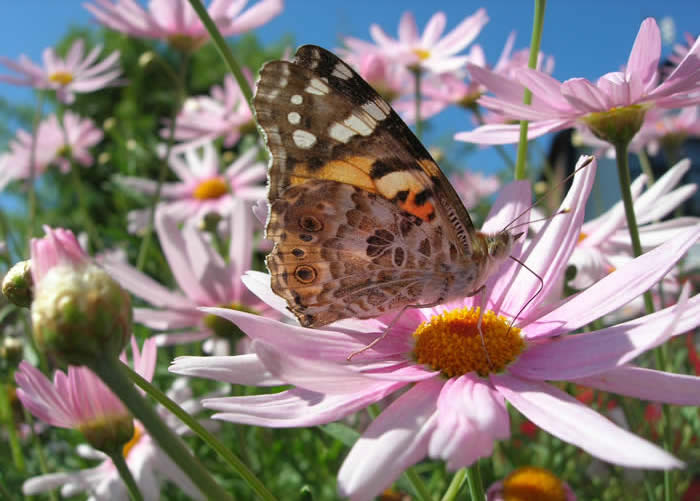 Painted lady on marguerites at home in Thunder Lane, 30 May 2009
According to Butterfly Conservation's Millennium Atlas, big early arrivals of painted ladies – another bumper year was 1996 – involve butterflies flying straight from North Africa. Word now is that this is true for this year: a wet winter in the Atlas mountains meant lots of thistles - larval food plants - and that has fuelled the huge movement north.
Later broods follow later as their breeding spreads north through Europe, so there may yet be further waves. The last serious invasion was in 2003, though later in the year.
This is all rather stunning for a butterfly that typically peaks when buddleia is blooming in high summer – biggest numbers are typically mid-July to Mid-September.
There were also several large whites on the move with the painted ladies on 24 May. Perhaps this migrant butterfly will also be here in good numbers this year. Other migrants to look out for include red admiral and clouded yellow butterflies and silver-Y moths.
You can help Butterfly Conservation to log the arrival of painted ladies online. The website also logs hummingbird hawkmoths, another migrant.
Back to nature notes Chris Durdin, 24 May 2009, with later updates