Berdún

An ideal base for special holidays in the Spanish Pyrenees
The link between Honeyguide and the hilltop village of Berdún goes back a long time. Our first ever holiday, back in 1991, was based here, and our groups have been going regularly ever since. A private party – friends and regular Honeyguiders – in 2013 was our 19th group there (holiday report here).
Anyone who has been to the Pyrenees knows that it's a superb place for a wildlife holiday. High densities of birds of prey, wonderful mountain flowers and superb scenery are well-known. We also have good friends there. The Painting School with John and Viv Boucher was our base for many years: in recent years we have stayed at Casa Sarasa, run by Peter Rich and Melanie Hallam.


Our holiday base at Casa Sarasa in Berdún
Our traditional wildlife holiday here works well, but Peter is keen to share his passion for the Spanish Pyrenees with us in other ways. Two ideas are:
Camino de Santiago
It is easy to walk parts of the Camino de Santiago (see right) close to Berdún. While any time of year could be good, we think this lends itself to an autumn holiday. It would involve more walking than a typical Honeyguide holiday, though we'd expect to fine-tune plans to get the best out of the natural history as well as the lovely buildings of the Pyrenees foothills and gorges. More here.
Honeyguide's first Camino de Santiago group was in September 2012 - report here.
Photography courses
A week-long photography course in the midst of stunning mountain scenery. More here.
There are more ideas on Casa Sarasa's website. Any of these could work:
as a Honeyguide group - contact Chris at the Honeyguide office
or you can contact Peter Rich directly and make your own arrangements, say for a group of friends.
With a Honeyguide natural history leader, we'd expect an all-in price with flights etc to be roughly the same as other week-long Honeyguide holidays.
Casa Sarasa also offers bed and breakfast if you'd like to simply explore under your own steam - with local advice when you need it.
* * * * * * * * * *
Honeyguide's Spanish Pyrenees pages. Honeyguide also has a regular holiday in the French Pyrenees.
. . . . . . . . . . . . . . . . . . . . . . Chris Durdin, December 2010, with later updates.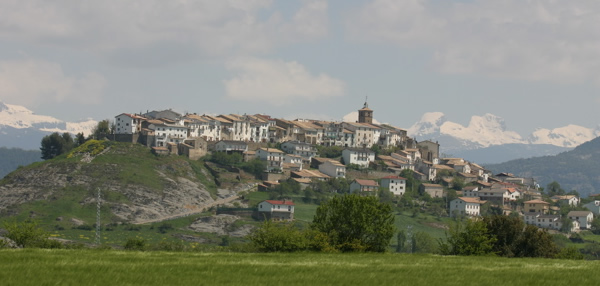 Berdún (Chris Gibson). Other photos by Chris Knights, Peter Rich and Chris Durdin.