Danube Delta
8 – 15 June 2021
A week in Europe's greatest wetland
Dates above are those that were planned for 2021. No decision has been made when this holiday will return to the Honeyguide programme, inevitably linked to when confidence returns after coronavirus constraints.
There is nowhere in Europe quite like the Danube Delta. Covering 2,200 square miles, the lion's share in Romania, the rest in the Ukraine, no naturalist's lifetime should be without the experience of visiting the delta.
Immense, important, breathtaking, threatened, beautiful; almost any superlative seems to fit some aspect of the Danube Delta.
For wetland birds, it is birdwatching made easy. Most famous are the pelicans, white and the globally threatened Dalmatian. Enjoy them as your boat drifts close to a flock on a lake; another day a flight of them catches you by surprise as they glide easily overhead.
The delta is as varied as it is spectacular. One hour you may be along riverine forest, with glossy ibises, egrets and sparkling blue kingfishers either side of you. Moving into an open area there may be lily-nesting whiskered terns alongside family parties of ferruginous ducks and red-necked grebes with youngsters clambering onto their backs. Then there are little bitterns disappearing into high reeds to the deep-throated sounds of great reed warblers or the distant buzz of a Savi's warbler.
The visit is timed for a combination of good weather and wetland birds at their most abundant and obvious. As well as true wetland birds, the land and wooded areas within the wetlands are rich with rollers, bee-eaters, golden orioles and woodpeckers, the last including black and grey-headed. Dragonflies bring hobbies and red-footed falcons in pursuit, and occasionally the vast form of a white-tailed eagle drifts through.
Much of this needs to be done by boat, or rather boats. This holiday is run in collaboration with Ibis Tours who are based in Tulcea, gateway to the delta. A delightful 'pontoon' – floating hotel – is our holiday base, usually combined with a hotel in Tulcea. The food is very good. We will start in Tulcea and then be towed into the delta's core.
Some of the best areas for birds are in Dobrogea – the area round the edge of the delta. Lagoons with wildfowl and migrant waders are best visited from here. Dry-country birds include calandra and short-toed larks; raptors include long-legged buzzard. Scrub areas hold barred warbler and ortolan bunting; the villages have white storks and Syrian woodpeckers.
Our local guides know the area and its wildlife well. But equally important is their hospitality. As the Romanian Ministry of Tourism brochure rightly says, 'Come as a tourist, leave as a friend'.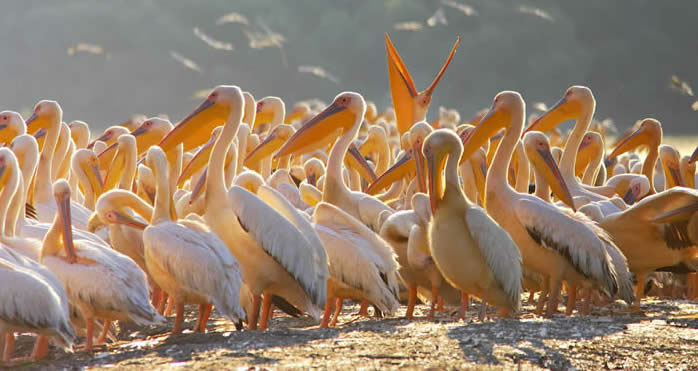 White pelicans (Daniel Petrescu)
Birds
Those above plus purple, squacco and night herons, great white and little egrets, spoonbill, pygmy cormorant, Syrian woodpecker, red-crested pochard, red-backed and lesser grey shrikes, penduline and sombre tits, icterine warbler and, with luck and perseverance, paddyfield warbler.
Other wildlife
This is, primarily, a birdwatching holiday, but the flowers in Dobrogea are a fascinating mix of eastern and northern European and Mediterranean species. Trees include Caucasian and manna ashes, Cornelian cherry, oriental hornbeam and silver lime. Terrapins, frogs and butterflies add interest, and muskrat is a possibility in the delta.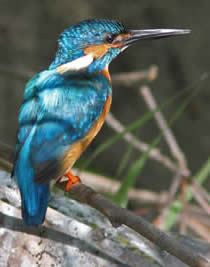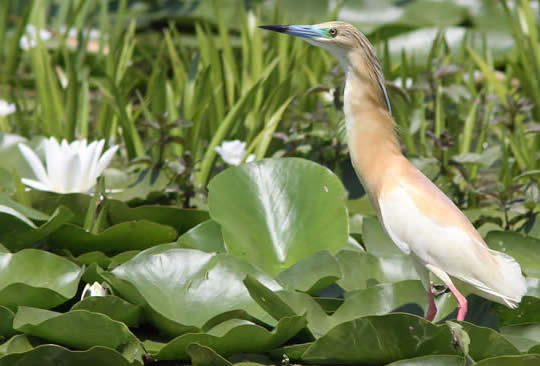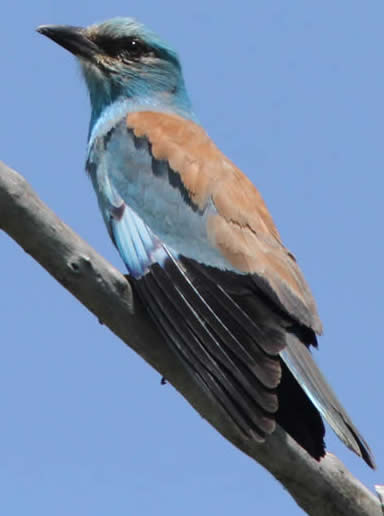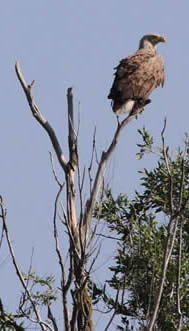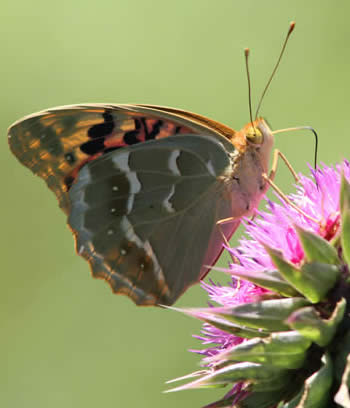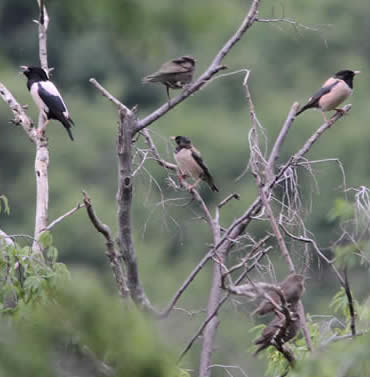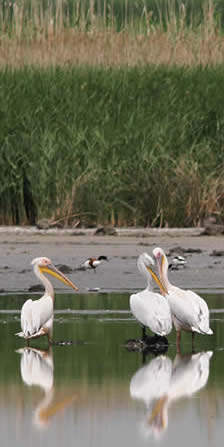 Some highlights from 2012, photographed by Judith Wells. From left to right, top: kingfisher, squacco heron, roller. Bottom row: white-tailed eagle, cardinal butterfly, rose-coloured starlings, white pelicans with a Dalmatian pelican.
Holiday details (TBC)
We'll spend three days in Dobrogea exploring a mix of wet and dry land. The other three days will be in the heart of the delta, much of it by boat but with walks onto dry land.
Price: £1,700 per person in twin cabin for full week (Thursday to Thursday)
En suite facilities
Single cabin supplement: £150
Flights: Scheduled Ryanair flights London Stansted to Bucharest Otopeni (TBC).
08 June: FR1005 depart London Stansted 08:40 arrive Bucharest OTP 13:50
15/19 June: FR1008 depart Bucharest OTP 16:05 arrive Stansted 17:35.
Deposit: £300
Maximum number: 14
Optional three-day extension to the Carpathian Mountains, 13 – 17 June,
including brown bear watching: £600 per person, single supplement £60.
In the Carpathians, groups normally stay at Elena Pension in Zarnesti www.pensiuneaelena.ro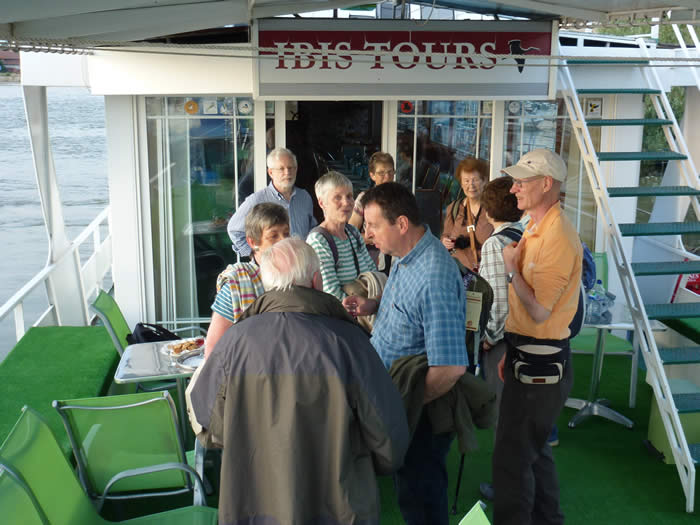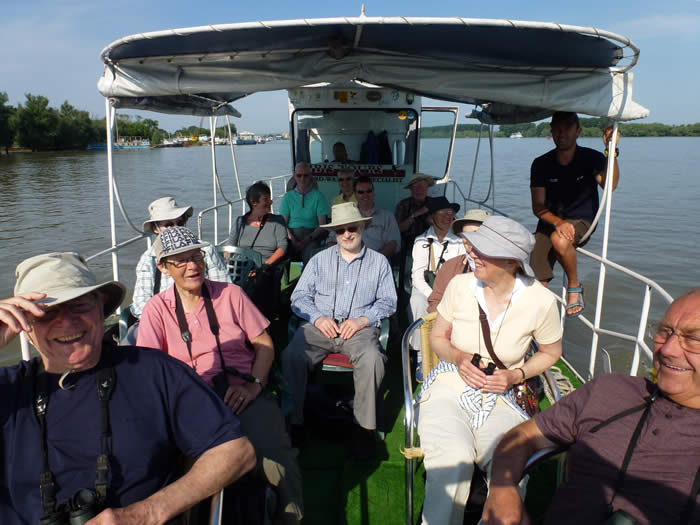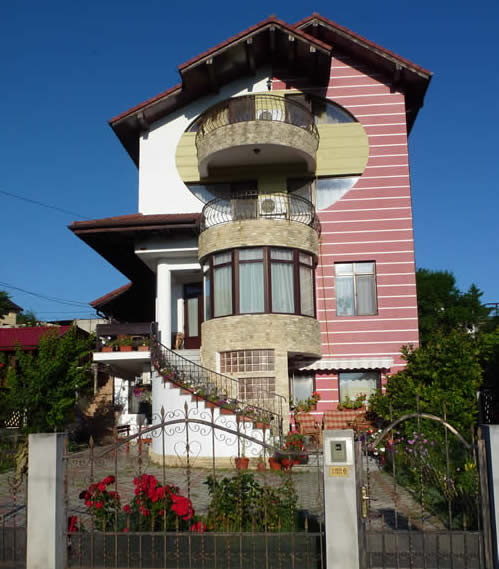 A welcome aboard the floating hotel; the day boat for most delta excursions; Mini hotel Ibis, in Tulcea, our base for half of the week.

Leaders
The main leader from our friends at Ibis on this holiday is from the Ibis team and is still to be decided. It may be Eugen Petrescu (it'll probably be Eugen in 2019), Daniel Petrescu or Florin Palade. Botanist Mihai Petrescu joins the group in Dobrogea. They all speak excellent English.
Eugen Petrescu is the Romanian Ornithological Society's conservation officer in the Danube Delta. He also runs Falco Cherrug, a group of young naturalists in the Danube Delta, that our holiday supports as our conservation project. Daniel Petrescu shares the passion for birds of his father Eugen and is part of the team running Ibis Tours, which they founded in 1995. He's a keen photographer: the photos on these Danube Delta pages are by Daniel. To see more of Daniel's pictures, visit www.danielpetrescu.ro. Florin Palade (right) has been a main Ibis leader for more than a decade.
Mihai Petrescu (no relation) is Ibis's botanist and usually joins the group in Dobrogea. He is a doctor in forest ecology, working as a researcher for the Danube Delta Museum in Tulcea. There are notes (in English) from an interview on Radio Romania International with Mihai here, and this link takes you to information, in Romanian, about a book Mihai wrote on the key habitats and botanical communities of Dobrogea and the Danube Delta.
A leader from Honeyguide is usually also with the group. In 2019, Tim Strudwick is lined up to be co-leader. Tim is Site Manager for the RSPB's Mid Yare Nature Reserves, including Strumpshaw Fen, in the Norfolk Broads, so is very much at home in wetlands. He is an excellent all-round naturalist, with a particular specialism in solitary bees. He has previously led or co-led Honeyguide holidays in Bulgaria, Crete and Poland.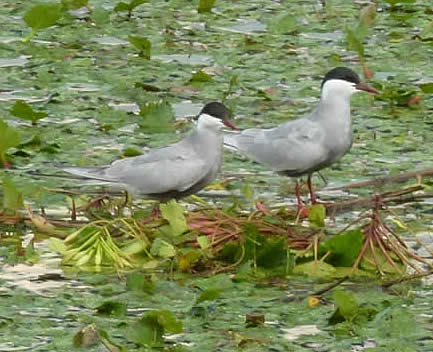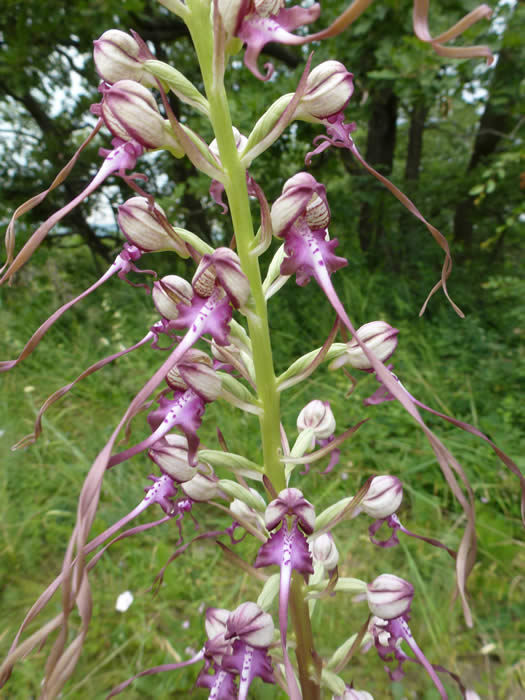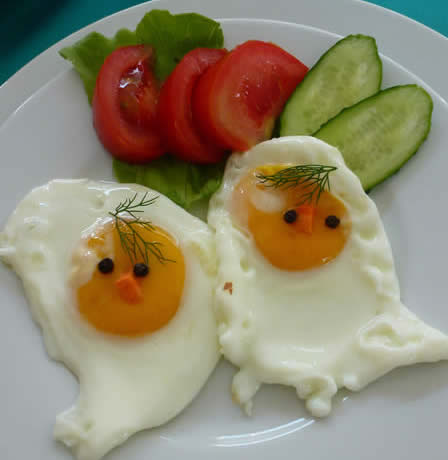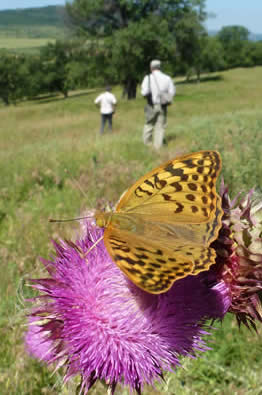 Highlights from June 2014. Whiskered terns on a nest of water weed; lizard orchid Himatoglossum jankae; breakfast eggs; cardinal butterfly on a musk thistle.
Conservation project
The Romanian Ornithological Society is a small but active bird conservation society. Our contribution goes towards a group of young naturalists called Falco Cherrug (the saker), which is run by Eugen Petrescu, who is both one of the Ibis team – quite often a leader for Honeyguide groups – and the SOR representative in the delta.
One of Falco Cherrug's main activities is an annual ornithological camp. There are pictures of the camps in the Danube Delta, a page from the SOR's magazine Pasari in December 2009 here, and from 2010 here, part-funded by Honeyguide as usual.