French Pyrenees
7 – 14 June 2019
Stunning scenery and mountain wildlife
For a combination of mountain views, flowers, butterflies and birds, the Pyrenees take some beating. Spectacular cirques, flower-filled meadows and soaring vultures; it lends itself to our mixed natural history style.
Many Honeyguiders know the Spanish Pyrenees: the French side is lusher, greener and the emphasis of this holiday is much more on the high Pyrenees. Access is easy to gentle walks or pottering in mountain pastures, up there with the isard – Pyrenean chamois – and marmots.
The short turf of mountain pastures has alpine plants including snowbells, trumpet and spring gentians, garland flower and birdseye primrose. In meadows, columbines, globe flowers and St Bernard's lily delight the eye. On walls, the delicate pink of fairy foxgloves is everywhere. Fragrant and elder-flowered orchids and narrow-leaved helleborine are likely, and there's a chance of black vanilla orchid. Familiar flowers in unfamiliar forms include a red kidney vetch and sheets of broad-leaved marsh orchid Orchis majalis subsp alpestris.
Snowfinch, both red-billed and alpine choughs, rock bunting and rock thrush are likely. That most thrilling of birds, the lammergeier, is as easy to see here as anywhere; other birds of prey include griffon vultures, golden eagles and red kites. There are wallcreepers, though typically they are elusive.
Butterflies include clouded Apollo, Camberwell beauty and swallowtail, plus a wide selection of blues, fritillaries and others.
Watercourses can hold Pyrenean brook newts and Pyrenean rock lizards scuttle around on rocks in the higher pastures.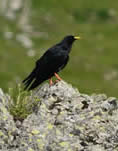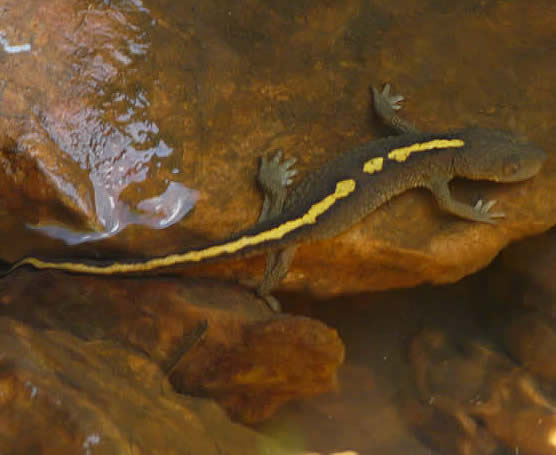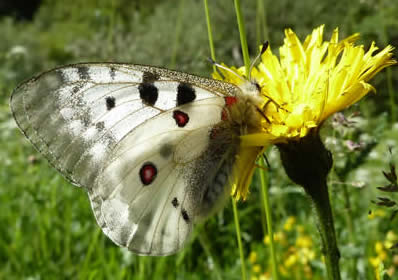 Alpine chough and Pyrenean brook newt (Ivan Nethercoat); Apollo butterfly.
Our base is the Hotel La Brèche de Roland, of Gèdre, just north of Gavarnie. It's an attractive former 17th century family house in the village, looking out onto Brèche de Roland. The 'brèche' or breach is like a bite out of the top of the cirque, measuring 100m by 60m. Roland, nephew of Charlemagne, carved it, according to 11th century legend. He was leading the fight against the Moors and was trying to smash his magical sword Durandel to save it from enemy hands.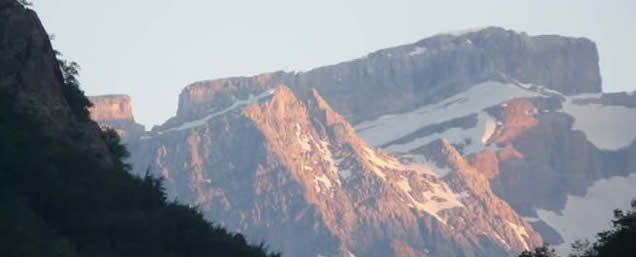 The Brèche de Roland - towards the left of the picture - from the hotel at sunset
(Stan Lovett)
Birds
Highlights, in addition to those mentioned above, could include short-toed eagle, peregrine, alpine swift, black woodpecker, woodlark, crag martin, water pipit, black-bellied dipper, crested tit, red-backed shrike and citril finch.
Butterflies
Some of the more than 50 species seen in the area: Apollo, black-veined white, Moroccan orange-tip, Cleopatra, clouded and mountain clouded yellows, green hairstreak, Adonis and Escher's blues, Queen-of-Spain and pearl-bordered fritillaries, large wall brown, Piedmont ringlet, pearly heath and red-underwing skipper.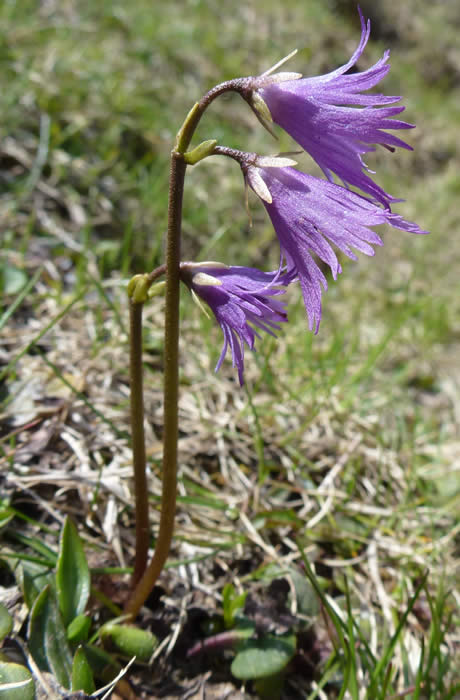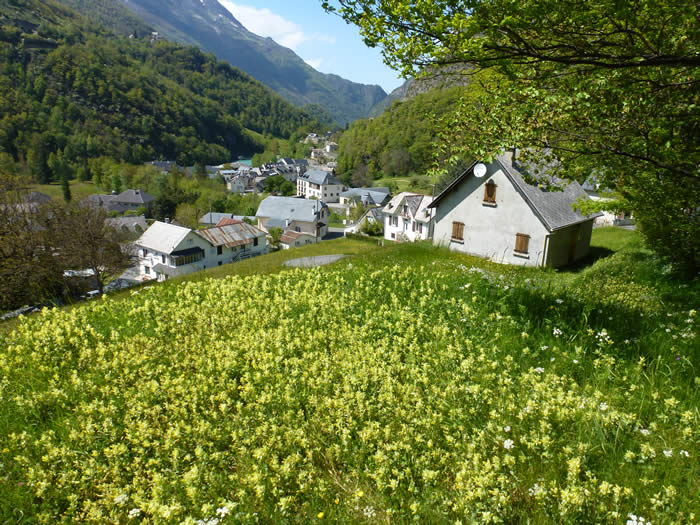 Snowbell Soldanella alpina; a field of yellow rattle at Gèdre
Flowers
These are some of the most typical or striking of a long list: livelong saxifrage, mountain avens, entire-leaved primrose, rock-jasmine, ramonda, mountain thrift, large-flowered butterwort , Pyrenean rampion, spreading bellflower, alpine aster, Pyrenean snakeshead, Tofield's asphodel, St Bernard's lily, Pyrenean hyacinth and butterfly orchids.


Isards - Pyrenean chamois (Ivan Nethercoat)
Holiday details
The cirque of Gavarnie is rightly famous; it can be busy but that takes little away from its magnificence and wildlife interest. Other sites to be visited include the Barrage des Gloriettes, Saugué valley, Ossoue valley, Col de Tentes, Col du Tourmalet and Cirque de Troumouse.
Price: £1,550 per person in twin room for a full week (Friday to Friday).
Single room supplement: £180
En suite facilities
Flights: Scheduled Ryanair flight, London Stansted to Lourdes Pyrenees.
07 June: FR522 depart London Stansted 14:10 arrive Lourdes 17:10.
14 June: FR533 depart Lourdes 17:35 arrive Stansted 18:35. 
Deposit: £300
Maximum number (two leaders): 14
Main leader
Chris Gibson has recently taken early retirement from Natural England where he was based in north Essex. He is an author of several wildlife books and has led many holidays for Honeyguide. He is an outstanding all rounder, from birds through flowers to moths, and recognised as a 'naturalist of distinction' by the British Naturalists' Association.







Click on the thumbnails above for a selection of French Pyrenees photos by Ivan, from June 2011.
Conservation project
The lammergeier, or bearded vulture, is Europe's scarcest bird of prey. Though never common, their decline prompted a partnership to tackle their protection and, as a result, numbers are now on the up. La Ligue pour la Protection des Oiseaux (LPO, the French Bird Protection League) is active here, with careful monitoring of the local population of the casseur d'os (bonebreaker), including tracking birds with radio transmitters; site protection in collaboration with other mountain users, such as climbers; and food provision in the breeding season.
More on the LPO's bearded vulture project (in French) here.
Lammergeiers — increasing in the French Pyrenees

1994 — 17 pairs
2004 — 24 pairs
2014 — 39 pairs

Lammergeier in flight (Ivan Nethercoat)
The range has also expanded. In 1994, they were just in the western half of the French Pyrenees. Now they are found throughout the French Pyrenees. Source: LPO.
In addition there were 126 pairs in the Spanish Pyrenees, with the highest number (83 pairs) in the region of Aragón. Add in one pair in Andorra, and that's a total of 166 pairs in the Pyrenees.