Purple Viper's Bugloss in Thorpe St Andrew
On 25 June 2017, I found a single flowering plant of Purple Viper's Bugloss Echium plantagineum on the side of Ring Road in Thorpe St Andrew, Norwich, within sight of the Sainbury's supermarket on Pound Lane.
This web page is to share some pictures and an account of this unusual record.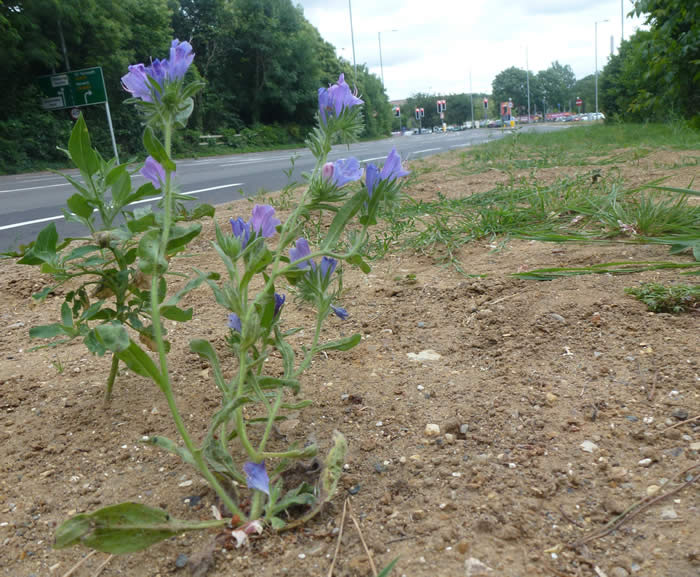 Purple Viper's Bugloss with Ring Road traffic lights and Sainbury's supermarket in the distance.
The identification – as I cycled past it – was instinctive from its colour and jizz. It's a flower I know well from southern Europe. It can be common elsewhere in the world - see right hand column.
I returned with a camera to take photos and to double-check the identification, given that it's unusual for Norfolk. But these ID details (below and right) are barely necessary for anyone that knows the two species.
From the photos many Honeyguiders will recognise this as a familiar plant from around the Mediterranean. The colour is a clue for Purple Viper's Bugloss, but also as it lacks the robust, upright spikes of Viper's Bugloss, familiar from the East Anglian Brecks and elsewhere.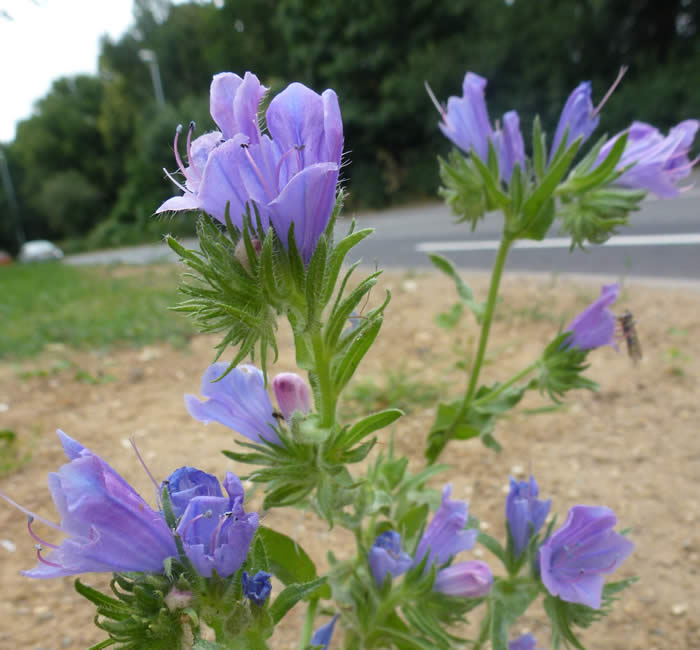 The two protruding stamens can be seen (cf. 4-5 on E. vulgare) here and there.
The distribution of Purple Viper's Bugloss shown in flower books includes the extreme southwest of England, though it's suggested that even there it may be an archaeophyte – introduced in ancient times.
In more recent years there seems to be a scatter of records across a lot of southern England, including in neighbouring Suffolk, according to floras and online maps.
Not normal for Norfolk
In Norfolk, however, it's highly unusual. Purple Viper's Bugloss is not mentioned in Gillian Beckett and Alec Bull's A Flora of Norfolk, published in 1999, which raised my hopes that it could be a first record for the county.
I emailed Bob Ellis, vascular plant recorder for East Norfolk. He wrote: "There have been a couple of recent records of Purple Viper's-bugloss in arable margins which have been sown with 'wild flower' or 'conservation' seed mixes," though whether the species is intended or a contaminant is unknown.
Mr Ellis added: "It's probably the first record that isn't a deliberate introduction (or the direct consequence of one) and yes, a very interesting find."
The flower I found was growing was on a bare, sandy area on the verge where the road had recently been closed for roadworks. This raises the possibility that the seed came in with soil, or dropped off a passing vehicle.
The story does not have a happy ending. As reported in the Eastern Daily Press, a week later the area had been cut or strimmed and the Purple Viper's Bugloss destroyed.
More nature notes . . . . . . . . . . . Photographs on this page by Chris Durdin.