The Glanville fritillary
Glanville fritillaries have fascinated me since I read in the Mitchell Beazley pocket guide that the species is named after Mrs Eleanor Glanville, a butterfly enthusiast of the late 17th/early 18th century "whose Will was contested on the grounds that nobody of sound mind would have such a hobby!" Read more about this here on Wikipedia.
It may strike as odd that the name fritillary is used for both a group of butterflies and a plant. 'Fritillary' means chequered, which explains the shared name and why there isn't a 'chequered fritillary' as that would be a tautology, like 'reverse back.' But enough of the etymology of this branch of entomology.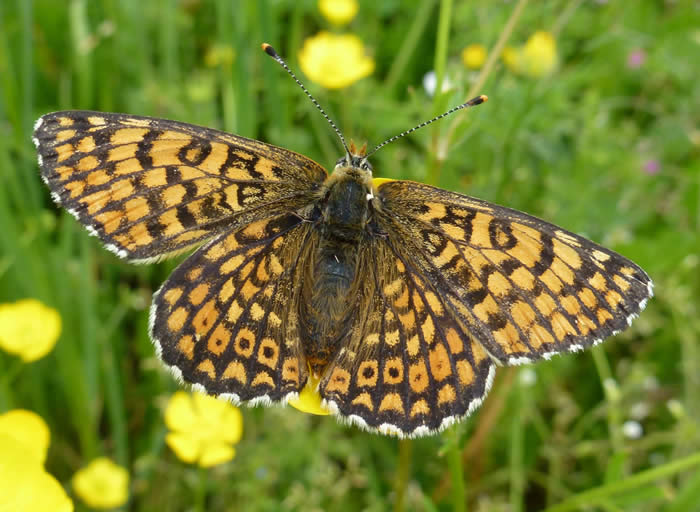 The dots in the last but one row of cells on the hind wing are the best ID feature, and can even be seen on the underside photo below.
Eleanor Glanville found them in Lincolnshire, but in the UK they are now restricted mainly to the southern part of the Isle of Wight, plus some in coastal Dorset.
Plantains, especially the abundant ribwort plantain, are the larval foodplant, so will they spread north as the climate changes?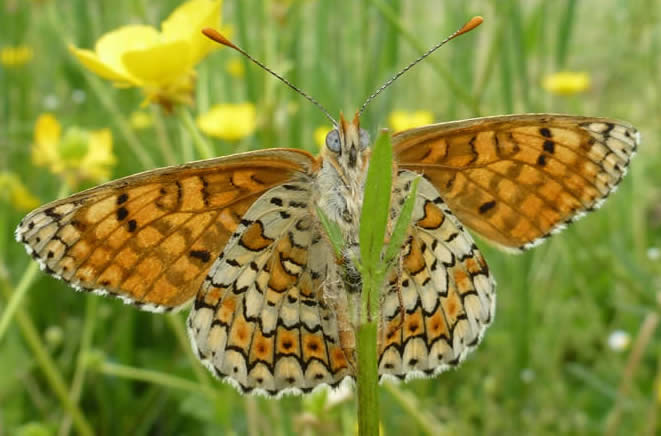 Glanville fritillaries are widespread in central Europe, and these were photographed in the Dordogne.
Chris Durdin, January 2009, last updated June 2013.