Pyrenean brook newt
The Pyrenean brook newt Euproctus asper (or Calotriton asper), also known as the Pyrenean brook salamander, is found only in the Pyrenees – in France, Spain and Andorra. It lives in cold mountain streams with stony beds, in lakes and sometimes in caves. Here, at 700 to 2,500 metres (2,300 to 8,200 ft), it feeds on insects and other invertebrates and can itself be taken by trout.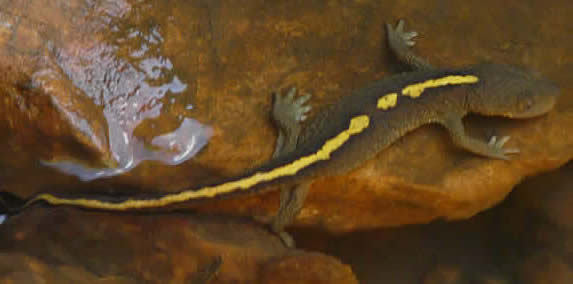 Pyrenean brook newt, June 2011 (IN)
It has a flattened appearance with rough-looking grey or brown skin, which has many granular nodules. The most distinctive feature – on most of those we've seen – is a bold yellow stripe along the back and tail, sometimes as a broken line, but there's also a stripeless form.
We have been lucky enough to see them several times in the shallow streams in the French Pyrenees at the Cirque de Troumouse. Sometimes they swim in the open but they will hide under stones, which may mean a view of just a head or tail, as the photos on the right show.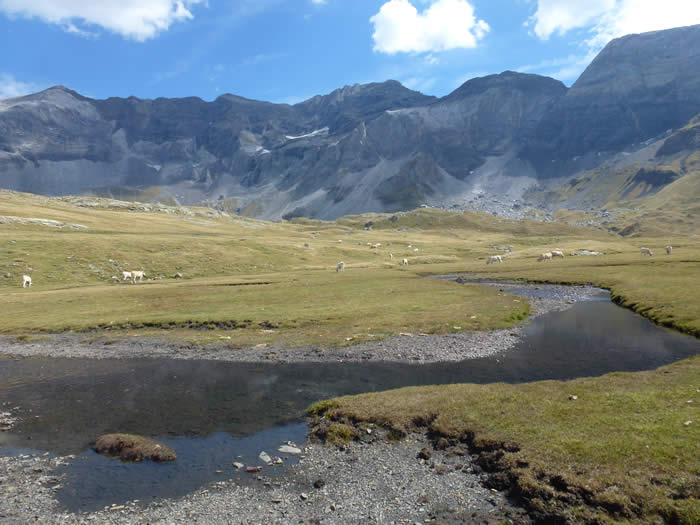 Cirque de Troumouse, September 2012: Pyrenean brook newt habitat (CD).

Pyrenean rock lizard
The Pyrenean rock lizard Iberolacerta bonnali is found in a restricted area in the central Pyrenees, in both France and Spain, that area being in the high Pyrenees (1700 to 3000m) just south of our French Pyrenees base in Gèdre (see map here). It's closely related to the Iberian rock lizard and there are two further recently separated species, Aran rock lizard Iberolacerta aranica and Aurelio's rock lizard Iberolacerta aurelioi confined (on present knowledge) to mountain blocks a little farther east, towards Andorra.


Pyrenean rock lizard, Col de Tentes, September 2014 (Jean Dunn)
The rather uniform grey back of the Pyrenean rock lizard is the best identification feature. It is darker on the flanks and has a pale throat.
Honeyguide has found the Pyrenean rock lizard at Col de Tentes, where these photos were taken, and Troumouse. As you might expect, a sunny day while soaking up heat on a rock is the best time to see this species.


Pyrenean rock lizard, September 2012 (CD)
Common wall lizard
At lower altitudes in the French Pyrenees, the more strongly marked common wall lizard Podarcis muralis is, indeed, common. These were photographed in Gèdre.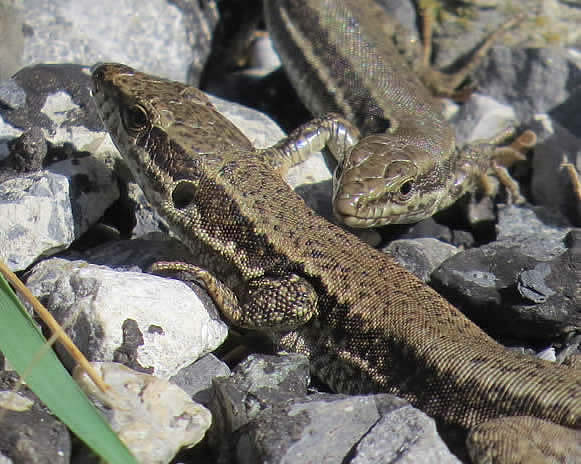 Common wall lizard, September 2014 (Sue Lewis-Jones)
Chris Durdin, December 2012, with later updates
More nature notes . . . . . . . . . . . . . . . . . . . . . . . . . . . . . . . French Pyrenees