Photospot: bryony ladybird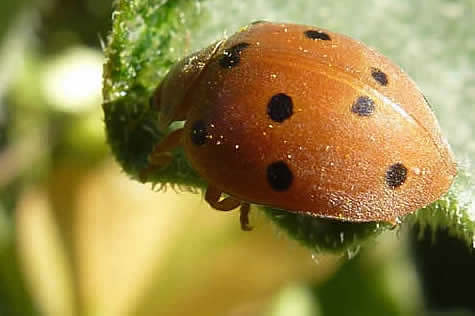 The bryony ladybird - also known as the gourd or melon ladybird - is a species we often note on Honeyguide holidays.
Henosepilachna argus (Epilachna chrysomelina in Chinery, also known as Henosepilachna elaterii) is orange, hairy (on the wing cases) and has 11 spots. Perhaps the most obvious feature is that we nearly always see it on squirting cucumber plants.
Intriguingly, it is also a recent colonist in the UK, in 1997 (source: UK ladybird survey) in Surrey, perhaps on account of global warming. In the UK it feeds on the leaves of white bryony.

Right: bryony ladybird on white bryony in the Spanish Pyrenees (Chris Gibson).
Being distinctive and a species we may find in the UK are reasons to feature the bryony ladybird here. Worth checking any cultivated melons, gourds, cucumbers, marrows and pumpkins, as well as wild white bryony.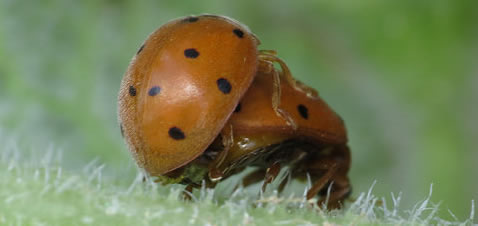 Top photo: bryony ladybird, near Tarifa in south Spain, March 2015. Above: same species, Festos, Crete, April 2015 (Tim Strudwick).
More nature notes . . . . . . . . . . . . . . . . . . . . . . . . . . . . . red and black bugs