The Norfolk Cranes' Story
John Buxton and Chris Durdin
This new book - published in July 2011 - tells the story of how cranes bred at Horsey in Norfolk, and how they were protected and studied there.
The cranes' story starts with their arrival at Horsey in 1979. Their first nesting attempt was in 1981 and the first chick fledged in 1982. from this slow start in the Broads, the re-colonisation of this iconic wetland bird is now taking small but steady steps forwards elsewhere in the UK.
Their guardian at Horsey was – and is – John Buxton. Much of what we know about cranes in the UK was contained in John's memory and notebooks. The co-author is Honeyguide's Chris Durdin. With John providing the information and Chris doing the writing, this was how the book was completed.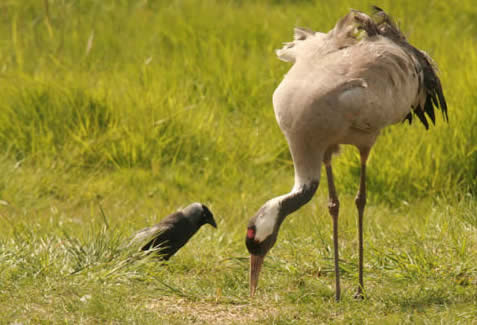 Crane feeding on grain at Horsey
Part one, 'The Horsey Story' tells the story of cranes at Horsey in John's words, as told to Chris. Much of this draws on John's memories and the many and detailed notebooks that John kept.
Added to these are the diaries, reports and recollections of others, such as Peter Allard, Mike Everett and several crane wardens.
The year by year accounts include elements of the story that are linked to that year, but more general notes on behaviour and related subjects are in part two.
Part two, Cranes: History, Observations and Management includes the history of cranes in the UK, how 'Crane Country' was shaped, and information on land management as it affects crane habitats for breeding and feeding. Observations on their behaviour at Horsey show the time and energy that John Buxton and his team of wardens have dedicated to cranes. The difficulty of access into fens and the birds' secretive and sensitive nature make the observations made at Horsey especially valuable. We hope these will prove useful to land managers elsewhere in the UK as crane numbers increase.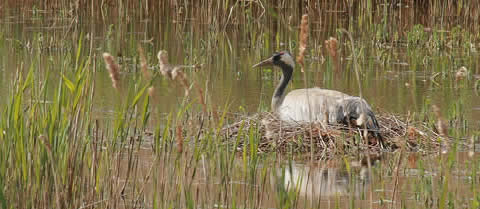 Nests at Horsey are often in a small pool in the reedbed
Though this book is primarily about Norfolk's cranes, the common crane is the most widely distributed of the 15 crane species. In part three, Cranes in Europe, Nick Upton describes the challenges facing cranes in the rest of Europe, charting their recent rise in numbers that has contributed to their reappearance in the UK.
* * * * * * * * * *
The cranes were kept a secret in the early years. Steadily, as the years went by, the nesting cranes became an open secret and finally public knowl­edge. In recent years, the birds have started to spread away from their core area around Horsey into other parts of the Broads, the Fens and elsewhere while, using crane eggs brought from Germany, a reintroduction project into western England is underway.
So this seems like the ideal time to tell the Norfolk cranes' story; in effect, how it all began.
Chris Durdin, May 2011, updated August. More Honeyguide nature notes