Poker Wood
How a new woodland for wildlife was created in Suffolk
Honeyguiders Malcolm and Jane Key had a vision — and big project after an early retirement — to create a new woodland somewhere near their home in Suffolk.
The story begins in 1996 with the search for a suitable site. Just under 22 acres of land in the parish of Winston, Suffolk was purchased in June 1996 for the purpose of creating a woodland bird reserve.
They called it Poker Wood after Poker Orchard, which had previously been on the site.
The story of Poker Wood is now in a privately published book called Poker Wood, The Story of a New Wood. Malcolm wrote about the project as it developed in four phases; his idea was to combine the accounts, survey information and practical information into one account.
As the introduction to the book says: "Poker Wood has matured and blossomed in the 24-years since it was created with largely native trees at the end of the 20th century. The first three chapters were written as the Poker Wood project progressed to describe the tree planting, meadow creation and woodland management strategy; the chapter headings give the dates of these elements. The fourth chapter is more recent and attempts to illustrate and review the incredible, natural changes that have occurred in Poker Wood during its short lifetime.
"All four parts have been combined here to form part of the Poker Wood story. Inevitably there is some overlap; leaving the text largely as written reflects perspectives at the time of writing as well as simplifying the job of combining all elements into one publication."
"The aim is to provide a written record, in one place, to record the story and to act as a reference for anyone who may be involved in Poker Wood now or in the years to come."
Poker Wood is a private site and there is no public access without an invitation.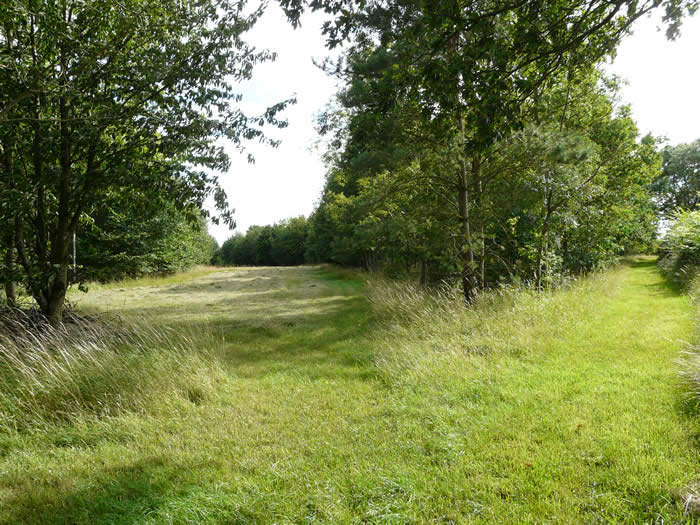 View from 'Antonia's Gate' in Poker Wood, July 2020.