Photospot: rue-leaved saxifrage
Saxifrages have star quality. Wild saxifrages we associate with alpine or arctic habitats. Some are beautiful or spectacular. Many are grown as garden flowers.
ID tips

Tiny, white flowers, 5-petalled.

Green stems and leaves, soon turning red.

Zig-zag stems.

Fingered leaves, stickily hairy - see below.
Chasing pavements
Yet one widespread saxifrage is unglamorous and overlooked. Rue-leaved saxifrage can be found in natural places like limestone pavements, but you're more likely to see it — if you make the effort to look for it — in high street pavements.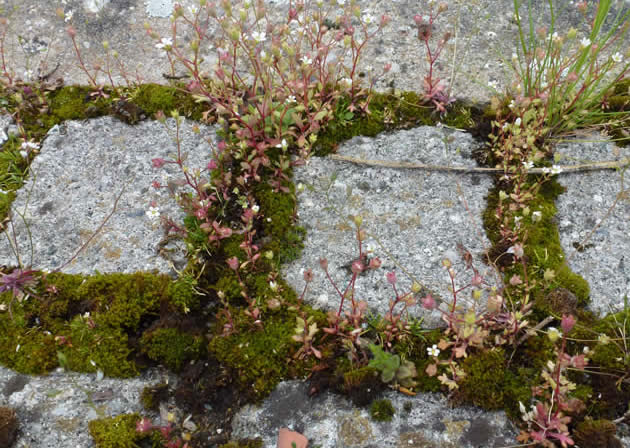 It likes lime - but that can include old mortar, gravelly car parks or even cement. The grid-like pattern above is moss-covered cement between granite blocks at Norwich's Riverside development. Rue-leaved saxifrage — mostly with red leaves here — is abundant.
Other saxifrages
The UK's other common saxifrage is meadow saxifrage, which grows in well-drained, 'unimproved' (= unfertilised) grassland.

Sloping road verges like this one often suit it. Frettenham, Norfolk, 4 May 2014.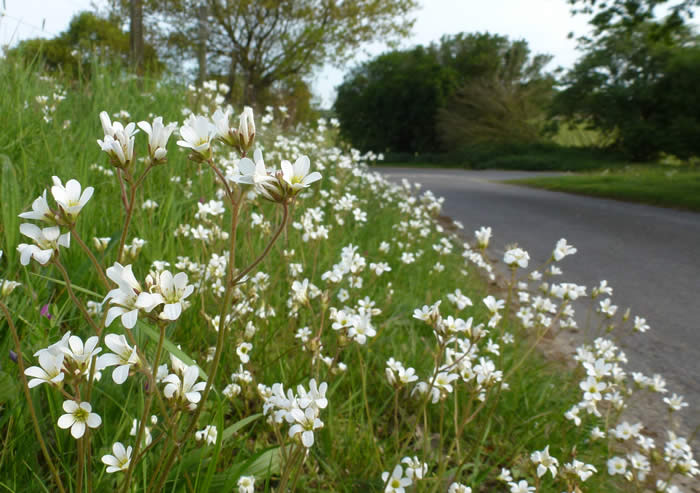 More nature notes . . . . . . . . . . . Photographs on this page by Chris Durdin.