Tarifa and Gibraltar
7 – 14 September 2011
Migration hotspot in Andalucia
The Strait of Gibraltar is one of the busiest migration points in western Europe, situated at the extreme south western tip of Europe between the Mediterranean Sea and Atlantic Ocean. This pivotal point of Europe provides a narrow crossing point for millions of migrating birds into and out of Africa.
It was here that in Greek mythology, Hercules used his strength to separate Europe from Africa by leaning on two pillars, Gibraltar being the European pillar. The Arabs call the Straight Bahr-z-zohak, meaning narrow sea.
Millions of birds gather every year in the southern part of Spain to rest and forage before continuing their journey southwards to their African wintering grounds. Among them are raptors such as short-toed and booted eagles, Egyptian and griffon vultures along with good numbers of honey buzzards making their post nuptial migration through the straits every autumn. The spectacle provides delight to many visiting birders and naturalists observing this biannual migration. Spending our time at well-placed raptor watchpoints, we can experience some of the best visible bird migration in western Europe.
Other migrants can include large numbers of black and white storks and there are many typical Mediterranean bird species all waiting to be encountered within the cork oak woodlands or wetland habitats which we will visit in the region.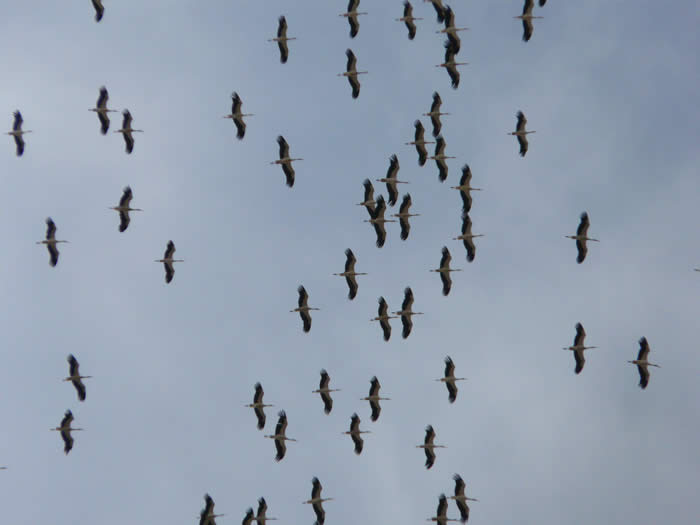 White stork flock
Migration observations on this holiday will also include a sample of some of the passerine migrants that cross here into Africa. We will observe bird ringing at a designated site to observe this important ornithological study in the region, along with close up views of some familiar birds that are returning to their wintering grounds from northern European breeding grounds.
Watching whales and seabirds
Sailing the waters between the two continents provides a great opportunity to observe the area's unique marine ecosystem. This area is not only notable for migrating birds but also important feeding grounds for many marine mammals. Long-finned pilot whales, common, bottlenose and striped dolphins are all regularly encountered and Orca can be seen in early September. We will take a boat trip into the strait to witness these animals at close quarters while ensuring we do not disturb their normal behaviour. Offshore we will also be able to catch sight of several seabird species including Scopoli's shearwater (regarded as some as a separate species from Cory's shearwater), Manx and Balearic shearwaters.


Long-finned pilot whales
We will also visit the British territory of Gibraltar, where John Lennon and Yoko Ono were married, among other claims to fame. We will observe the Barbary macaque, the last wild population in Europe, at designated feeding stations. Additionally, on this spectacular rock monolith, there's the possibility of encountering the often elusive Barbary partridge along with blue rock thrush.
This holiday will enable you to experience the very best of visible bird migration, sea mammals, landscape and culture. Tarifa and Gibraltar is a magical area, migrants bursting out of bushes, the sky busy with migrating eagles or storks or the excitement of boat-side dolphins and whales. Those joining us will experience all of this and more!
Leaders
Frank (Francisco) Vargas. Frank is the RSPB's Farmland Bird Recovery Officer in Essex, but he comes from near the Strait of Gibraltar and his family's farm is there still.
Chris Durdin (more here)
Holiday details

Dates: 7 - 14 September 2011
Price: £1,350 per person in twin room for a full week (Wednesday to Wednesday).
Single room supplement: £100
Accommodation: Huerta Grande, situated in a relatively cool wooded gorge inland from Tarifa, within a Natural Park - the southern tip of the Parque Natural de Los Alcornocales.
En suite facilities.
Flights: Scheduled easyJet flight Gatwick – Gibraltar, or Monarch flight Manchester – Gibraltar.
Deposit: £200
Maximum number (two leaders): 14