Wallcreepers
Honeyguide runs an occasional Wallcreeper break in Istria/the Karst - click on the red writing for details of the March 2016 holiday. This may repeat in a future year or on request.
This page shares a few experiences of wallcreepers enjoyed on Honeyguide holidays in several places in Europe.
On our first six visits in Bulgaria we've struck lucky with this wonderful bird in Bulgaria – on visits in both September and June. However we've drawn a blank visits in 2015 and 2016, with locals reporting them absent from Trigrad Gorge in the summer.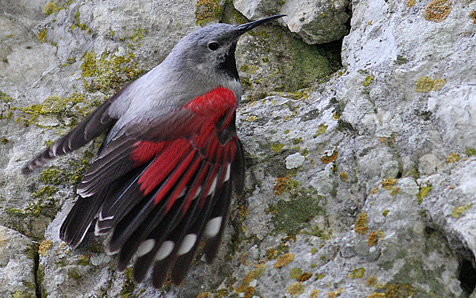 Wallcreeper (Svetoslav Spasov)
Good ways of seeing wallcreepers are to know a nest site, or in winter find a smaller but regular cliff haunt.
September 2008. In September, you need patience or luck. On my recce trip to Bulgaria, Assen and I tried patience at Assen's favourite place in Trigrad Gorge, but without success. Then we were lucky. In the lower reaches of the gorge there was a wallcreeper on the road of all places, struggling with a moth. It went onto a low rock face – see picture, right – giving wonderful views, from where it dropped a hummingbird hawk-moth that tumbled to the road.
September 2009. Honeyguide's first Bulgaria group also struck lucky – or perhaps saying luck does an injustice to Assen's local knowledge and Trigrad Gorge's credentials. Honeyguide leader Tim Strudwick takes up the story (or read the full report here):
"Our destination today was Trigrad gorge, just a few kilometres away.  After a short drive, Dencho (our driver) dropped us off by the entrance to a road tunnel. Here we stood deep in the shade of towering limestone cliffs with the Trigrad river roaring below us. Our main target at this site was wallcreeper which, Assen explained, had nested earlier in the year just a few feet above where we stood.

"As we scanned the towering cliff faces, a black woodpecker called then flew across the gorge before landing out of sight. Peregrine, crag martin and swifts were all seen flying above. Before long, a wallcreeper was spotted on a distant rock face. A short walk through the road tunnel brought us much closer, and over the next hour we enjoyed very close views of this juvenile bird as it flitted around the rock face above us. A second wallcreeper was eventually spotted on the opposite cliff face, then a third, and possibly a fourth, nearby. Superb views of this elusive species provided an excellent start to the day."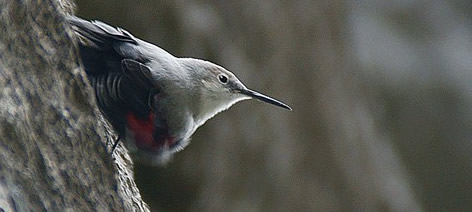 Juvenile wallcreeper (Assen Ignatov)
June 2010. Another good view in Trigrad gorge. See front cover picture and account in the holiday report here.
June 2011: success again ... "A male wallcreeper came and gave insects to the female and we had very close views just a few metres above us." More and pictures in the holiday report here.
June 2012: "Vlado pointed out a crevice in the rock face just a few metres above the road. And right on cue, after only a few seconds, its occupants appeared, a pair of wallcreepers which went on to give us a grandstand view for several minutes: creeping, feeding, flying, and even the male feeding his mate with the spoils from his last foraging trip. Magnificent jewels of birds ..." More in the holiday report here.
June 2014: "the local male ... treated us to a private display of feeding, creeping and wing-fluttering before it headed back up the gorge." Holiday report here.
June 2015 and 2016: out of luck! They were there earlier in the month in 2015, but apparently absent in 2016.
The Pyrenees
We admit to mixed fortunes with wallcreepers in the Pyrenees. One year in the Spanish Pyrenees I rashly said, near the start of a holiday, "We always see lammergeier and never see wallcreeper." You can guess what happened: no lammergeier that year, but a wallcreeper in Aísa valley. But they do sometimes show – see right. We had an excellent site for wallcreepers in the French Pyrenees in some old mine buildings, but they are now demolished.
The Honeyguide group in the French Pyrenees in September 2014 had probably the best ever views of wallcreepers. Up to three were on the dam of the Barrage des Gloriettes allowing close views, photos and even movies (click here for Ivan's wallcreeper video) to be taken.

Photo by Ivan Nethercoat
Honeyguide's top choice for wallcreepers
In late winter: Istria (Slovenia/Croatia) on our Wallcreeper break.
Photos on this page, unless otherwise stated, are by our Bulgarian hosts and friends from Neophron.