North Norfolk break

13 – 15 November 2020
Three days in the field on the North Norfolk Coast
* Dates noted are days in the field. Participants will probably all arrive on the previous evening, 12 November. Fully booked.
This web page is to give outline details of Honeyguide's latest 'Norfolk break', a staycation given the difficulties of travelling overseas in 2020. The plan is that participants book the hotel themselves, and Honeyguide's Rob Lucking will be your nature guide for the stay. This break will be mainly focussed on birdwatching, given the area, time of year and Rob's knowledge.
Itinerary
Day 1: Holkham National Nature Reserve, 13/11/20
Holkham NNR is England's largest National Nature Reserve and comprises a wide range of habitats including an impressive sandy beach, pine and broad-leaved woodland and coastal grazing marsh. We will start at Lady Anne's Drive (car parking charges apply) and explore Holkham Bay for wintering snow buntings & shorelarks, divers & sea duck. We will then move to the grazing marshes for wintering wildfowl, possibly three species of egret and raptors. We will end the day at Holkham Park for roosting red kites.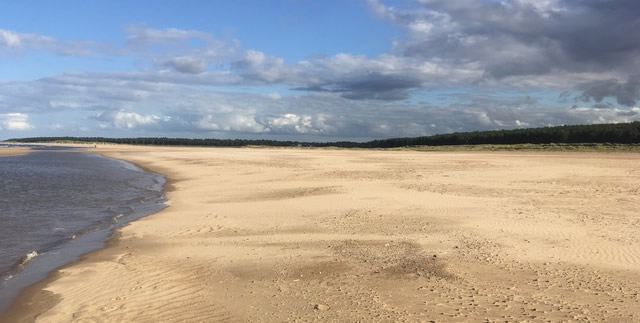 Holkham Beach
Day 2: RSPB Snettisham & Titchwell Marsh Reserves, 14/11/20
A dawn start at RSPB Snettisham to witness the spectacle of 100,000 waders roosting on the former gravel pits at the RSPB Snettisham Reserve. Wel hope to see pink-footed geese leaving their night-time roost and fly inland to feed. We will then move on to the RSPB's Titchwell Marsh reserve which is one of the most reliable sites to see secretive birds such as water rail and woodcock. The freshwater marsh can hold impressive numbers of wildfowl and the shallow waters of Brancaster Bay are good for grebes, divers and sea duck. At dusk we will watch marsh harriers (and hen harrier if we are lucky) and little egrets come in to roost.
Day 3: Wells/Cley/Stiffkey, 15/11/20
We will start at North Point pools, a newly created wetland just to the west of the seaside town of Wells-next-the-Sea which usually hold a good selection of wildfowl before moving on to Norfolk Wildlife Trust's world-famous Cley Marshes Nature Reserve for lunch and a walk. If time permits, we will finish the day at Stiffkey where we will scan the salt marsh for roosting hen harriers, merlin and peregrine.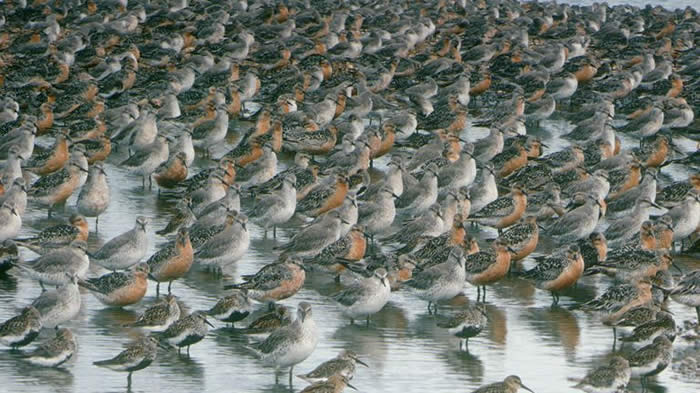 Knot flock at Snettisham (Chris Gomersall RSPB)
Hotel
Accommodation will be at the Titchwell Manor Hotel. There are special arrangements for Honeyguiders. For anyone who is interested, please contact the Titchwell Manor Hotel direct on 01485 210221 or info@titchwellmanor.com and mention Honeyguide when booking.
Alternatively Honeyguiders may wish to source self-catering accommodation, for example via airbnb. Anywhere between Brancaster and Wells-next-the-Sea is reasonably central for the sites we will be visiting. If the group is dispersed, instructions on where we will be meeting at the start of each day will be provided in advance.
Lunches: All sites we will be visiting have visitor centres with cafés for lunch, toilet facilities & shop.
Covid-19: Many reserves have altered their operations to enable them to be COVID-safe. Face masks should be used in hides and one-way systems are in operation. We will however spend as much of our time in the field in the open air - one of the problems with hides is that you miss anything that flies over your head!
Holiday details & how to book
Days/dates: the dates above are three days in the field, Friday to Sunday. We expect most people to have four nights at the Titchwell Manor Hotel: to arrive on the Thursday and leave on Monday morning. Leaving on Sunday could be possible, for example if you are moving on somewhere else locally.
Hotel cost: depends on the choice of room (please discuss with Titchwell Manor Hotel); please ask about the special arrangements for Honeyguiders.
Price: £80 per day fee for your guide (including guide's expenses).
Deposit: none to Honeyguide. You will be invoiced after the break, or deposits already held by Honeyguide adjusted.
Booking: no booking form is needed. Just keep us informed!
Local travel: in your car. No minibus is being booked: this is partly for cost reasons, and partly for Covid-19 practicalities.
Maximum number (one guide): 5 plus guide. This is to follow current Covid-19 protocols of up to six people (full UK Government advice here). This number is a further constraint in that we cannot arrange to meet others locally e.g. an additional nature reserve guide.
Guide
Rob Lucking lives in a small village near Fakenham in North Norfolk and worked for the RSPB for 23 years, latterly as the Area Manager for North Norfolk, Lincolnshire & The Brecks. He has led and co-led wildlife holidays for Honeyguide to Lesvos and Crete and is now a freelance ornithologist, ecologist, horticulturalist and tour guide. Photos on this page by Rob Lucking unless otherwise noted.