Crete 19 - 26 October 2021

Autumn flowers and other wildlife in the cradle of civilisation.
Crete has been perenially popular in the Honeyguide programme for many years as a spring destination. This year, we are at last to visit in Crete's balmy autumn conditions to look for a range of autumn-flowering specialities and to enjoy any other wildlife we can find.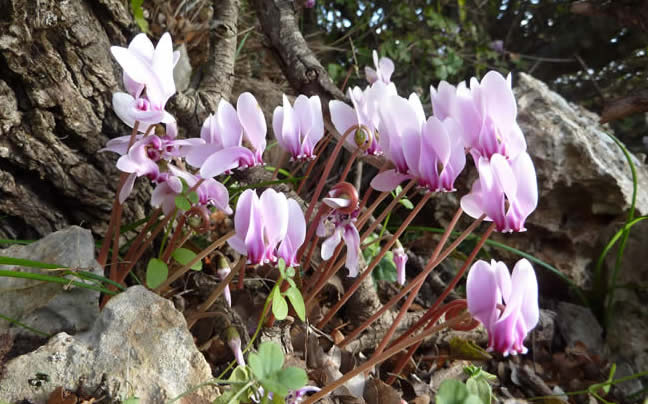 Cyclamen graecum
We will follow our tried and tested routes, with places and people we know, so as ever we are based at the small and friendly Sofia Hotel in Plakias on Crete's south coast. Plakias, once a fishing village, is now a small town. It is ideally placed for local walks and excursions and has an impressive backdrop of gorges and mountains.


Plakias Bay (Ivan Nethercoat).
Flowers
Crete's rich flora of 1600 native species includes 140 endemic to the island. We can list (see PDF of Crete autumn flowers) nearly 50 species that flower in October. A few have a very long flowering season (such as rosemary); a few are winter-flowering and sometimes in spring we catch last-lingering blooms (such as mandrake and friar's cowl). There are several plants we see in leaf in April around Plakias, and now we'll catch them in flower, such as smilax, carob, chaste tree, sea squill and sea daffodil.
The bulk, however are autumn flowering specialities, and it's those that grow from bulbs and corms that are often favourites: daffodils, crocuses, cyclamen, autumn squill and yellow-flowered sternbergia.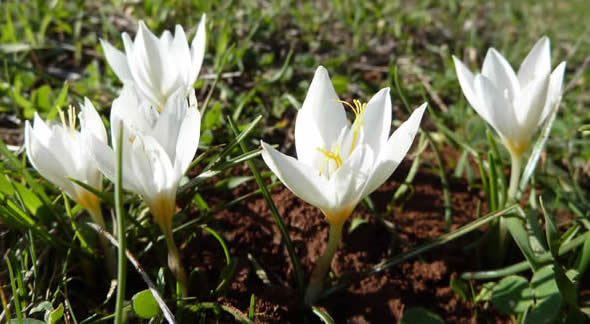 Crocus laevigatus
Sternbergia grows in stony places including the very local Kotsiphou gorge. Of Crete's five species of autumn crocus, Crocus laevigatus is the likeliest in our area. Autumn squills should be widespread. Instead of the spring flowering Cyclamen creticum, we'll look out for autumn-flowering Cyclamen graecum. The tiny autumn daffodil (usually called Narcissus serotinus, though the eastern form is now separated as N. obsoletus) is always a delight.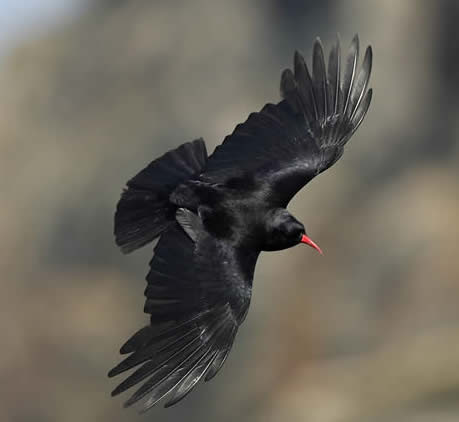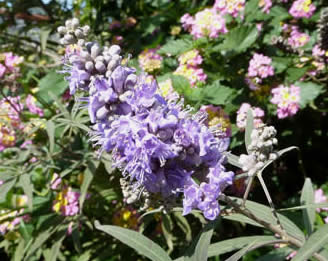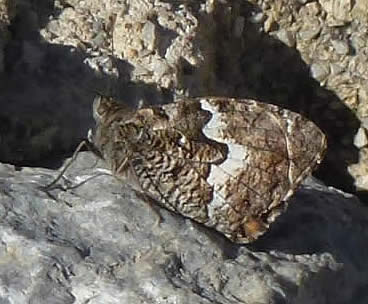 Chough, often seen in Kourtaliótiko Gorge; chaste tree; Cretan grayling.
Birds
The mountains and gorges of Crete are a stronghold for birds of prey, with the largest population of griffon vultures in Greece. Bearded vulture (lammergeier), Bonelli's and golden eagles and buzzard are residents, as are crag martin, blue rock thrush, chough and raven. The hillsides and scrub support the resident Sardinian warbler. Many birds pass through on migration, pausing especially at wetlands, however small, including birds of prey, squacco heron, little bittern and various waders. Ayia reservoir is known for crakes in autumn as well as in spring.
Other wildlife
At this time of the year the commonest butterflies are likely to be the familiar painted lady, red admiral and clouded yellow, plus a good chance of Cretan grayling. The likeliest dragonflies are scarlet darter (broad scarlet), red-veined darter, common darter, blue emperor and lesser emperor.
There will be a range of other invertebrates, such as hummingbird hawkmoth and nosed grasshopper. If lucky, we may find a freshwater crab. The commonest reptile is Cretan wall lizard and others can include Balkan (stripe-necked) terrapin and Balkan green lizard.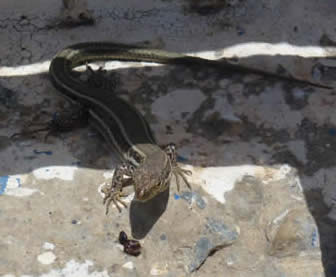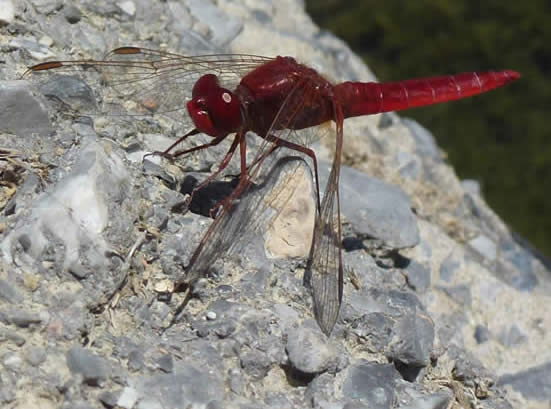 Cretan wall lizard (often listed as Erhard's wall lizard - the taxonomy changes); broad scarlet dragonfly, near Moní Préveli.
Holiday details
As well as local walks, our minibus trips this week include trips to Moní Préveli, Kourtaliótiko and Kotsiphou Gorges, Frangokastello, Spili and Ayia reservoir.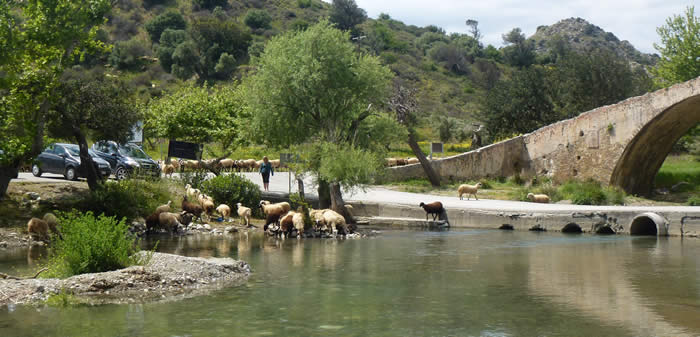 Turkish Bridge, near Moní Préveli (photographed in early May).
Price: £1,600 per person in single or twin room, for a full week (seven nights, Tuesday to Tuesday). There is no single supplement on this holiday. This price includes our taverna evening meals, plus picnics or an occasional taverna lunch.
En suite facilities
Flights: these depend on which dates work best for those wishing to come.
EasyJet from Gatwick, Tuesday to Tuesday
19 October: EZY8781 depart London Gatwick 08:30 arrive Chania 13:55.
or EZY8783 depart London Gatwick 09:20 arrive Chania 15:25.
26 October: EZY8782 depart Chania 14:35 arrive Gatwick 16:40.
or EZY8784 depart Chania 16:20 arrive Gatwick 18:30
Deposit: £300
Maximum number: 14
Conservation project
The bearded vulture conservation project is run by the Hellenic Ornithological Society, BirdLife Greece.
Crete has the only breeding population in south-east Europe (6-7 pairs in 2013, with four nests); the species is practically extinct in mainland Greece and elsewhere in the Balkans.

Bearded vulture (Roger Tidman)
Alongside survey, monitoring and raising public awareness, the long-term survival of Europe's rarest vulture is being tackled by site protection, food provision and the encouragement of traditional grazing systems. More on lammergeiers and other conservation matters on Crete here.

Leader
Chris Durdin is the driving force behind Honeyguide, running holidays since 1991. For many years he combined this with his work for the RSPB in Eastern England, often the Society's spokesman, but has been concentrating on Honeyguide full-time since 2009. Chris is the co-author of a book about Norfolk's cranes and leads regular walks on his local wildlife trust nature reserve, Norfolk Wildlife Trust's Thorpe Marshes. He's also a barbershop singer. As a naturalist, Chris is an all rounder. Chris has regularly led or co-led Honeyguide's Crete holiday for many years.
If the group is big enough for a co-leader, we will be joined by Rob Macklin. More about Rob on our Algarve page.