Owl research in Latvia
Honeyguide's Latvia holiday supports owl research in Latvia. Much of this involves installing then monitoring owl nest boxes. It has produced good results but also some perils, as the photos reveal ...
We asked Gaidis Grandãns to tell Honeyguide about recent highlights.
"The main work during year 2017 was focused on a conservation plan for endangered owl species for the Latvian Nature Conservation Agency. The Latvian Owl Research Society is one partner in this huge project which is led by the Latvian Ornithology Society, the BirdLife International partner in Latvia.
"With increasing forestry activities and no silent (undisturbed) period during the breeding season, the Latvian forest-dwelling owl populations are thought to be in trouble. A conservation plan will help better manage owl population and will show habitat preference for various owl species. When we know the most important habitat types and landscape factors, we can protect those forests more effectively.
"Lots of field work was done during the owl breeding season, with repeated owl acoustic surveys (playback) in various habitat types, randomly selected as optimal, suboptimal or unsuitable. Species studied were tawny owl, long-eared owl, pygmy owl, Tengmalm's owl, Ural owl and eagle owl. Data were analysed during this first field season and work will be continued this coming spring.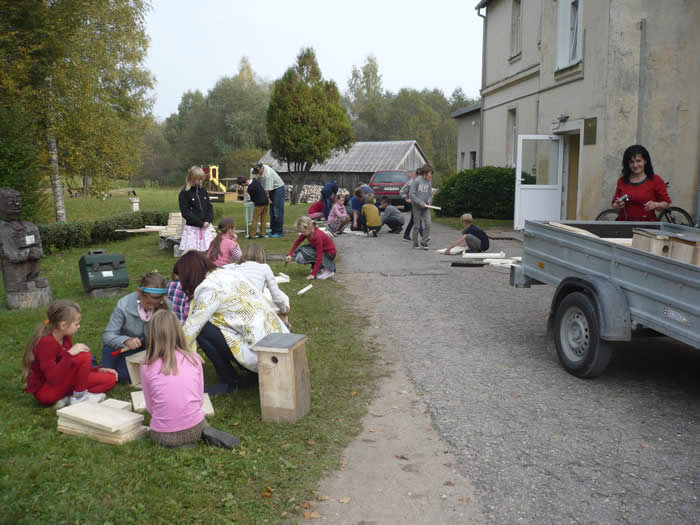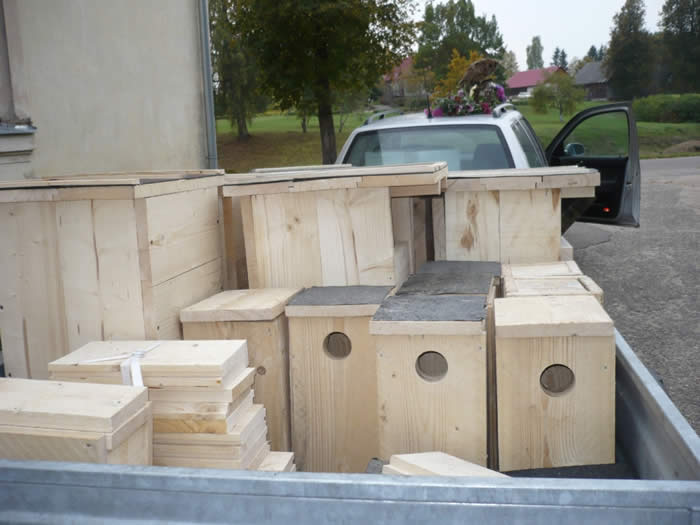 Creating nestboxes is a community effort.
"Similarly, owl acoustic surveys were conducted in long term monitoring sites (for pygmy, long-eared, Ural, tawny and Tengmalm's owls). Breeding owls were monitored in a nest box sample areas for Ural, tawny and pygmy owls.
Great grey owls
"We put 30 artificial breeding platforms for great grey owls in northeast Latvia during February 2017 in a big forest area close to the Russian border. In this area in the previous year, 2016, a successful survey found at least three vocalising great grey owls. Artificial platforms were unsuccessful last breeding season, but it was a first attempt to attract this magnificent owl species. There are no confirmed breeding records of great grey owl, but their breeding range is expanding to the northwest so we there is a good chance this species will be more common in the near future.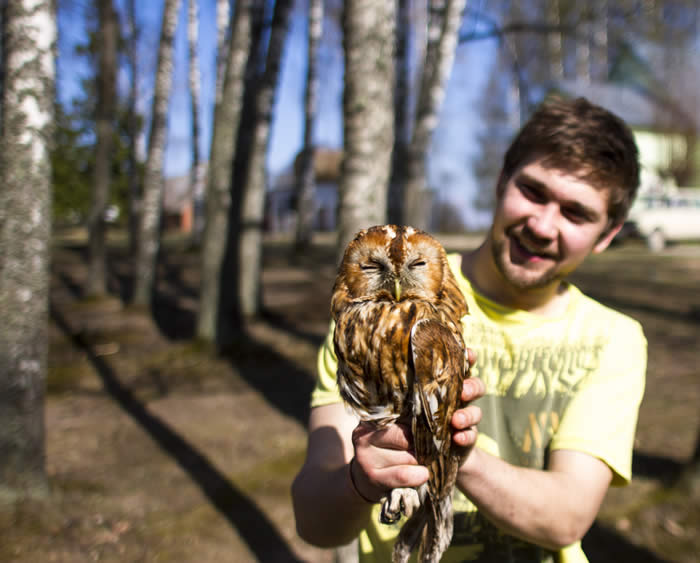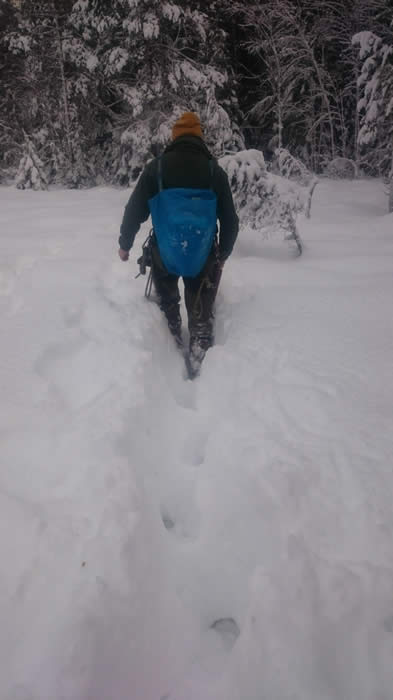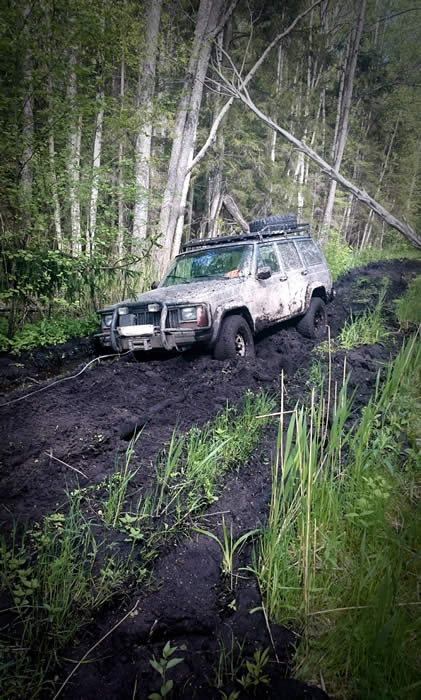 Person spec for owl research: a love of owls, obviously, plus willingness to be out in all weathers and varied conditions ...
Eagle owls
"One member, Peteris Daknis, started intensive research on eagle owls with the collaboration of a Latvian senior ornithologist, Juris Lipsbergs, known to us as a 'raptor fanatic'. All breeding sites which have been successful in last years were checked, chicks were ringed and few new micro-reserves were established.
"During the last season we had many reports of previously unknown territories and observations of eagle owls, helped by a web camera on an eagle owl's nest at Engure Lake, Latvia. This live stream web camera (via https://dabasdati.lv/en) was very popular among nature lovers from Latvia and abroad. The breeding population of eagle owls in Latvia is just c.30 pairs, distributed mainly along the Baltic Sea coast and in the suburbs of Riga.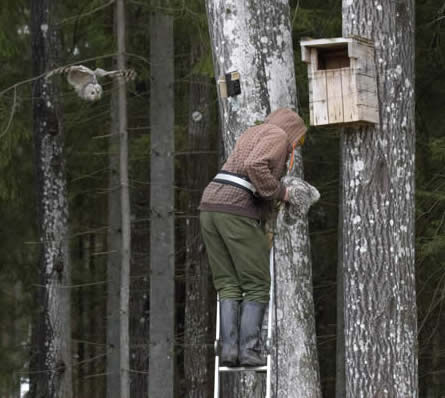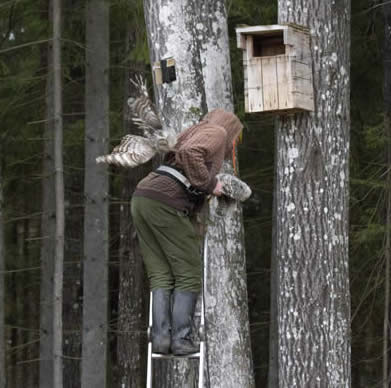 'I should have read the risk assessment' ... a Ural owl flies at an owl researcher, with (right) wounds to prove it.
Rodents
"During 2017, research was finished about the occurrence of a specially protected rodent – the northern birch mouse Sicista betulina – in owl pellets. More than 400 samples of owl nests were carefully checked (1985 samples collected) and 471 individuals of northern birch mouse were found. Northern birch mouse is a very small and active rodent, which is almost impossible to detect with classical mammal research methods (live traps, tunnel traps etc.) Our research showed that over the long term the Latvian population of northern birch mouse is slightly increasing. During our research several other rare mammal species were found in owl pellets, such as Siberian flying squirrel and common dormouse.
Wintering hawk owls
"Autumn 2017/winter 2018 surprised us with a record breaking year for northern hawk owls. Until now 17 different individuals have been observed in this season. Many hawk owls are staying in the same hunting area for a long time, more than a month, and they are offering excellent opportunities for foreign birdwatchers and photographers to observe this species."
More nature notes . . . . . . . . . . . . . . . . . . . Honeyguide's Latvia holiday