Photospot: Dark Spreadwing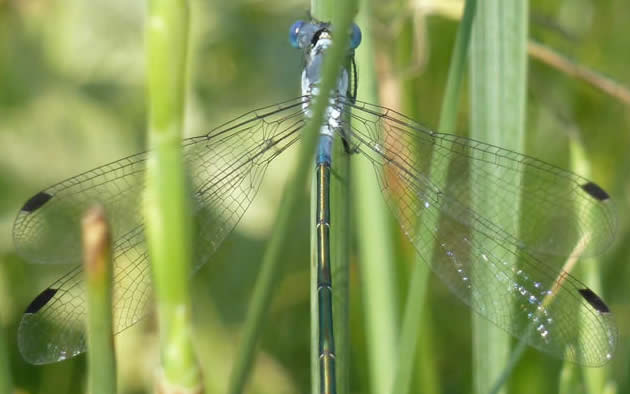 This intriguing damselfly was seen and photographed on Honeyguide's Danube Delta holiday in June 2014.
Dark Spreadwing Lestes macrostigma, or Dark Emerald Damselfly, is one of a small group of damselflies that spread their wings at rest — hence 'spreadwing'.
The Dark Spreadwing has the most scattered distribution of this group as as it favours saline or brackish ditches. Not surprisingly, many of the dots on the distribution map are coastal, including the Camargue, but it is also found in salty conditions inland, such as in Hungary. This one was one of several in a ditch at Vadu on Romania's Black Sea coast.
This spreadwing appears to be a female as it lacks the gripping appendages on the male's tail. Also the male is often darker, though online references suggest they are often not as dark as illustrated in Dijkstra & Lewington's Field Guide to the Dragonflies of Britain and Europe.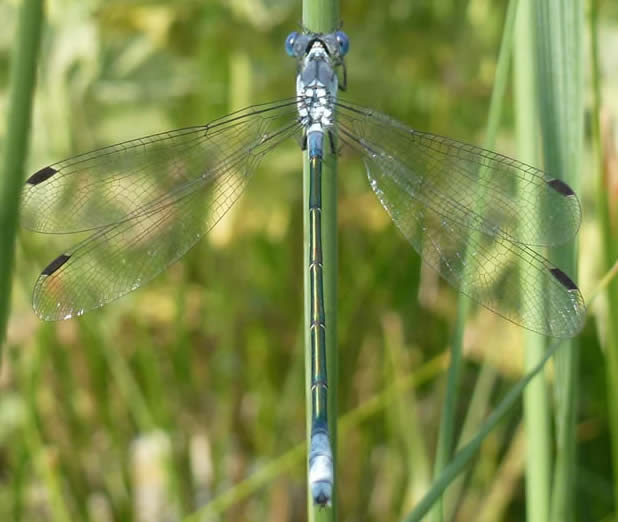 Same individual, different view. Pruinosity (or pruinescence) is the powder blue bloom on parts of the damselfly. in this case the head, thorax and first and last two segments of the abdomen.
From the archive:
In the Evros Delta in Eastern Greece, May 2014, Steve Henson wrote:
"In the bases of the tamarisks and in tall grasses along the margins of the lagoons and dykes were thousands of resting damselflies, predominantly Lestes macrostigma with its broad wings and powdery blue pruinescence, a species with a mainly Mediterranean distribution that occurs in brackish water."
More nature notes . . . . . . . . . . . . . . . . Honeyguide's Danube Delta holiday