The Camargue
16 – 23 May 2019
Flamingos and more in Mediterranean France
Note: though this holiday is running in 2019, it is not open for general bookings. That is because it was cancelled in May 2018 on account of air traffic control strikes and this is a re-run holiday, mostly for those who were booked in 2018.
The wild and beautiful marshes of the Camargue cover a huge area of the Rhône delta in the south of France. At its heart lies the Étang de Vaccarès, a vast lagoon surrounded by marshes and dunes. Here we find not only a profusion of wildlife but also herds of 'wild' bulls and long-maned white horses, so characteristic of the area and an intrinsic part of the local culture.
Despite the pressure from tourism, the marshes are still of international importance for their wildlife. There are sights at every turn: great flocks of flamingos, a host of heron and egret species, hawking bee-eaters, ever-present marsh harriers, all set against a mosaic of botanically rich and intriguing wetland habitats.

Where marshland gives way to flooded rice fields, breeding colonies of black-winged stilts occur and collared pratincoles hawk after insects. Many black kites and the occasional short-toed eagle hunt the drier edges, breeding areas for tawny pipits and crested larks, rich areas for flowers, butterflies and dragonflies.
East of the Camargue lies the stony 'desert' of la Crau, originally a former flood-plain of the Durance river. The ancient tradition of seasonal grazing and transhumance has produced a unique stony herb-rich grassland, breeding habitat for little bustards and pin-tailed sandgrouse while the traditional farm buildings are homes for lesser kestrel. The scents of herbs and the calls of stone-curlews make for a memorable experience.
Farmland to the north – with wild flowers, nightingales, fan-tailed warblers, rollers – gives way to the limestone chain of hills, les Alpilles. Cirl buntings and blue rock thrushes may be found on the rocky slopes around the fortified hilltop town of les Baux. Alpine swifts whirl overhead and walking through the fragrant scrub provides wonderful views over the Rhône delta and a chance of soaring Egyptian vultures and Bonelli's eagles. The limestone hills provide a treasure-house of plants, butterflies can be bewilderingly abundant and the little town, sensitively restored and interpreted for the tourist, is a rich source of local crafts and tasteful souvenirs.
Upstream of our hotel, the river Gardon plunges between wooded hillsides under the famous Roman aqueduct, the Pont du Gard. Above and under its arches alpine swifts and crag martins hunt for insects. Searching among the fine stonework, with tiny plants clinging to the crevices, we might find rock sparrows, and paths above the river not only give excellent views of the aqueduct itself but also a range of plants typical of the maquis and garrigue and the riverine forest is the home of golden orioles.


Pont du Gard
To the west of the Camargue proper lies the Petite Camargue. Although on a less grand scale, it too has its specialities. Species-rich Salicornia marshes – the salt-steppes – support a small breeding population of spectacled warblers and the islands in some of the larger étangs hold gull-billed terns and slender-billed gulls. An enormous heronry is established in the heart of the reserve at Scamandre providing an extraordinary and memorable close encounter with these iconic birds. Close to les Saintes Maries de la Mer, well known for its gypsy association, tracks along the beach or beside the shore of the étangs afford views over the sea and the lagoons, just the place for terns and gulls, as well as close-up views of black-winged stilts and flamingos and rewarding foraging for botanists.
Birds
As well as those already mentioned, we should see a selection of the following: white stork, glossy ibis, red-crested pochard, Kentish plover, Mediterranean gull, whiskered tern, short-toed lark, great reed and Cetti's warblers, firecrest and hoopoe.
Flowers
The range of habitats to be visited will provide botanists with much interest. Rare 'salt steppes', traditionally managed hay meadows, limestone hills and the stony desert of La Crau are especially rich.
Other wildlife
Coypu are everywhere, but seeing the still widespread wild boar is difficult. Diligent searching among waterside reeds often turns up the attractive green tree frog and medicinal leeches can be common in ditches.
| | |
| --- | --- |
| Scarlet darter (male) | Violet carpenter bee on Spanish broom |
Holiday details
We stay at the Hôtel des Granges, a family-run hotel on the edge of Arles.
We shall spend three days in and around the wetlands and marshes of the Camargue and Petite Camargue, a day in each of la Crau, les Baux and the Alpilles, and half a day in the area around the Pont du Gard. There will be an opportunity to explore one of the famous and fascinating local towns: Beaucaire, Tarascon or Arles, with museums and information centres to visit and some shopping time in les Baux and St Martin du Crau.
Price: £1,600 per person in twin or double room for a full week (Thursday to Thursday).
En suite facilities.
Single room supplement: £100
Flights: Scheduled easyJet flights London Gatwick to Montpellier
16 May: EZY8055 departs Gatwick 12:50 arrives Montpellier 15:40
23 May: EZY8056 departs Montpellier 16:10 arrives Gatwick 17:05
Deposit: £300
Maximum number: 20, with three leaders.
Leaders
Robin Hamilton has a wide knowledge of western and central Europe and its wildlife, especially birds. He worked for many years for English Nature.
Rachel Hamilton spent her working life teaching natural history and conservation with the Field Studies Council and at Otley College in Suffolk. She is an enthusiastic all round naturalist, though her first interest is botany. Robin and Rachel, both of whom are experienced wildlife leaders and keen linguists, are regular leaders for Honeyguide in France.
Chris Gibson has recently taken early retirement from Natural England where he was based in north Essex. He is an author of several wildlife books and has led many holidays for Honeyguide. He is an outstanding all rounder, from birds through flowers to moths, and recognised as a 'naturalist of distinction' by the British Naturalists' Association.
Conservation project
La Crau is the French stronghold for the lesser kestrel. La Ligue pour la Protection des Oiseaux (LPO, the French Bird Protection League) has installed nestboxes on the roof of sheepfolds, so reducing the level of predation observed in ground nesting lesser kestrels. Once looking likely to disappear from France, lesser kestrels have recovered steadily, in La Crau growing from 32 pairs in 1994 to 150 pairs in 2009 and to 207 pairs in 2011, when 708 young were raised.
As a consequence of this increased productivity, the species has now started to extend its range, with other colonies becoming established in villages to the west. As the birds often nest under the roof tiles, the LPO works with the owners of the houses concerned to ensure that neither set of inhabitants is inconvenienced in any way!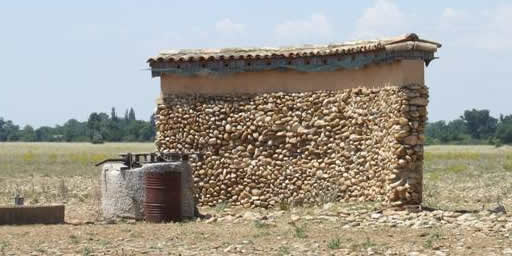 This wall with nesting boxes has been built for lesser kestrels, and can be viewed from the barn renovated by the LPO (Robin & Rachel Hamilton).