Valencia
25 February - 2 March 2016
Winter birdwatching in eastern Spain
Spain is always an appealing destination and Valencia is an undiscovered region for Honeyguiders and British naturalists in general. This winter birdwatching break – in some warm Mediterranean weather, we hope – leans on the local knowledge of Honeyguide's La Mancha leader, Pau Lucio. Pau lives near Valencia and that local knowledge is key to visiting the protected areas and wildlife hotspots of marshes, mountains and steppes among the developed coast and intensive arable elsewhere.
Paddy fields, a huge 14,000 hectares, are the third largest wetland in Spain. Flooded in winter, we arrive just after the end of the shooting season as the area begins to dry. In late February and early March there are just few fields with water that can be packed with birds. Last year sightings included flocks of more than 2,000 greater flamingos, 1,400 black-tailed godwits, some 400 glossy ibises and hundreds of ruffs and golden plovers. There are wintering marsh harriers and booted eagles.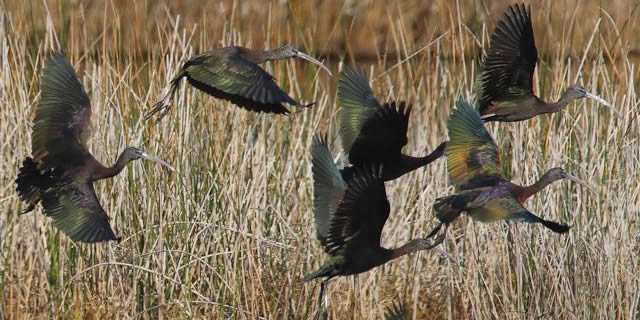 Glossy ibises (Steve Fletcher)
Waders may also be at the salt pans of Santa Pola, which are especially good for gulls: slender-billed, Audouin's and Mediterranean gulls can be here. Osprey, spoonbill and great white egret are also frequent species during winter.
Elsewhere, the Mediterranean shore gives an opportunity to look for seabirds, especially Balearic and Levantine shearwaters and Sandwich terns. Along the shore, sanderlings, little stints and grey plovers are usually seen and on the dunes there is a good range of specialist plants.
The Natural Park of El Fondo is a man-made reservoir with some 70 breeding pairs of white-headed ducks, a few red-knobbed coots and it is probably the best place in Europe for watching marbled ducks. Another interesting species is the rare greater spotted eagle. This eastern European species is now a regular wintering bird in this part of coastal Spain. There aren't many of them and the chances of seeing one are probably less than 50:50, but there's no better area to search.
A fourth wetland type, with reedbeds, is Pego Marshes. This is one of the many small wetlands spread along the Mediterranean coast that play a vital role for many migrants as re-fuelling places. From mid-February to June, a ringing group carries out an intensive ringing project to study the effect of climate change on resident and migrant warblers. We will attend a ringing session where we hope to see one of the resident moustached warblers and wintering species such as reed bunting, penduline tit, bluethroat, kingfisher or Cetti's warbler.


Pego Marshes
Away from the coast there is a variety of varied habitats, including botanical reserves, cork oak and the gorge of the Monnegre River. This is a moon-like landscape with birds such as black wheatear, rock bunting, black redstart, crag martins, blue rock thrush and maybe early breeders such as red-rumped swallow. At the end of the gorge there is an impressive crag recently occupied by a colony of griffon vultures.
A key area is the steppes of East Albacete, a Special Protection Area with traditional farming. Here some of the birds we expect to see are lesser short-toed, calandra and Thekla larks, stone-curlew, great and little bustards, corn bunting, rock sparrow, black-bellied and pin-tailed sandgrouse, red kite and little owl. Temporary lagoons scattered among the steppes have wildfowl, such as white-headed duck, black-necked grebes and red-crested pochards.
Our base is the rural Hotel Font Salada, set in orange groves near the Pego Marshes Natural Park and just one kilometre from the coast.
Birds
Spring comes early to coastal Spain, and we expect to see early migrants such as swallows, martins and passage waders. Scrub has Dartford and Sardinian warblers. Elsewhere we hope to see red-billed chough, crested tit, short-toed treecreeper and firecrest.
Other wildlife
We hope for warm weather to bring out a few early butterflies such as western dappled white, clouded yellow and Lang's short-tailed blue. As on any Honeyguide holiday we will take a keen interest in early flowers and other wildlife. There's unusual violet sea-lavender Limonium virgatum and a chance of early orchids.
Itinerary
As well as the places noted above, there are salt pans at Calpe and the foothills of the Monduver mountain, which has resident Bonelli's eagles and a wintering population of alpine accentors. Our itinerary includes Gandia's port where shearwaters and gannets follow fishing boats, and a wine-tasting co-operative.
Conservation project
Our leader Pau's ringing group Grupo de Anillamiento Pit-Roig runs bird ringing stations in Valencia.
The group is studying the survival rate and dispersion of moustached warbler. Data loggers placed on Savi's and reed warblers are tracking their migratory movements, provided they can be trapped again and the data downloaded. Support pays for nets and other ringing equipment.

Recent highlights in the group's work are described in our La Mancha holiday report from October 2014.
Holiday details
Price: £990 per person in twin room for a six nights (Thursday to Wednesday)
Single room supplement: £100
En suite facilities
Flights: Scheduled easyJet flights Gatwick to Valencia.
Deposit: £300
Maximum number (two leaders): 14
Leaders
Pau Lucio lives near Valencia and runs a wildlife tour company Birdwatching Spain. Pau is involved in conservation projects on bird migration and the importance of Spanish coastal wetlands for species such as the moustached and Savi's warblers. Pau has collaborated with SEO/Birdlife and spent nine months at the Wildfowl & Wetlands Trust at Slimbridge. He also works at a nature reserve where he guides visitors through the forest and marshes.
Chris Durdin is the driving force behind Honeyguide, running holidays since 1991. For many years he combined this with his work for the RSPB in Eastern England, often the Society's spokesman, but has been concentrating on Honeyguide full-time since 2009. Chris is the co-author of a book about Norfolk's cranes. He's also a qualified soccer coach, for one son's under 13 year group. As a naturalist, Chris is an all rounder.