Honeyguide news archive 2016


Trujillo from a distance, September 2016; the castle is on the left.
News from Extremadura: Game of Thrones fans may like to know that they were filming at Trujillo Castle in late November - details and some photos here. In December they were in Cáceres - this link has a spoiler alert as story elements are revealed.
Closer to home - our home from home in Extremadura, that is - I've learned about a video on YouTube that shows before and after pictures of the transformation of Finca Santa Marta to the place Honeyguiders know and love. There are still places on our Extremadura holiday in March if you'd like to join us.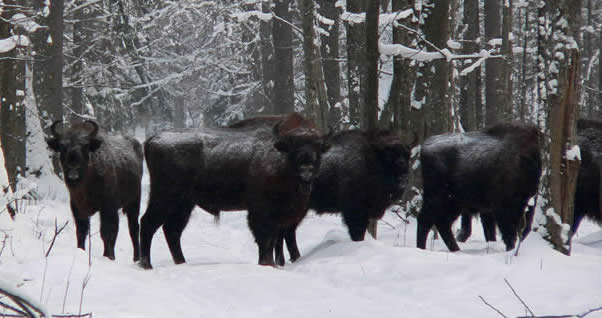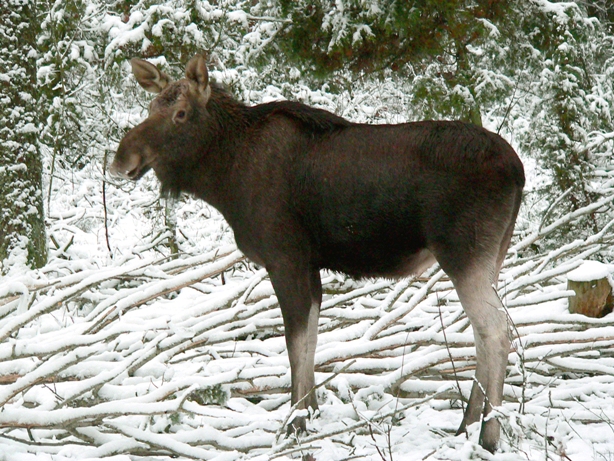 Winter has arrived in north-east Poland. Local Honeyguide leader Artur Wiatr says his family's first snowman in the garden was made on 19 November.
Artur writes: "Lower temperature and natural behaviour forces some animals to change their habit. The largest herbivore in Poland, the European bison in Białowieża Forest, has formed larger herds, sometimes of 60 individuals. This is for safety – easy defence against wolves – and feeding; they are helped by hay supplied once in a while by the rangers. This also keeps the bisons within their natural range. They stay in the woodland rather than moving into farm fields where they cause damage as their population is still growing. Based on last census in 2016, there are 578 free roaming bison on the Polish side of the forest. When spring comes again, the big herds split into smaller ones and these huge animals become very shy and difficult to encounter in the woods, though Honeyguiders in May 2016 were lucky (see the 2016 report).
"Similarly the elk (the largest herbivore in the Biebrza Valley) has already left the core zones of the marshes, moving into Scots pine forest and farm fields in drier parts of the valley. It's easier to find food there e.g. pine bark and needles and farm crops. Biebrza National Park holds the largest elk population in Poland which amounts up to 600 individuals. They do not form such a big herds as the bison. Usually it's the cow and calf from last year and the previous year. The population has grown since the year 2000 when hunting for the elk was stopped." The last group of Honeyguiders were lucky to watch an elk 'face to face' on their very day of arrival in Poland.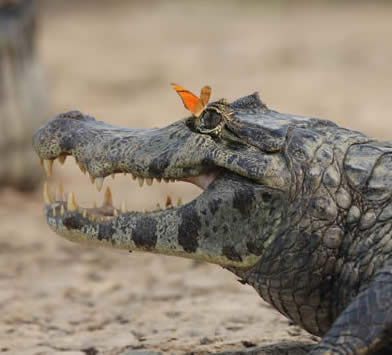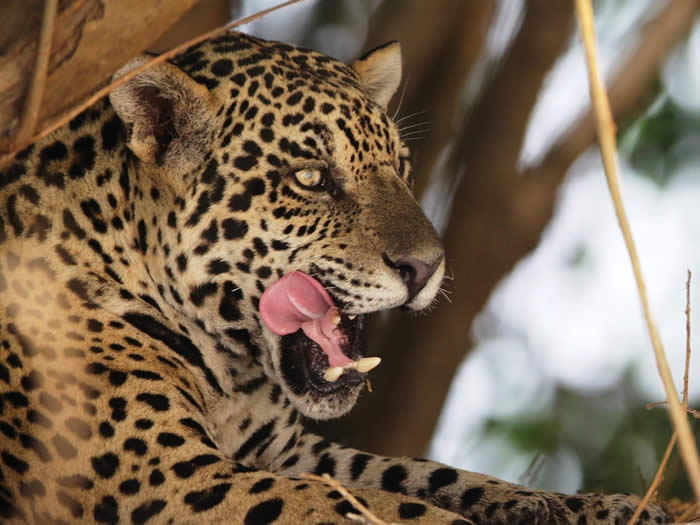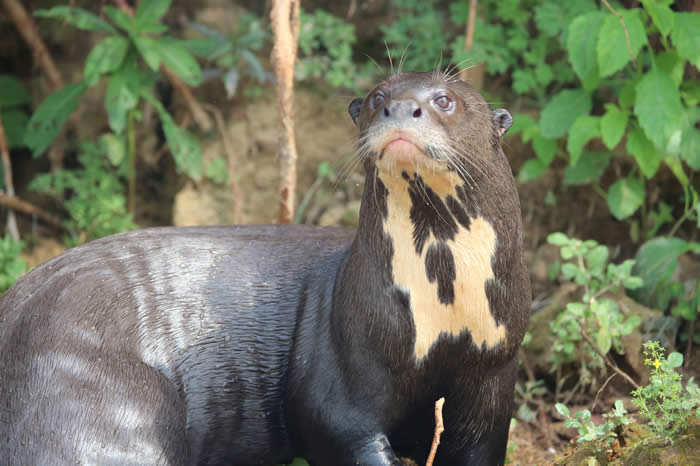 Yacaré caiman, jaguar and giant otter (Gabor Orban). Seen these on Planet Earth II and want to find them in the wild? Join us in The Pantanal, Brazil, in autumn 2017.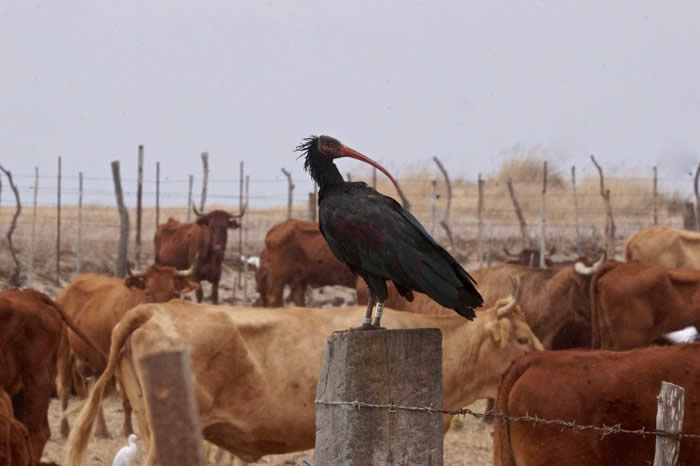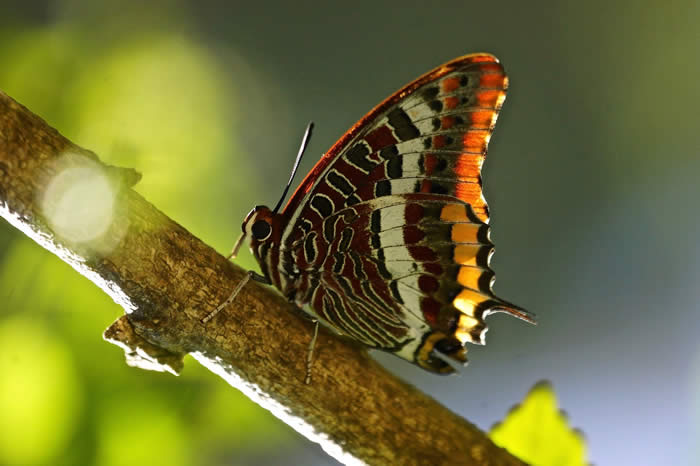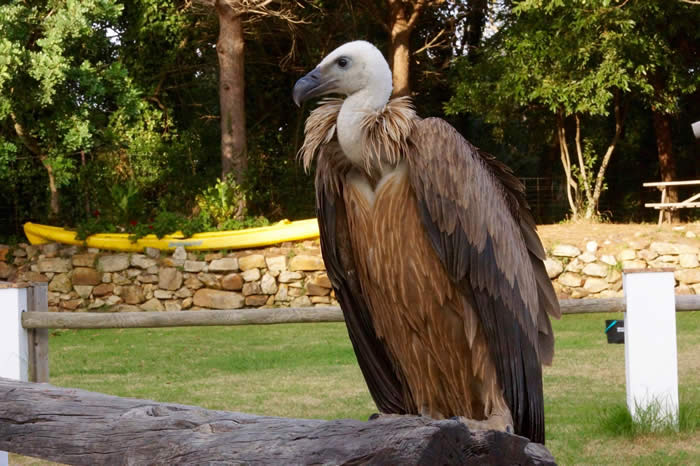 Some photos from Huerta Grande, our base for Tarifa & Morocco. Bigger versions and one more on our Facebook page.
---
The rains in Menorca (contrary to Extremadura, below) had arrived before Honeyguide's early October group. "Menorca, a jewel of the Balearics, always delights ... and the 'Second Spring' was underway almost as we watched, newly sprouting grass emerging from the previously parched and heavily grazed pastures" writes Chris Gibson.

"Autumn Daffodils sprung up and bloomed widely along road verges, with the stately spikes of Sea Squill, their flowers white stars with striking bright green anthers. Arum pictum was just emerging at Cavallería, and the rivers of pink Merendera filifolia marking well-worn pathways, especially above Cales Coves, left me simply lost for words." Read more from Chris on his blog here - including the group's meeting with conservation group GOB Menorca. News in English from GOB Menorca on english.gobmenorca.com.
Chris Gibson's blog also includes his reflections on 31 years working for Natural England and its predecessors - and marks the start of a new career as a freelance naturalist.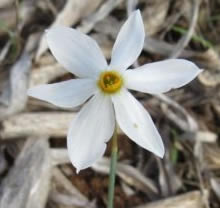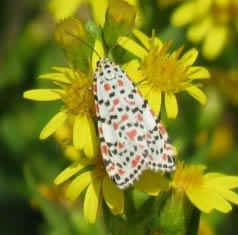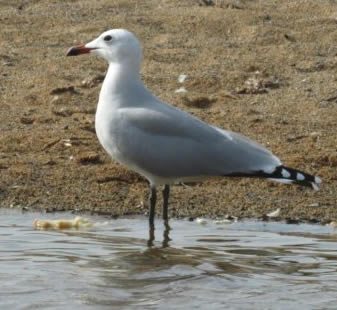 Autumn daffodil Narcissus serotinus, crimson speckled moth, Audouin's gull (Chris Gibson). More from Chris on www.chrisgibsonwildlife.co.uk and more photos on Facebook. Holiday report here.
Autumn in Extremadura was hot and dry: the Indian summer we've had in the UK, only more so. But there was still lots to see: birds of prey, steppe species like bustards, birds like hawfinches (nine one morning), azure-winged magpies and short-toed treecreepers at our base at Finca Santa Marta. Some autumn bulbs, like merendera and autumn snowflake, were flowering, and we were entranced by colourful dragonflies, sometimes in big numbers: Facebook gallery of dragons & damsels here; holiday report here.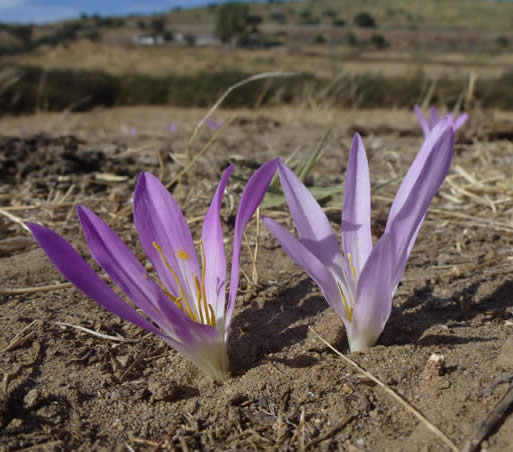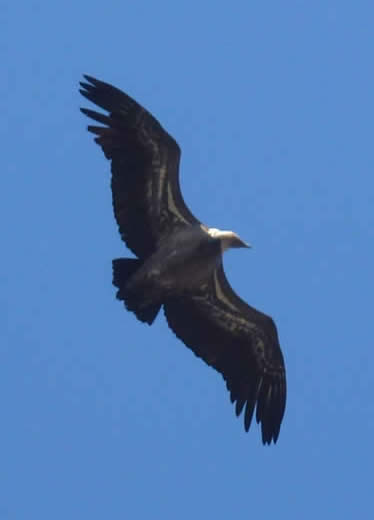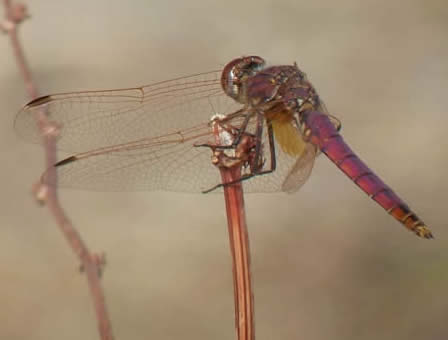 Merendera, griffon vulture and Violet Dropwing in Extremadura.
Good year for Rhodope lily: Honeyguide's group in Bulgaria in June enjoyed a fine show of the threatened Rhodope lily Lilium rhodopaeum at our regular site. With 84 plants, 56 of them in flower, that's the best for several years, with none of last year's problems of plants being dug up. Some on-site management by Vlado Trifonov, Honeyguide leader and Lilium expert, seems to have helped - that was to counter undergrazing. Perhaps weather was a factor. Some plants were setting seed, too, which happens all too rarely. Monitoring and management of the Rhodope lily continues to be funded by money raised by our holiday. Bulgaria holiday report here .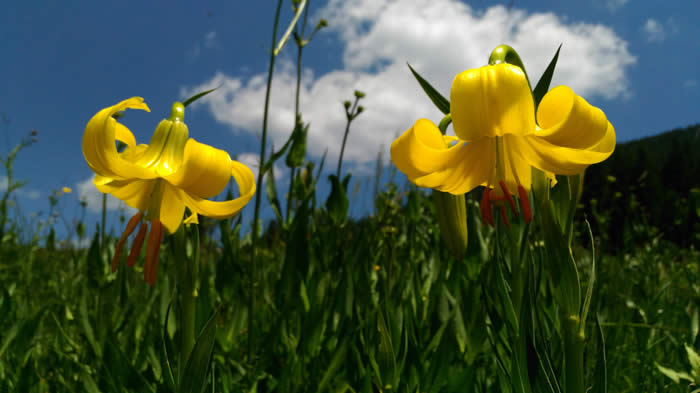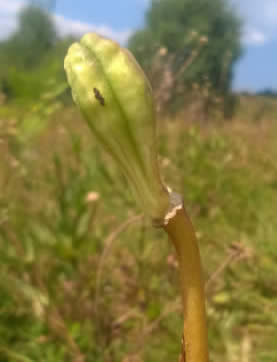 A good year for Rhodope lilies, with some setting seed (Vlado Trifonov).
Scarce Large Blue: a decade ago, Honeyguide's conservation money in Italy/Slovenia paid for the cutting of a wet meadow near the Isola della Cona wetland reserve. Sinced then, resources have been found locally to keep that going and the meadow remains in good condition. Early in September, Paul Tout was sent a photograph of a butterfly seen there, now confirmed as Scarce Large Blue Phengaris (formerly Maculinea) teleius at what is probably its only remaining site in the Province of Gorizia, the first confirmed record for many many years.
The species is ranked as 'Near Threatened' by IUCN and is dependent on grazed habitats. The larval food plant is greater burnet and the caterpillar lives with ants, as with several species of blues. "Had those meadows not been maintained back then it would surely have disappeared under scrub and rank vegetation," says Paul. You can join Paul in Slovenia next year.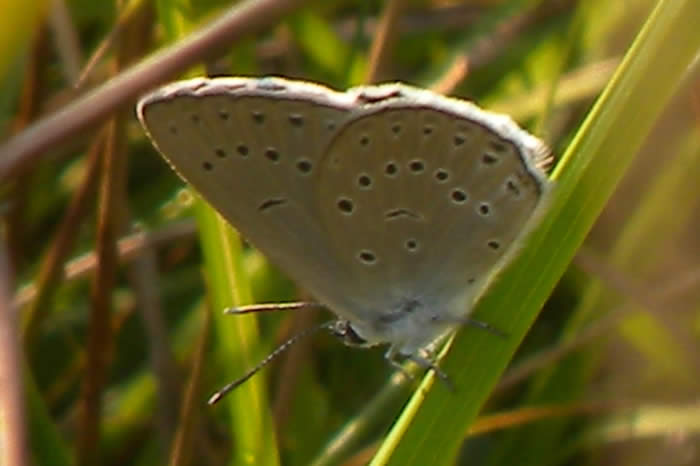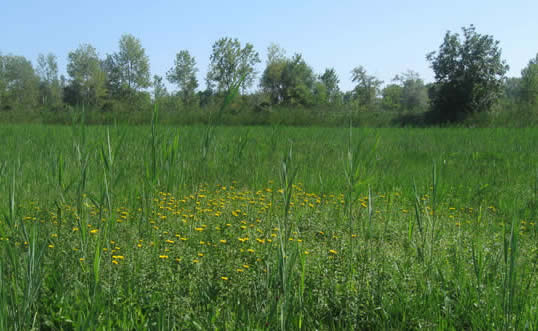 Scarce Large Blue and the meadow in Gorizia where it was found.
Honeyguide programme 2017: this website is now updated with holidays for 2017, while retaining autumn 2016. The brochure was posted during the first week of September, and there is a PDF of the brochure on our calendar page.

Butterfly Conservation - a plug! In recent years we've sent out membership literature for Plantlife and the British Dragonfly Society with the Honeyguide brochure, and we explored doing the same for Butterfly Conservation. There wasn't an off-the-shelf leaflet that we could enclose, but you can find out more on Butterfly Conservation's website www.butterfly-conservation.org, which has a wealth of information about its work, about British butterflies and moths and how to join. 
Butterfly Conservation is very active in my area, including a nature reserve with swallowtails run in partnership with the RSPB, work to help silver-studded blues on Norfolk's heaths and for unusual moths in the Brecks.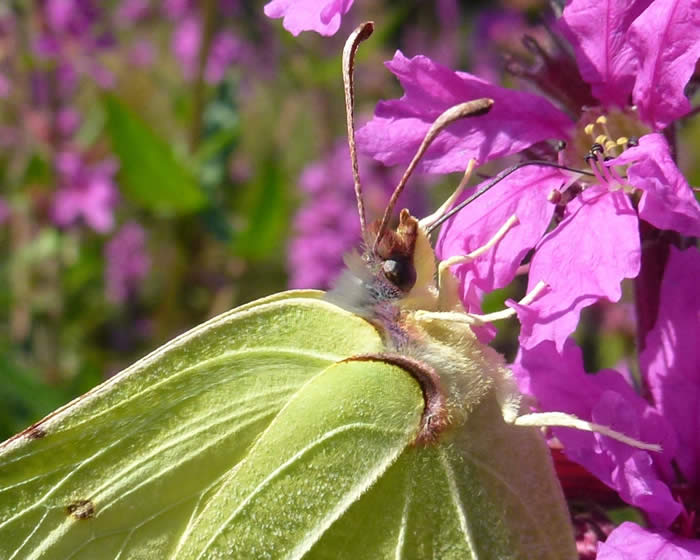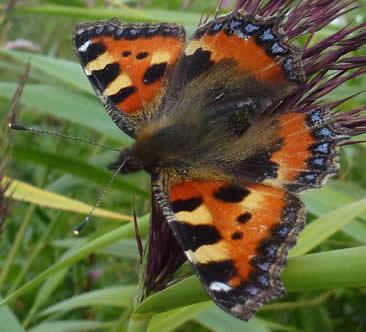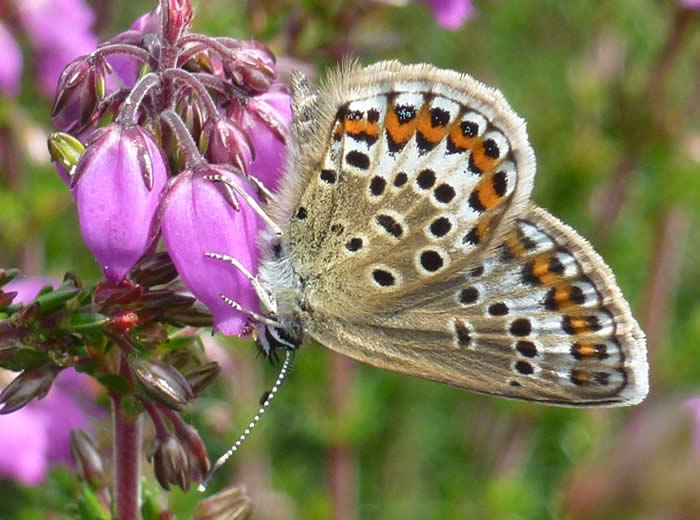 Brimstone close-up, small tortoiseshell on reed and silver-studded blue (all in Norfolk).
Helen Crowder writes: "Spring was late in the Spanish Pyrenees but by the end of the week we were glad of some shade. The sun brought out butterflies – many skippers, blues and hairstreaks – and the light box was a magnet for moths and us in the mornings. Nightingales sang and kites, vultures and buzzards scoured the just-harvested arable fields.
"In snow-capped high top valleys a pair of lammergeiers were so close overhead that we could appreciate every detail of their plumage. Picture this: a short-toed eagle gently fluttering down a rocky crag and snatching a snake; a valley floor carpeted in blue and gold with viper's bugloss, buttercups and yellow rattle, all the while surrounded by spectacular mountain scenery. The hospitality at Casa Sarasa is outstanding. This was my fourth visit and, I hope, not the last."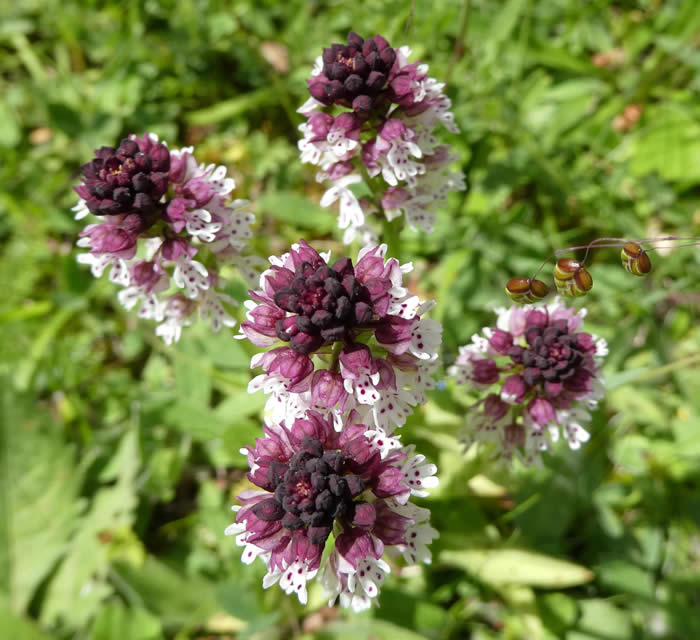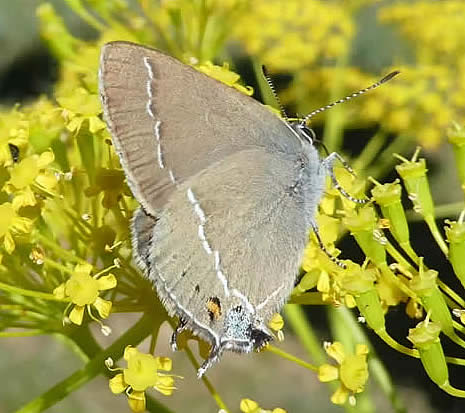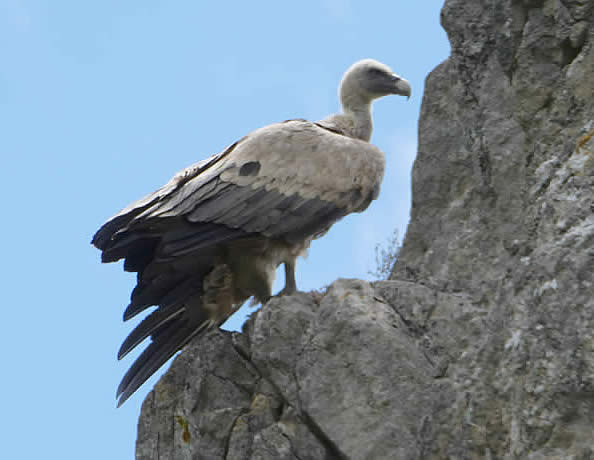 Spanish Pyrenees wildlife: burnt-tip orchids; blue-spot hairstreak; griffon vulture (Helen Crowder). Click here for the Spanish Pyrenees holiday report including a page of non-British moths.
Year of the bear: following our success in Estonia (see below), Tim Strudwick writes from Bulgaria's Western Rhodopes: "No wallcreepers but two or possibly four brown bears watched down to 150m for several minutes this p.m. (27 June). A chance encounter while botanising in the rain." Later confirmed as two young bears.
Bee orchids in Norwich: my one-man campaign over several years to protect bee orchids opposite Norwich City Football Club has reaped rewards (writes Chris): 30 splendid spikes of orchids this year, double last year's tally. The credit though is to the team at Big Yellow Self Storage, who have resisted the temptation to be tidy so enjoy the orchids (and a little publicity!) every year. Photoset on Facebook and Norfolk Wildlife Trust blog Big Yellow bee orchids are back.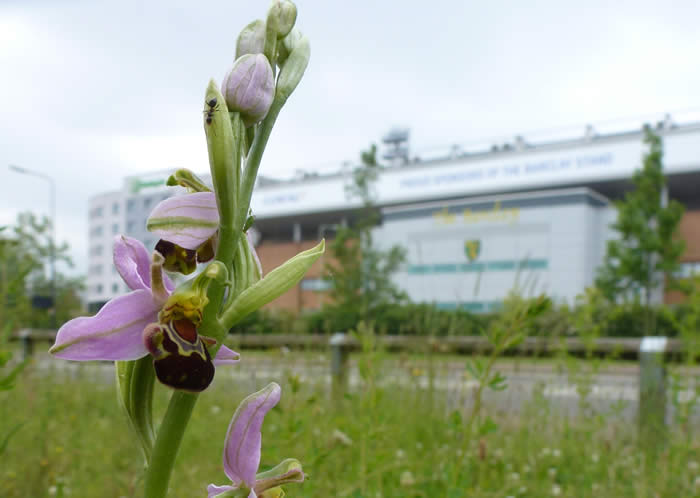 Estonia mammals, news by text: the first group in the bear hide on the night of 13/14 June saw raccoon dog, brown bear and, in the early morning of 14 June, two wolves. Bears again on the evening of 14 June.

Brown bear, left: more photos on Flickr here by Ivan Nethercoat and others, including black woodpecker and bear movies. Holiday report here; look out for the white-tailed eagle photo sequence.
An "excellent holiday" says Val Appleyard. "We enjoyed the Estonia trip very much. Ivan and Rein were excellent. The bear hide was wonderful. It was lovely to see them and the raccoon dogs who were very entertaining. It was wonderful to see so much woodland. We were impressed with the hotels and the food."

Our group in Poland returned with many tales of highlights, including elk in Biebrza National Park, early morning bison near Białowieża and lady's slipper orchid. The chilly weather didn't prevent a long list of notable birds, from several woodpecker species (including white-backed and three-toed) to golden orioles, red-backed shrikes and thrush nightingales. Three Honeyguiders' birthdays were celebrated that week: what are the odds on that happening? Holiday report here.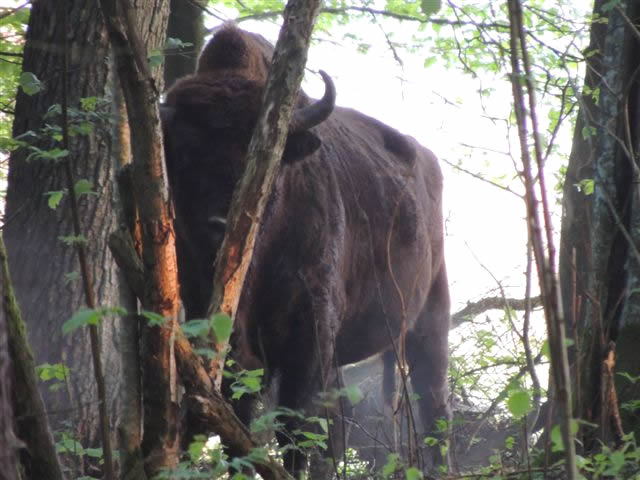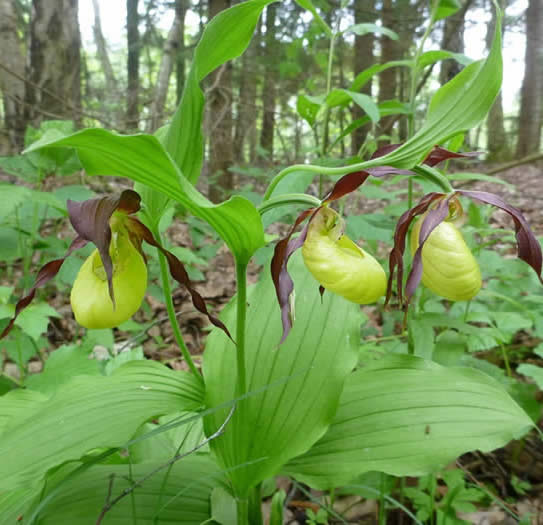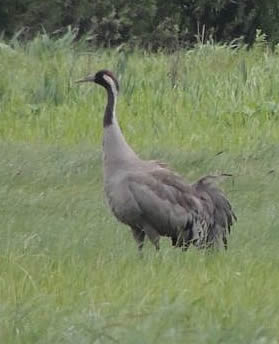 Bison and crane (Sue Rowell); middle, lady's slipper orchid (Artur Wiatr).
A sun-filled week in Northeast Portugal (writes Rob Macklin), with a little bit of Spain thrown in, recording 129 species of birds including superb close-up views of four golden eagles, another close view of an adult Bonelli's eagle and great views of both griffon and Egyptian vultures on their nests along the Douro River. We were fortunate to get superb views of a singing orphean warbler plus a singing ortolan bunting right in front of the group - often tricky birds to see - while nightingales and golden orioles provided a constant backdrop of sound.
After heavy rain in early May, conditions were perfect for emerging wild flowers and the colourful display was absolutely amazing including carpets of more than 1000 champagne orchids, several species of toadflaxes and lupins, plus hillsides covered in yellow & white brooms, French lavender and purple viper's bugloss.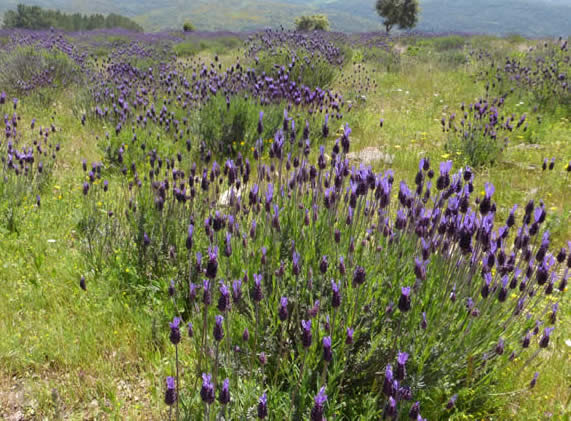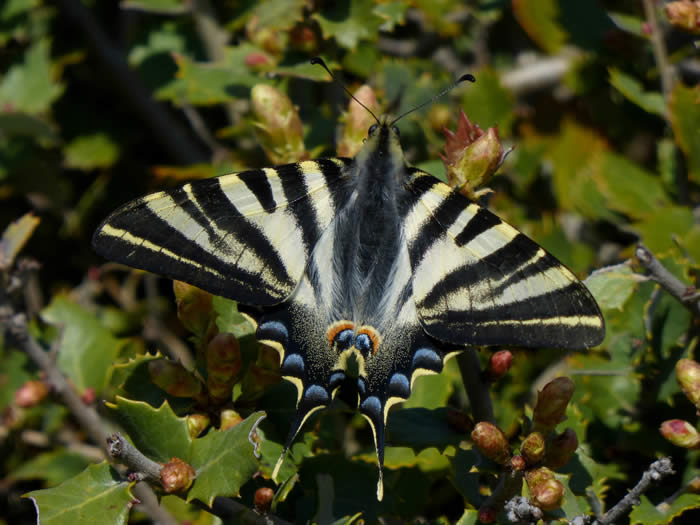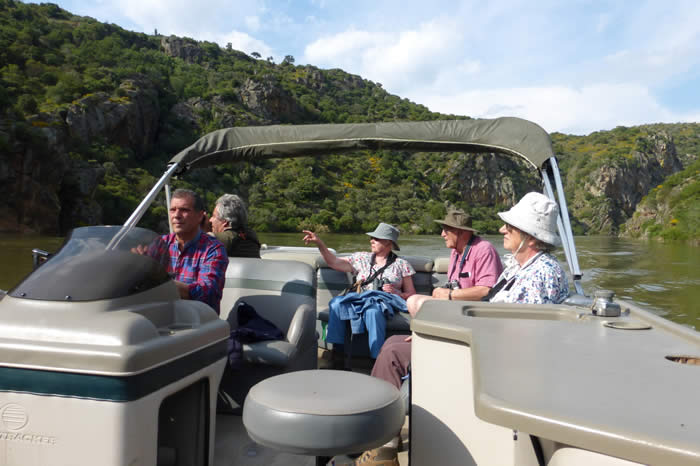 In NE Portugal: "hillsides covered in French lavender"; scarce swallowtail; boat trip on the Douro River (Brennan Aunger). More photos from Brennan here on Facebook. Holiday report here.
It was the customary warm welcome and wonderful hospitality from Cathy and Keith at Castang in the Dordogne. There were lots of great wildlife sightings from large swarms of tongue orchids to peregrines on the nest and close encounters with butterflies and midwife toads. The orchids - 27 species - put on a great show. The scarce Chapman's blue butterfly was found by the sainfoin in Castang's meadow - see previous news item towards the bottom of this page. Dordogne movie by David Lovell here.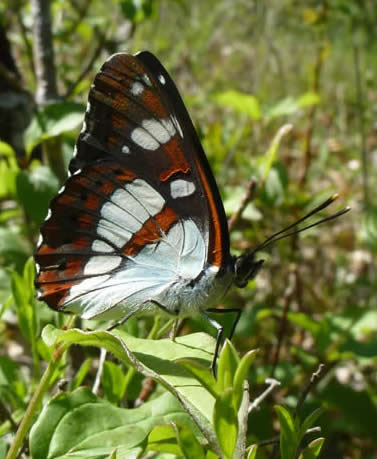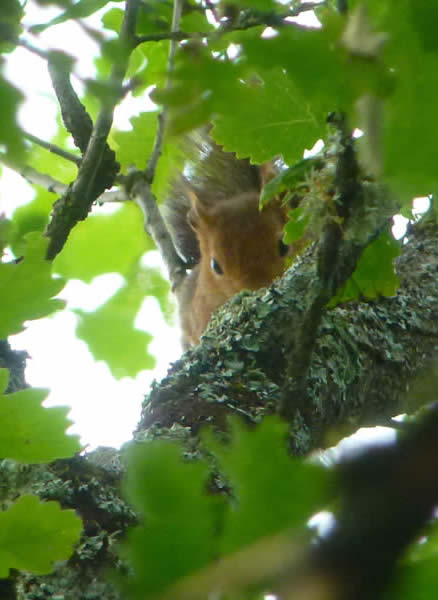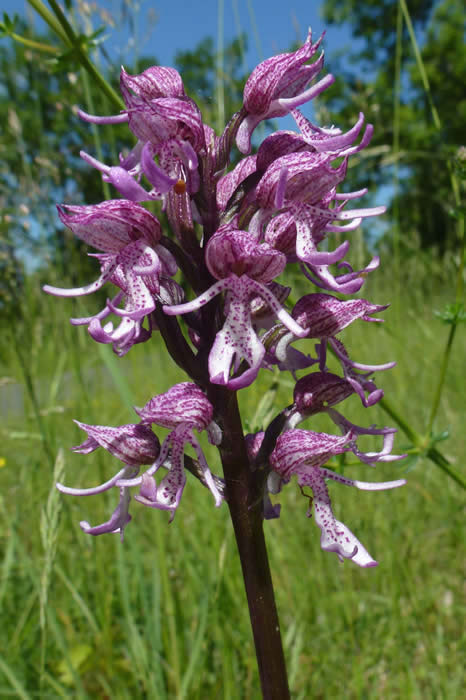 Dordogne wildlife: southern white admiral, red squirrel and a hybrid between lady orchid and monkey (Orchis purpurea x Orchis simia). Holiday report here.
In Crete a warm winter and lack of rainfall meant a much drier countryside than usual. Tulips were over and orchids were poor, though the advanced season meant we found several new flowers. There were some wonderful dragonflies (photos on Facebook here) and birds were generally good, including ridiculously close curlew sandpiper (right), Temminck's stint and night heron by the little river at our base at Plakias. Holiday report here.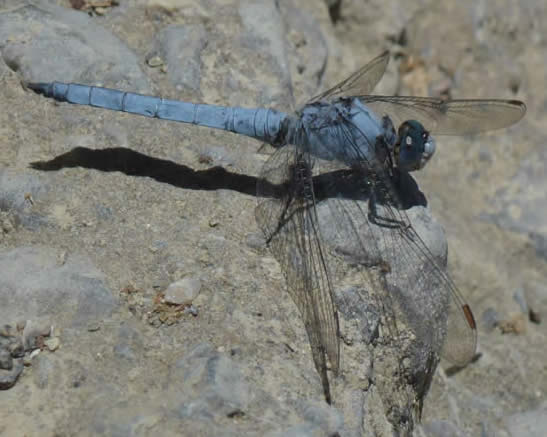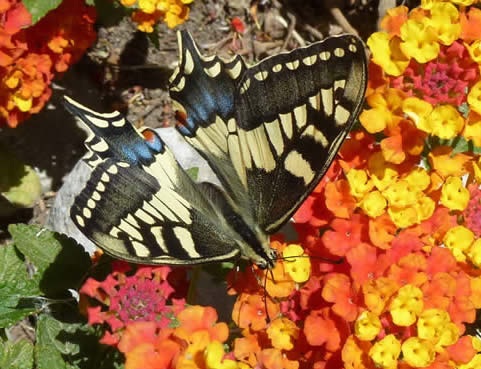 Southern skimmer Orthetrum brunneum and swallowtail on lantana, both at Moni Préveli, Crete.
In the Peloponnese, wild flowers were as colourful as ever, despite a very dry spring. Highlights were carpets of pink hawksbeard and Peloponnese cyclamen. Rock nuthatches and golden eagle performed well, three red-throated pipits were a surprise and, as in Crete, there was a surprise encounter with bee-eaters. And everyone was bowled over by the kindness and hospitality of the Greek people, especially our hosts in Livadi, who gave us a wonderful barbecue with delicious local food accompanied by charming musical performances by their family. Holiday report here.
Our first Morocco group, run jointly with N&S Wildlife and Walking Holidays, followed a very dry winter but was nonetheless a great success, helped greatly by the oasis of wildlife at our base at Atlas Kasbah Eco-Lodge. Moussier's redstart, little swift and Barbary falcon were among holiday highlights, as were cultural elements including the souk, an 'agadir' (an old community storage building) and unexpected hospitality in a local village. A surprise in the Souss-Massa National Park was a re-establishment project for North African ostriches and three mammals: addax, dorcas gazelle and scimitar oryx. Photos by David Bennett on OneDrive here and on Facebook here; holiday report here.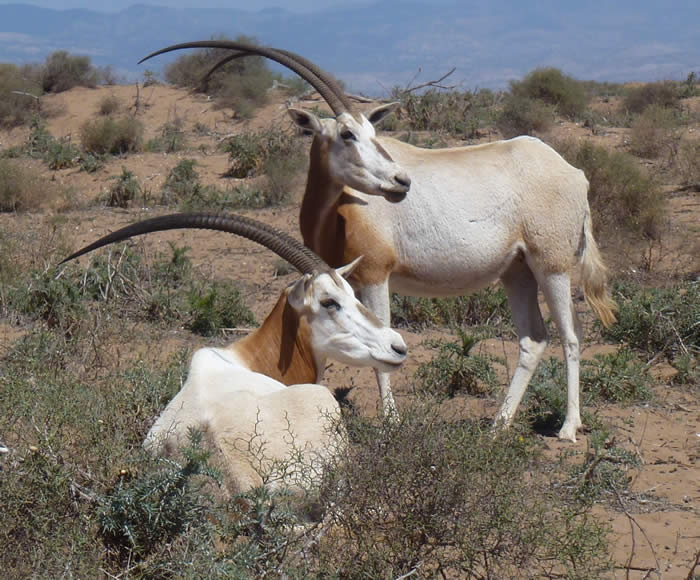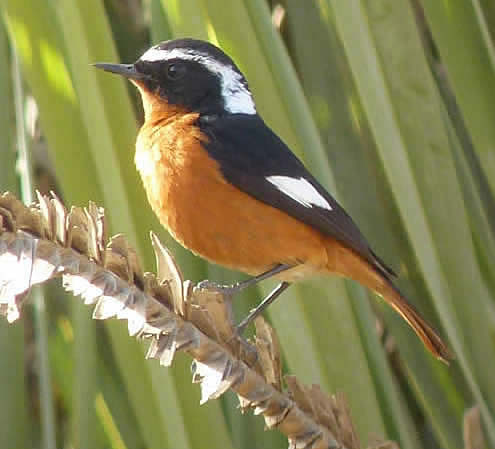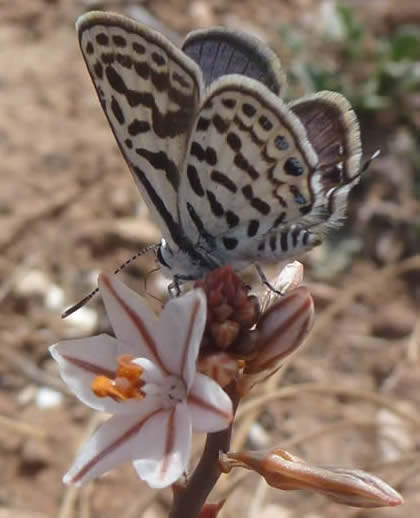 Scimitar oryx, Moussier's redstart and common tiger blue butterfly.
Wallcreepers & woodpeckers: would the star bird turn up on on our first wallcreeper and woodpecker break? It took a bit of finding, but a wallcreeper performed well for the group in Istria in March. Woodpeckers included grey-headed and lesser spotted, and there were lots of spring flowers, such as dogstooth violet and early spider orchid. A full account and more photos are on Paul Tout's Adria Wildlife blogspot.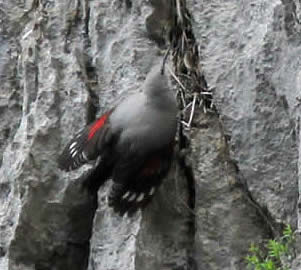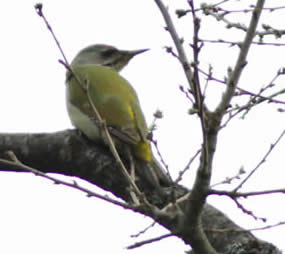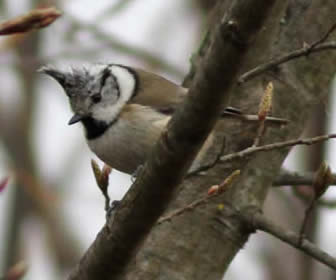 Wallcreeper, grey-headed woodpecker, crested tit (Mike Kempton).
Pantanal, Brazil: have you ever dreamed about going to Brazil's famed Pantanal wetlands? It's close to legendary in the natural history world, and especially famed as place to see jaguars, giant otters and a huge range of exotic-looking birds. Our Hungary leader, Gabor Orban, is based in winter in Latin America and through him the Pantanal is now possible for Honeyguiders.
There are many Pantanal tour offers on the market, with most all spending a few days at lodges plus the minimum needed days on a floating hotel to visit the nearest sites for jaguars. Gabor has arranged a holiday in a comfortable boat that makes a full circle in and around three rivers - an experience similar in style to the Delta part of Honeyguide's Danube Delta holiday. Read more here for October 2016 and tell us what you think. If this autumn is too soon and you are tempted for another year, that would be good to know.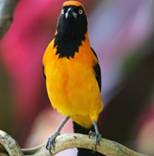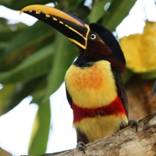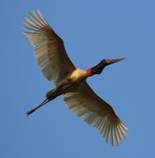 Orange-backed troupial, chestnut-eared araçari and jabiru in the Pantanal (Gabor Orban)
Our first time in Valencia, Spain proved a success, though it did mean a fair bit of travelling to find the best places. Great spotted eagle, white-headed duck, Bonelli's eagle and great bustards were among the good birds, with wetlands holding large numbers of flamingos, egrets and ibises. A group of wintering alpine accentors was especially popular; plus cranes on passage and swallows & martins arriving for spring. There were unusual orchid and daffodil species among a range of flowers, some local, some widespread.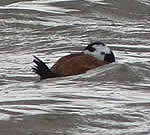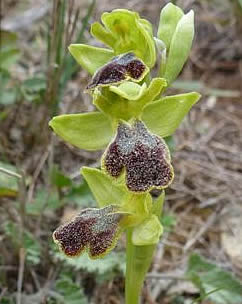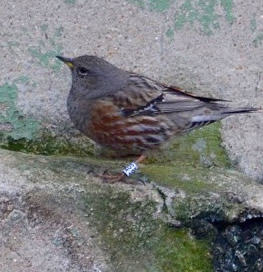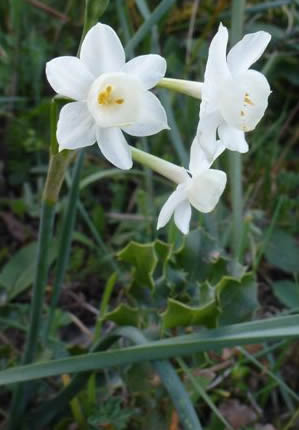 In Valencia: white-headed duck, Ophrys lucentina (also known as O. dianica), alpine accentor with ring (Cheryl Hunt), Narcissus dubius. Holiday report here and Flowers of Valencia from the holiday here on Facebook.
Strait of Gibraltar Nature Fair, March 2016: this is up and running again at Huerta Grande, Honeyguide's base in Tarifa. Click on the picture below for the full programme, and contact Katrin at Huerta Grande if you're in the area and would like to attend some or all of the activities.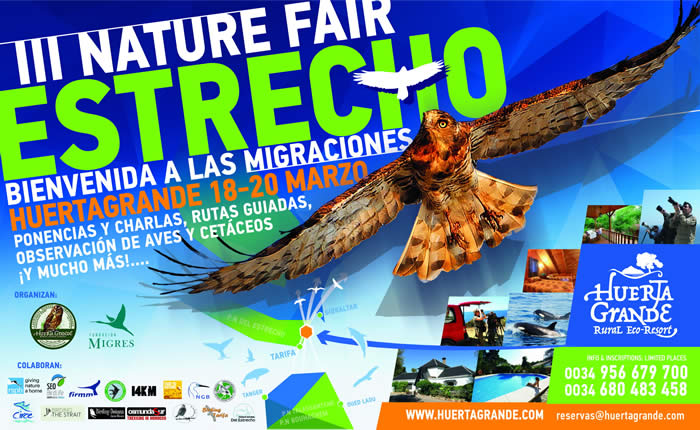 Honeyguide programme changes, 2016/17
1) Crete, spring 2016, alternative dates: Chris Durdin will be the wildlife guide for a group of four people, from 27 April to 4 May 2016. Honeyguiders are welcome to join that group, to be based at Plakias and following the usual Honeyguide itinerary and pattern, noted on our Crete page. If this could be of interest, please contact us.
2) New holiday for autumn: Menorca, October 2016.
3) Updated itinerary for South Africa: Drakensberg Mountains and Zululand 26 January - 10 February 2017
---
In praise of Kiskunság: a new web page, where Honeyguiders from our group in 2013 write about what they liked about Honeyguide's holiday in Hungary.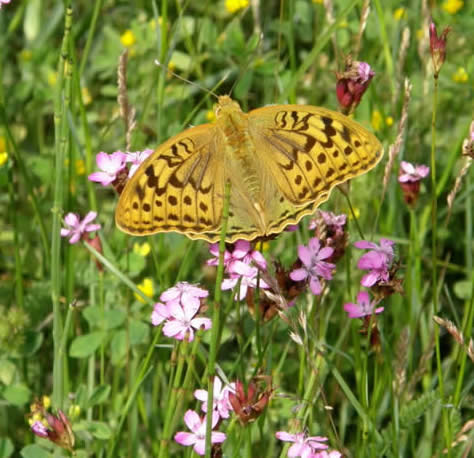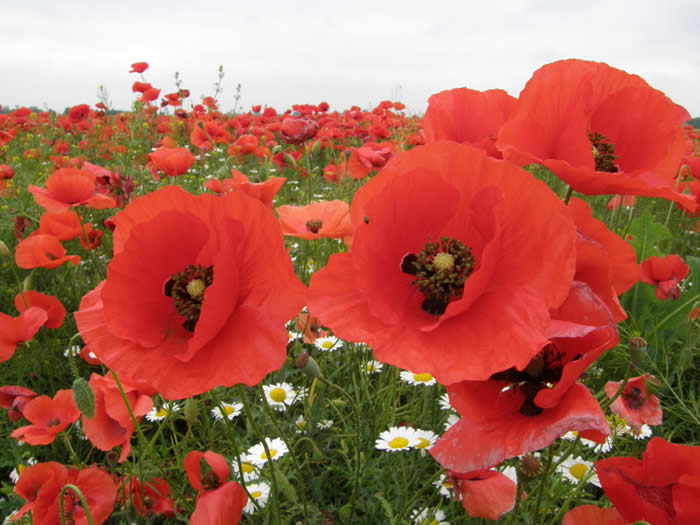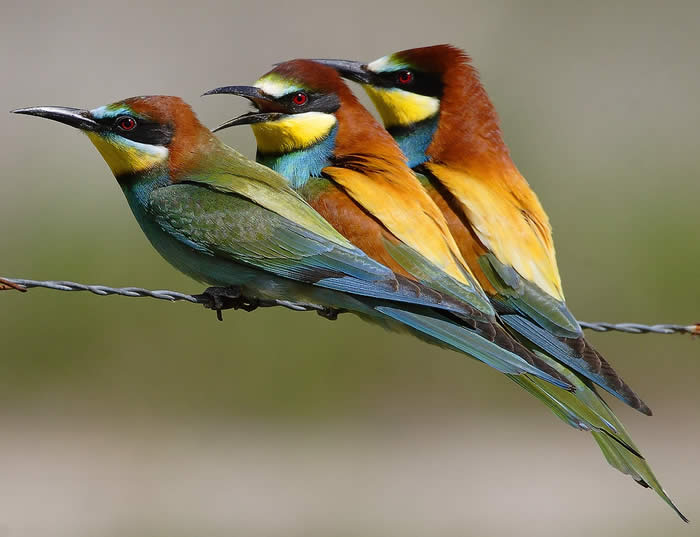 Cardinal butterfly, poppies (Helen Crowder) and bee-eaters (Steve Fletcher) - all scenes you are likely to see in Hungary.
In spite of the very mild winter so far, wallcreepers are beginning to arrive in the Karst in time for the Honeyguide wallcreeper and woodpecker break in Istria (Slovenia, Croatia & NE Italy) 9 - 13 March (see Wallcreeper and woodpecker break for details).
Domen Stanič, a local birder and DOPPS member has a wildlife blog in English and ran into a wallcreeper a couple of days ago at one of the sites we will be visiting, Monte Stena. Be sure to click on the link to the video at full resolution to see this fascinating bird in action.

Wallcreeper (Domen Stanič)
---
Six intrepid Honeyguiders have recently returned from mostly hot and dry Namibia. Highlights included the outrageous pink of large flocks of flamingos at Walvis Bay, and squabbling flamingos, francolins and dik-diks. Many mammal sightings included three cheetahs close to the vehicle in Etosha National Park, a lion on a giraffe kill and twelve mammal species around one waterhole. The landscape and geology also played a big part: sunsets, giant dunes, Swakopmund's crystal gallery and all these things combined: "The amazing ability of wildlife to survive in what appears to be such inhospitable landscape," as one group member put it.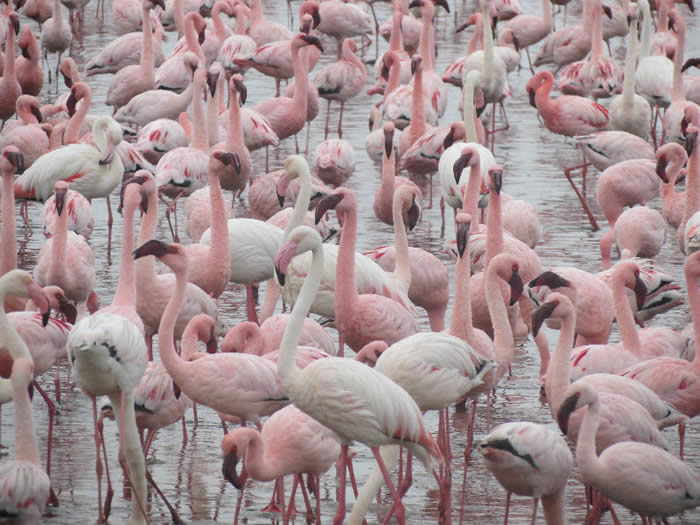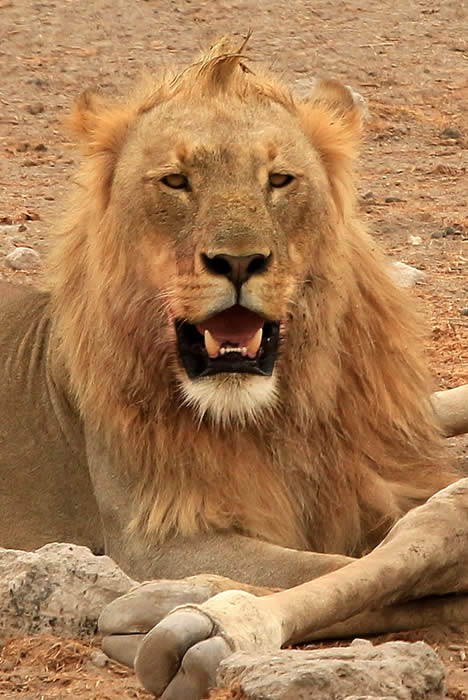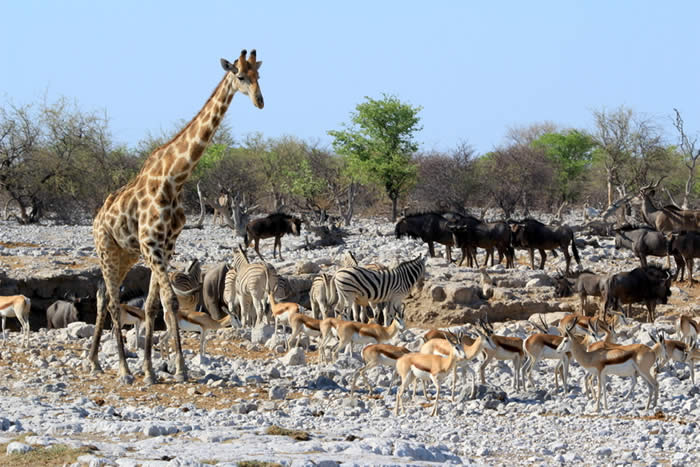 Lesser and greater flamingos (Marion Hession); lion and massed mammals at a waterhole (Geoff Crane). Holiday report, Namibia 2015, here. A selection of photos by Honeyguider John Rumpus from November 2015 here.
Our Algarve & Alentejo group arrived in driving rain and it poured for much of the first day - on which a museum visit was the Plan B - but the weather then improved. Three species of both shearwaters and petrels on the pelagic trip included a close Wilson's storm-petrel, dancing over the sea and the 'chum' bait. On the plains there were great bustards, Europe's heaviest flying bird, and elsewhere there were close views of firecrests, the smallest, with crested tits. Other highlights included a yellow-browed warbler, Spanish imperial eagle on a carcass and a big group of Audouin's gulls.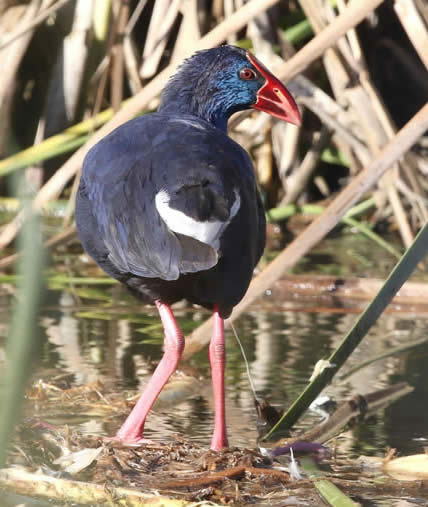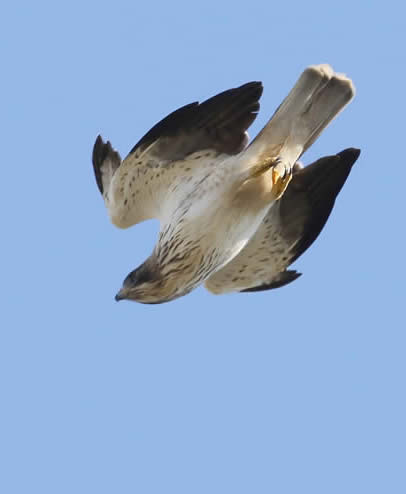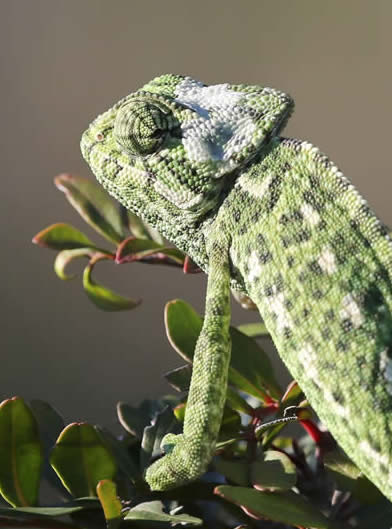 Purple swamp-hen, pale phase booted eagle and chameleon (Barry Madden). Read Barry's account of this holiday (in October/November 2015) and see more of his photos on his Eastern Bushchat blog. Holiday report here.
News story here about the holiday's donation of €1000 to SPEA, with links to the excellent coverage in Portuguese media.
---
Our Morocco holiday base is a winner at the World Responsible Tourism Awards 2015 (November 2015).

Gold Winner: Atlas Kasbah Ecolodge was the "Best Hotel for Local Sourcing sponsored by Colorado Tourism Office".


Atlas Kasbah Eco-lodge (Richard Hobbs/Sally Ward).
"Judges' reasons for winning: Based in Morocco's Argan Forest near Agadir, the judges were impressed by Atlas Kasbah Ecolodge's ability to report in detail on its impact on the local economy, with 81% of money spent within a 50km radius, and staff employed from nearby Berber communities.
"By offering guests local experiences such as cooking and craft classes, and starting up an organic food basket scheme with deliveries in Agadir and neighbouring villages, Atlas Kasbah Ecolodge has successfully developed wide a range of economic activities with the local Berber communities to their mutual advantage." More information here.
| | |
| --- | --- |
| | Also in Morocco, BirdLife International reports a "Record breeding success for Critically Endangered Northern Bald Ibis, " with 116 pairs and a fledging success of 1.7 young per pair. More here. |
Bald ibis (Igor Maiorano), supported by our conservation project on this holiday.
---
There are more than 300 nestboxes for rollers in the area around Kondor Lodge in Kiskunság National Park, Hungary. Almost 90 per cent of the nestboxes were occupied by rollers and the others by scops owl, hoopoe and starling. The birds are there when Honeyguide visits, but where do they then go?

Our host Gabor Orban reports that a ringed bird was found dead in Lebanon in September, which suggests a route around the eastern end of the Mediterranean to wintering grounds in sub-Saharan Africa.

Roller (Martin Sabik).
---

Have I got old news for you? . . . News 2020-21 . . . News 2019 . . . News 2018 . . . News 2017 . . . News 2015. . . News 2014 . . . News 2013 . . . News 2012 . . News 2011 . . . News 2010 . . . News 2009 . . . News 2008 . . . Back to main news page