Honeyguide news archive 2012
Two things had an impact on November's Madeira holiday. Heavy rain in previous weeks, the edge of Hurricane Sandy over in America, damaged some roads in north Madeira, affecting the itinerary. Then a strike at the airport on the return day meant an additional night on the island. But the special island birds were still on show: Madeira firecrest, trocaz pigeon, Bethelot's pipit and various subspecies, plus Cory's shearwater close to the boat at sea. Skylarks, plus the usual scattering of ducks and waders, had found their way onto this safe haven in the Atlantic.
But the most remarkable vagrants were two African species of butterfly, the African migrant (a white) and diadem Hypolimnas misippus (Wikipedia entry here). The latter, also known as false plain tiger, is found in Africa and America. Pictured are males: the females are mimics, taking on the appearance of the toxic monarch butterfly, also seen on the holiday.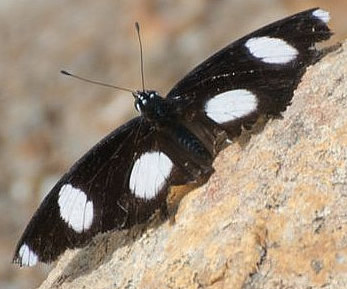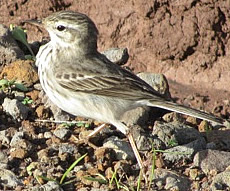 Madeira highlights from November 2013. From the left: diadem butterfly Hypolimnas misippus, upper & lower (Madeira Wind Birds); Bethelot's pipit (Marion Hession). Holiday report here.
| | |
| --- | --- |
| What are the links between Welsh poppies in the French Pyrenees (right), Wales and our gardens? More here. | |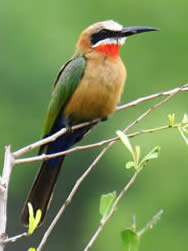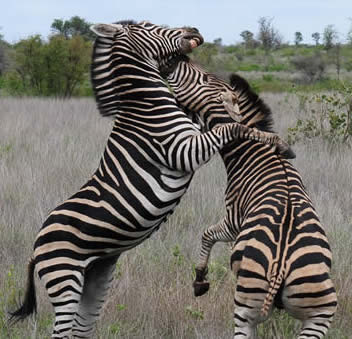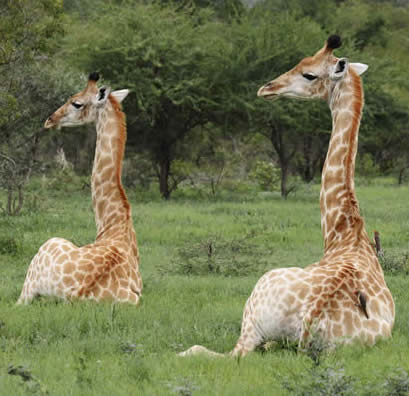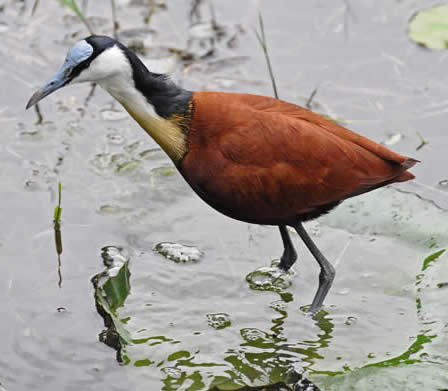 White-fronted bee-eater; zebras; giraffes with oxpeckers, African jacana.
It's quite a challenge to sum up in a few sentences what 13 Honeyguiders experienced in South Africa's Kruger National Park in a fortnight. Andrew Goodhart writes: "The wildlife was incredible, birds everywhere as well as all the big animals. One highlight was seeing weaver birds very active over a small lake. Others included a lion just sitting on the road, kingfishers, herons and waders on the rivers, a spotted hyena suckling her cubs, and a leopard who we watched as he chose and climbed a tree. Our guides Geoff Crane and Mike Raymaker showed us their expertise in making breakfasts and lunches when staff were on strike at camps in the Kruger.
From John and Jan Croft: "The birds and wildlife were mind blowing. There were sightings where the skills of Geoff and Mike ensured we had good views in a changing situation. One in particular was the following of a pack of wild dogs as they loped along the road for about half an hour – magical! While the grandeur of many of the animals often stole the show, there was plenty of fascinating birdlife - often easier to see than to photograph." Or maybe not ... it's been tough choosing from so many photos by the group (several hundred are here) and some of Rob May's are below. Click on the pictures to see full-size images. Holiday report here.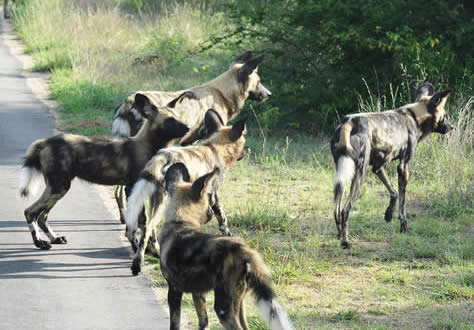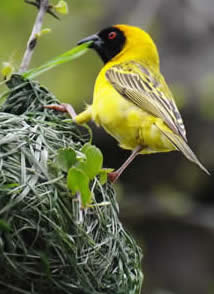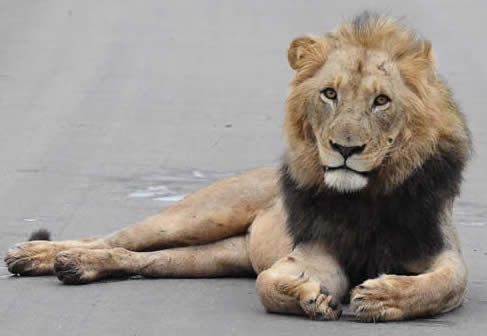 Wild dogs; southern masked weaver, a lion in the road.
Blogging Honeyguide leaders
Great white egret (Steve Fletcher)

We still have places available on our Extremadura holiday in March 2013.

Martin Kelsey's blogspot from Extremadura is always a good read. His latest posting is on the numbers, mostly growing, of a range of heron and egret species in his home region of Spain. Our visit in February 2012 (report here) followed a dry winter: it's good to read in Martin's account that "The landscape is looking magnificently green" following autumn rains, which bodes well for our visit next March.
Languedoc holiday leader Derek Moore has been around in nature conservation for many years and I've known him most of that time, but he'll be new to most Honeyguiders. His blog Derek Bird Brain includes recent entries and photos from the south of France. His co-leader in France will be Rob Macklin. Both Rob and Derek were at one time key characters in the Suffolk birding and conservation scene, but now live elsewhere. 

There are three places available on next spring's Languedoc holiday, though the possible flights from Liverpool to Carcassonne mentioned in the Honeyguide brochure are no longer on the same days as the holiday next year, a hazard of trying to plan dates before airline schedules come out.

Serin (Derek Moore)

Derek and Rob are on our Languedoc leaders web page, as are some mystery characters in black-and-white. Email me your thoughts on who they are (not too difficult) and why they are together (trickier).
Domingos Leitão in Portugal reminds us — looking forward to our Algarve & Alentejo holiday in autumn 2013 — how many nice birds there can be in south Portugal in late autumn, this year including ferruginous ducks, little bitterns, a flock of some 500 griffon vultures, an escaped sacred ibis and a nice sprinkling of late migrants . More in updates from SPEA for late October here, early November here and late November here.
Infrared success — including movies of otters and golden jackals
| | |
| --- | --- |
| | Our conservation contribution for this spring's holiday in the Peloponnese was unusual. We gave two infrared motion-sensor cameras to the Management Body of Mount Parnon & Moustos Wetland to help record wildlife in the protected area. These cameras are especially useful to confirm the presence of secretive mammals. |
They take some skill and trial & error to position and use, but we have good news.

George Tryfonopoulos, biologist working in the protected area, reports success with the cameras, recording golden jackals Canis aureus (motion sensor camera shot, right) and otters.
YouTube Movies: otters moving and approaching the camera; and golden jackals. Towards the end of the latter the jackals are filmed in daylight, including cubs, playing in water. Be ready to turn down the music!
December: a badger in front of the camera for many minutes.
The Honeyguide group features in 'Foreign visitors to Moustos' Places on our Peloponnese holiday in 2013 are all spoken for, but there are places on all the other holidays in next year's programme.
Updated by Chris Durdin, 7 November 2012.
News from holidays in September
Frank Vargas and a small group were in Tarifa & Gibraltar in early September, coinciding with migration. This included more than 7,000 soaring species (black kites, black storks, booted eagle, honey buzzards, pallid harrier, short-toed eagle), crossing the Strait on their third day there in less than an hour, and close views of a Spanish imperial eagle. Holiday report here. After checking photos , a putative Rüppell's vulture was put down as a griffon vulture.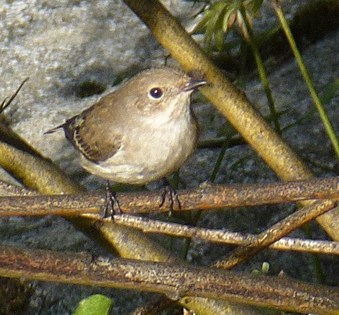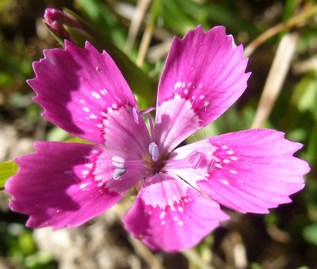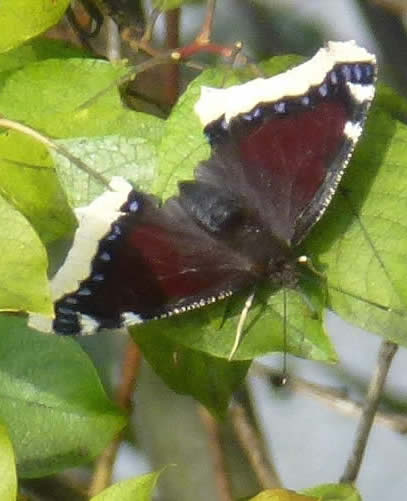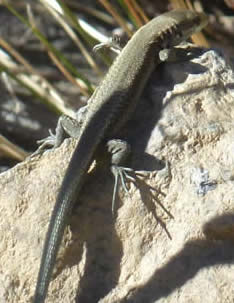 A migrant pied flycatcher, maiden pink, Camberwell beauty and Pyrenean rock lizard, all in the French Pyrenees, September 2012.
I am back from a super week in the French Pyrenees. As well as the expected resident birds, such as dippers, alpine choughs, lammergeiers and griffon vultures, migrants included pied flycatchers, hundreds of swallows and an osprey going over a mountain pass. Flowers included sheets of merendera, autumn crocus, grass of Parnassus and two types of monkshood, and butterflies included a profusion of three types of blues in one valley and striking individual Camberwell beauties, swallowtail and Queen of Spain fritillary. The scenery in (mostly) autumn sunshine must be some of the best in Europe, and we found local specialities like Pyrenean brook newt, Pyrenean rock lizard and isard, the Pyrenean chamois. Holiday report here.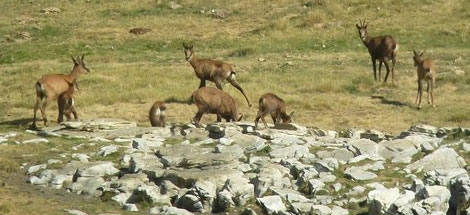 Isard, the Pyrenean chamois, in the French Pyrenees, September 2012.
Five intrepid Honeyguiders were in Berdún in the Spanish Pyrenees to walk part of the Camino de Santiago. Holiday summary here.
Campaign special, July 2012
There are threats to two areas known to Honeyguiders – and you can help.
In Algarve, Lagoa dos Salgados – often known as Pêra Marsh – is under threat from a major development.  All four of our Algarve holiday groups visited this splendid wetland with the last group, in 2009, enjoying a close encounter with bald ibises there.
SPEA (BirdLife Portugal) and the RSPB have been battling to safeguard this Important Bird Area for years, but at the moment the developers are pressing on and, despite the environmental damage and severe economic doubts, local government is on the side of the developers.
Read the full story here in the Algarve Resident online newspaper (and there's more here.)
You can help by signing the online petition on Avaaz.org here. The petition website has a simple sign-up process. The petition is supported by SPEA (here, in English) and the aim is 40,000 people signing up.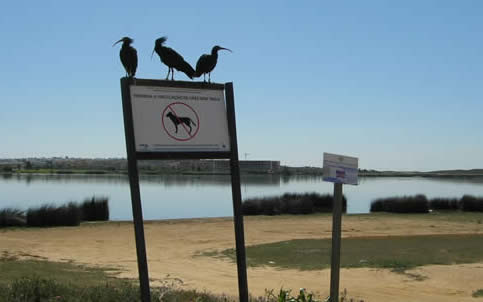 Bald ibises at Lagoa dos Salgados at Pêra, April 2009 - from a reintroduction project in Spain.
The Honeyguide Wildlife Charitable Trust is supporting the protection of Lilium rhodopaeum, a scarce endemic flower of the Western Rhodopes, found on just a handful of sites in Bulgaria and over the border in Greece.
| | |
| --- | --- |
| It's a flower that the group in June 2012 saw well, and concluded they'd like to help. The conservation contributions from our holiday in 2012 raised £400 and we have doubled this to £800, using some additional funds in the Charitable Trust's account, raised by the Wildlife Outreach Network. | |
Photospot: silver-studded blue butterfly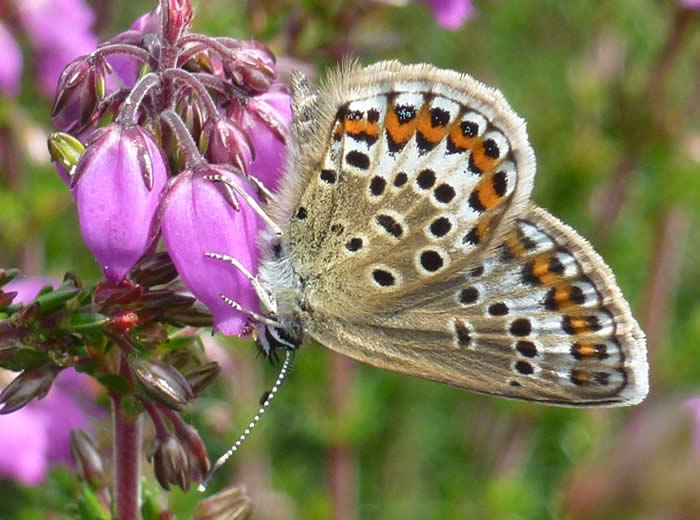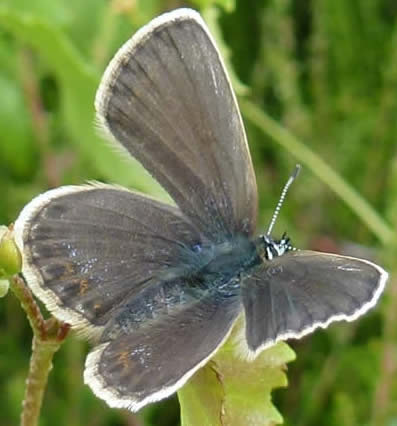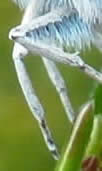 Silver-studded blues, photographed on a heathland north of Norwich, 12 July 2012. Left : female, underside, on bell heather. Centre: female, upper. Right; a spine is just visible on the male's tibia (which the very similar European species, Idas blue, lacks). Mullein moth caterpillar photospot here.
News from holidays in June 2012
Three holidays ran last month. In the Picos de Europa, highlights included snowfinches and wallcreepers on the high tops and, as pictured in the brochure, dark-flowered pasque flowers and marbled newt. The wealth of wildlife in the Danube Delta was as impressive as ever, and below is a selection of photos from Honeyguider Judith Wells.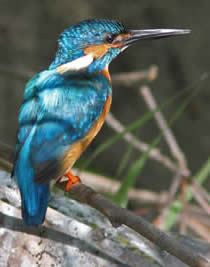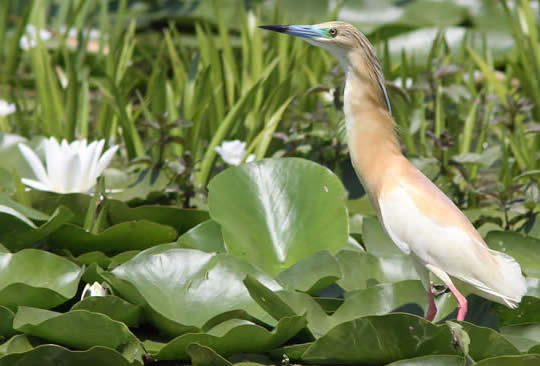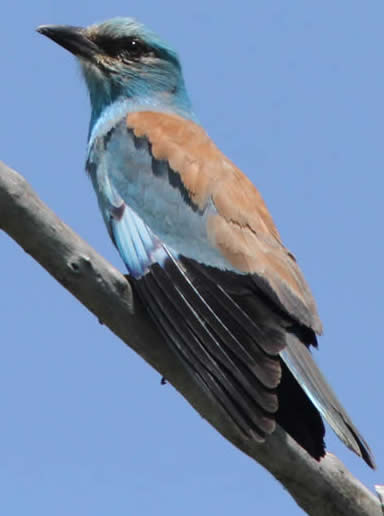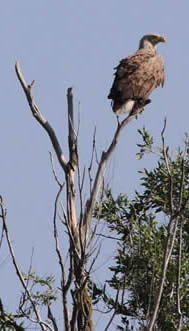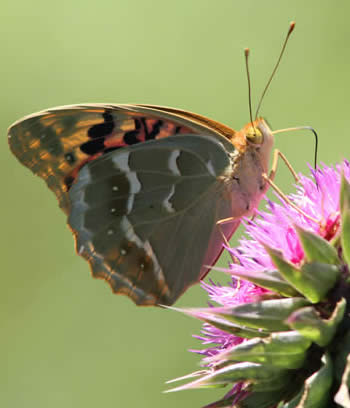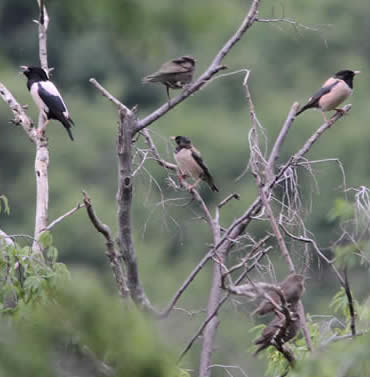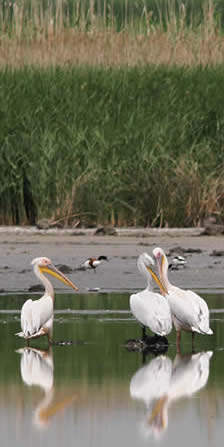 Some Danube Delta highlights from 2012, photographed by Judith Wells. From left to right, top: kingfisher, squacco heron, roller. Bottom row: white-tailed eagle, cardinal butterfly, rose-coloured starlings, white pelicans with a Dalmatian pelican.
Bulgaria wasn't in the brochure, but a group of Honeyguiders arranged a stay in the Western Rhodopes. Helen Crowder writes: "Bulgaria warmly welcomed us with blue skies and sunshine, calandra larks, plump, purple mulberries and flamboyant, spoon-winged lacewings. Meadows were alive with butterflies and bright with an abundance of wildflowers. Patches of Lilium rhodopeaum studded one steep slope, while from below a corncrake called loudly and dozens of blues and fritillaries cascaded like confetti over the muddy path.
"The Trigrad Gorge wallcreepers did not disappoint, a pair emerging from their nest hole as we arrived and flicking around the gorge. Damp rock faces dripped with Haberlea rhodopensis in full bloom and varieties of honey were tasted and bought. In the forest, two nutcrackers flew down to drink from a puddle just a few feet away. At the Devinska River, a poplar admiral posed for photos and an apollo fluttered bird-like around us.
"In Yagodina the old, traditional ways continue, for the time being anyway. Family cows are daily herded up to graze the high pastures and small plots of land are cultivated with potatoes and beans. Logs are stacked everywhere for daily cooking and in preparation for the long winter. The wildlife is rich and the people might be materially poor but they possess a wealth of open-heartedness which enveloped us all."
_________________________
Bee orchids back near Norwich City FC
Three years ago, I persuaded the men with strimmers to spare bee orchids growing outside the Big Yellow Self Storage in Canary Way, opposite Norwich City Football Club (2009 story here). None seemed to pop up for the last two years, then long grass in the same place caught my eye last night (25 June). I returned with my camera and counted 29 flowering spikes. I phoned to congratulate store manager Rob Harley, who tells me they found 37. All credit to the Norwich Big Yellow Self Storage team for noticing these charming wild flowers and for taking care of them. Eastern Daily Press story here (on 29 June).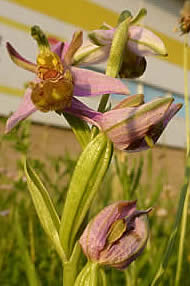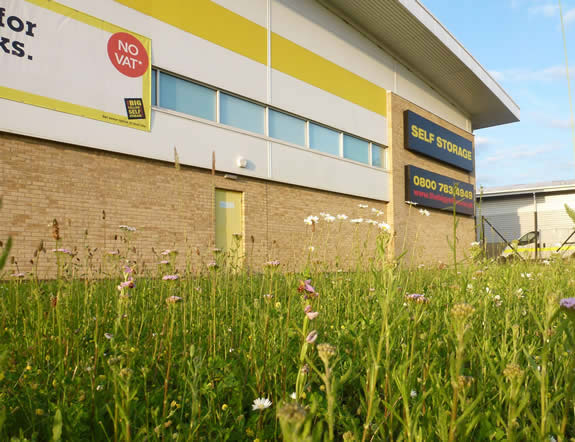 Bee orchid, left, outside Big Yellow Self Storage in Norwich, with grass left uncut.
_________________________
The Dordogne, May 2012
The Dordogne's winter was dry and cold but followed by lots of rain in April and early May, which roughly offset each other, with spring flowers and birds slightly delayed but catching up rapidly in a very warm week. Another full group enjoyed the warmth of welcome inside Castang, as well as the summer weather outside. Highlights included particularly active golden orioles, many hundreds of sombre bee orchids and some tame map butterflies. Holiday report here.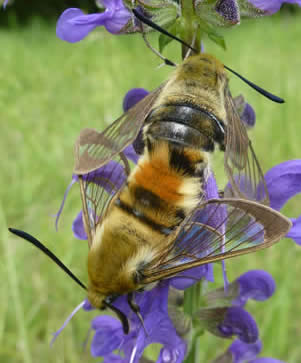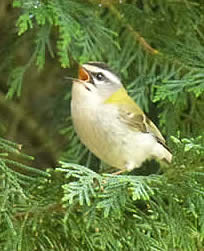 Map butterfly on cow parsley; narrow-bordered bee hawkmoths on meadow clary; and a firecrest. To hear this firecrest singing, click here.
News from recent holidays in April/May 2012
Portugal, April 2012. Rob Macklin writes: "A splendid week with our host Domingos Leitão, although the weather was somewhat variable, to say the least. We explored two distinct areas with the first half of the week in and around the Tejo estuary and river. This area held excellent numbers of various herons, including purple and black-crowned night herons plus many breeding white storks. Recent rains had brought out many flowers including many orchids such as pink butterfly orchid. We had very good views of black-shouldered kites in the montados (wood pasture) and well as finding a roosting long-eared owl.
"The second half of the week was in the eastern part of the region, based near Marvão. The views from this hilltop fortress were absolutely stunning as was the close-up views of a glorious male blue rock thrush. Our visit to the São Mamede Natural Park was superbly rounded off by great views of three Bonelli's eagles over the cliffs by the Spanish border. On the final day we explored the Elvas plains where we were delighted to see two male great bustards flying right in front of the group." Continued, right.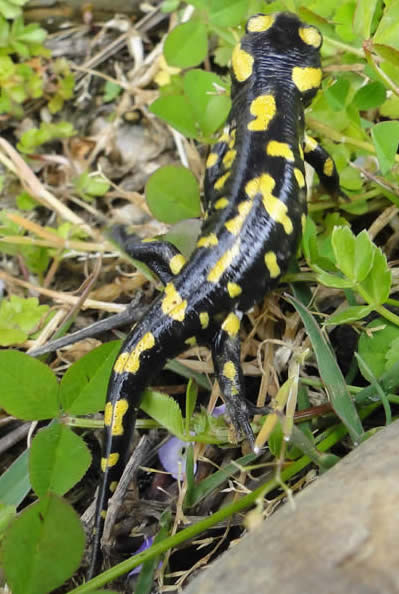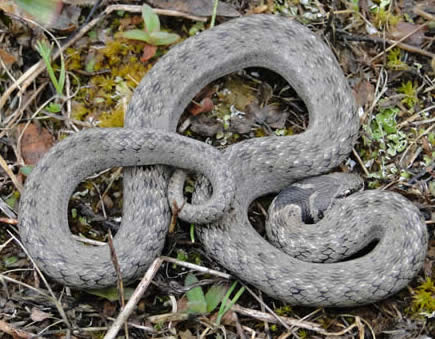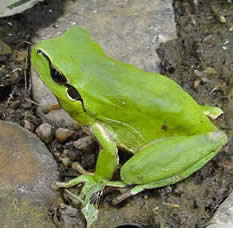 Crete, April 2012. Chris Gibson writes: "It had been a long, cold winter on Crete. And the northerly winds at the start of the week helped to stall bird migration. So our week in Crete was distinctly different from usual - the tulips and many of the orchids needed at least another week or two before they would have been at their best. The corollary was though that general floral displays, albeit 'common' species such as poppies, crown daisy, viper's-buglosses and honeywort, were quite stunning, along with good displays of endemics such as Cretan ebony. More, right.






Tim Strudwick's Crete photos here (a few thumbnails above).
Peloponnese, April/May 2012
Our first holiday in the Peloponnese was a great success, with glorious weather and flower-filled hillsides. Here are some pictures - below and right.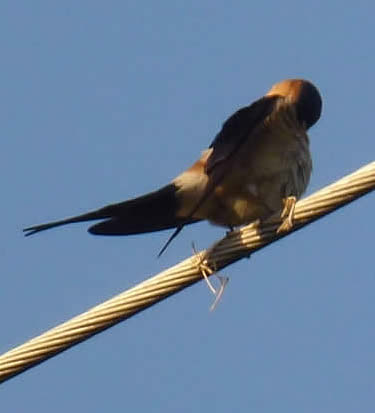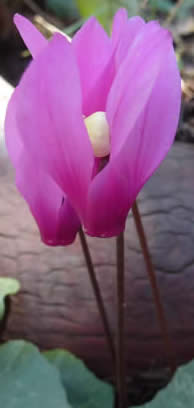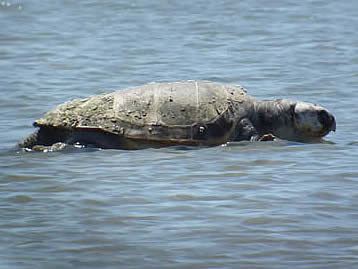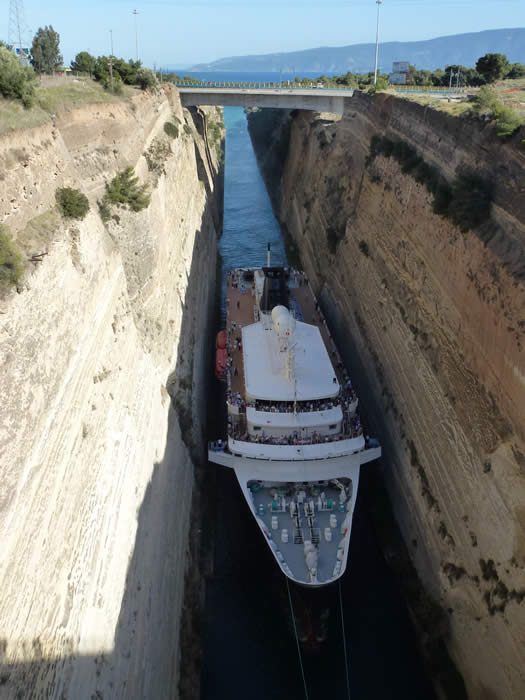 Red-rumped swallow; close-up of Peloponnese cyclamen, a deceased loggerhead turtle and Corinth Canal.

_________________________
News, first, that ornithology is in a twitter with a dispute about birds and communication . . .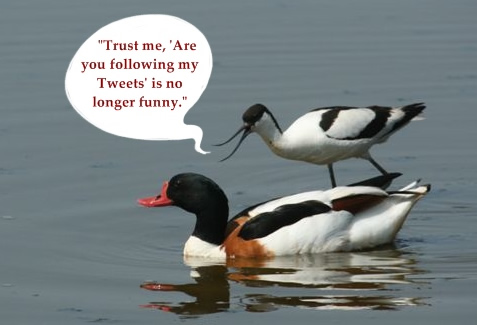 Photo, but definitely not the words, by John Buxton. Better suggestions for what the avocet said to the shelduck are very welcome! 1st April 2012
Our first Honeyguide holiday on Fuerteventura for 16 years went well. Leader David Collins writes:
"Our Fuerteventura holiday of 14-21 March was timed to perfection: we arrived just as lots of migrant birds dropped in.  As a result we saw no less than 90 species, including several that are uncommon migrants on the island, such as purple heron, squacco heron, osprey, red-rumped swallow and woodchat shrike. Best of all though was a superb male white-spotted bluethroat, which gave wonderful prolonged views at one of the small wetlands.
"On the down side, Fuerteventura is suffering the worst drought for more than half a century, and there were virtually no flowers or butterflies, although we did see both plain tiger and monarch." More on the right; holiday report here.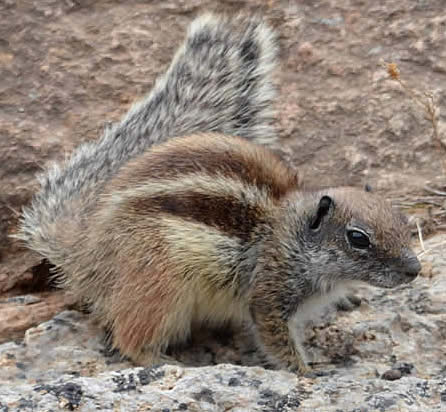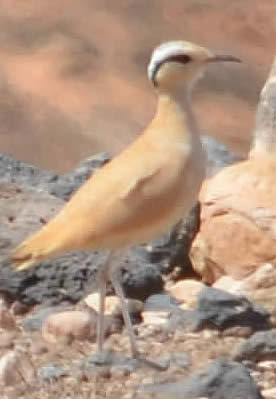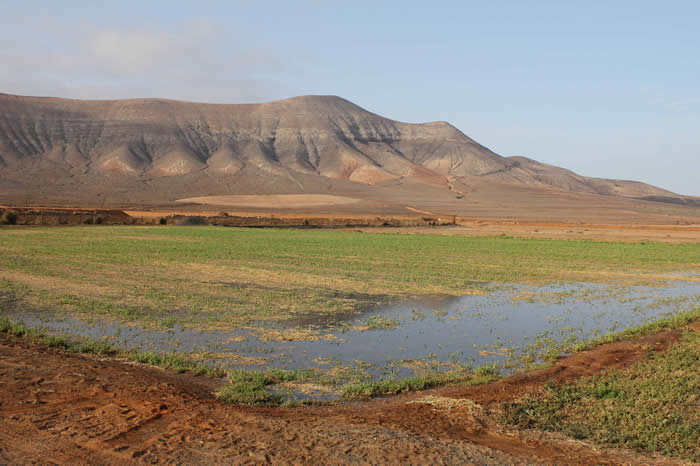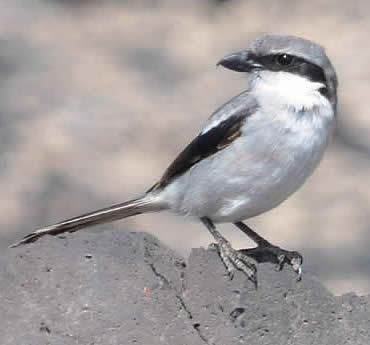 Fuerteventura photos, taken in March 2012: Barbary ground squirrel, cream-coloured courser, view at La Oliva, southern grey shrike (Lesley & David Lord).
Spanish Pyrenees Crossbill Guide: the previous Honeyguide discount for Crossbill Guides is suspended, following changes at WildGuides. We hope to set up something similar, but in the meantime, by arrangement with Crossbill Guides, we can offer the new guide to the Spanish Pyrenees, an area enjoyed by scores of Honeyguiders over the last 22 years. This book will be usually £20.95 plus postage online, but as we can order a batch directly for Honeyguiders, it will be £18.95 and post free. If you'd like one, a cheque or bank transfer for £18.95 to Honeyguide Wildlife Holidays, please.
Posted by Chris Durdin, 1 April
Extremadura's winter was the driest in 70 years. On our holiday here in February, it was cold at night and during the early part of the day, but warming through the day and always sunny. You could see the drought's impact on the landscape, and it reduced the number of flowers, but the birds more than made up for it. Swallows, lesser kestrels and displaying storks were signs of spring, and resident birds including Spanish imperial eagle, vultures, two species of bustard and sandgrouse, black-winged kite and penduline tit showed well.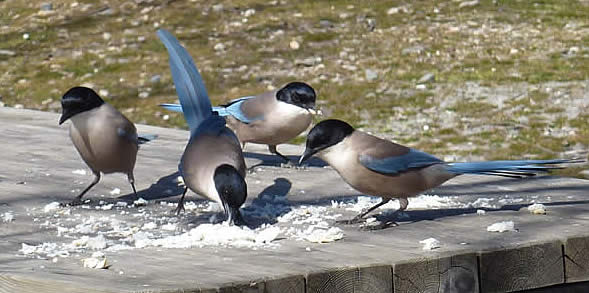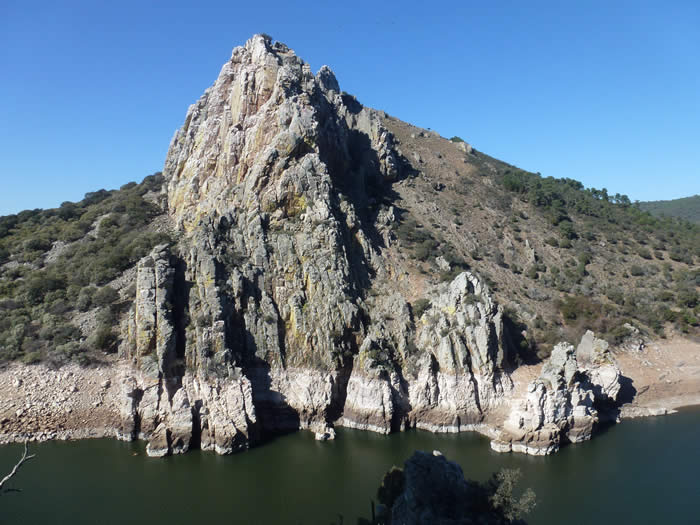 Azure-winged magpies on a picnic table in Monfragüe National Park. Watch them as a movie here or click on the picture. The pale strip on Peña Falcón shows the reservoir's low water level on account of the very dry winter.
But it was the cranes that drew most of us to Spain in late winter. There were the expected groups scattered in the dehesa and on open fields, and some 2,000 in the rice paddies near the crane information centre at Moheda Alta. But the undisputed highlight of the holiday was a glorious spectacle of a succession of calling flocks moving slowly past us over a steppe south of Trujillo on the first leg of their journey back to northern Europe. Magical.
Photographing a toad: Chris with arms down a cattle grid, photographing western spadefoot toads (middle). Click on the photo or here to see a movie of the toad: look for the black spots on its feet. Minutes later, cranes were moving overhead.
Poking fun at airines: anyone who enjoyed Fascinating Aida on 'Cheap Flights' (here if you missed it) will enjoy this British Airways parody here.
Posted by Chris Durdin, 1 March
Spring is coming ... honestly!
Some wintry weather is forecast in the UK, but farther south there are signs of spring. On Sunday, 29th January, Domingos Leitão photographed the first new season flowers in Santarém, Central Portugal, near to where Honeyguide's group will stay for four nights. These - on the right - were the stunning giant orchid (Barlia robertiana) and the strange western friar's cowl (Arisarum simorrhinum). "In a few weeks the area will be teeming with several orchids, daffodils, squills, fritillaries and many other beautiful flowers," says Domingos.
New web pages: Dordogne butterflies & Dordogne bugs; Crete orchid gallery & Crete orchids page.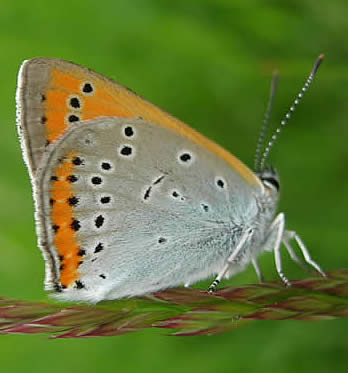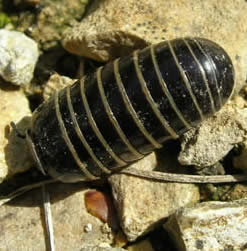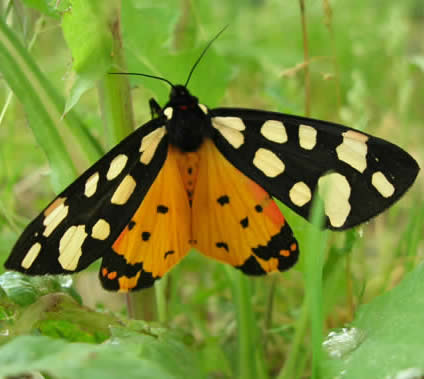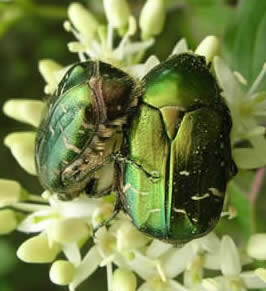 Left to right: large copper, pill millipede, cream-spot tiger and rose chafers.
More news from Portugal
The Caia Dam Important Bird Area in Portugal is one of the sites visited by the Honeyguide holiday. Its large population of waterbirds includes collared pratincoles, little and gull-billed terns, red-crested pochards and other duck, spoonbill and egret species. SPEA, BirdLife partner in Portugal, is managing ten islands used by terns and pratincoles to nest.

Gull-billed terns at Caia Dam IBA

More and pictures on our Portugal News web page.
Honeyguide Wildlife Charitable Trust: the late Roger Jordan and his group of friends in the Wildlife Outreach Network in the Chelmsford area raised funds to support conservation projects overseas, including a regular series of top-ups for Honeyguide's conservation donations, £4,700 by 2010. Jill Jordan kindly arranged that the remaining money they raised, £1,643, also cames to Honeyguide Wildlife Charitable Trust. The trustees' plan is to use this linked to our own projects, much as before, in Roger's words "... to give a little help and encouragement to conservationists … overseas." As always, the Honeyguide Wildlife Charitable Trust welcomes additional donations or legacies. . . . . . . . . . . . . . . . . . . . . . . . . Posted 6 January 2012
Some Honeyguiders are planning to walk parts of the Camino de Santiago in the Spanish Pyrenees in the early autumn, probably for a week in late September. It will be fairly gentle walking, though covering more distance than a typical Honeyguide group, taking in wildlife, buildings and the stunning scenery along the way, but not a religious pilgrimage.
Accommodation will be at Casa Sarasa in Berdún (right). While it'll be a small group, there's scope for more to join them. If you're interested, please contact us.
Would you like to search this website? We don't yet have a search function, but if you type into Google site:honeyguide.co.uk plus your search item - e.g. site:honeyguide.co.uk wallcreeper it searches www.honeyguide.co.uk
Have I got old news for you? . . . News 2020-21 . . . News 2019 . . . News 2018 . . . News 2017 . . . News 2016 . . . News 2015 . . . News 2014 . . . News 2013 . . . News 2011 . . . News 2010 . . .. News 2009 . . . News 2008 . . . Back to main news page