Kruger National Park
7 — 22 October 2015*
Two weeks of unparalleled bird and wildlife watching
in South Africa
Dramatic yet accessible, wild Africa yet people friendly, the Kruger is one of the world's great National Parks.
The Kruger has the enviable reputation of having the highest recorded species diversity of wildlife in a game reserve in the whole of Africa. The park is a fantastic destination for birdwatchers, with 517 bird species having been recorded in the park to date. Of these, 253 are residents and 117 are non-breeding migrants.
Kori and black-bellied bustards, secretarybird and ostriches are some of the biggest and most obvious birds. The park is particularly rich in cuckoos (nine species), rollers (five species), hornbills (six species) and kingfishers (nine species). Large raptors encountered throughout the year include African harrier-hawk, bateleur, dark chanting goshawk and five vulture species: eagles include martial, Verreaux's and tawny plus African fish eagle, African hawk eagle, brown and black-chested snake eagles.
Everyone wishes to see the so-called 'big five' - lion, elephant, rhino, buffalo and leopard – but these are just the best known of the park's 147 species of mammals. African wild dog, cheetah, giraffe and spotted hyaena are just a few of the others. Yet the 'little five' – lion ant, elephant shrew, rhino beetle, buffalo weaver and leopard tortoise – are equally fascinating in their own way.
We will be visiting the park towards the end of the dry season. This will make viewing wildlife more rewarding as the vegetation is sparser and animals and birds are drawn to waterholes to drink. Hippopotamus, Nile crocodile and marsh terrapin are residents of dams, rivers and waterholes.
Waterbirds include goliath heron, saddle-billed stork, African openbill and yellow-billed stork.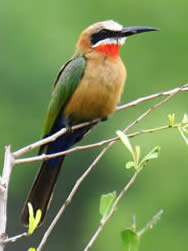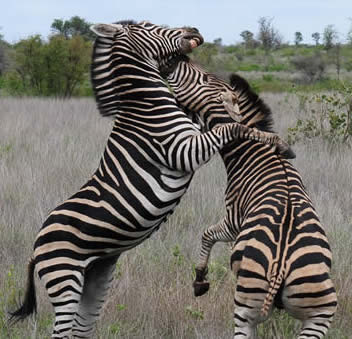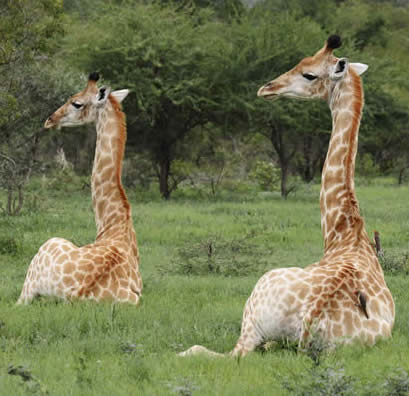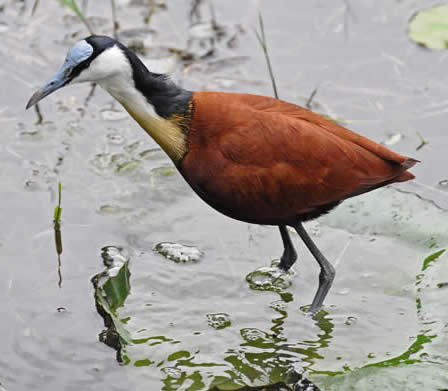 Some highlights from October 2012, photos by Rob May. White-fronted bee-eater; zebras; giraffes with oxpeckers, African jacana.Click on the pictures to see full-size images.
The established indigenous gardens in the rest camps play host to a multitude of smaller creatures. There are beautiful butterflies, huge rhino beetles, roosting bats, sun-basking reptiles and well camouflaged insects. All the camps have ponds or bird baths, which are worth spending time at during the heat of the day. On one occasion we were shown 117 different bird species by the camp gardener – before breakfast! There is also a large variety of mammals that can be seen with in the camps: tree squirrel, banded and dwarf mongooses, bushbuck, baboons and vervet monkey, the last quick and cunning when food is in question.
Linked to game and birdwatching, we will be looking at the Kruger's six eco-systems: baobab sandveld, mopane scrub, lebombo knobthorn-marula bushveld, mixed acacia thicket, combretum-silver clusterleaf woodland on granite and riverine forest. Altogether the park has a recorded 1,982 species of plants. The trees and shrubs within the camps where we stay are labelled as are some of the more impressive trees in the park, making for easy identification.
In the park we are able to drive our own vehicles and some of the smaller roads take us off the beaten track. This gives us the chance to stop at any point to study wildlife at close quarters and makes for excellent photographic opportunities.
In addition, night drives afford the chance to see birds and mammals not normally found during the daylight hours. Careful observation with a spotting light can reveal owls and nocturnal ground birds such as coursers and thick-knees. We will also be on the look out for the nocturnal mammals, predators like lions, leopards, African wild cat, serval and caracal, as well as large-spotted genet, civet, porcupine, lesser bushbaby and pangolin.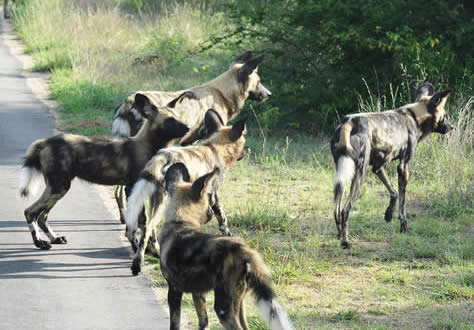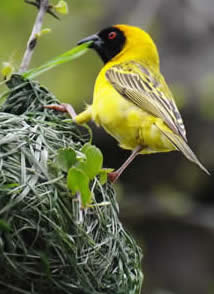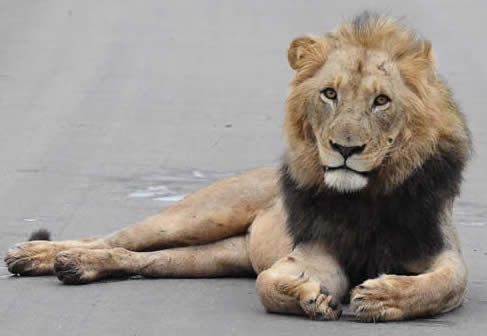 More highlights from October 2012, photos by Rob May. Click on the pictures to see full-size images. Wild dogs; southern masked weaver, a lion in the road.
The Kruger National Park, the Gonarezhou National Park in Zimbabwe and the Limpopo National Park in Mozambique have now been incorporated into the Greater Limpopo Transfrontier Park. The long term goal of this Park is to eventually open up a huge international park system, with no internal fences so that the wildlife can reinstate their ancient migration routes.
Over our two weeks in South Africa we stay in four rest camps within the Kruger National Park, plus a final night before departure, via the Phalaborwa gate, at the Mount Sheba private nature reserve.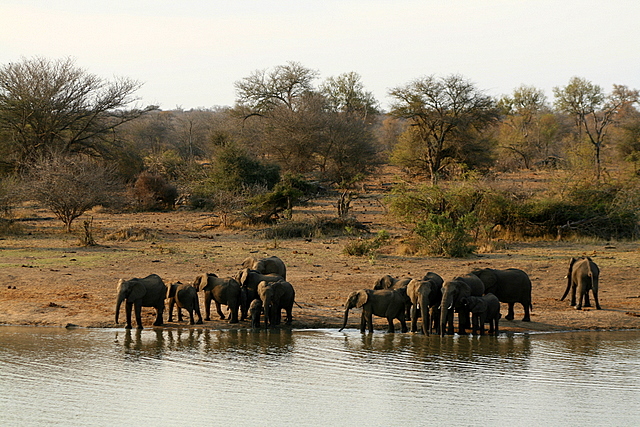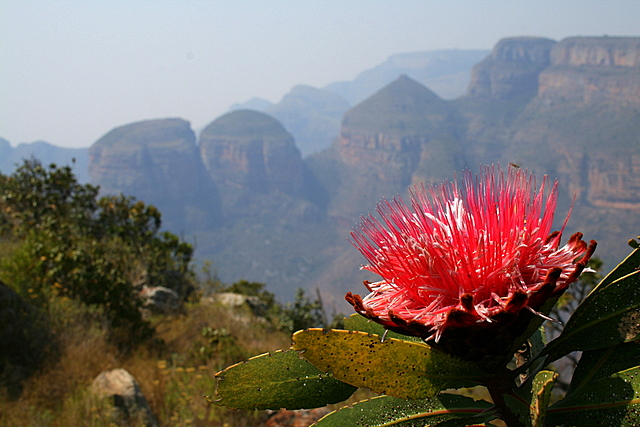 Left: Nsemani waterhole near Satara Camp.
Right: the Three Rondavels in Mpumalanga near Mount Sheba.
Holiday details
Price: £3,950 per person in twin room for 13 nights in South Africa, plus two overnight travel days (Wednesday to Thursday)
N.b. Dates are from Europe. Participants would arrive in Africa on 8 October and leave on 21 October.
Single room supplement: £400
En suite facilities
Flights: Scheduled flights, London to Johannesburg, usually SAA or BA
Deposit: £500
Number: minimum of 4, maximum 14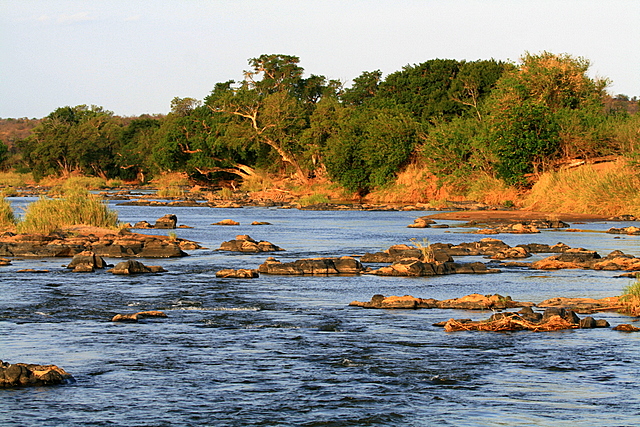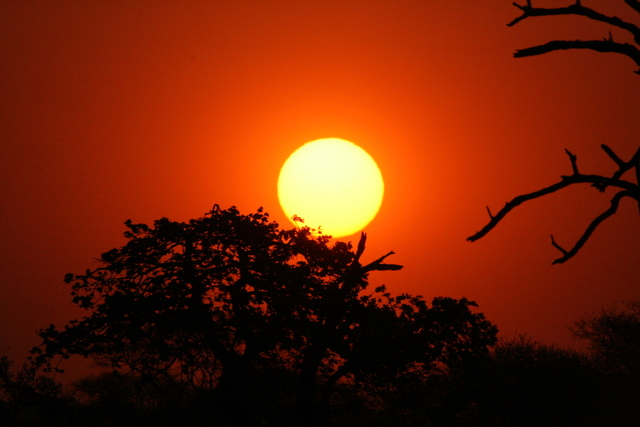 Olifants River near Balule Camp; African sunset.
Main leader
Geoff Crane is the man behind Crane's Cape Tours & Travel, both local leaders and ground agents for Honeyguide in South Africa. An experienced guide himself, he co-leads all Honeyguide's holidays in South Africa.

For more information about Crane's Cape Tours & Travel visit www.naturalhistorytours.co.za
Conservation project
The second Southern African Bird Atlas Project (SABAP2) is one of the most intensive monitoring programmes ever undertaken in South Africa and adjacent countries. Many areas are difficult to access but critically need atlas work and ongoing monitoring work for BirdLife South Africa to understand the bird conservation challenges in these remote sites.