Honeyguide news archive 2018
The Rhodope lily in Bulgaria, protected with Honeyguide's help, had a good year in 2018. The number of plants increased, management helped the plants, they were fenced at the right time, fruit capsules formed on the lily plants.

Report here by local leader and expert botanist Vladimir Trifinov. Background here.
Niki Williamson and Simon Tonkin write about Honeyguide's first group in The Gambia: "It's hard to capture in words the resplendent riot of colour and life that was packed into our trip to this tiny West African gem! As we followed the gleaming Gambia River inland, we left our European existences behind and ensconced ourselves in rural life, exploring sparkling coastal creeks, tranquil mangrove swamps teeming freshwater lakes, verdant forests and life-rich Sahelian heath, dotted with unimaginably ancient baobab trees.


Fishing boats at Tanji (Brennan Aunger). More of Brennan's photos on Facebook here and Gambia 2018 holiday report here.
"Our adventure brought us up close to stunning local specialities such as Egyptian plover, African finfoot, white-backed night heron, Adamawa turtle dove and four-banded sandgrouse. Our days were filled with eye-poppingly colourful flora and fauna, including seven glittering species of sunbirds, six glamorous species of bee-eaters, four rollers, six kingfishers, barbets, turacos and exclamatory paradise whydahs that sailed through the air like tiny shooting stars. Rivers and jungles held hippopotamus, Nile crocodile, Guinea baboons and various monkeys. Our 31 raptor species included many swirling in huge numbers around a raging bushfire.
"Add to this the welcoming and generous Gambian people, the vibrancy of their culture, music and clothing, and the delicious West African food, and you may start to get a picture of why it's so easy to fall for 'Africa's Smiling Coast'!"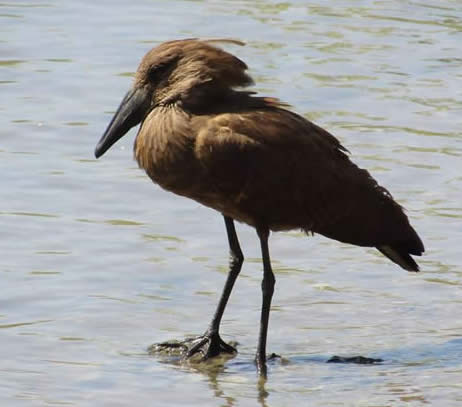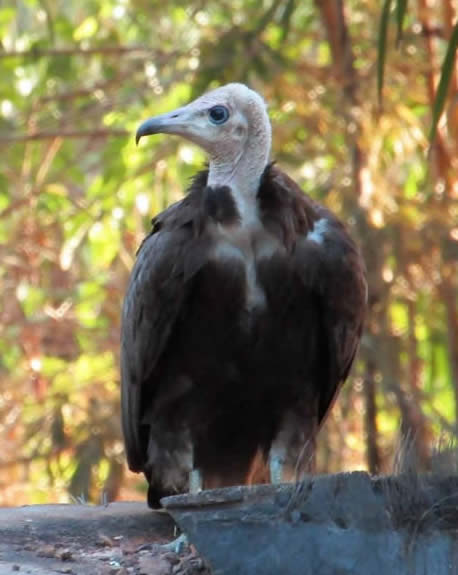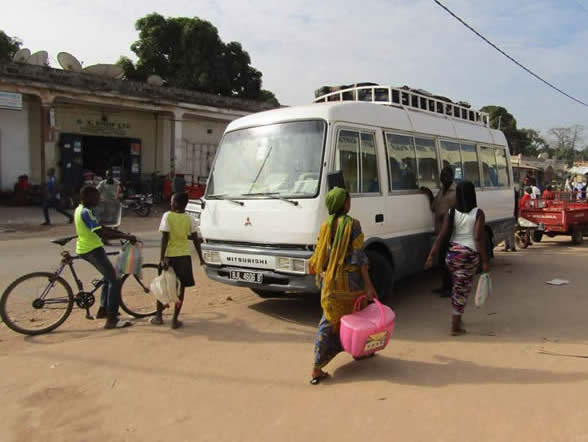 Hammerkop, hooded vulture, Honeyguide minibus in The Gambia (Brennan Aunger).
---
Honeyguide's support for Refuges LPO through holidays in France is longstanding, from our first year in The Lot back in 1991 up to the Dordogne holiday in May 2018. In the early days, some of the work was a campaign to prevent shooting on privately owned land irrespective of the landowner's wishes.
With that battle won, the focus of Refuges LPO in more recent years has been more about helping nature at home. In the LPO's most recent circular, which arrived in the Honeyguide office late last year, the project's considerable achievements are summarised in the numbers of 'refuges' in the diagram. Sometimes nature conservation needs louds voices. Sometimes, like this, it needs steady, patient, good work.
■ 25,000 refuges in total

■ 40,000 hectares of land protected

■ 593 balconies

■ 349 communities

■ 21,825 gardens

■ 148 businesses

■ 1,744 institutions
---
Holidays in May/June 2019: there are no bookings for Slovenia and we've made the early decision that this holiday will not run. All Honeyguide holidays in February, March and April are fully booked. In May/June 2019, there are still places available on holidays in La Mancha, the Danube Delta, French Pyrenees and Estonia. There is one place only in the Picos de Europa. Keep an eye on our calendar page for availability.
---
News from Ivan: many Honeyguiders know Ivan Nethercoat, who has led or co-led many Honeyguide groups, including in Greece and the Balearics and several times with me in the French Pyrenees. Ivan has recently taken a 'career break' having spent 31 years working for the RSPB in a variety of roles, most recently Learning & Development Manager.
He and Karen will be setting off for Portugal and Spain in the New Year to meet the spring migration and early flowers. Later in the year they'll be in the UK for the Birdfair, then (like Honeyguide) visiting Falsterbo in autumn before going back to southern Spain and Huerte Grande. In between will be wine, photography and of course Estonia in June. There are still places on next year's Estonia holiday, which Ivan is co-leading again.
---
The group in Madeira was unanimous: the highlight of the holiday was the trip out to sea in Oceanodrama, the boat captained by Catarina of Madeira Wind Birds. Rafts of Cory's shearwaters were soon followed by 'blows' from whales: a small group of short-finned pilot whales by the boat. Twice a Desertas (Fea's) petrel flew past, a new bird for me, writes Chris Durdin. There was much more: endemic birds, flowers. lizards and butterflies especially. Hurricane Leslie changed course and luckily we just caught the edge of that. More holiday photos from Brennan Aunger on Facebook, from Chris and Madeira butterflies (the latter two sets on Honeyguide's Facebook). Holiday report here.

Cory's shearwaters, Madeira, October 2018.
Carbon credits, September 2018:
for a third time, we have bought carbon credits that protect tropical forest in Gola Rainforest National Park in Sierra Leone. The September 2018 purchase was for 105 tonnes of carbon credits (certificate here).

Recent work with camera traps in Gola Forest has given interesting results: more on that and wildlife-friendly chocolate on the RSPB's website here.

Chimpanzee caught on camera, Gola Forest, Sierra Leone (picture c/o RSPB's website). Thank you from Gola Forest to Honeyguide here, also on Facebook and on Twitter.
Nick Folkard, Head of Project Development and Support in the RSPB's Global Conservation Directorate says:"Thanks for your continued support for Gola – it's really very much appreciated!"
You can follow the rationale and Honeyguide's history in buying carbon offsets here.
Travel if there's a no-deal Brexit: when do we start planning for this eventuality? The consensus seems to be that arrangements will be put in place for travel-as-usual, but outcomes for no-deal have been announced by the UK Government. According to the i newspaper (14 September):
"Travelling to the EU: under current rules, Britons can travel to the EU Schengen area on a valid UK passport without taking into account when the passport is up for renewal. Should Britain crash out of the EU without a deal, however, travellers will need to have at least six months remaining on their passports. It means anyone wishing to travel to the Schengen area from 30 March 2019 with a passport issued before 1 October 2009 may not be allowed to enter. The Government is advising people to renew their passports if they fall outside of these criteria and intend to travel to Europe after Brexit day."
We suggest that anyone travelling in April, May or June 2019 should check their passport renewal date with this in mind.
Going to Andalucia? Honeyguide leaders Simon Tonkin and Niki Williamson could be available for a day or few days guiding and local transport for any Honeyguiders visiting Andalucia. That's especially in the Tarifa / Gibraltar area, home of western Europe´s spectacular raptor migration bottleneck, but possibly beyond this area too. You can find out more and contact Simon and Niki via their website www.ingloriousbustards.com.
Honeyguide 2019: this website is now updated with holidays for 2019/2020 and we are open for bookings. There's always one change that comes in after the brochure is finished: this year it's Morocco dates, which are 14-21 March (as on this website), one day before the brochure's dates.
Peloponnese: Mount Parnon and Moustos Wetland, in the area where Honeyguide's Peloponnese holiday visits, could become part of a UNESCO Biosphere Reserve if present proposals come to fruition.
A conference in July 2018 (news release here) brought together scientists, academics, students and park managers to examine and contribute to a case for Biosphere status. They concluded that Mount Parnon, Moustos and a wider area that was assessed can meet the standards for this prestigious designation.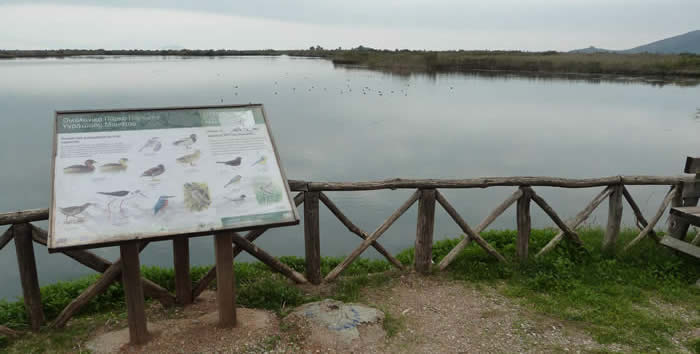 Moustos Lake, part of the important Mount Parnon and Moustos Wetland complex.
"Biosphere reserves are not just protected areas but combine the protection of natural and man made elements with human presence and economic and social development," notes the press release. Two places in Greece, Mount Olympus and Samaria Gorge on Crete are among 650 Biosphere Reserves worldwide.
This is a valuable step, but there is a long process before Biosphere Reserve status is achieved. Work with local councils and other bodies has built a partnership and local accord, which also helps.
---
| | |
| --- | --- |
| | White storks are nesting on Crete for the first time, in a tree by a monastery car park, plus others feeding at Rethymnon rubbish dump. It's a tough place for migrant storks to reach on account of the sea crossing. I wonder if they might become resident, as many are on the Iberian peninsula in recent years. |
Staying on Crete, Honeyguide has visited a bee-eater colony within striking distance of Plakias for the last three years, surprising as bee-eaters are generally thought of as a passage migrant on the island. In 2017 we showed them to Stavros Xirouchakis, our contact in the Hellenic Ornithological Society. He reports that all is well at our site and that he knows of other places where bee-eaters are nesting this year, suggesting an expanding foothold on Crete. 
Stavros also reports that bearded vultures (lammergeiers) produced six chicks this year and griffon vultures 195 fledglings, both good outcomes. Next year Bonelli's eagles will be monitored.
---
Cranes, great white egrets, wild boar, pied flycatcher, goshawk in a Riga park, map and nothern chequered skipper butterflies are just a few highlights from a select group of three in Latvia in late May. The flowers included many northern specialities: Labrador tea, chickweed wintergreen and one-flowered wintergreen are some examples.
This wood sandpiper on a pine tree, photographed by group member John Rumpus, is a classic and distinctive element of the taiga habitat - the open, partially wooded bogs of Scandinavia and the Baltic. Report here.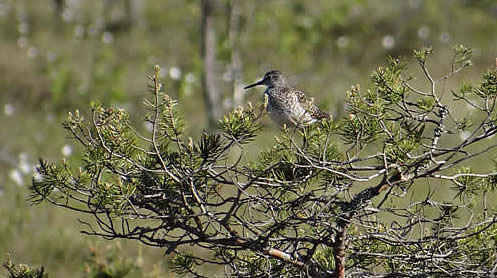 Wood sandpiper on a Scots pine (John Rumpus).
Weather was mixed in the Dordogne but there was certainly lots of wildlife. It was a good year for orchids with 29 species recorded, including refinding a hybrid monkey x lady orchid seen two years ago. A daily common redstart and good sightings of golden oriole, midwife toad, the prehistoric cave paintings at Font de Gaume and a freshly emerged black-veined white were among the highlights, plus as ever Cathy & Keith's hospitality at Castang and the fun company of driver Gilles. Holiday report here and more photos on Facebook here.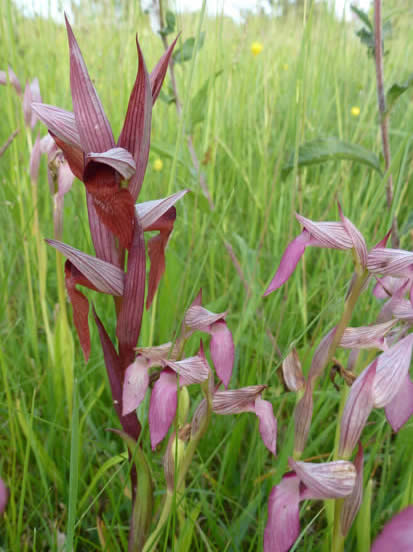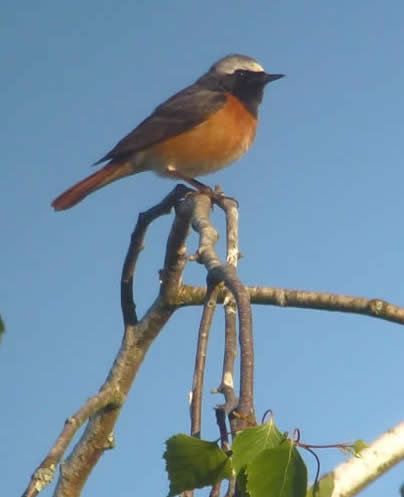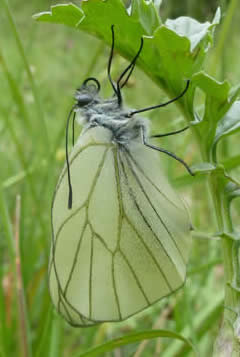 Two tongue orchid species (long-lipped serapias and tongue orchid) in Castang's meadow; common redstart on a silver birch; black-veined white butterfly.
Keeping Honeyguiders happy is what we try to do, but how to keep a Honeyguide leader happy? Well, that's easy for Chris Gibson - a holiday in the Spanish Pyrenees with a group of regular Honeyguiders. Throw in orchids, butterflies, magnificent scenery, vultures feeding on a dead horse and much more: result happy Honeyguiders and guide. The icing on the cake for Chris G was this Spanish moon moth at Casa Sarasa's moth trap. More words and pictures on Chris's blog 'Spring in the Spanish Pyrenees: a cornucopia of biodiversity.' Holiday report here.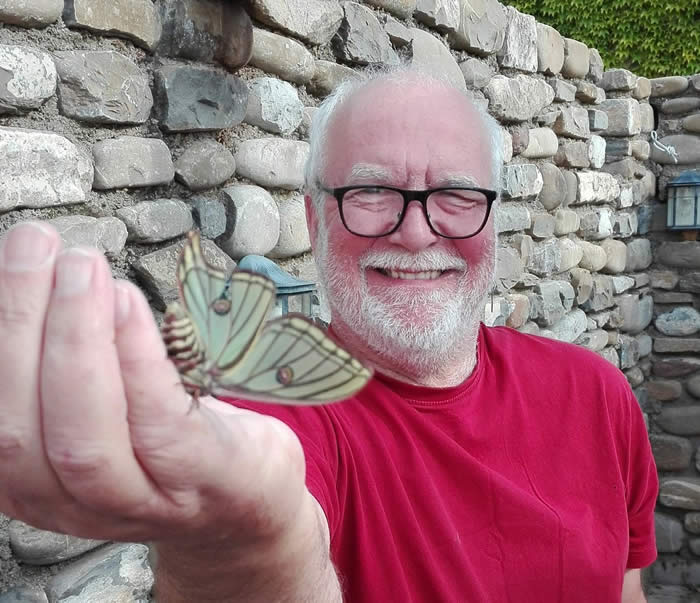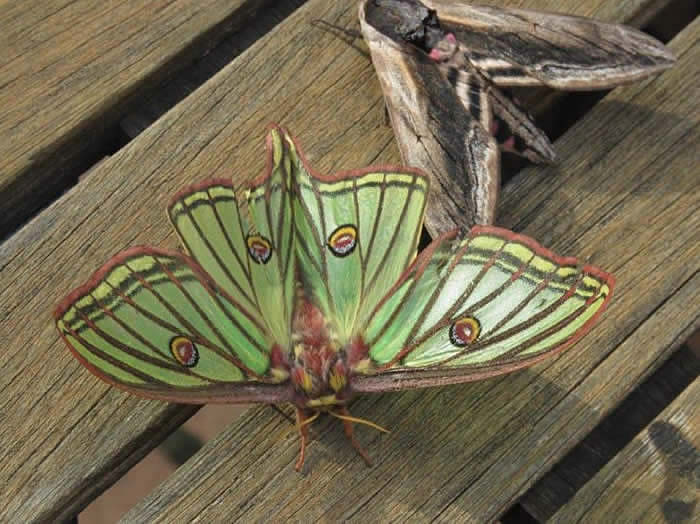 "The world's happiest man!!" says the Twitter feed from Casa Sarasa in the Spanish Pyrenees. Spanish moon moth, "an icon of the Pyrenees, the lammergeier of the moth world, a veritable flying Art Nouveau brooch" says Chris G.
I was on Crete for two glorious weeks, writes Chris Durdin, with a total of 28 Honeyguiders and two co-leaders, Rob Macklin for the extra group and Ivan Nethercoat for the week as in the brochure. The east of the island was noticeably dry but in and around Plakias it was lusher, though certainly an advanced season. The most remarkable feature of the first week was visible migration of purple herons, egrets, ibises and garganeys, the best I've seen. Two marsh sandpipers in two different places was remarkable too. A bishop's ophrys for a bishop was a memorable occasion.
Flocks of bee-eaters - sustained views on three occasions - were a highlight of the second Crete week, two dolphins (Risso's we think) in Plakias Bay a surprise and it's not every year that I find two new orchid species at the famous Spili Bumps. Powder blue southern hawker dragonflies caught the eye and we refound the sometimes elusive Rüppell's warbler.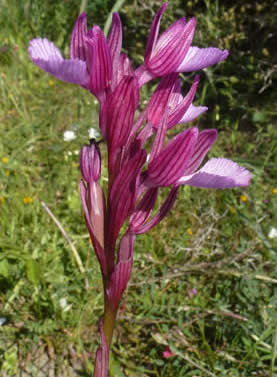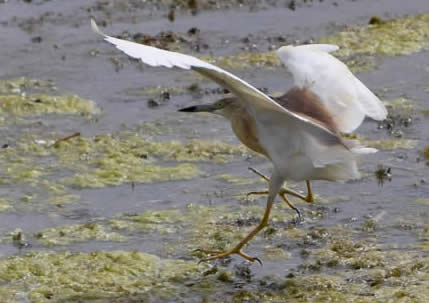 On Crete: pink butterfly orchid, which appears to be consistent with the more unusual form known as Alibertis's butterfly orchid, at 'Spili Bumps'. A squacco heron comes in to land on algae at Ayia Reservoir (Dawn Stevens). Ivan Nethercoat's photos on Flickr. Holiday reports: 10-17 April 2018 and 17-24 April 2018. Photos by Chris D on Facebook.
Menorca , island in bloom: "A wet winter has stimulated the island into bloom, with an abundance I have rarely seen before," writes Chris Gibson. "Fields of crown daisies, sheets of tassel hyacinths and wild gladioli, banks of Italian sainfoin, and orchids almost everywhere. Pyramidal, sawfly, mirror, small-flowered tongue and bumblebee were the commonest, with fewer yellow bee, violet bird's-nest and Balearic – pretty much all that we can expect to see on Menorca at this time of year.
"Our frequent wanders down the drive of Matchani Gran often produced northern migrants - common redstart, wood warbler and pied flycatcher – along with local-breeding summer visitors – Balearic woodchat shrike and orphean warbler – and the resident hoopoe, stone-curlew and booted eagle. Elsewhere, great views of bittern, blue rock thrush, Egyptian vulture and Audouin's gull." More on Chris Gibson's blog here and holiday report here.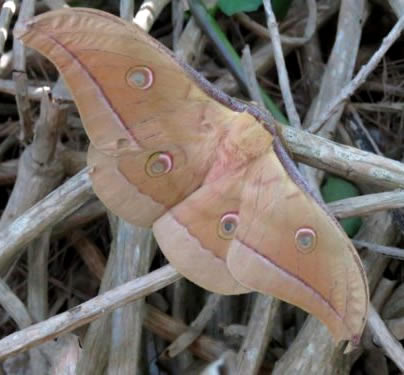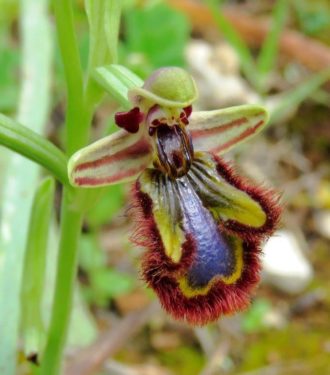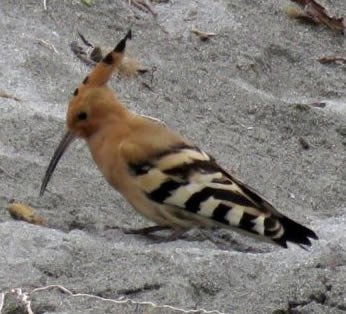 Chinese oak silk-moth, mirror orchid, hoopoe on Menorca (Chris Gibson).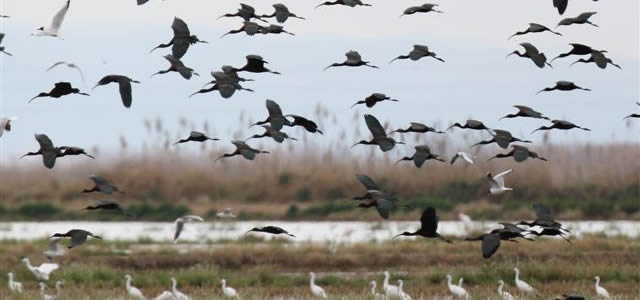 Glossy ibises and egrets on paddy fields, Valencia (Rob Carr).
In between the recent spells of wintery weather the group in Valencia found some sunshine. Signs of spring included swallows, martins and three species of swifts, plus plenty of spring flowers including hybrid orchids and puzzling spurges to ponder, many of these not in the usual references. Winter birds were still there, including a greater spotted eagle and many hundred of glossy ibises. Hawfinch was regular at the hotel, along with the expected serins and Sardinian warblers.
Elsewhere Bonelli's eagle showed well. The star of the ringing session (blog here) with Pau's Pit-Roig ringing group was a male white-spotted bluethroat; it might have been the moustached warbler but we'd previously had good views in the field. Spanish festoon and a particular bright and tame green hairstreak were stand-out butterflies, and a nymph conehead mantis was another exotic-looking invertebrate. Holiday report here.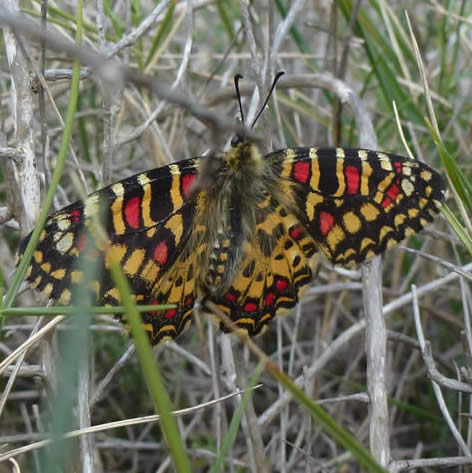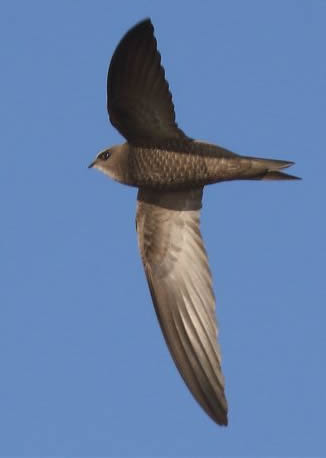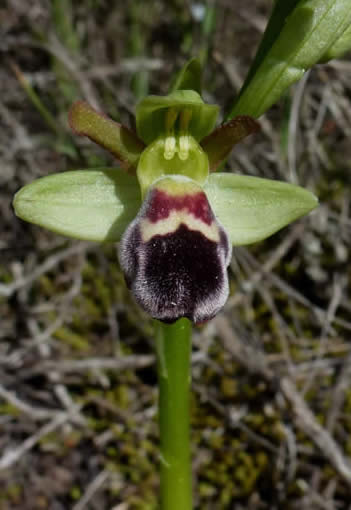 Spanish festoon, pallid swift (Rob Carr), Ophrys dyris, all in Valencia, March 2018.
More photos from Mervin Nethercoat on flickr and Valencia orchids on Facebook.
The group on Fuerteventura also enjoyed fine weather - too good for many migrant birds to be swept in from Africa. Leader David Collins was successful in finding cream-coloured coursers, houbara bustards and Fuerteventura chats for everyone, the star local birds. Group member Ian Holmes recalls with enthusiasm other new birds for him including Bertholet's pipit, exotic monk parakeets and plain swifts, plus some good butterflies especially greenish black-tip and plain tiger (a.k.a. African monarch).
Resent research using geolocators attached to plain swifts is showing that this rather local species is a partial migrant, as suspected, and some are are wintering in equatorial West Africa. Full story here.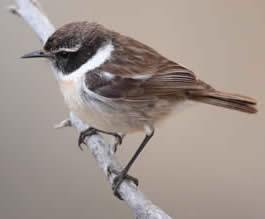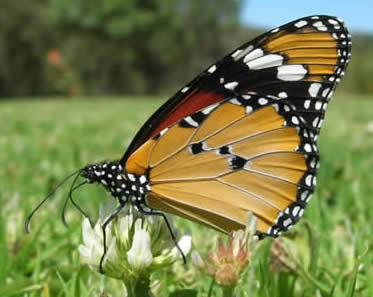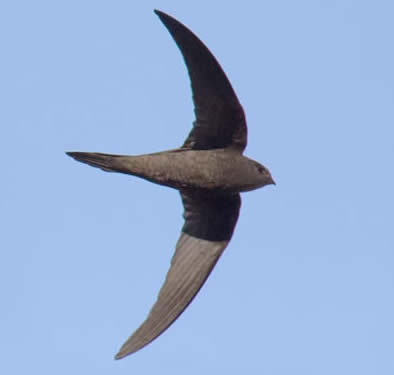 Canary Island or Fuerteventura chat (Ray Purser); plain tiger; plain swift (from www.hbw.com). Holiday report here.
Beavers in Poland
In his third bulletin on mammals in Biebrza National Park, Artur Wiatr, Honeyguide's leader in Poland, writes about beavers (scroll down for otter and elk).
"Beaver: the second largest rodent in the world and the biggest one in Europe, known for its very interesting behaviour. Biebrza the river was named after the beaver and in old Polish language Biebrza means 'beaver's river'. Considering that now it is a very numerous mammal it may be hard to believe that in the beginning of the 20th century beavers became extinct here. They were reintroduced to Biebrza again from Russia after WW2.
"Beavers have a high sense and knowledge of water engineering, reflected in building dams, creating ponds, building lodges and digging corridors and chambers in the ground. Doing this process, beavers improve local environmental conditions for other animals yet sometimes may be in conflict with what man would not like to see, such as flooded meadows or broken trees.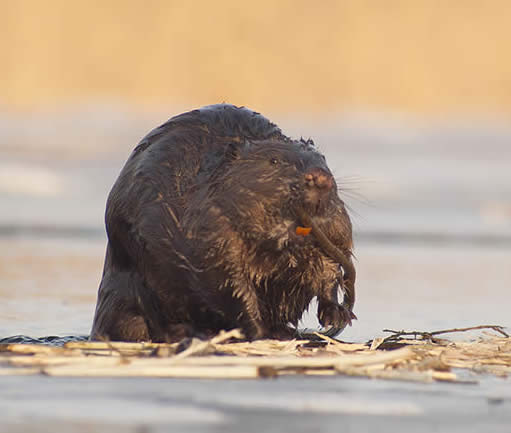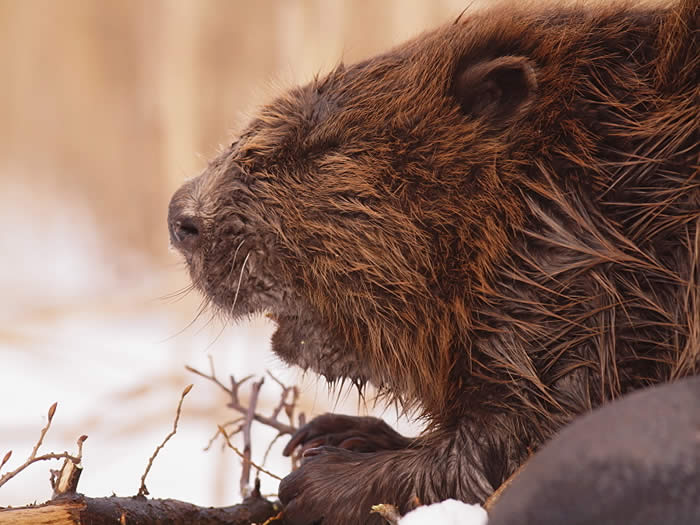 Biebrza beavers, photos by Piotr Dombrowski. More beaver photos on Facebook.
"Beavers do not hibernate over winter time so they must prepare themselves. They cut small tree branches and pile them underwater to eat them over winter when rivers are frozen and they have no access to fresh food.
"The beaver is rather a shy creature with a nocturnal life style. Of course you can see them once in a while over a long period. Again, winter seems to be a good moment to watch them. In warmer days when ice starts to get melted you can see beavers enjoying themselves on the ice eating fresh willow branches and doing their 'manicure and pedicure'. "
---
Paper wasps in the UK
| | |
| --- | --- |
| Polistes dominula, Brundall (Tim Strudwick) | Anyone who has travelled with Tim Strudwick, Honeyguide co-leader in Poland this year, will know of his expertise in bees and wasps. Tim is mentioned in the wildlife reports section of the latest British Wildlife on account of "... the interesting observation of up to seven European Paper Wasps foraging on the flowers of fennel in his allotment at Brundall, Norfolk." |
Many of us have seen paper wasps in a range of places in southern Europe, of course: we often note them as Polistes sp as there are several similar species. British Wildlife says paper wasps have been sporadic vagrants in Britain in recent years, with nests found in Surrey and London in 2003 and 2006. Global warming means this trend is likely to continue, an opportunity for Honeyguiders to use ID skills learnt overseas to monitor changes at home.
---
Fish otter – a perfect predator
The fish otter, writes Artur Wiatr, Honeyguide's leader in Poland, is a perfectly skilled predator of fantastic abilities and a body adapted to swim. It likes to take fish most of all – though the diet may also contain crayfish, frogs and bird chicks – and because of this it has a bad reputation among fish pond managers in Poland.
Otters have become a more and more frequent mammal in Biebrza National Park. Although one otter family may occupy up to 5km of a river it is not easy to spot them. As for many other mammals, the best time to watch otters is winter. They like to hunt from frozen river banks and they seem to be quite successful. Once a while you can see the whole family playing together on the ice and teaching juveniles how to fish. When disturbed, otters quickly jump into the water and may stay there for few minutes when necessary. In the seasons when the vegetation is thick our otters stay rather shy so we enjoy our otter encounters when we can.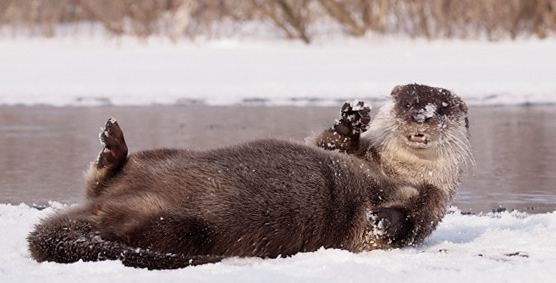 Otter by Biebrza River (Piotr Dombrowski). More otter photos on Facebook.
---
Drinking water at Stansted: in the last re-building, the drinking water fountain by the departure lounge loos was taken out, and I have been lobbying for its return on and off ever since. That said, the wider awareness of the need to cut down on plastic waste may be a bigger step in a change of heart at Stansted, confirmed by the Customer Relations Team:
"Having liaised with the terminal management team, I can confirm that we are currently surveying locations for a water fountain in our departures lounge. As you will appreciate there is currently extensive building work being undertaken and any new water fountain will be phased in line with these works as we would not want to install something now and then move it again at some point in the near future.

"Please do bear in mind that in the interim, empty bottles are permitted through security and all our food and beverage outlets have agreed to refill on request and we have suggested that this service be advertised throughout the lounge."
Any fountains at Stansted, once installed, may not look like this.
---
News release from SPEA (BirdLife Portugal) and Honeyguide, 25 January 2018.

"British wildlife group supports campaign against Algarve oil exploration." Full details here.

Gannet, alcatraz in Portuguese
(Pedro Geraldes).
---
Fuerteventura with Honeyguide leader David Collins has been fully booked for many weeks, but you can still travel with him to Latvia. David writes about Latvia's appeal.
"What is it that makes a destination an outstanding place for a wildlife holiday? Having travelled extensively in both Europe and beyond in search of birds and other wildlife, I have come to the conclusion that, for me, there are three things that have to come together. Firstly, the place itself has to have a sense of magic about it - something to make me feel I am in a special kind of place. Then it has to have a selection of birds that are both interesting and common enough to see fairly easily. And last but not least, there has to be a sense that something unexpected might be just round the corner.
"Latvia ticks all three boxes. It is not always easy to capture exactly what it is about a place that makes it feel really special, but I felt it immediately in Latvia. Latvia is at the western margin of the vast boreal forest of Asia, the largest forest on earth. But whereas much of that vast forest zone is inhospitable and rather difficult to access, Latvia is welcoming and straightforward. So you get all the excitement of the great forest without the downsides. True, there are farmed areas as well, but the forests in the area of Latvia that Honeyguide visits seem endless. And Latvia is civilised but not spoilt. The roads are good but there isn't much on them, so there is a real sense of peace.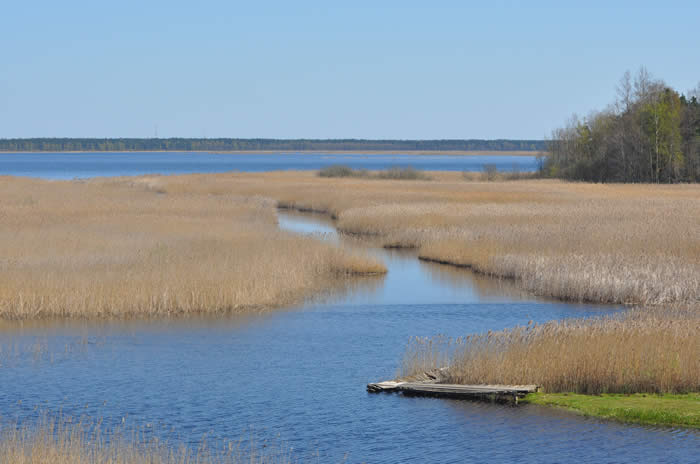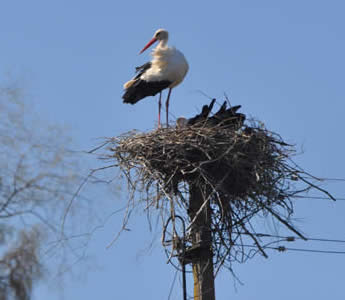 The part of Latvia we visit has large coastal wetlands. The wildlife is partly Scandinavian in feel, partly eastern and partly continental - perhaps this white stork qualifies for all of these (photos by David Collins). This is a return to Latvia for David having paid a private visit in 2014 (report here).
"The birds include a wide selection of boreal woodpeckers and other birds, as well as the more typical eastern European species. Perhaps more than anywhere else I have been, it is important to be looking both down and up as often as possible! Down at the woodland flowers and up to look for of migrant birds heading up the west coast of Latvia towards Scandinavia, including birds of prey. The combination of forest, wetland and sea means that there are always plenty of different birds to see and it is one of those places where there is always a sense that the unexpected is likely.
"Perhaps you will chance on a hawfinch or a bluethroat at close range, a golden eagle will fly low over the forest, or there will suddenly be a male capercaillie standing in the middle of the road. All of those things happened to me when I was there a few years back, but perhaps it was the elk that stole the show. We were driving slowly along one of the endless forest tracks and had just seen a hazel grouse. Suddenly we realised there was a huge bull elk watching us from among the trees close to the track. We watched it watching us for some minutes before it made its way slowly off into the forest."
---
Elk in winter: winter has arrived in Biebrza valley, writes Honeyguide's Poland guide, Artur Wiatr. The first freeze is a signal for elk to move from the marshes to higher and drier pine woods – their natural routine this time of year.
Pine forest provides lot of food over winter time: the bark and needles of pine and other coniferous trees are a basic diet. Therefore, winter is the easiest time to watch this magnificent animal, sometimes eye to eye. Usually they form small groups consisting of an elk cow followed by a first and a second year calf. Sometimes there might be bigger groups – especially around those places where pine trees are cut down to give more food for elk and to stop them damaging agricultural crops in the neighbourhood.
Winter is also the time when bulls drop antlers – so one has to be careful when determining gender. Elk will stay in the forest for the whole winter and move back towards the marshes by the end of March and April. Biebrza Valley is the biggest refuge of elks in Poland. There are c. 600 elks living in Biebrza National Park and a few thousand in the whole country.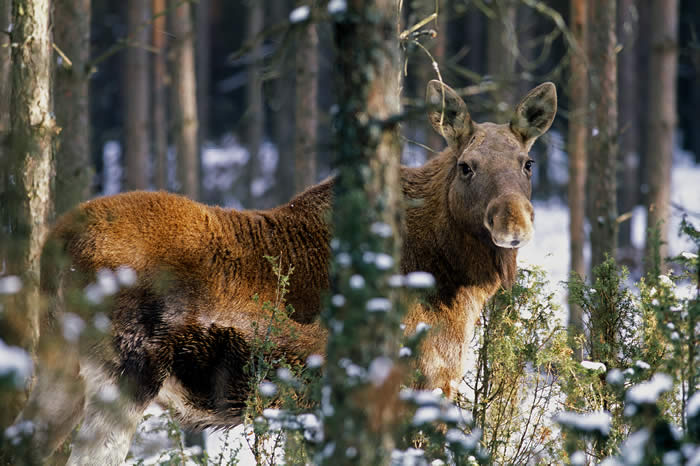 Elk at Biebrza (Piotr Tałałaj). More elk photos by Piotr on Facebook.
---
Crete  17-24 April 2018 is fully booked and an additional week, 10-17 April 2018, is now up and running and is also fully booked.

Have I got old news for you? . . . News 2020-21 . . . News 2019 . . . News 2017 . . .  News 2016 . . . News 2015 . . . News 2014 . . . News 2013 . . . News 2012 . . . News 2011 . . . News 2010 . . . News 2009 . . . News 2008 . . . Back to main news page