Fuerteventura
17 – 23 March 2018
Special birds on an unusual island
The Canary Islands, with their near perfect climate, are a major holiday destination. However, for those who know where to look, away from the sun-seekers, the islands also offer plenty of interest to wildlife lovers. In particular, there is a range of birds and plants found nowhere else.
The outstanding island from a birdwatcher's point of view is Fuerteventura. Although the range of birds is quite low, the quality is high. It is the only home of the Canary Island chat, which has one of the most restricted ranges of any European bird and a total population of just a few hundred.
Fuerteventura's wide semi-desert landscapes and barren mountains are home to a number of desert birds. Fuerteventura is probably the best place in the world to see houbara bustard. Our leader is an expert on the houbara, and we have an excellent chance of seeing this rare and elusive species.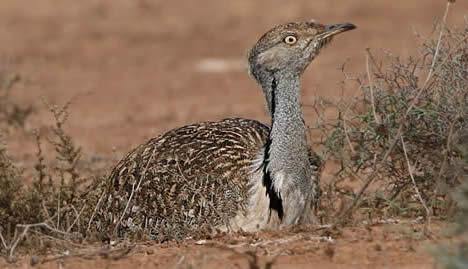 Houbara bustard. Most bird photos on this page by Ray Purser.
Other desert birds include the delightful and sometimes very tame cream-coloured courser, black-bellied sandgrouse and trumpeter finch.
We will also visit the two small wetlands on the island where we can expect to see noisy flocks of ruddy shelducks. Waders are likely to include black-winged stilts and Kentish plovers, and there is a chance of seeing the endemic plain swift. With luck, we may chance upon a Barbary falcon, several pairs of which now nest on the island.
In the central mountains there are stunted pine forests where the lovely song of the canary is heard, and African blue tits hunt for caterpillars.
There are oases of greenery where hoopoes are often common, and at this time of year such places attract a range of migrant passerines. The endemic Berthelot's pipits are common, and if migration conditions are right almost anything is possible.
The wild coastline at Cotillo offers the chance to see shore birds, and at dusk large numbers of Cory's shearwaters close to shore.
This holiday will be of particular interest to birdwatchers, but the unusual flora and butterflies are bound to distract us from time to time.
We stay at the Oasis Casa Vieja Hotel near La Oliva, inland and away from the coastal holiday resorts.
Birds
Egyptian vulture, Barbary partridge, pallid swift, raven, Spanish sparrow, spectacled warbler, lesser short-toed lark and possibly laughing dove. Migrants could include bee-eater, red-rumped swallow and woodchat shrike.
Flowers
Fuerteventura has a range of desert plants including interesting succulents. Depending on the intensity of winter rains, we will also see a range of Mediterranean and North African annuals.
Some are unique to Fuerteventura or are found only in the eastern Canary Islands and adjacent African coast. These include woody spurges, limoniums and a delicate bugloss. On the Jandía peninsula we may see the very rare cactus-like Jandía spurge or the Medusa's-head bindweed.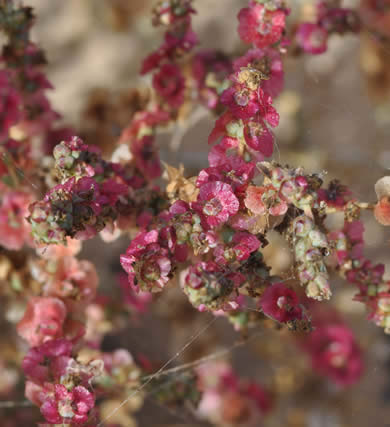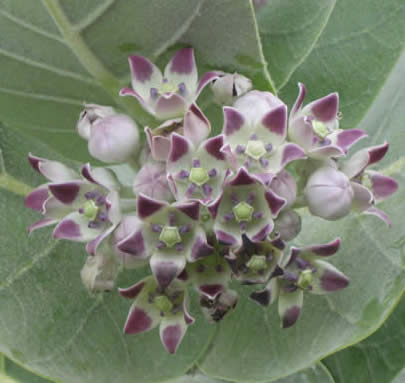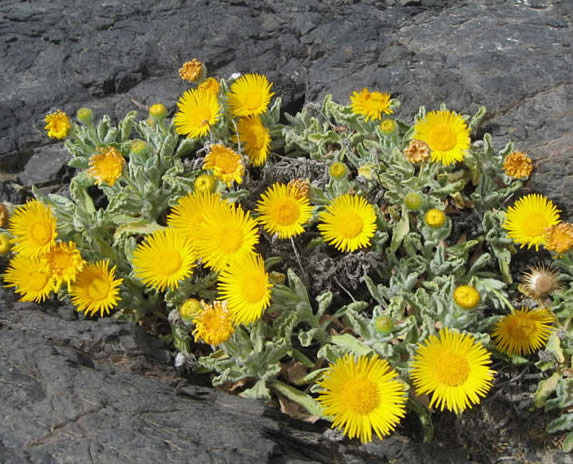 Winged fruit of Salsola vermiculata, a common shrub; giant milkweed Calotropis procera, introduced; Pulicaria canariensis, endemic to Fuerteventura
Insects
The number of species is quite low, but as with the birds, the quality is high. Greenish black-tip and green-striped white are the commonest butterflies, and we will hope to see tiny African grass blues and the magnificent African tiger and monarch. Dragonflies could include Saharan blue-tailed damselfly, lesser emperor and scarlet darter.
Other wildlife
Barbary ground squirrels are common and sometimes very tame. There are endemic species of lizard and gecko.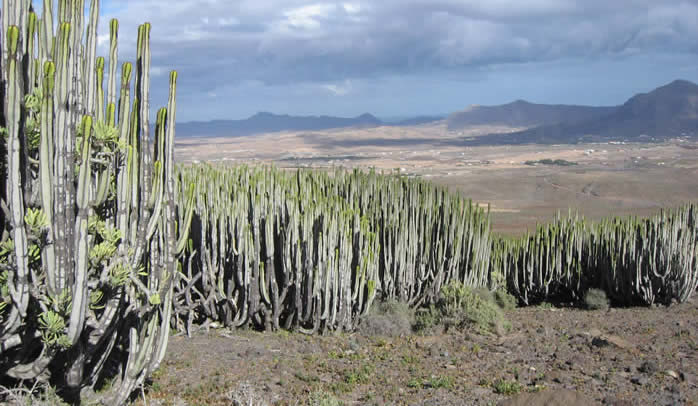 Euphorbia canariensis stand
Holiday details
Daily excursions will be tailored to suit conditions, but will include visits to Cotillo, Los Molinos Reservoir, the central mountains, fields at La Oliva, Catalina García Lagoon and the Jandía peninsula. We will aim to visit a variety of places each day, so will make good use of the minibus, but there will be some leisurely walking each day too.
Price: £1,400 per person in twin room for six nights (Saturday to Friday).
Single room supplement: £200
En suite facilities
Flights: Scheduled easyJet flights from London Gatwick and a range of regional options are likely - please ask.
Deposit: £300
Maximum number (one leader): 7
Conservation project
SUPPORTING

Conserving the scarce houbara bustard is a priority for the Spanish Ornithological Society /BirdLife Spain, which runs a nature reserve on Fuerteventura.

Elsewhere, especially through signing, SEO tries to minimise disturbance to breeding birds.
Leader
David Collins is an environmental consultant. He has led various Honeyguide wildlife holidays in the past, but his first love is Fuerteventura.
David is co-author of A Birdwatchers' Guide to the Canary Islands and has written a book about the wildlife and history of the island called A Walk through Fuerteventura (more here).