La Mancha
16 - 23 May 2017
Nature in the land of Don Quixote
La Mancha may lack the fame of other parts of Spain when it comes to natural history, but with the right local knowledge there is a great range of wildlife in one of the least known areas of the country. Honeyguide has already visited in autumn: this is our first time in spring, so there is much to discover.
There are two main focuses of this holiday, with two holiday bases. The first is La Mancha Húmeda, the second the limestone hills of the Serranía de Cuenca Natural Park.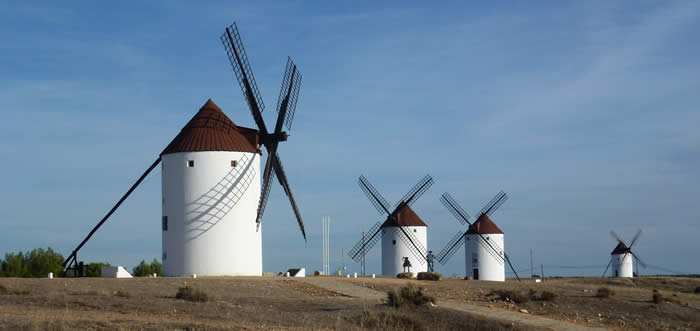 Don Quixote's windmills
La Mancha Húmeda
Las Tablas de Daimiel National Park is a chain of wetlands at the confluence of the rivers Guadiana and Gigüela, the core of the Biosphere Reserve of La Mancha Húmeda. There's a superbly restored watermill and a mix of water bodies, flooded valleys and reedbeds, with good access for visitors.
Wildlife management includes breeding and reintroducing wildfowl, especially marbled ducks. There is an interesting breeding colony of egrets, night herons and spoonbills on the tamarisks. Great reed warbler, penduline and bearded tits hold an important population in the park. In nearby farmland, rollers are frequently seen.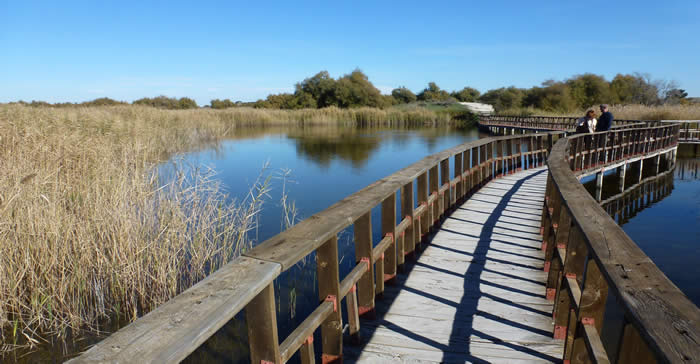 Las Tablas de Damiel National Park
Another day, another wetland: the shallow lagoon at Alcázar de San Juan is alive with waders, ducks, herons and greater flamingos.
Farmland near Belmonte has many interesting birds, including hoopoe, bee-eaters, Thekla larks and rock sparrow. There are great bustards, too, but they are elusive. We will visit – from a distance – an eagle owl nest in use in recent years.
Our base for three nights is the Hospedería Real La Beltraneja. This is in Belmonte, which has two places not to be missed. The restored Belmonte Castle is where the 'El Cid' was filmed and is steeped in history, ancient and modern. On a nearby hilltop are the windmills that feature in the story of the travels and eccentricities of Don Quixote.
Serranía de Cuenca Natural Park
The rugged hills of the Serranía de Cuenca offer a marked contrast. Juniper, berberis and Montpellier maple show we're on limestone, with its characteristic rich mix of flowers. These may include the endemic snapdragon Antirrhinum pulverulentum and orchids such as narrow-leaved and red helleborine and the local Orchis cazorlensis. The Serranía has a near-endemic butterwort Pinguicula mundi.
Griffon and Egyptian vultures, booted and short-toed eagles are common and there are choughs, for example at the viewpoint called Ventana del Diablo, the Devil's Window. The Laguna de Uña is an attractive reed-fringed lake with wetland birds alongside deciduous woodland with firecrest and short-toed treecreeper. Higher, pines predominate, with the prospect of groups of 'chipping' crossbills and Iberian chiffchaffs. There are pretty mountain villages and walks with waterfalls.
The most dramatic feature is Los Callejones of Las Majadas, an astonishing collection of mushroom-like limestone towers and pavements worn into shape by rainwater through the ages, the Natural Park's showpiece of geomorphology. Physically, it's impressive and the limestone labyrinth's rockfaces support plants more typical of the Pyrenees, such as a rock-clinging dwarf buckthorn Rhamnus pumilus, creeping globularia, amelanchier and Pyrenean toadflax.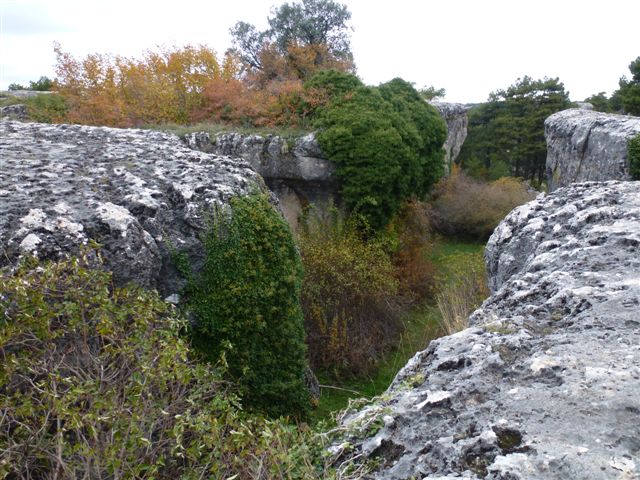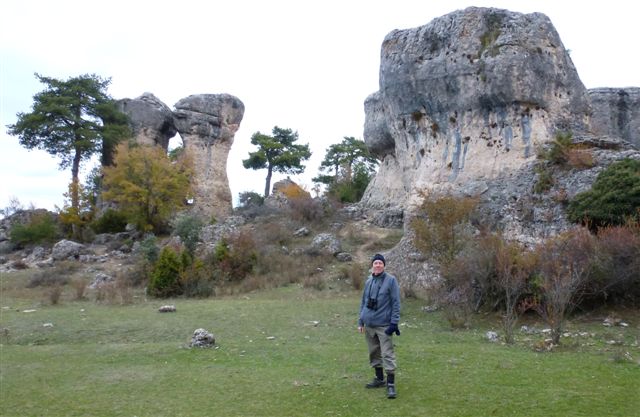 Licensed to thrill: Los Callejones of Las Majadas features in the James Bond movie The World is Not Enough. Photos are in autumn.
Our base for four nights here is the Hotel El Tablazo in Villalba de la Sierra, which has an adjacent fishing lake that is regularly visited by otters. Bird life includes melodious warbler, black-eared wheatear and black redstart
Honeyguide's previous holiday was in October, and May will offer a bigger range of flowers and butterflies, with much to be discovered by the Honeyguide group here.
Birds
In addition to those mentioned above: white storks, black-necked grebe, white-headed duck, red-crested pochard, squacco and purple herons, little bittern, purple swamp-hen, black-winged stilt, little owl, lesser kestrel, whiskered and gull-billed tern, crested lark, golden oriole, a range of warblers, crested tit, woodchat and Iberian grey shrike, spotless starling, rock bunting, alpine swift and more.

Alpine swift (Steve Fletcher)
Plants
Sarcocapnos enneaphylla is an unusual member of the poppy family flowering in autumn. The Serranía de Cuenca has a near-endemic butterwort Pinguicula mundi, though not in flower in autumn. Others include the cinquefoil Potentilla caulescens, Helianthemum origanifolium and scrambling gromwell.

Other wildlife
Butterflies could include Moroccan orange-tip, clouded yellows, black-veined white, Cleopatra, long-tailed and Adonis blues. We'll look for dragonflies around the wetlands; and Iberian wall and ocellated lizards should be in good numbers.
Conservation project
Our leader Pau's ringing group Grupo de Anillamiento Pit-Roig runs bird ringing stations in Valencia.
The group is studying the survival rate and dispersion of moustached warbler. Data loggers placed on Savi's and reed warblers are tracking their migratory movements, provided they can be trapped again and the data downloaded. Support pays for nets and other ringing equipment.

Recent highlights in the group's work are described in our La Mancha holiday report from October 2014.
Holiday details
Price: £1,450 per person in twin room for a full week (Tuesday to Tuesday)
Single room supplement: £100
En suite facilities
Flights: Scheduled easyJet flights Gatwick to Valencia.
Deposit: £300
Maximum number (two leaders): 14
Leaders
Pau Lucio lives near Valencia and runs a wildlife tour company Birdwatching Spain. He is involved in conservation projects on bird migration and the importance of Spanish coastal wetlands for species such as the moustached and Savi's warblers.
Pau has collaborated with SEO/Birdlife and spent nine months at the Wildfowl & Wetlands Trust at Slimbridge. He also works at a nature reserve where he guides visitors through the forest and marshes.

Pau's vehicle with Audouin's gull design.
Chris Durdin is the driving force behind Honeyguide, running holidays since 1991. For many years he combined this with his work for the RSPB in Eastern England, often the Society's spokesman, but has been concentrating on Honeyguide full-time since 2009. Chris is the co-author of a book about Norfolk's cranes. He's also a qualified soccer coach, for one son's under 14 year group. As a naturalist, Chris is an all rounder.