Peloponnese
19 – 26 April 2016
Traditional, rural Greece
Three fingers of the Peloponnese, pointing south towards Crete, form the distinctive shape of Greece's southern tip. Already culturally and ecologically different from mainland Greece, this was reinforced when, in 1893, the Corinth Canal was cut through and the peninsula effectively became an island.
Bridges mean access is straightforward, but the separation is reflected in the wildlife community – such as Peloponnese cyclamen and two endemic lizards – and in everyday life. In today's increasingly urban Greece, here is an area where links to the land, small communities and a slow pace of life persist – Greece as it used to be. Donkeys used as working animals remain a common sight. The region has its own language, still spoken by older residents.
We're based in the Tyros-Livadi area on the coast of Arcadia, facing east into the Aegean Sea. Tyros is a small village with a long sea front and a fishing harbour. It is not on the main tourist trail; the majority of visitors are Greek. We stay in holiday apartments at nearby Livadi, a quiet coastal village with a friendly taverna for our evening meals.
With a coast running north-south, it's well placed for migrant birds. Some drop in to refuel on the brackish lake at Moustos and on the intertidal flats near Nafplio – the latter an unusual habitat in the scarcely tidal Mediterranean.
Breeding birds are a fairly typical southern European mix: short-toed eagle, woodchat shrike, Sardinian and subalpine warbler, for example. Rock nuthatches pop up in villages and historical sites, such as Mycenae.
Carob, citrus, fig and Judas trees emphasise the Mediterranean feel. Spring wild flowers are a rich, colourful mix including purple vipers bugloss, orchids and the local endemic Parnon alkanet.
Uncovering more about the Peloponnese is why we're going: Honeyguide is following a Honeyguider. Sue Davy moved here in 2006 and has a passion for the area's wildlife and way of life. She likes to share it with us – and glean information from the combined wildlife expertise of a Honeyguide group and leaders.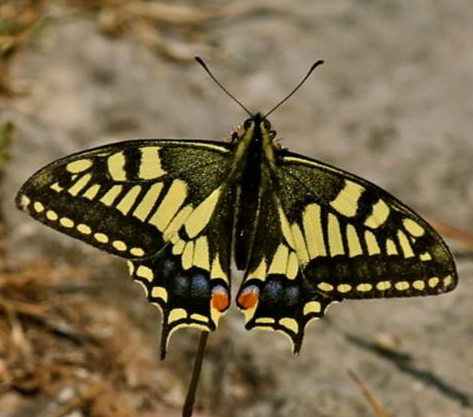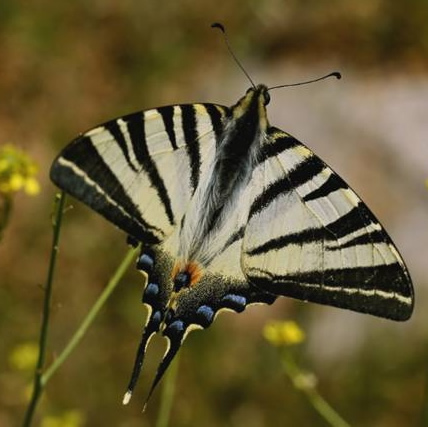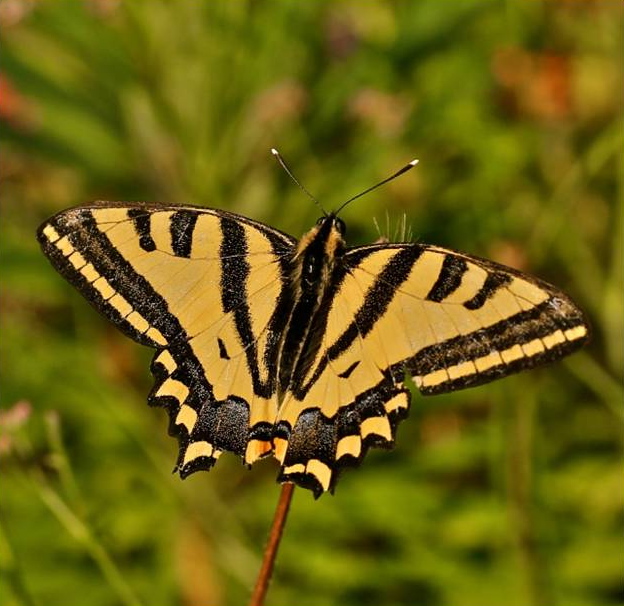 There are three species of swallowtail butterflies in the Peloponnese. From the left: swallowtail, scarce swallowtail and southern swallowtail (Phil Brew).
Trees and shrubs
In Greece, Syrian juniper is confined to this area. Other conifers are Aleppo and black pines and Grecian fir. Both species of strawberry trees occur, sometimes growing side by side. Kermes oak, lentisc, Jerusalem sage and various cistuses are common shrubs. Hillsides have evergreen maples and wild olives; we expect to find almond leaved-pear and Valonia oak. Around villages chaste tree is common, as is the pretty but invasive lantana.
Flowers
Spring flowers could include peacock and crown anemones, tulips Tulipa orphanidea and Tulipa goulimyi, Cyclamen peloponnesiacum, widow iris, Gaegea graeca, four-spotted and few-flowered orchids, grape hyacinth species, Fritillaria messanensis and old friends like crown daisies and pitch trefoil.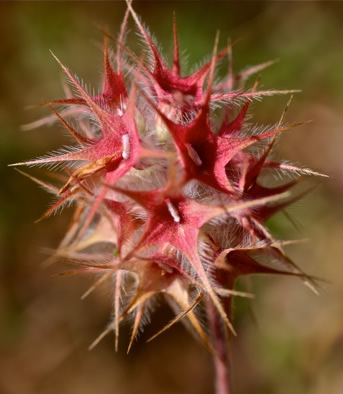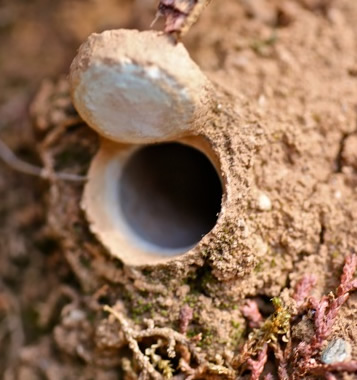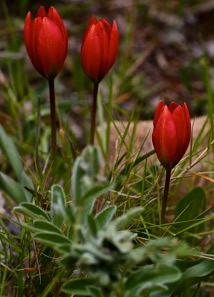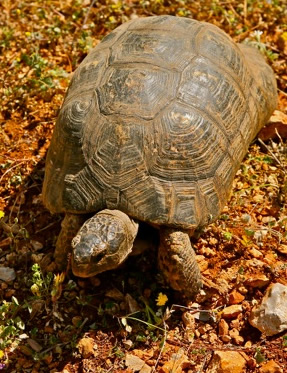 Photos from our holiday in April 2013, all by Honeyguider Phil Brew. More of Phil's photos here.
Reptiles and mammals
The area boasts two endemic lizards. Greek rock lizards – distinctively unstriped – and chunky Peloponnese wall lizards are found nowhere else. That's if the books are right: we wonder as nature guides show no wild boar here, but in chestnut forest we have found clear evidence from rootings, backed up by locals' reports. Golden jackal occurs but is tricky to see: mammals more likely to be seen include stone marten and eastern hedgehog. Other reptiles include geckos, Balkan green lizard and marginated tortoise.
Birds
Those noted above plus little bittern, slender-billed gull, buzzard, black-winged stilt, rock partridge, red-rumped swallow, blue rock thrush, crested lark, sombre tit, firecrest and cirl bunting.
Other wildlife
Spring butterflies include southern swallowtail, Cleopatra, false Apollo, swallowtail, scarce swallowtail, southern festoon, southern comma and southern white admiral. The supporting cast includes Egyptian locust and violet carpenter bee.
Holiday details
Local walks and minibus trips, coastal and into the hills, all within the eastern part of the Peloponnese peninsula.
Price: £1,430 per person in twin room for a full week (Tuesday to Tuesday).
Single room supplement: £150
En suite facilities
Flights: Scheduled British Airways flights London Heathrow – Athens.
(The easyJet flight from London Gatwick is an afternoon flight, which doesn't work for the transfer to the Peloponnese.)
Deposit: £300
Maximum number (two leaders): 14
Leaders
Robin Hamilton has a wide knowledge of western and central Europe and its wildlife, especially birds. He worked for many years for English Nature.
Rachel Hamilton spent her working life teaching natural history and conservation with the Field Studies Council and at Otley College in Suffolk. She is an enthusiastic all round naturalist, though her first interest is botany. Robin and Rachel, both of whom are experienced wildlife leaders and keen linguists, are regular leaders in France.
Conservation project
Staff from the Management Body of Mount Parnon & Moustos Wetland* record biodiversity in the protected area. Especially for mammals, such as jackals and otters, the recording is quite challenging, since they avoid human contact or even human presence indicated by human odour.
Honeyguide has funded five cameras to be positioned in suitable places, e.g. animal runways, on which filming is triggered by motion detected by an infra-red beam.
More on our links with Management Body of Mount Parnon & Moustos Wetland here, including results from the motion sensor cameras.
SUPPORTING

* In 2018, the geographical remit for this body was made much bigger, hence the new name including Mainalon and Monemvasia.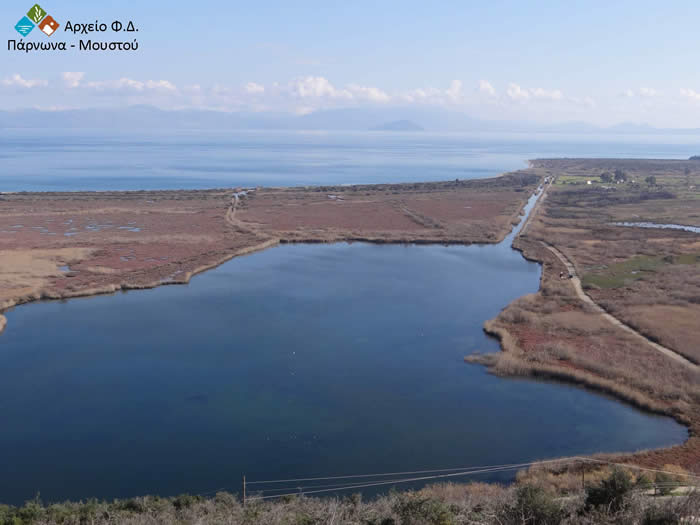 Aerial view of Moustos Wetland.