Languedoc
25 April – 2 May 2013
Secret southern France
Impressive gorges, beautiful towns and villages, marshes and lagoons, vineyards, limestone scrub – just a taste of the variety in a little known corner of Mediterranean France.
The Languedoc region covers roughly half of France's Mediterranean coast. Our holiday area overlaps the departments of l'Aude and Hérault in the region's south west. Here visitors are starting to uncover how the area is steeped in history, from the days of the Romans in Narbonne, then the capitol of southern Gaul, to the more recent sufferings of the Cathars under Simon De Montfort and his crusaders.
Less known is that among this historic and beautiful landscape there is an exciting range of flora and fauna. For birdwatchers, nearly all the classic Mediterranean species can be found. These include flamingos, at the Étang de Pissevache, alongside Kentish plovers and passage waders and terns.
At the extensive freshwater reedbeds near Capestang, bitterns, purple herons and little egrets nest, and squacco herons are seen. Purple swamphens have colonised and this is the best site in the area for moustached warbler. Migrants here have included collared pratincole, whiskered and gull-billed terns and common crane. The area around Gruissan holds more wetlands including rice fields and wet grassland. White storks and occasionally black storks and glossy ibises put in an appearance. Black-winged stilts, avocets, marsh harriers and more herons also nest in this area. A little farther north there is a thriving colony of more than a hundred pairs of lesser kestrels and not far away the hub of a good population of little bustards. The latter area is also excellent for great spotted cuckoos and stone-curlews.
The cape of Leucate, to the south, is a limestone promontory which is excellent for watching the spring migration of birds. From late April onwards, this is the perfect place to watch honey buzzards moving north, together with bee-eaters, swifts and swallows. Spectacled warblers, Thekla Larks and black-eared wheatears also breed here in the small, scented garrigue fields on the headland round the lighthouse. Nearby Le Franqui is good for migrants and a regular place for slender-billed gulls. Port Leucate has a small population of spotless starlings, more usually associated with nearby Spain.
The ancient Cathar village of Minerve is built into a junction of the gorges Brian and Cesse. Here blue rock thrushes nest alongside alpine swifts, red-rumped swallows, rock sparrows and crag martins. Eagle owls also frequent the area and golden eagles nest nearby. Short-toed eagles and Montagu's harriers also breed here.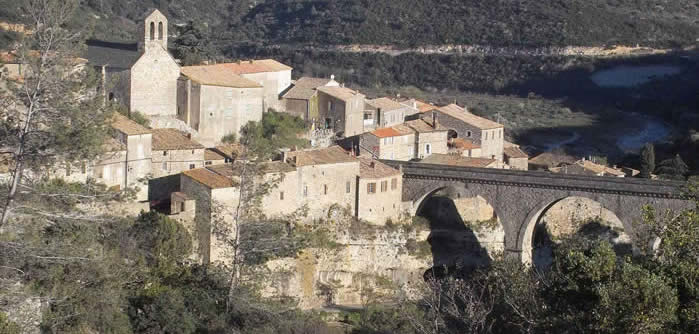 Minerve
The surrounding garrigue is a haven for warblers: subalpine, Sardinian, Orphean and melodious warblers are all widespread and nightingales sing. Some of the finest wines of the region are grown here and the vineyards produce birds such as ortolan bunting. Rollers, bee-eaters and woodchat shrikes add to the exotic nature of this place.
An invitation
After many years running wildlife trusts in the UK, Derek Moore lives for part of the year in this part of France, between Narbonne and Carcassonne – both centres of the French wine trade. He's passionate about the area and its wildlife and is keen to share his local knowledge, and to learn more from a Honeyguide group.
The area can be enjoyed at a very leisurely pace. The nature-rich sites are very accessible and the local people are friendly and tolerant. Ecotourism is in its infancy in this area and it is hoped that when the value of the local wildlife is appreciated then protecting it will become easier.
Flowers
The low scrub of the garrigue is punctuated by classic Mediterranean species such as asphodels, giant fennel and large Mediterranean spurge. After early blooming bearded irises, there are opportunities to find the Pyrenean snakeshead, wild tulips and orchids such as early spider, lady, yellow bee, military and loose-flowered.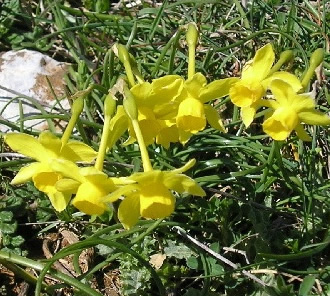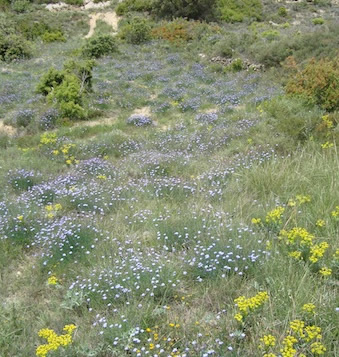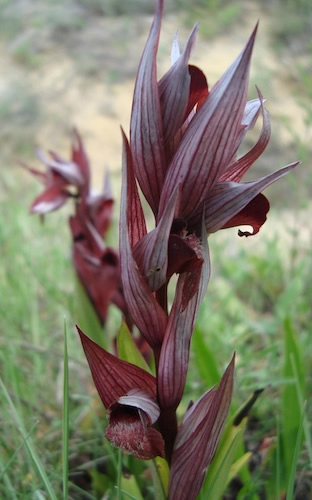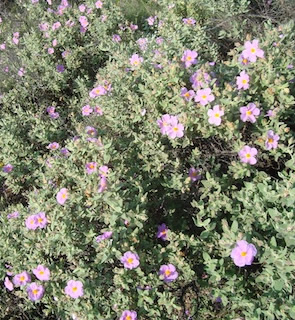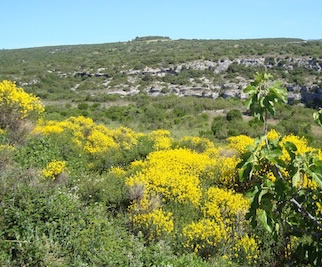 Common jonquil, a sea of blue grass-lilies with cypress spurge; long-liped serapias; grey-leaved cistus; Mediterranean scrub (photos by Susan Wallis).
Other wildlife
Butterflies such as Cleopatra, scarce swallowtail, three clouded yellow species and many others can be found. Hummingbird hawkmoths are common and giant peacock moths start turning up at this time.
For those who love reptiles, the spectacular rat-sized ocellated lizard and the Montpellier snake are regularly seen.
Accommodation
In 2013, we were based at the hotel Château de Siran, a recently renovated 16th century country house built on a wall dating from the Middle Ages, set in vineyard country.
For a future holiday, we are looking at hiring a fully-restored large house built for the owner of the surrounding vineyards at St Jean de Minervois.
Holiday details
Price (in 2013): £1,430 per person in twin room for a full week (Thursday to Thursday)
Single room supplement: £150.
En suite facilities
Flights: Scheduled Ryanair flights London Stansted to Carcassonne.
Flights from Liverpool may be possible, depending on schedules.
Deposit: £200
Maximum number (two leaders): 14
Leaders
Derek Moore OBE was the director of wildlife trusts in Suffolk and Wales, leading many holidays during that time. Now retired, he lives for much of the year in southern France, and enjoys sharing his love of his new 'local patch'.
Derek Moore OBE 1943-2014. Derek died on 23 October 2014 after a long battle with cancer. He was Honeyguide's host and leader in Languedoc in April/May 2013. He had a long and active career in nature conservation, notably as director for wildlife trusts in Suffolk and Wales. His autobiography, Birds — Coping with an Obsession, was published in 2013.
Derek's blog has many postings from his home in Languedoc.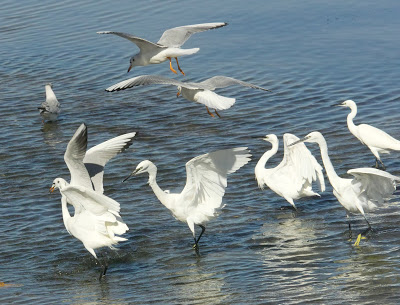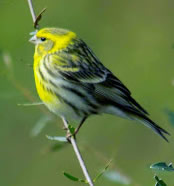 These photos, of little egrets and a male serin in Languedoc, are from Derek's blog. A taste of southern France!
Rob Macklin was until recently the RSPB's area manager on the Suffolk coast, covering Minsmere and North Warren among several nature reserves. He now lives in Devon and uses his years of experience in nature conservation as an environmental consultant.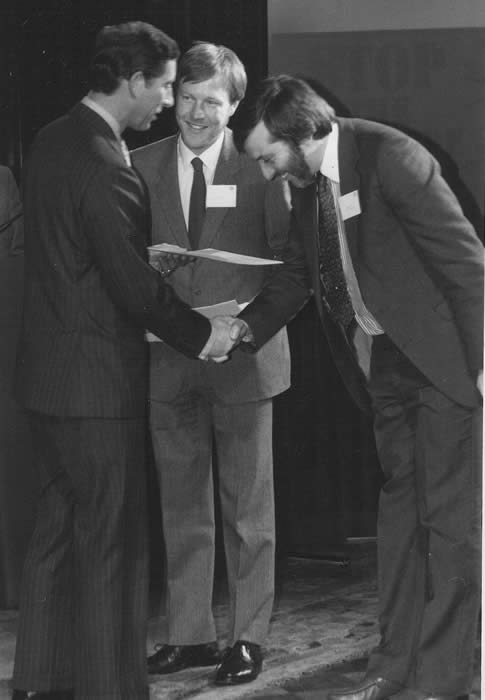 The winning caption, from Rosemary Macdonald:
Prince Charles:  "Good grief, Chris, one notices a suit and tie!"
Chris:  "One has borrowed it for the occasion, your Royal Highness."
Conservation project
La Ligue pour la Protection des Oiseaux (French Bird Protection League) is active locally with keen volunteers protecting scarce birds such as lesser grey shrike and Bonelli's eagle.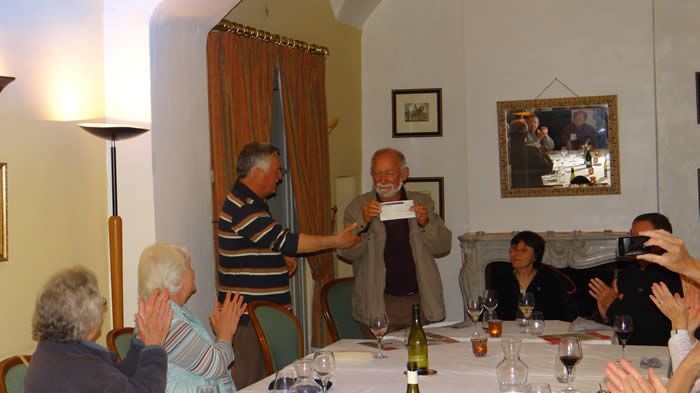 Rob Macklin hands the Honeyguide cheque for €790 (£700) to LPO, May 2013 (John Rumpus).
Lesser grey shrikes in 2013
The LPO-Hérault group, which is coordinating the study and protection of the last remaining breeding lesser grey shrikes in France, reports that 18 pairs bred this year, all in Languedoc-Roussillon. This total is line with the numbers recorded over the past few years, so for the time being they seem to be holding their own.
Despite some dreadful weather in the early part of the season, 54 young birds fledged this year, the last doing so on 23rd July. Three nests failed because of bad weather and, at a fourth, one of the adults was predated. The birds have now left for their winter quarters in southern Africa, so we will have to wait until next May to see how many return in 2014.