Extremadura
27 September – 4 October 2016
Early autumn in central Spain
Autumn offers the opportunity to discover or rediscover a favourite region of Spain at an interesting season. New life includes autumn bulbs and a host of passage birds, making their way south through the Iberian peninsula.
The resident birds are a draw at any time. Birds of prey are remarkable in a country which is itself probably the best for raptors in Europe. It has the core Spanish population of black vultures, which breed here along with griffon vultures and both Spanish imperial and golden eagles. Bonelli's, booted and short-toed eagles add to the mix.
The steppes are famous for their sandgrouse, larks and bustards – though little bustards are becoming increasingly elusive. Added to these are the birds calling in during Extremadura's 'second spring'. Migrants are likely to include many scores of whinchats, wheatears and warblers. Almost anywhere a redstart or pied flycatcher may perch and hunt.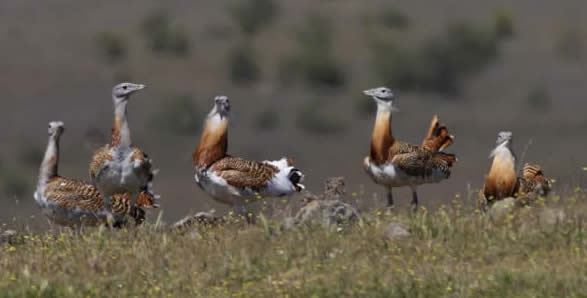 Great bustards (in spring, by Steve Fletcher)
Then there are the flocks of hirundines – swallows and martins – in addition to the locally breeding red-rumped swallows, coming towards the end of their nesting season. There can be little bursts of autumn song from woodlarks and wrens, and the first wintering robins may be arriving.
For a dry region, it's blessed with excellent wetlands, mostly reservoirs. Herons and egrets are easy to see, including great white egrets, along with purple swamp-hens, spoonbills and perhaps glossy ibis. Waders, like the passerines, pass through and take advantage of any feeding opportunities: migrant sandpipers, godwits and ruffs may be with more local black-winged stilts.
We stay at the charming Finca Santa Marta, a granite-built olive oil mill converted into a country inn, situated in the countryside south of Trujillo. Moorish geckoes live on and in the buildings, hawfinches are fairly reliable around the Finca and there are short-toed treecreepers in the olive trees. It's a great place to see azure-winged magpies, that amazing, colourful bird of the east with an outpost in Spain. One theory was that they originated from birds escaped during trade with China in earlier times, but proof that it is a relict population has recently come to light with the discovery of sub-fossil bones.
Insects and flowers
Wetlands are also good places to look for dragonflies and damselflies in their peak season. The star of these is the Violet Dropwing, a recent coloniser in several parts of southern Europe: its iridescence and characteristic posture make it distinctive. Other recent colonists from Africa are Epaulet and Long Skimmers and the distinctive looking Banded Groundling. Red-veined and Scarlet Darters are common, Blue and Lesser Emperors are likely, alongside damselflies such as Iberian Bluetails.
Butterflies can include the distinctive two-tailed pasha. African grass blue is one of several smaller species attracted to autumn flowers such as heliotrope and Daphne gnidium.
The timing of autumn rains is unpredictable – any time from late August to early October. With the flush of green grass in the steppes and wood pastures come wayside flowers and autumn bulbs, notably ground-hugging merenderas and autumn snowflake. Even without rain, some of those bulbs will be flowering, especially stately, waist-high sea squills.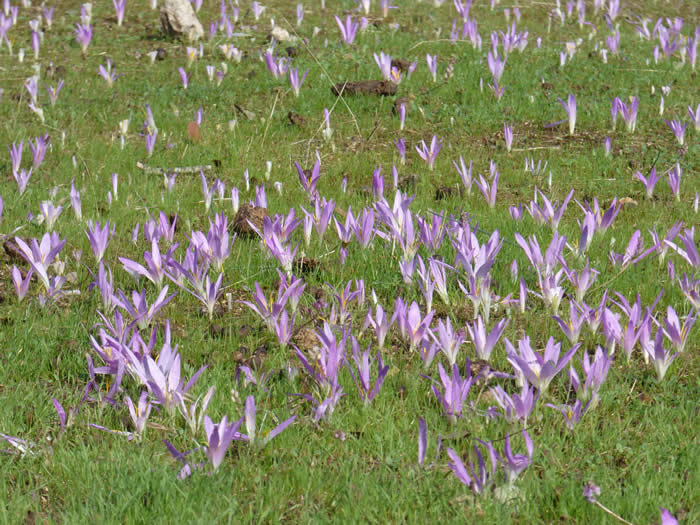 Merendera (Martin Kelsey)
Birds
As well as those already mentioned, we should see many of the following: white and black storks, red and black-shouldered kites, peregrine, raven, hoopoe, blue rock thrush, little owl, Iberian grey shrike, Sardinian warbler, cirl and corn buntings, calandra and Thekla larks, crag martin, spotless starling and rock sparrow. Ditches around rice fields have waxbills alongside red avadavats, in bright crimson breeding plumage in autumn.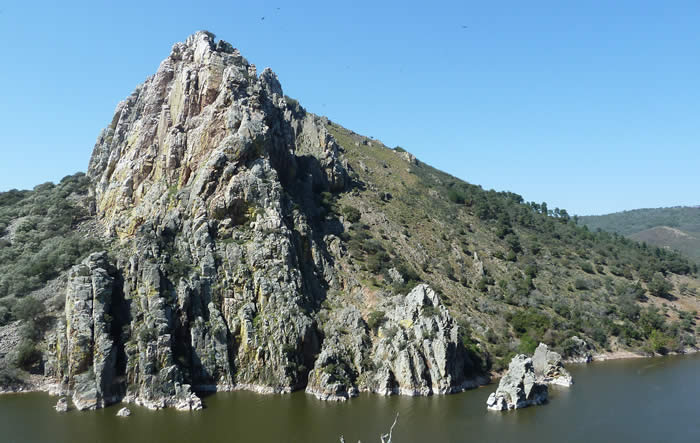 Peña Falcón in Monfragüe National Park
Holiday details
We will visit Monfragüe National Park, some 25 miles north of Trujillo. Moheda Alta is best known for its wintering cranes, but also has a very accessible area of holm oak dehesa – the distinctive wood pasture of the region. Other excursions will include exploration of the plains around Trujillo and local reservoirs, especially at Alcollarín. We also spend time in the wonderful old town of Trujillo with its striking central square.
Price: £1,430 per person in twin room for a full week (Tuesday to Tuesday)
Single room supplement: £200
En suite facilities
Flights: Scheduled easyJet flights Gatwick – Madrid
Deposit: £300
Maximum number (two leaders): 14
Conservation project
SUPPORTING

Traditional low intensity farming, especially non-irrigated arable farmland but also seasonal grazing, supports much of the special wildlife of Extremadura – and can never be protected just by nature reserves.

The conservation of the Spanish steppes and 'dehesa' wood pasture is a great priority for the Sociedad Española de Ornitología (Spanish Ornithological Society / BirdLife Spain).
Leaders
Chris Durdin is the driving force behind Honeyguide, running holidays since 1991. For many years he combined this with his work for the RSPB in Eastern England, often the Society's spokesman, but has been concentrating on Honeyguide full-time since 2009. Chris is the co-author of a book about Norfolk's cranes. He's also a qualified soccer coach, for one son's under 13 year group. As a naturalist, Chris is an all rounder.
Chris has regularly co-led Honeyguide's Extremadura holiday for many years.
Martin Kelsey OBE is our regular leader in Extremadura where he lives with his family, close to Finca Santa Marta. Martin's background in ecology includes a three-year study on marsh warblers. After three years in the Amazon rain forest with the British Ornithologists' Union, where he met his wife Claudia, and work for BirdLife International, before a period working for Save the Children.
Martin writes a blog about birds in Extremadura. These posts are from early autumn, and give a good feel for Extremadura at the time of this holiday. Martin is a committee member of GUIDEX, an association of professional bird & nature guides in Extremadura. Martin is interviewed in El País about nature tourism in the region here. In Spanish, 20 September 2012.