The Pantanal 22 October – 3 November 2017*

Brazil's famous wetland
The world's largest wetland is close to legendary in natural history circles. It is especially famed as the place to see jaguars, giant otters and a huge range of exotic-looking birds.
The numbers and diversity of wildlife is jaw-dropping. There are several hundred bird species, for a start. Wetland birds are in profusion: roseate spoonbills, jabiru and wood storks, ibises, herons of every size.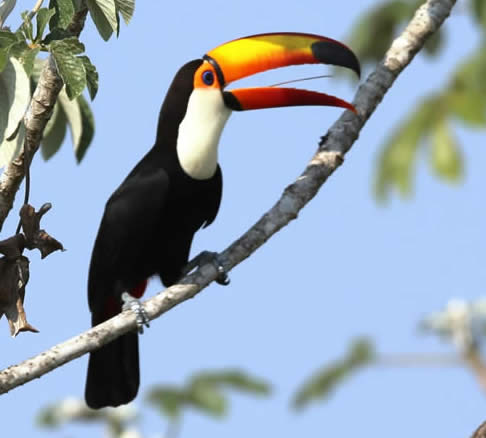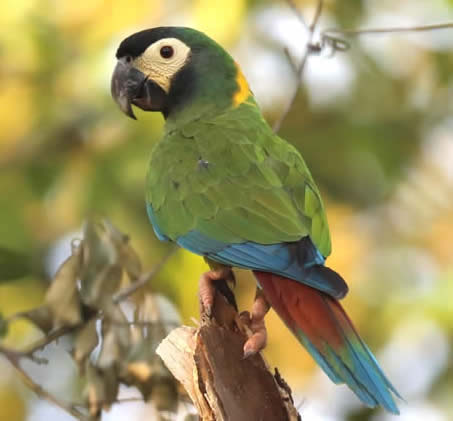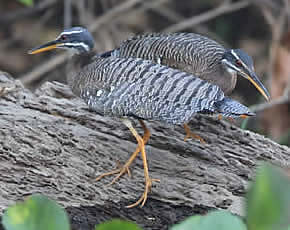 Toco toucan; golden-collared macaw; sunbitterns.
The stripy sunbittern and the plainer-looking limpkin are taxonomically unique. Terns and skimmers feed on open water, as do Amazon kingfishers; pied lapwings, stilts and plovers are on riversides. Jacanas walk on giant water-lilies.
Bursts of glittering green may be a hummingbird. Exotically coloured and named jacamars, motmots, toucans, trogons, tanagers and cardinals add to the bewildering mix. Raptors include harriers, hawks, caracaras and vultures.
Parrots and parakeets are outshone by the breathtakingly beautiful hyacinth macaw with its nut-cracking beak. Dry terrain can have rheas, tinamous and seriemas, the last recalling an African secretarybird.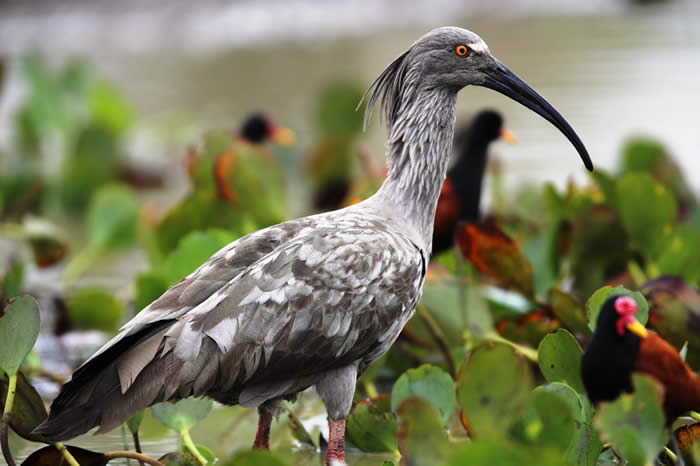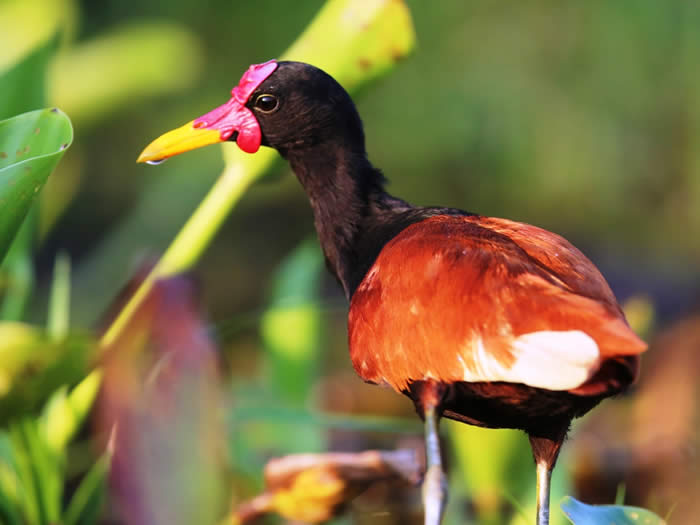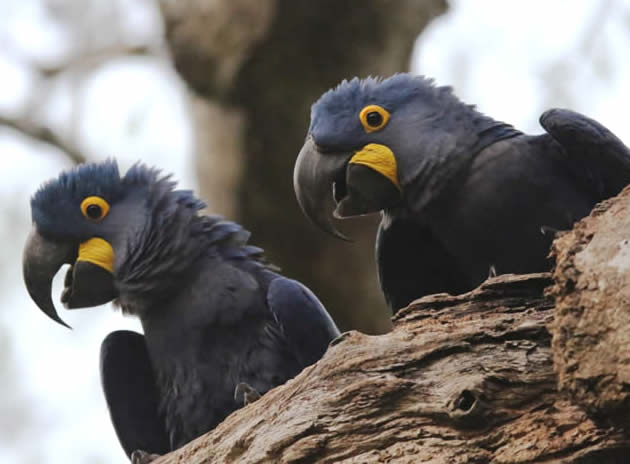 Plumbeous ibis; wattled jacana, hyacinth macaw.
Mammals
Everyone wants to see a jaguar, of course: they are highly likely, from past experience, though never guaranteed. The ocelot, another spotty cat, is present, seen with luck around dusk. The world's biggest rodent, the deer-sized capybara, is common, always in or near water.
Giant ant-eaters are a frequent sight, out in the open: an ant-eater in a tree will be a tamandua. Armadillos are mostly nocturnal: the nine-banded is the likeliest by day. Giant otters are usually seen in groups: there are peccaries, coati, raccoons, deer, monkeys and more.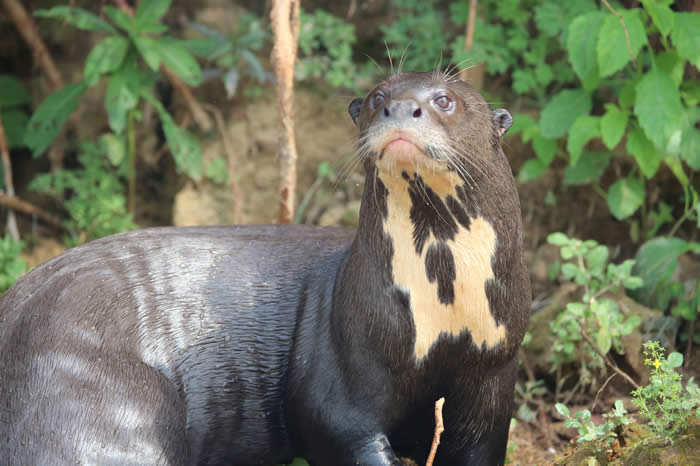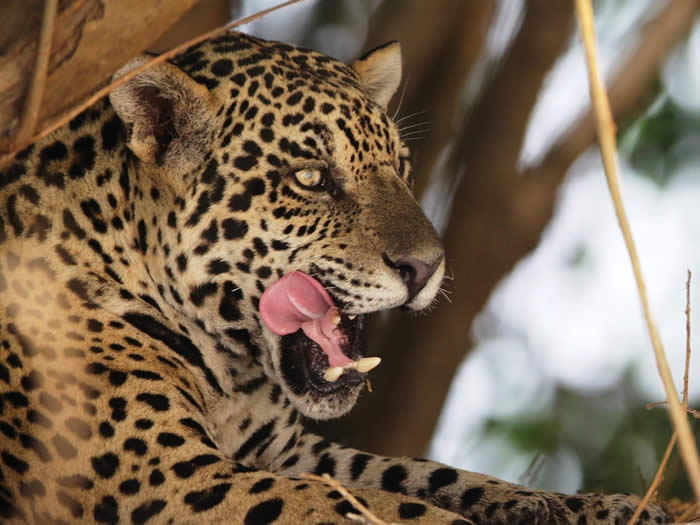 Giant otter; jaguar.
Other wildlife
Reptiles include caimans, iguanas, tortoises and geckos. Anaconda is one of many snakes. Frogs are abundant and noisy. There are dazzling butterflies and dragonflies.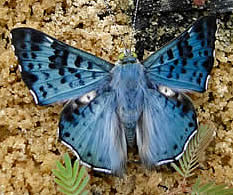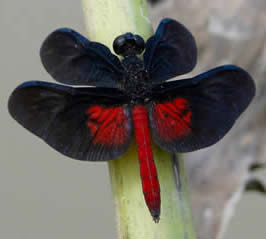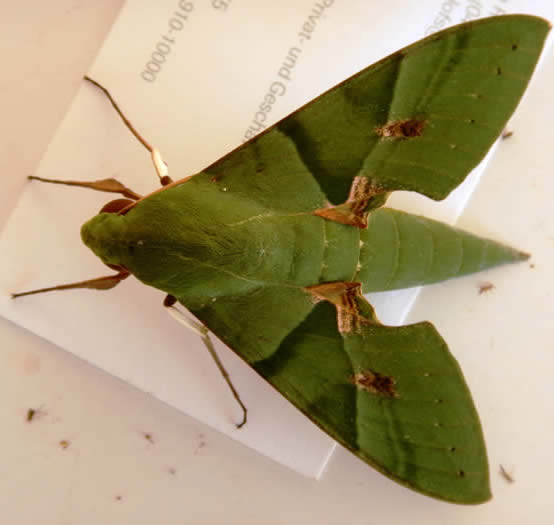 Black-patched Metalmark Lasaia agesilas; Dark-winged Skimmer, Diastatops pullata; Gaudy Sphinx Moth Eumorpha labruscae.
Cruising in style
The Pantanal is possible for Honeyguiders because our Hungary leader, Gábor Orban, is based in winter in Latin America and he has arranged this special tour. A typical Pantanal tour spends a few days at lodges plus a short tour on a floating hotel to visit nearby sites for jaguars.
Our plan is different: Gábor has arranged that the majority of the holiday is in a comfortable boat, the Jacaré Barco Hotel, that makes a full circle on three rivers (botel information here). Anyone who has been to the Danube Delta will know how this brings wonderful wildlife close to you.
Itinerary
Three nights at Piuval Lodge with walks and excursions from there. Seven nights on the floating hotel, initially into the Parque Estadual Encontro da Aguas where three big rivers meet, including trips on a smaller boat for jaguar encounters and other morning and evening excursions. One night in a hotel in Cuiabá.
On Day 7 our journey with the floating hotel goes towards and through the Parque Nacional Mato Grosso. Reaching the River Paraguay we continue to the huge Uberaba Lagoon and the border of Brazil and Bolivia. Here there are pre-historic carvings on rocks and glorious scenery. The route continues to the Reserva Ecologica Taiama and eventually returns to Cáceres.


Hyacinth macaws flying.
Holiday details
Price: £4,900 per person in twin room / cabin for 11 nights in Brazil (Monday to Thursday).
Single room supplement (2 maximum): £500
En suite facilities
Flights: from London Heathrow to Cuiabá, for example with Air Portugal via Lisbon and São Paulo. Flights departing from Manchester may be possible. Flights are not released until about 11 months before departure dates, so details are to be confirmed.
Deposit: £500
Group size: there are six available cabins. Minimum of 8 people, maximum 12, based on two people sharing each cabin.
Main leader
Gábor Orban, with his partner Andrea, runs Ecotours, which specialises in wildlife groups in Eastern Europe and in Latin America, where they spend several months each year.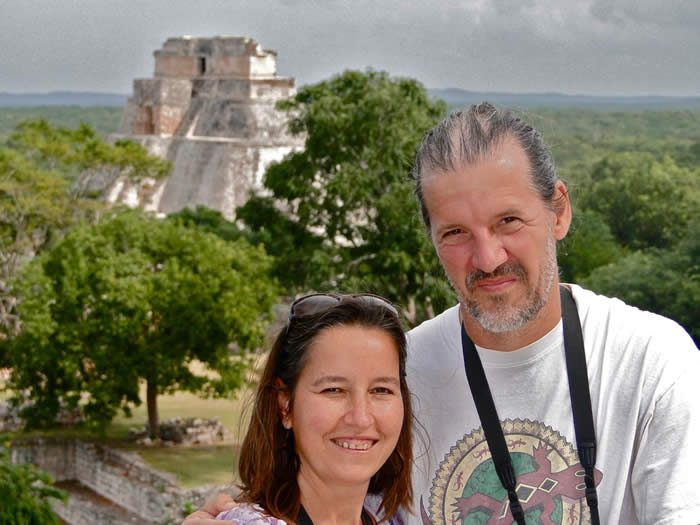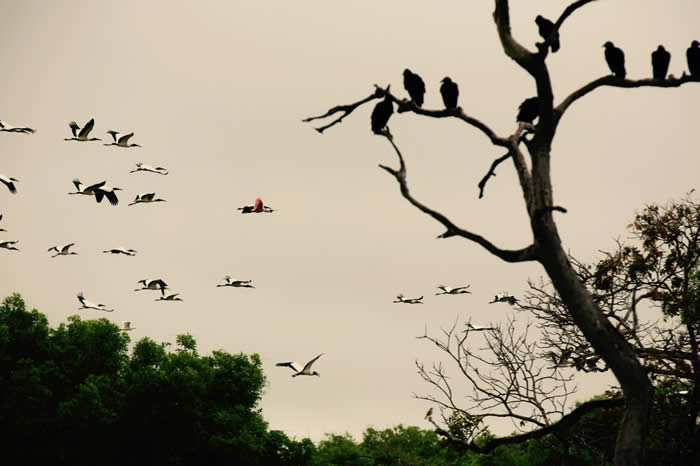 Gabor and Andrea, pictured here at Uxmal in Mexico; dusk in the Pantanal.
Conservation project
This holiday supported SAVE Brasil, BirdLife partner in Brazil.

Pedro Develey, SAVE Brasil Executive Director, said, "Many thanks for your donation. It means a lot for SAVE Brasil. To get unrestricted money is one of the main challenges for non-profit organizations in Brazil and this kind of donation is very important for us."

SUPPORTING