Spanish Pyrenees
17 – 24 June 2020
Summer at Berdún
Coronavirus: holiday cancelled.
This holiday is not in the brochure and is fully booked.
A stunning landscape and a wealth of wildlife make the Spanish Pyrenees attractive in any season. Our usual holiday here is in spring, but we are ringing the changes by visiting in June – though before the fierce heat of high summer – with a greater emphasis on butterflies, moths and the high Pyrenees.
We hope for high mountain butterflies like Apollo and clouded Apollo, alongside a host of blues, skippers, walls, hairstreaks, skippers, coppers and perhaps ten species of fritillaries, including silver-washed and Queen of Spain.
There are colourful day-flying moths, especially burnets, and in the evenings we plan to set a moth trap that can attract a big range of species, including hawk-moths and giant peacock moth.
But this remains an all-round wildlife holiday in an area known for its raptors. The foothills of the Pyrenees, where we are based, are acknowledged as having Europe's highest density of birds of prey. There are three vulture species: griffons are easily the commonest and increasing, Egyptian vultures are getting scarcer here and everywhere. We are at the heart of Europe's stronghold for the rare lammergeier. Red and black kites feed in the river valleys. Short-toed eagles hover as they search for snakes and lizards; booted eagles are regular too.
High pastures will be the best areas for flowers, with pinks, gentians, asphodels, lilies, bellflowers, rampions and saxifrages.
Berdún itself – host to Honeyguide holidays for 30 years – is a charming, fortified village perched on a hilltop in the Pyrenean foothills. Our base is Casa Sarasa, where Peter Rich and Melanie Hallam offer a warm welcome and fine food.
The Pyrenees may sound quite strenuous, but our itinerary is actually fairly relaxed. Anyone reasonably fit will have no trouble keeping up.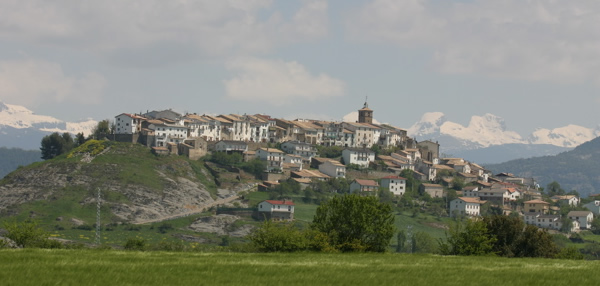 Berdún (Chris Gibson)
Birds
Those mentioned above plus golden eagle, bee-eater, crested lark, golden oriole, black-bellied dipper, Cetti's, subalpine and Sardinian warblers, rock sparrow, spotless starling, chough, crag martin, blue rock thrush, citril finch and many more.
Butterflies and moths
There is a good chance of Camberwell beauty, great banded grayling, Cleopatra, large blue, black-veined white, mountain clouded yellow, Spanish and southern gatekeepers, scarce and common swallowtails … we expect a long list!
Other wildlife
Mammals could include alpine marmot and isard – Pyrenean chamois – at the high tops, and red squirrel. Butterflies include Cleopatra, scarce swallowtail, Moroccan orange-tip and Spanish festoon.


Isards (Ivan Nethercoat)
Holiday details
Our trips lean a little more to the High Pyrenees for this later holiday, for example the valleys of Hecho, Aísa and Roncal. Local exploration includes the rivers Veral and Aragón and to Biníes gorge.
Price: £1,490 per person in twin room for a full week (Wednesday to Wednesday).
Single room supplement: £140
Nine rooms, two of which share a bathroom, the rest have en suite facilities.
Flights: Scheduled Ryanair flights London Stansted to Zaragoza
Schedules for summer 2020 favour Zaragoza over Biarritz, which was used in other years.
17 June: FR2634 depart London Stansted 13:35 arrive Zaragoza 16:50.
24 June: FR2635 depart Zaragoza 17:15 arrive Stansted 18:30.
Deposit: £300
Group size: the maximum is 14, but in practice depends on the mix of twins and singles in the group. A fully booked group of 10 is likely.


Our holiday base at Casa Sarasa in Berdún
Leaders
Chris Gibson is a marine conservation specialist for Natural England based in north Essex, an author of several wildlife books and has led many holidays for Honeyguide. He is an outstanding all rounder, from birds through flowers to moths, recognised as a 'naturalist of distinction' by the British Naturalists' Association.
Peter Rich, with his Melanie, is our host at Casa Sarasa and also our regular co-leader in the Spanish Pyrenees. He has a wealth of local knowledge - places, people and wildlife.
Conservation project
| | |
| --- | --- |
| SUPPORTING | The Sociedad Española de Ornitología (Spanish Ornithological Society) manages 1600 acres of steppe, one of the most threatened bird habitats both here in the Aragón region and in Europe. Dupont's and lesser short-toed larks, pin-tailed and black-bellied sandgrouse and stone-curlews benefit from the establishment of this reserve at Belchite, near Zaragoza. |