Northeast Portugal
15 – 22 May 2016
... and a bit of Spain
Tucked away in the top right hand corner of Portugal are two natural parks, little-known to naturalists from the UK. Douro Internacional and Montesinho Natural Parks provide the focus for this two-centre holiday, plus a day over the border in Spain to see the wetlands and steppe of Villafáfila.
Douro Internacional Natural Park
Douro Internacional Natural Park is dominated, visually, by the 'grand canyon' of the Douro River that forms the border with Spain. This area is the European stronghold of the fast-declining Egyptian vulture, with some 120 pairs. These are outnumbered by griffon vultures and both golden and Bonelli's eagles can be surprisingly easy to see – there are several pairs of each spread fairly evenly along the many miles of cliffs. It's no surprise that the gorge has alpine swifts, crag martins and blue rock thrushes, and the sometimes elusive rock sparrow shows quite readily, often around buildings.
Alongside the gorge are areas of open scrub that can make for comfortable natural history exploration. Here is the scratchy song of subalpine warblers and the evening air fills with the sound of nightingales. Turtle doves, woodlarks, bee-eaters, hoopoes and melodious warblers are frequent.
Botanically the area is fascinating – or complicated, depending on your point of view – with many common flowers not illustrated in our usual field guides. Examples of these are a pale blue toadflax Anarrhinum bellidifolium, a squill Scilla ramburei and Spanish foxglove.
With the flowers comes an attractive range of butterflies and the bare and rocky areas have reptiles, such as spiny-footed lizard and ladder snake, that our leader Domingos is expert at finding.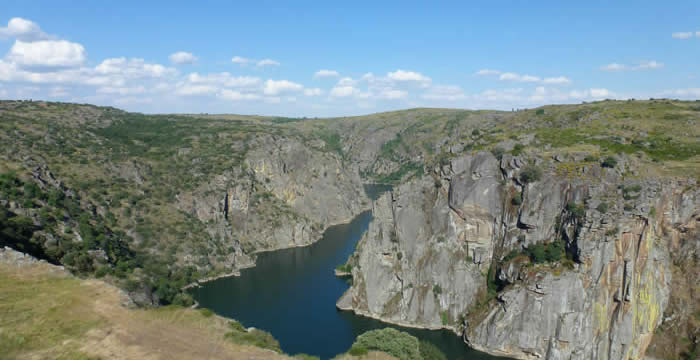 Douro river canyon from our hotel in Miranda do Douro
Villafáfila
Villafáfila, in Spain, is a Special Protection Area where wetlands are surrounded by steppe. The lagoons, so long as winter rains have come, have avocets, black-winged stilts, gull-billed terns and the usual range of wetland birds that make birdwatching in the Iberian peninsula such a draw.
Around the wetlands, the mix of low-intensive arable, fallow and alfalfa is ideal for Europe's largest population of great bustards, around 2,500 birds. These are fairly reliable to see, though to find other steppe birds, like little bustards, stone-curlews and black-bellied sandgrouse needs luck or hard work. Montagu's harriers and lesser kestrels are easier: for the latter there are several purpose-built and restored buildings where they nest.


Plains at Villafáfila in Spain
Montesinho Natural Park
Montesinho Natural Park, by contrast, is a gentler, greener landscape. From a farmed mosaic in the valleys you move into open woodland and scrub with Bonelli's warblers and cirl buntings. As you climb, this leads into rocky heathland with water pipits, Dartford warblers, rock buntings and whitethroats. Acid soils bring a different range of flowers such as yellow Halimium rock-roses, the heather Erica umbellata and mountain sandwort.
Flight schedules permitting, we also walk in the open cork oak woodland at the Geopark Terras de Cavaleiros just off the route back to Porto.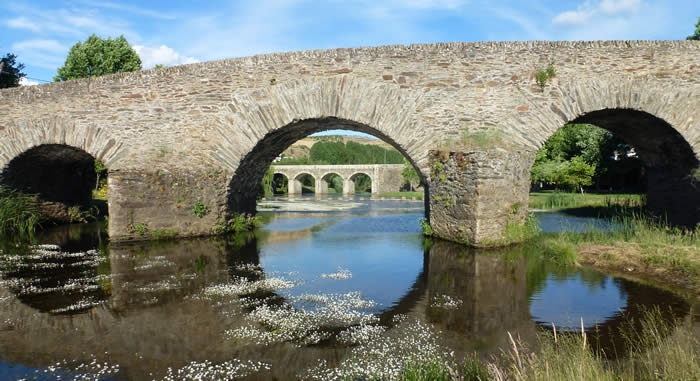 The River Igrejas, with water crowfoot, near our second base in Gimonde in Montesinho Natural Park.
Birds
Those above plus white and black storks, red and black kites, honey buzzard, short-toed lark, red-rumped swallow, tawny pipit, Iberian grey, woodchat and red-backed shrikes and azure-winged magpie.
Butterflies
Both natural parks have plenty of places to stop and search for butterflies. Our list on the recce visit included many with geographically apt names such as Spanish and western marbled whites, Spanish and southern gatekeepers, Spanish argus, southern white admiral and Queen of Spain fritillary.
Holiday details
Our first base is the Parador Santa Catarina in the city of Miranda do Douro, with spectacular views over the canyon. In Montesinho we stay at Gimonde, a community-based accommodation with a restaurant that regularly wins gastronomy prizes, especially for its locally-produced pork.
Price: £1,450 per person in twin room for a full week (Sunday to Sunday).
Single room supplement: £150
En suite facilities.
Flights: scheduled easyJet flights London Luton to Porto (not as in the brochure). Manchester to Porto is another option if anyone would be prepared to stay over in Porto until Tuesday 24 May (about which please contact the Honeyguide office.)
Deposit: £300
Maximum numbers: (two leaders): 14
Leaders
Domingos Leitão works for SPEA, the Portuguese BirdLife partner, and alongside this is a holiday leader in his home country.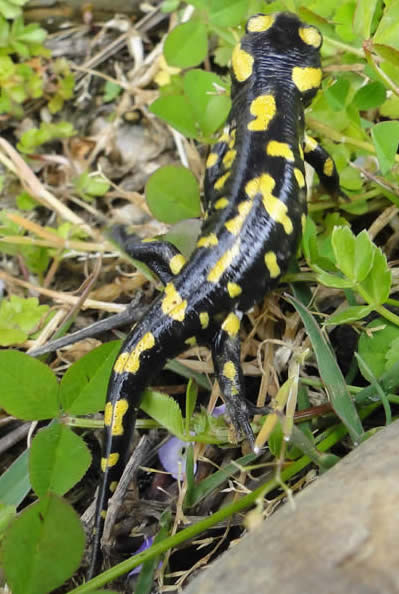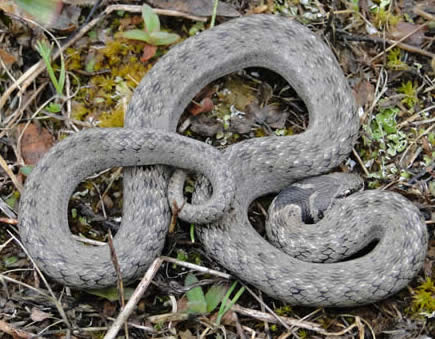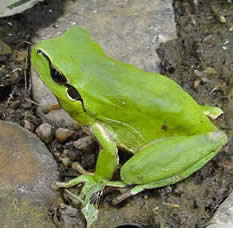 Domingos is especially good at finding reptiles and amphibians. Here's a selection from Central Portugal in April 2012. Above, left to right: fire salamander, southern smooth snake and stripeless tree frog.

Right: Bedragia's (or five-toed) skink. Photos by John Rumpus.
Rob Macklin was until recently the RSPB's area manager on the Suffolk coast, covering Minsmere and North Warren among several nature reserves. He now lives in Devon and uses his years of experience in nature conservation as an environmental consultant.
Conservation project
The original plan was to support the following: 'Rupis' is a project for conservation of Egyptian vultures and Bonelli's eagles in the Douro Canyon run by the Sociedade Portuguesa para o Estudo das Aves (SPEA, BirdLife in Portugal). This is a four year project, started in 2015 to increase food availability and breeding success of these species through nest surveillance, vulture feeding stations and managing wild prey. Preventing electrocution on power lines and the illegal use of poison will be tackled.
However SPEA was successful in getting the Rupis project fully funded elsewhere, so instead our donation of €1000 supported SPEA's part in a survey of little bustards in the Iberian peninsula. More about that in our news release here (24 May 2016) and in Algarve Daily News.
More on Honeyguide's links with SPEA here.