Slovenia 14

—

21 May 2019
The Karst, Lark Cerknica and the Dinaric Alps
No bookings and we've made the early decision that this holiday will not run in 2019.
Vast wet meadows cut once a year for hay; forests of beech and fir; summertime fieldfares; the noise of crakes mixing with the booming of bitterns and the reeling of Savi's warblers.
These are all features of south-western Slovenia. It's an area of rapid biogeographical transition from the heat and drought of the Mediterranean to the relative cool and humidity of Central and Eastern Europe in spring. The limestone massif of the Karst adds to the variety. The Dinaric Alps rise to 1300m and to almost 1800m on Mount Snežnik.
Lake Cerknica, where we are based, is a Special Protection Area and Regional Park. Covering over 3,000 hectares, it is a vast turlough or temporary lake that rises and falls with the input of groundwaters from the surrounding limestone basin. Water levels usually fall as spring proceeds but levels can remain high into June in some years (such as 2016).
Much of the lake bed consists of hay meadows. These are used by breeding corncrakes, spotted and little crakes. Black and white storks, the local pair of white-tailed eagles and large numbers of herons, bitterns and egrets use flooded areas for feeding on the stocks of fish and amphibians.


Lake Cerknica
Calm evenings are the time to hear those crakes, bitterns and Savi's warblers. Barred warblers and red-backed shrikes hold territories in patches of drier ground.
But the lake is not the only element and the area is characterised by its diversity of landscape and wildlife. Just to the south, at Bloška Planota, is one of the largest and most intact peat bogs of Slovenia, a rare habitat this far south and with a great range of plants, butterflies and dragonflies.
With much of the country's land in the hands of the Church and landed aristocracy until 1945, forests have survived across vast swathes of Slovenia and cover more than half of the country, especially in upland areas. Notrajnska Regional Park, some 22,200 hectares, includes areas of old forest with many species of birds, animals and plants associated with them.
Birds
| | |
| --- | --- |
| | Lake Cerknica is an important stopover and breeding site for many migrant birds. These include marsh terns, a range of waders, red-footed falcon and Montagu's harriers, all of them over-summering. Breeding birds around the lake include whinchats and tree pipits. One of the last species to arrive is the scarlet rosefinch, at the western limit of its distribution. |
Red-footed falcon (Barry Madden)
Villages are home to large numbers of birds including scops owls, black redstarts, spotted flycatchers and serins. Fieldfares are common and often outnumber blackbirds. There are nine species of woodpecker in the area and these will be a target on the holiday. The Balkan subspecies of the Ural owl macrourus is present in the forest as well as pygmy and Tengmalm's owls
Mammals
Though difficult to see, otters, polecats and beech marten are all present around the lake. A visit will be made to a brown bear feeding site so the chance of a sighting is quite good. Red and roe deer are common, easiest to see in the late evening and early morning.
Other wildlife
Marsh frogs are abundant at the lake, together with vast numbers of common toads. Fire salamanders are found in the forests with alpine salamanders in colder areas. Short-toed eagles feed on the many grass snakes and Aesculapian snakes around the lake. Butterflies in the meadows around the lake include large numbers of marsh fritillaries and mazarine blues; Camberwell beauty and large tortoiseshell are found in forest clearings and close to the villages.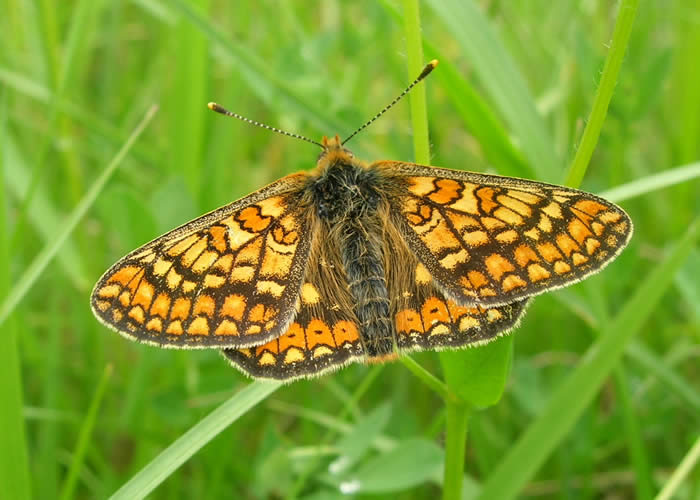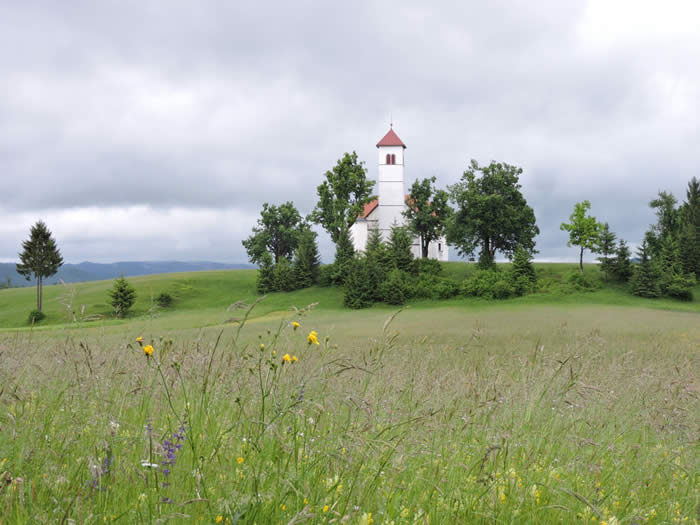 Marsh fritillary; hay meadow (Paul Tout)
Plants
A botanical feature of the holiday is the tail-end of the displays of spring flowers in the beech woodlands, including various hellebores, asarabacca, blue-eyed Mary and haquetia. The summer show of grassland orchids such as Adriatic lizard, green-winged, burnt-tip and bog orchid will be underway in the splendid hay meadows in the Karst.
Holiday details
Our holiday base is Logar Farm in the village of Žerovnica in farmland close to the lake.
Price: £1,500 per person in twin room for a full week (Tuesday to Tuesday)
Single room supplement: £120
Up to seven rooms. Some have en suite facilities, some are separate private bathrooms.
Flights: Scheduled Ryanair flights, Stansted to Trieste.
14 May: FR168 depart London Stansted 13:50 arrive Trieste 17:00.
21 May: FR169 depart Trieste 17:25 arrive Stansted 18:40. 
Deposit: £300
Maximum number: 14
Conservation project
BirdLife Slovenia (DOPPS) runs survey and conservation work for priority birds within the Notrajnska Park including corncrake, little crake, spotted crake and the two woodpeckers closely associated with ancient forests, white-backed and three-toed. They also train student naturalists at a summer camp.
Leaders
Paul Tout lives on the Italy/Slovenia border. Originally from Hertfordshire, until recently he managed a botanic garden and now works as a translator, tourist guide and naturalist. He's been a Honeyguide leader for many years in his local area and in nearby Istria, and has a fund of knowledge about central-eastern Europe and its wildlife. There are photos from Paul Tout on Twitter as Adria Wildlife.
And if numbers on the holiday take us into two leader territory:
Domen Stanic is an Italian-Slovenian biologist discovering and enjoying wildlife in Slovenia and the Adriatic region.
Domen's fieldwork is mainly concentrated on birds and plants, but he has a wider interest in other local wildlife and nature. He is also an outstanding wildlife photographer and you can see many of his photos and observations on his blog and Wild Slovenia website.

Dom was co-leader on Honeyguide's holiday in Istria in 2018 (Domen's Istria blog here). 

Left: Domen with Honeyguide group members in Istria, May 2018 (John Croft).