The Lizard

27 September – 4 October 2021
A week's stay in Cornwall's famous peninsula
The plan is five days in the field plus an additional free day.
This break is fully booked. More dates for 2022 are being considered.
The Lizard Peninsular is the most southerly part of mainland Britain and it has a mild oceanic climate. With its splendid cliffs and sandy coves, the Lizard is noted as one of the most attractive stretches of coastline in England. Kynance Cove is a particular magnate for walkers and holidaymakers. Less well known are the surprisingly extensive areas of lowland heath, and the ancient sessile oak woodlands that cling to the steep slopes of the Helford River – not a river at all but a ria or drowned valley. 
Indeed, the Lizard is almost an island, all but cut off from the rest of Cornwall by the Helford River and Loe Pool, a large natural lake with reedbeds and wet woodland.  As well as the variety of habitats, the geology is also very varied and unusual, with significant areas of exposed serpentine rock. All this means that there is a rich flora with a surprising number of rare species.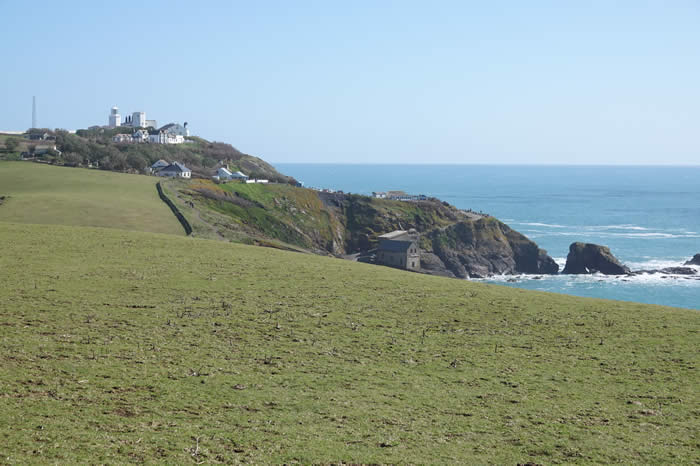 Lizard lighthouse
Birds
The Lizard peninsula is one of the best sites in SW England for autumn migrant birdwatching.  Although the numbers of migrants tends to be small, a good range of species occur. Commoner migrants in late September include wheatears, wagtails (both white and yellow) and hirundines, and the range of species that might be seen during our walks in decreasing order of likelihood include whinchat, firecrest, pied and spotted flycatcher, yellow-browed warbler, ring ouzel and wryneck. There is always a chance of something rare turning up in late September, but as always migration is very dependent on weather conditions.
Family parties of the resident choughs and peregrines tend to be quite conspicuous at this time of year, and it is a good time for seabirds at the point, particularly gannets, Manx and Balearic shearwaters, razorbills and guillemots. The first wintering birds such as merlin and golden plover may also have arrived.
The Hayle Estuary is a good place to see wading birds such as godwits and plovers. With luck, a visit at this time of year may be rewarded with an American wader or an osprey.
Plants
Lizard is famous for its rare flowers, although most are spring-flowering. Not so the Cornish heath, which is abundant on the extensive downs. The attractive autumn squill is numerous along some parts of the coastal turf, and there will be a range of other late flowering plants. There is a rich variety of ferns including both sea and lanceolate spleenwort. Exotic species such as Hottentot fig and purple dew-plant won't be flowering but they will nevertheless form a conspicuous part of the cliff flora.
Other wildlife
Butterflies that can be numerous at this time of year include painted lady and red admiral, and if the weather is good we may see late examples of species such as wall butterfly. There are likely to be a number of lingering dragonfly species, perhaps including red-veined darter. Grey seals loaf on coastal rocks and both common and bottle-nosed dolphins can sometimes be seen offshore.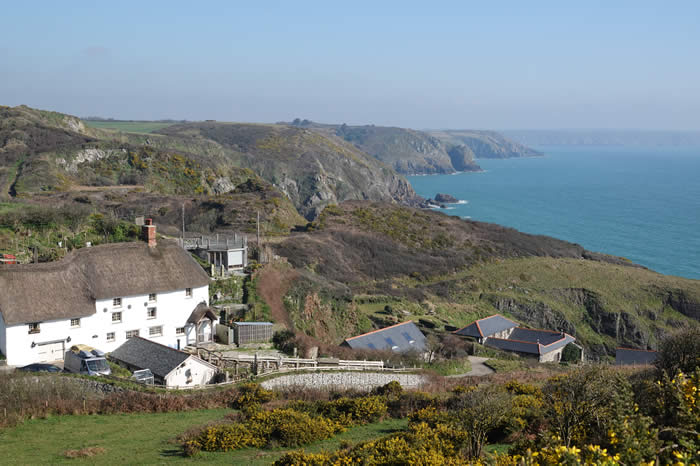 Church Cove
Itinerary
Walks will include the areas around the Lizard Point itself, Kynance Cove and Lizard Downs, the Predannack area, Goonhilly Downs, Windmill Farm, Loe Pool and Bar, and woodland along the Helford River. Half day trips will be taken to the wonderful sub-tropical Trebah Gardens (entrance fee needed), and the Hayle Estuary for wading birds.
Walks are 2-3 miles and not always on flat/made ground.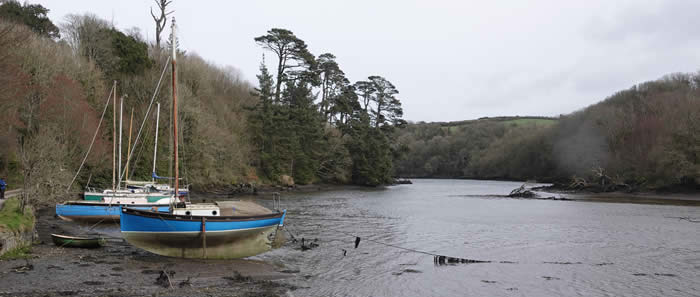 Gillan Creek, one of the creeks of the Helford River.
Accommodation/meals
This holiday is based at the friendly Trengilly Wartha Inn, which nestles in a wooded valley just north of the Helford River. From here we will head to the nearby Lizard peninsula, where the walks will explore each of its habitats. Each day we will have lunch at one of the various cafés dotted around the Lizard.
Holiday details & how to book
Participants book Trengilly Wartha themselves. For anyone who is interested, please contact us and we will forward a sheet with details of how to book the rooms reserved for Honeyguiders (one twin room, five double rooms, with rates, including single supplement, depending on the room). The rates include breakfast. Evening meals are extra: Trengilly has won several awards for its food, which should therefore be quite a feature of the stay. En suite facilities.
Days/dates: the itinerary above is for six days in the field. Trengilly offers the seventh night free of charge, which is too good an offer to spurn. David Collins has planned an itinerary of five days and the final day is programmed as a free day; an additional day's guiding can easily be arranged by agreement with David.
Price: £100 per day fee for guiding for five or six days, including guide's expenses and conservation contribution.
Deposit: none to Honeyguide. You will be invoiced after the break.
Booking: no booking form is needed. Just keep us informed!
Local transport and maximum number (one guide): narrow lanes, navigation and tricky parking make using Honeyguiders' own cars impractical in this area. David Collins will have a minibus, and there is no extra charge for this. Group size: 8 plus guide, which is limited by minibus size.
Conservation project
£40 per person will be donated to Cornwall Wildlife Trust.