South Africa's Southwest Cape
8 –
23
Nov
ember 2017 *
Unique birds, a profusion of flowers and spectacular scenery … not to mention the mammals, reptiles, insects and amphibians!
From the moment you arrive at Cape Town by air, the sheer beauty of the Cape strikes you. The spectacular Table Mountain and its adjacent hills dominate the landscape. Numerous bays and shallow lagoons add to this idyllic scene.
Spring in the South Western Cape offers the visiting naturalist the spectacle of masses of flowers of a bewildering variety – Cape daisies, proteas, heathers and many more – collectively known as the Cape Floral Kingdom. It's the breeding season for local birds, which are joined by 'wintering' birds from the north. Around the coast, southern right whales gather in favoured bays, joining Cape fur seals and seabirds.
The holiday is based on two centres, the Cape Town area (eight nights) and Hermanus (five nights).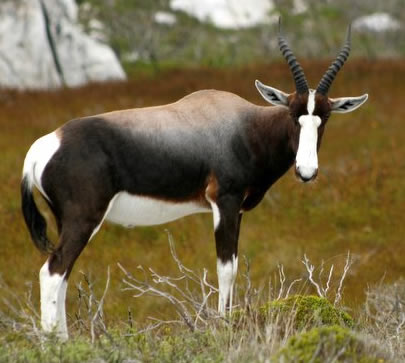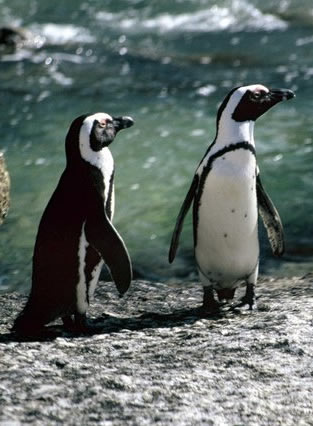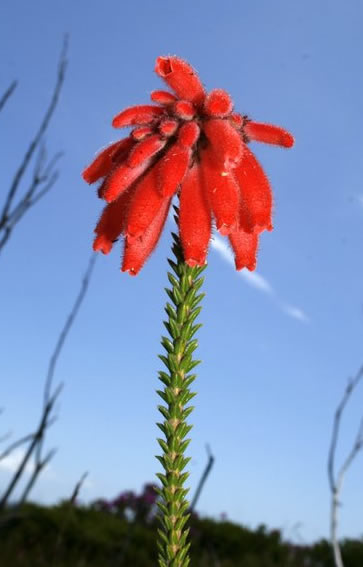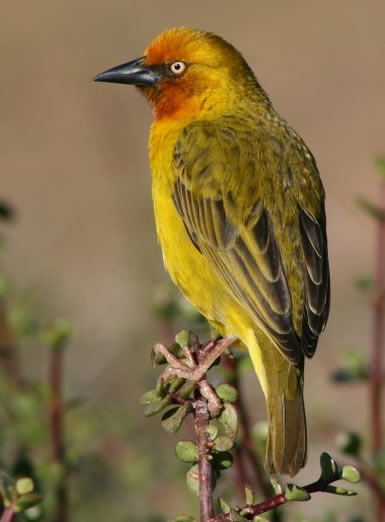 Left to right: bontebok, African penguins, fire heath and Cape weaver.
Cape Town area
Coastal species should include Cape gannet, kelp gull, swift tern, Cape, white-breasted and crowned cormorants, African black oystercatcher and white-fronted plover. Troops of chacma baboons are often encountered on roadsides and bontebok, Cape mountain zebra, eland and red hartebeest can be found at the Cape of Good Hope.
At Boulders we will visit the African penguin colony for an eyeball-to-eyeball encounter with this threatened species.
Coastal fynbos scrub holds malachite and orange-breasted sunbirds, fiscal flycatcher and Cape siskin. Other frequent birds might include Cape robin-chat, Karoo prinia, grey-backed cisticola and southern boubou.
Kirstenbosch botanical gardens is one of the best-known gardens in the world. Situated on the slopes of the spectacular Table Mountain, it specialises in the indigenous flora of South Africa. Sunbirds abound and Cape sugarbirds can be seen. Cape francolin and helmeted guineafowl are often found among the colourful flowerbeds.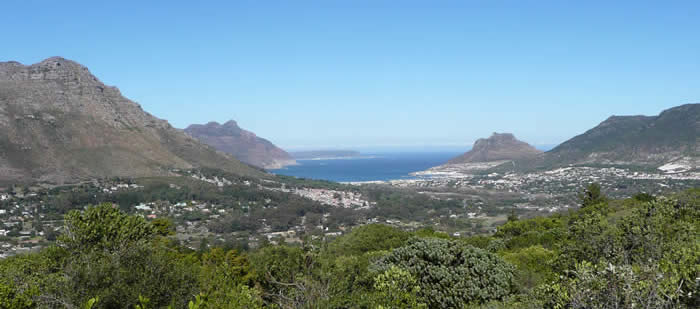 Hout Bay
The plateau on Table Mountain affords amazing views when the 'table cloth' of cloud is not down. Rock hyraxes, small mammals related to elephants, can be seen here, while rock agamas, Cape crag lizards and Cape girdled lizards sun themselves on the rocks.
The West Coast National Park to the north of Cape Town is noted for its large coastal lagoon, holding many thousands of wading birds including large numbers of little stints, curlew and marsh sandpipers, Kittlitz's, white-fronted and chestnut-banded plovers. Greater flamingos may be mixed with South African shelducks. Birds of prey can include African marsh harrier, African fish eagle, black-shouldered kite and the handsome black harrier, a speciality of the park.
Strandfontein water treatment plant, Rietvlei and Rondevlei nature reserves offer excellent opportunities to get to grips with waterbirds, including black-necked grebes, various ducks, purple gallinules and pied kingfishers. Reedbed and pools at Rondevlei have African sedge warblers, several heron and egret species, sacred ibis, African darter, reed cormorant and malachite kingfisher.
Set in the heart of the Cape Winelands, Paarl Mountain Reserve and Paarl Bird Sanctuary offer a mixture of wetland and mountain birdwatching. Higher ground and scrub hold interesting species such as ground woodpecker, jackal buzzard and protea canary. Wetlands hold little bittern, African spoonbill, black-crowned night heron, water dikkop, black crake and white-backed duck, along with red bishops and white-throated swallows.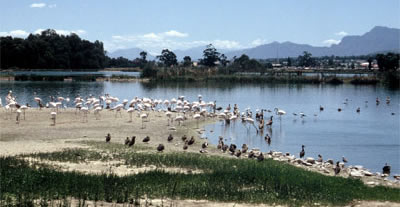 Paarl Nature reserve
The Hermanus area
Hermanus is one of the best places in the world to watch whales close to land, southern right whales especially. At Cape Agulhas, the southern most tip of Africa, seabirds could include the tiny Damara tern.
Harold Porter Botanical Garden may turn up new bird species such as black eagle and the stunning paradise flycatcher. Scrub holds Victorin's warbler, a speciality of the area. Like many of our stops on this holiday, Harold Porter boasts an excellent tearoom. Nearby, we will stop to look for the enigmatic Cape rockjumper.
The Overberg farmlands and adjacent coastal areas are the haunt of South Africa's national bird, the blue crane, as well as being good country for raptors, such as jackal buzzard, martial eagle and secretary bird, and bustards. Indigenous forest at Grootvadersbosch Nature Reserve is dominated by ironwood, with much stinkwood and yellowwood; it has forest birds such as forest canary, blue-mantled flycatcher, yellow-throated woodland warbler and perhaps even lesser or greater honeyguide!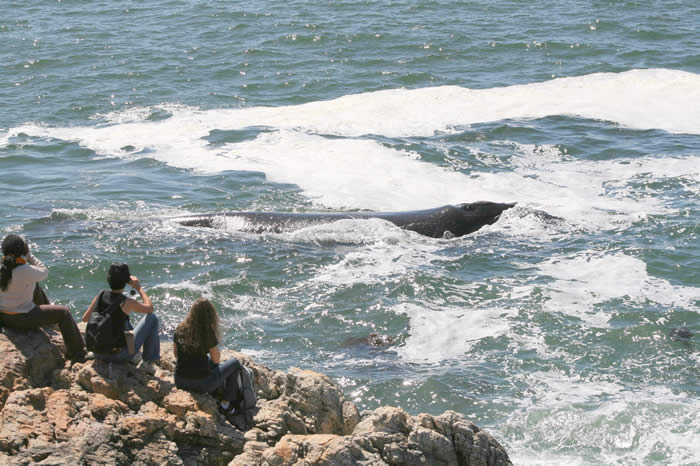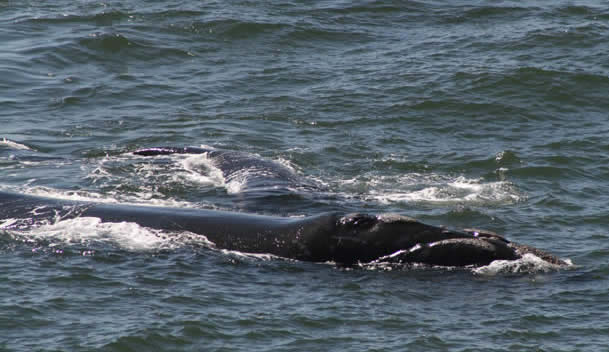 Whale-watching at Hermanus; southern right whale
Holiday details (2017)
Price: £3,900 per person in twin room for 14 days in South Africa, plus two overnight travel days (Wednesday to Thursday)
Single room supplement: £300
En suite facilities.
Flights: Scheduled flights, London to Cape Town, probably with SAA via Johannesburg.
Deposit: £500
Maximum number (two leaders): 14. Minimum: 3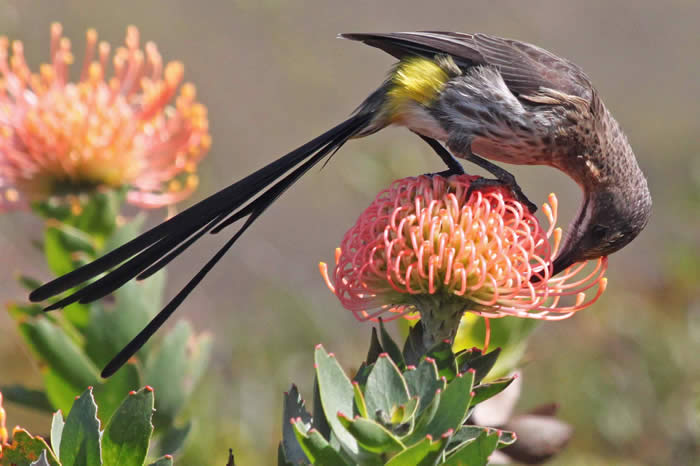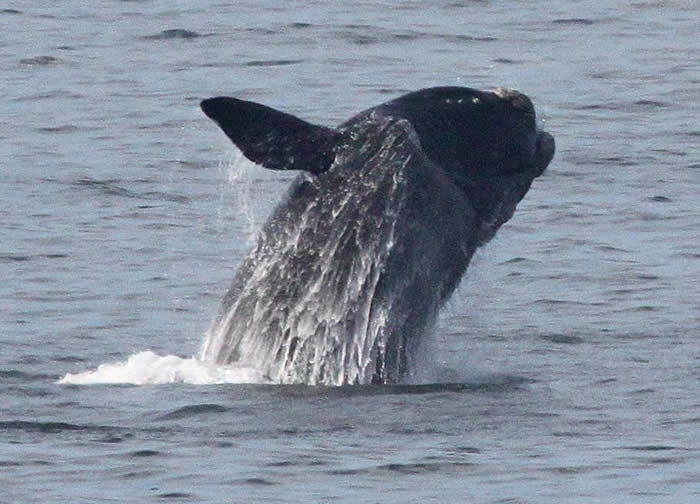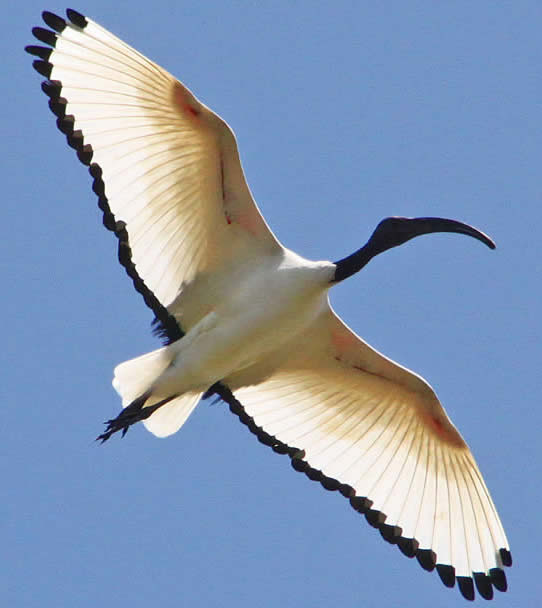 Sugarbird on pincushion protea; right whale breaching; sacred ibis.
(John & Jan Croft, October 2011)
Leaders
Geoff Crane is the man behind Crane's Cape Tours & Travel, both local leaders and ground agents for Honeyguide in South Africa. An experienced guide himself, he co-leads all Honeyguide's holidays in South Africa.
Bruce Terlien is an all rounder when it comes to guiding. Apart from his big passions of southern African fauna and flora, his interests include architecture, anthropology, geology, history, gardens, culture, wine and the culinary arts.
Conservation project
The second Southern African Bird Atlas Project (SABAP2) is one of the most intensive monitoring programmes ever undertaken in South Africa. Many areas are difficult to access but critically need atlas work and ongoing monitoring work for BirdLife South Africa to understand the bird conservation challenges in these remote sites.