Spring flowers in South Africa
22 August –
4 September 2020
*
The Cape Floral Kingdom, combined with a profusion of other wildlife in South Africa's south-western Cape.
Coronavirus: holiday cancelled.
The south-western Cape of South Africa is remarkable for its range of flowers and other wildlife at almost any time, but for sheer visual impact a visit in early spring ranks among the world's most colourful natural spectaculars. On this holiday we combine the floral riches of the Nieuwoudtville area with the diverse natural history elsewhere in the region – a host of birds, mammals, reptiles and other wildlife, set in glorious scenery.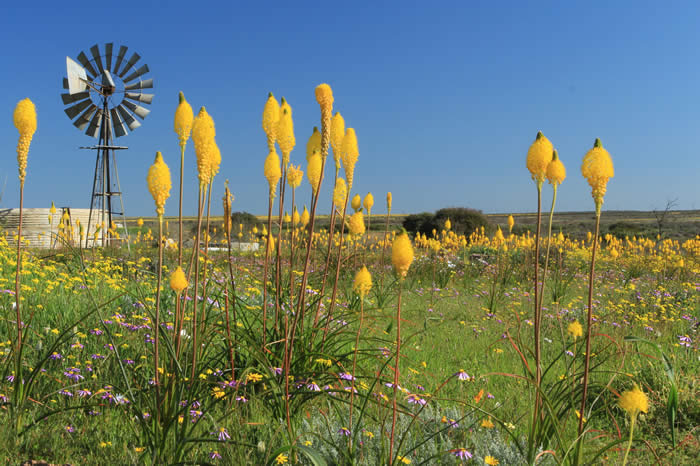 Bulbinella elegans
Nieuwoudtville (4 nights)
Nieuwoudtville is called the 'bulb capital of the world' and these are part of some 1,400 plant species found on the plateau, many of which are endemic. Both specialities and spectacular displays are found on the 'renosterveld', named after the rhinoceros bush. A bonus is that this display is relatively close to the SW Cape, rather than long distance travelling to more distant parts of Namaqualand.
Those bulbs – or more strictly geophytes, with a range of underground food storage organs be they bulb, tuber, corm, or rhizome – are there to cope with dry summers later in the year. These include sand crocuses, various irises such as evening-flowered Hesperantha and Babiana, dwarf gladioli, the yellow spikes of asphodel-like Bulbinella and various orchids. For some the bulbs may be the stars, for others they are a supporting cast to the sheets of orange, yellow, blue and white daisies.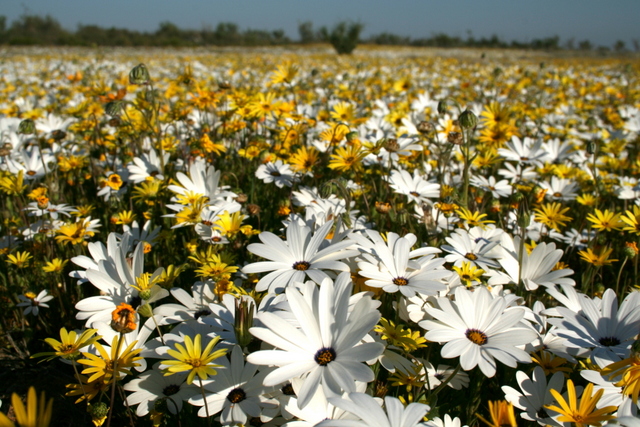 Our itinerary here includes nature reserves, botanic gardens and traditionally farmed areas – exactly where will depend on the vagaries of the season. Naturally all these flowers attract a range of pollinators, many types of bees, flies, beetles, moths and butterflies, as well as a few birds and rodents, which are also involved in spring flower pollination. The birds to look out for are orange-breasted sunbirds, Cape canaries and Cape sugarbird. Other birds such as blue crane, black korhaan and black harrier prey on the pollinators. Porcupines dig for bulbs, with the disturbed ground adding to the diversity.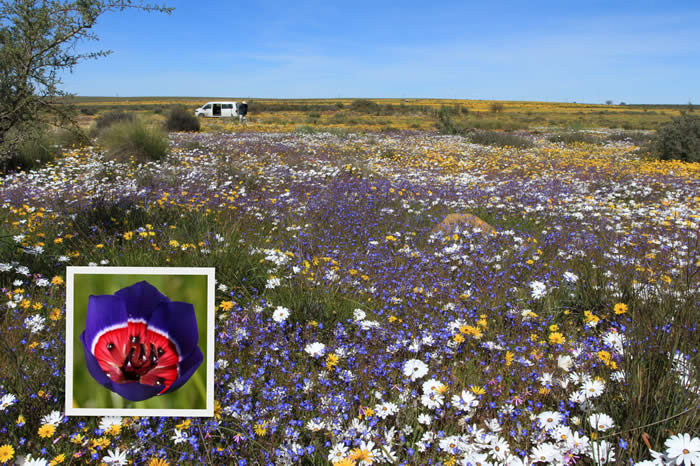 Spring flowers - Nieuwoudtville
Cape Town area (7 nights based in Hout Bay)
From the moment you arrive at Cape Town by air, the sheer beauty of the Cape strikes you. The spectacular Table Mountain and its adjacent hills dominate the landscape. Numerous bays and shallow lagoons add to this idyllic scene.
The spring flower show continues in the SW Cape with swathes of Cape daisies, while the fynbos proteas, heathers and pincushions are all in flower. It's the breeding season for local birds and by the coast southern right whales gather in favoured bays, joining Cape fur seals and seabirds.
Coastal species should include Cape gannet, kelp gull, swift tern, Cape, white-breasted and crowned cormorants, African black oystercatcher and white-fronted plover. Troops of chacma baboons are often encountered on roadsides and bontebok, Cape mountain zebra, eland and red hartebeest can be found at the Cape of Good Hope.
At Boulders we will visit the African penguin colony for an eyeball-to-eyeball encounter with this threatened species.
Coastal fynbos scrub holds malachite sunbirds, fiscal flycatcher and Cape siskin. Other frequent birds might include Cape robin-chat, Karoo prinia, grey-backed cisticola and southern boubou.
Kirstenbosch botanical gardens is one of the best-known gardens in the world. Situated on the slopes of the spectacular Table Mountain, it specialises in the indigenous flora of South Africa. Sunbirds abound and Cape francolin and helmeted guineafowl are often found among the colourful flowerbeds.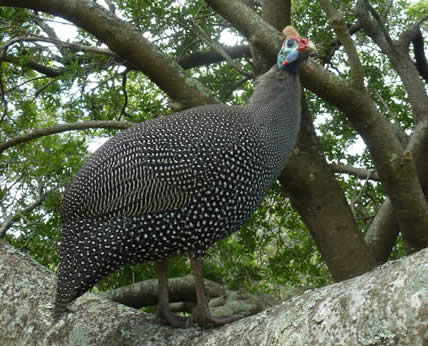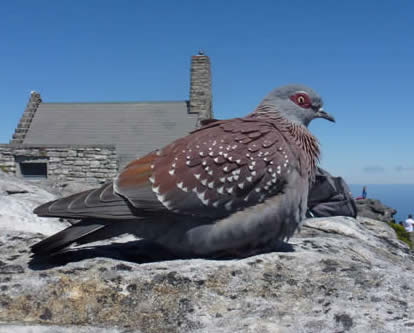 Helmeted guineafowl, Kirstenbosch; speckled pigeon.
The West Coast National Park to the north of Cape Town is noted for its large coastal lagoon, holding many wading birds including Kittlitz's, white-fronted and chestnut-banded plovers. Greater flamingos may be mixed with South African shelducks. Birds of prey can include African marsh harrier, African fish eagle and black-shouldered kite. This time of year, areas can be swathed in flowers, especially at the Postberg Flower Reserve.
Strandfontein water treatment plant, Rietvlei and Rondevlei nature reserves offer excellent opportunities to get to grips with waterbirds, including black-necked grebes, various ducks, purple gallinules and pied kingfishers. Reedbed and pools at Rondevlei have little rush-warbler and lesser swamp-warbler, several heron and egret species, sacred ibis, African darter, reed cormorant and malachite kingfisher.
We also have a day in the Cape Winelands, steeped in history and with elegant buildings, as well as a chance to sample and buy Cape wines.


Stellenbosch in the Cape Winelands.
Holiday details (2020)
Accommodation: we start in the Nieuwoudtville area staying at Hantam Huis in Calvinia (a cluster of restored cottages and houses, four nights), then move to Hout Bay Manor Hotel (seven nights)
Price: £4,900 per person in twin room for 13 days in South Africa, plus two overnight travel days (Saturday to Friday)
Single room supplement: £300
En suite facilities.
Flights: Scheduled flights, London to Cape Town. To be decided when schedules are available: direct flights with BA or via Johannesburg with SAA are likely options.
Deposit: £500
Maximum number (one leader): 8. Minimum: 3
Leader
Geoff Crane is the man behind Crane's Cape Tours & Travel, both local leaders and ground agents for Honeyguide in South Africa. An experienced guide himself, he co-leads all Honeyguide's holidays in South Africa.
Conservation project
The second Southern African Bird Atlas Project (SABAP2) is one of the most intensive monitoring programmes ever undertaken in South Africa. Many areas are difficult to access but critically need atlas work and ongoing monitoring work for BirdLife South Africa to understand the bird conservation challenges in these remote sites.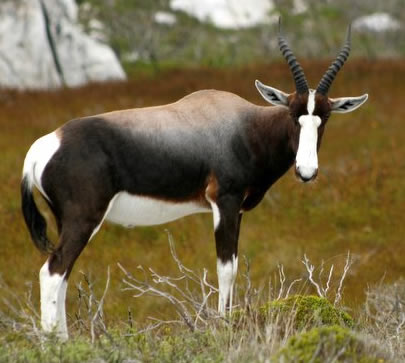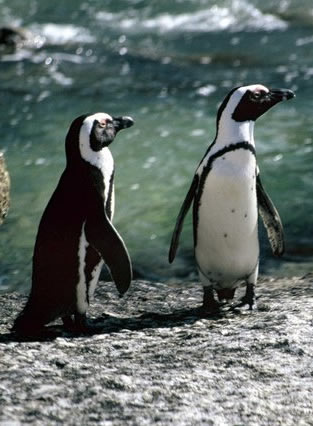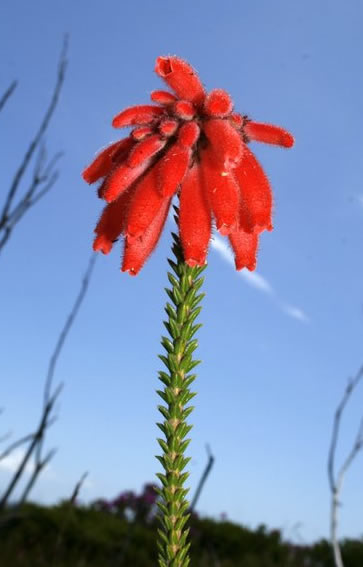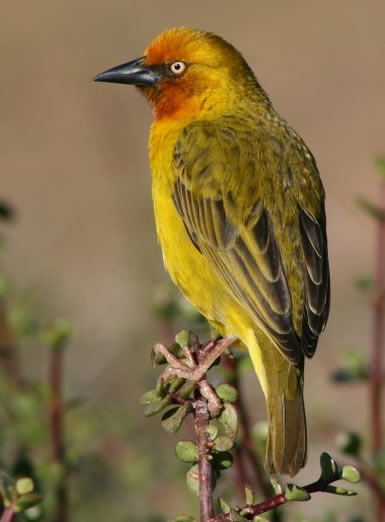 Left to right: bontebok, African penguins, fire heath and Cape weaver.