Wild Essex

23 – 27 May 2022
3-5 days in the field with Honeyguide leader Chris Gibson
This break is open for bookings.
Enjoying wildlife in the UK remains popular, an idea that was shown to work when travelling overseas was difficult. This break in coastal Essex follows the pattern of our previous Wild Essex breaks here. The itinerary describes three full days in the field and two half days on the arrival and departure days.
The plan is that participants book the hotel themselves, and Honeyguide's Dr Chris Gibson will be your nature guide. Chris has designed this break so it is suitable both for those using public transport as well as those with their own vehicles.
Wild Essex in May
From birds to botany, galls to geology, and landscape history to modern conservation, this tour will lift the lid on the sometimes surprising 'wild side of Essex'.
During three full days and two half days of guided nature watching, we will visit a wide variety of local wildlife habitats with the minimum of driving and/or use of public transport, from ancient woodland and parkland to salt marshes and estuaries, restored gravel workings to some of the only sea cliffs in Essex. Chris will fill in the conservation story behind the places, based on his 30 years' professional experience protecting the region's wildlife.
Evening talks and possibly after-dinner mothing and batting could be included, if people are keen and weather permitting.
Itinerary
Day 1: ARRIVAL & LOCAL WALK ROUND WIVENHOE PARK
We start with a guided walk around the hotel's beautiful grounds, to help you get the most out of the immediate locality in any spare time later on in the week. The 18th century landscaped Wivenhoe Park is noted for its important and interesting trees from around the world, from cork oaks to all three types of redwood.
Bird may include breeding green woodpeckers and jackdaws, maybe a kingfisher round the lake, where damselflies and dragonflies will be starting to emerge, with butterflies and other insects abounding in the extensive acidic and flower-rich grasslands.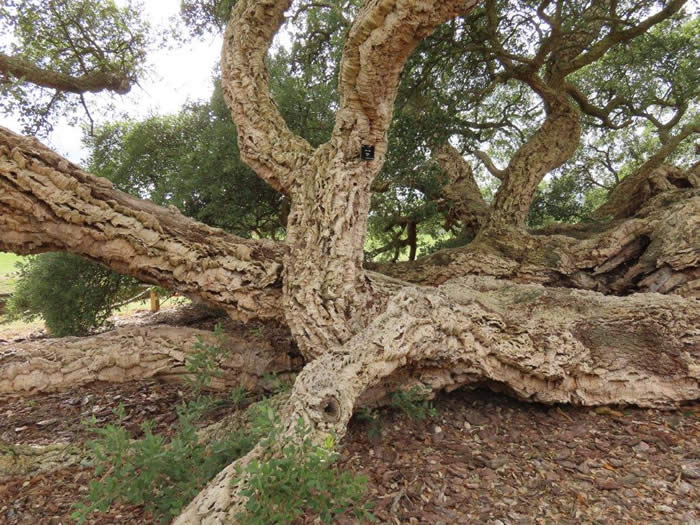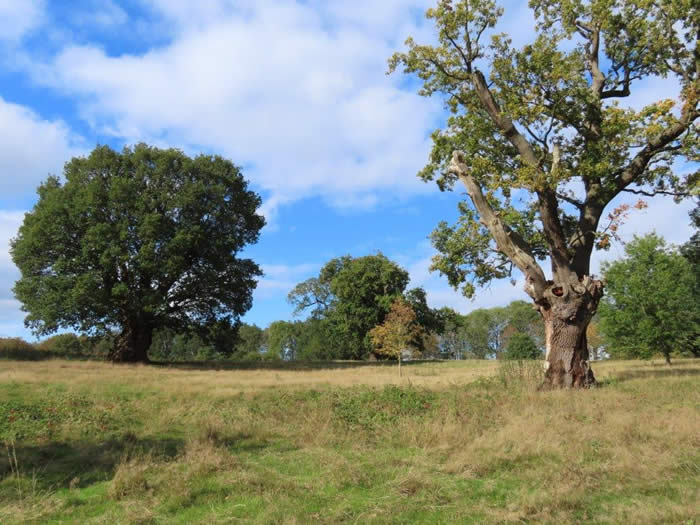 Cork oak; Wivenhoe Park.
Day 2: THE UPPER COLNE
A circular walk of some 8km through ancient woodland, scrub and grassland, reedbeds and saltmarshes, habitats which comprise the Colne Local Nature Reserve: Ferry Marsh, Wivenhoe Wood, and Lower Lodge meadows. The sweet chestnut woods will be past their spring bluebell best, but orange tips and speckled woods will be flying in the rides, and in the meadows, knapweed will be drawing in common blues, burnet companion moths, green-eyed flower bees and many more insects. Having looked for the rare flowers of Wivenhoe's waterfront such as four-leaved allseed, it will then be into the King George V field for more magnificent trees, especially holm oaks, and an 'official' comfort stop.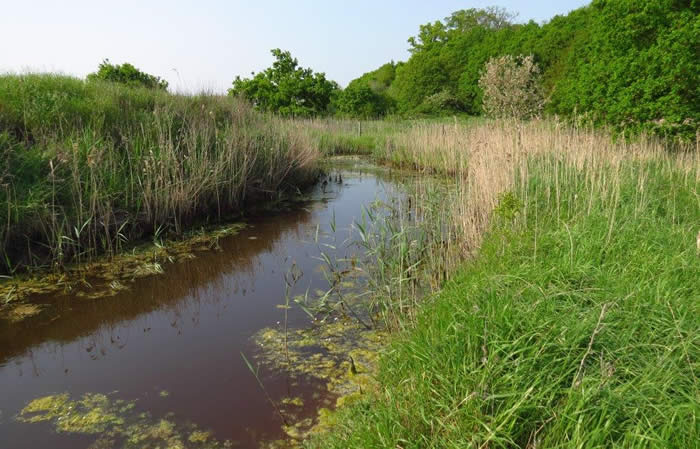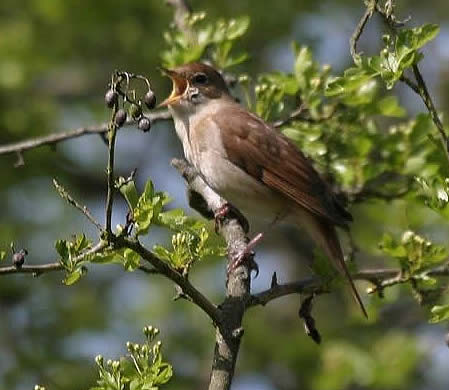 Ferry Marsh; nightingale.
The return walk is along the earthen river wall, alongside Ferry Marsh with singing Cetti's and reed warblers (with attendant cuckoos), amid a great display of coastal plants, including grass vetchling and salsify. A few waterbirds remain through spring, maybe including black-tailed godwits and spotted redshanks in their remarkable breeding plumage, while common terns feed up and down the river: the narrow upper estuary means that any birds which are there are seen well. Riverbank scrub is home to whitethroats, perhaps a grasshopper warbler, and singing nightingales.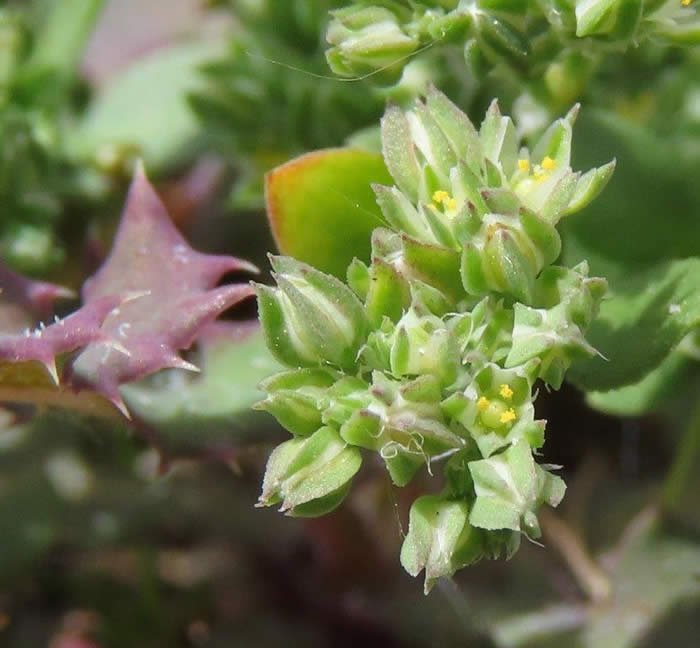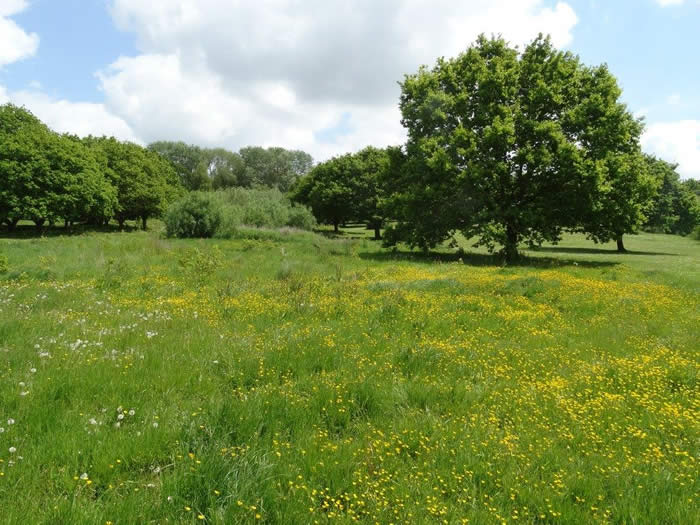 Four-leaved allseed; Lower Lodge Meadows.
Day 3: THE NAZE AND WALTON BACKWATERS
Much of the day will be spent on the headland of the Naze, exploring the bushes and grassland for migrant birds, coastal plants such as hog's-fennel, and insects such as green tiger-beetle; the beach for waders, gulls and terns; and the cliffs for their picturesque, internationally significant geology, revealing the story of the past 50 million years. Fossil-hunting is in order!
Heading into the embayment of Hamford Water (also known as the Walton Backwaters – or to afficionados of Arthur Ransome 'Secret Water'), we will be among low sand dunes and salt marsh habitats, the latter starting to come into their summer best as sea pink starts to flower.
And once alongside the estuary, birds will come to the fore, with little terns and Mediterranaean gulls, possibly the last few wintering brent geese, and hopefully an accompaniment of the local harbour and grey seals.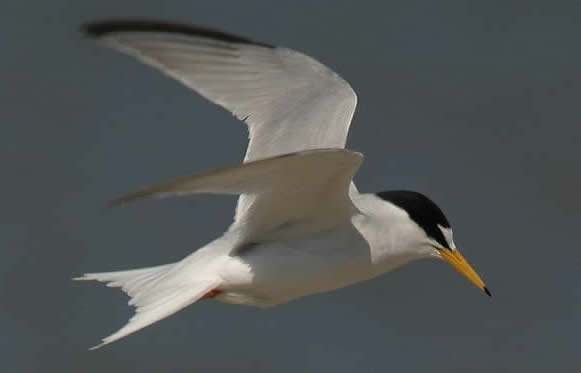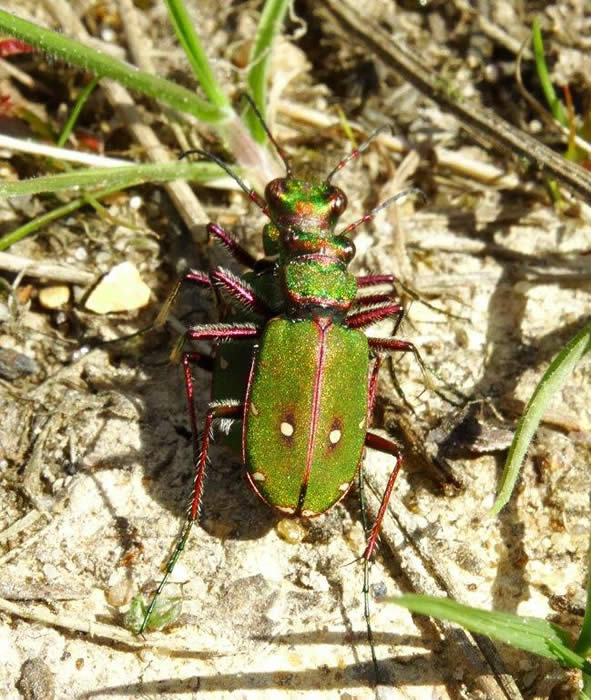 Little tern; green tiger-beetle.
Day 4: COLNE ESTUARY AND COCKAYNES RESERVE
From Wivenhoe Shipyard, we pass along the sea wall, between grazing marshes, covered in ants' nests, and extensive salt marshes - a few winter waders will still be present, marsh harriers and buzzards hunting, and reed buntings and yellowhammers singing, together with nightingales further along, on the edge of the woods.
Ascending the 'Essex Alps', with expansive views across the estuary, we will find spectacular purple gromwell and an array of vast oak pollards and coppice stools along the historic Cutthroat Lane, with a diversion into a disused churchyard, a fragment of the floral and insect riches of yesteryear.
The 8km circular walk is completed with a tour around the Cockaynes Reserve, an exceptional example of 'Life after gravel', now a mosaic of ponds, heath, scrub and ancient woodland. Sand martins and turtle doves should be breeding, and the insect delights should include hairy dragonfly, four-spotted chaser, green hairstreak and Mother Shipton and speckled yellow moths.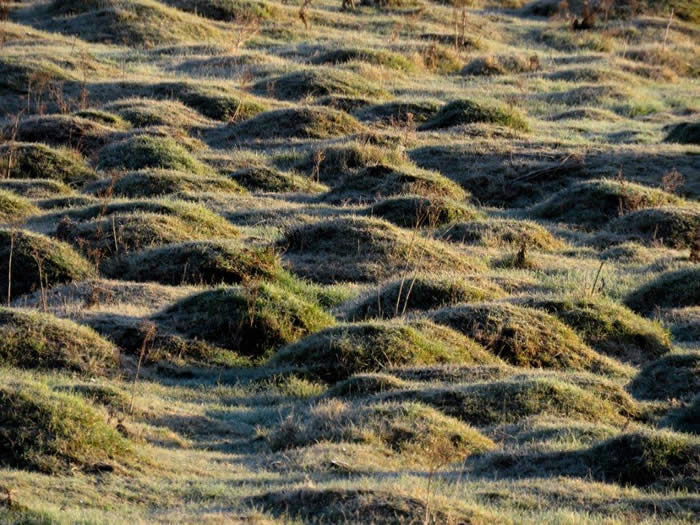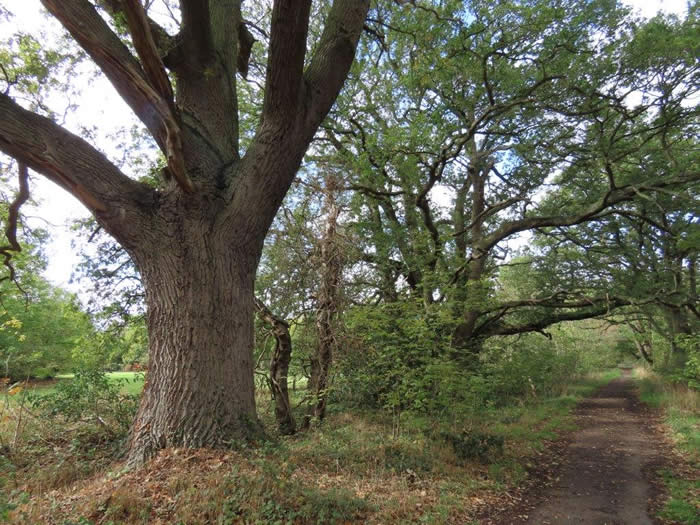 Barrier Marsh and anthills; Cutthroat Lane.
Day 5: HALF DAY VISIT TO BETH CHATTO GARDENS, & DEPARTURE
Just a couple of miles from the hotel, the internationally renowned Beth Chatto Gardens will wrap up the week's events very well. Planted on ecological principles by Beth, ahead of her time, this is a garden of the future, with plants tolerant of drought and climate change, and teeming with insect life. Truly inspirational, a glimpse of what we are missing from the Mediterranean right now, and an opportunity to fill your car boot with plants to fill your gardens. Entry fee payable.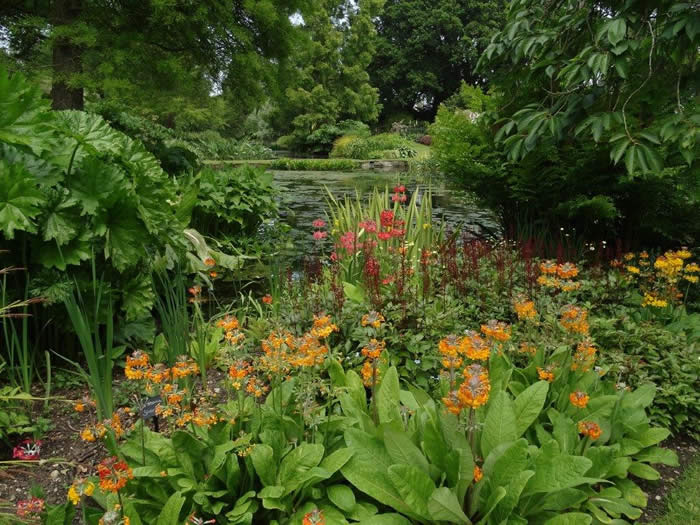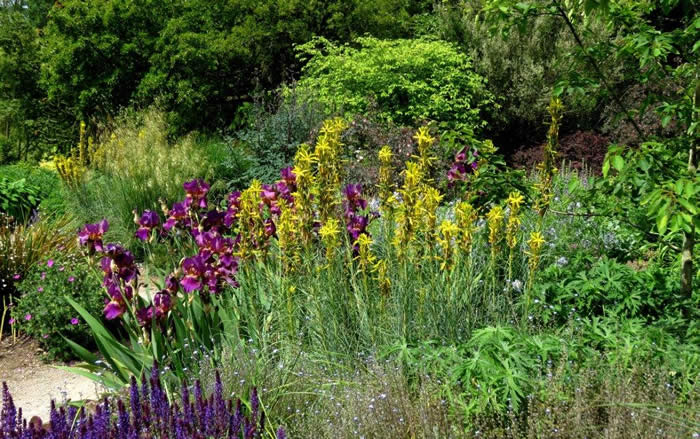 Beth Chatto gardens.

Hotel
You will be staying at Wivenhoe House, a beautiful 18th Century four-star hotel, near to the pretty quayside village of Wivenhoe, and minutes from Britain's oldest recorded town, Colchester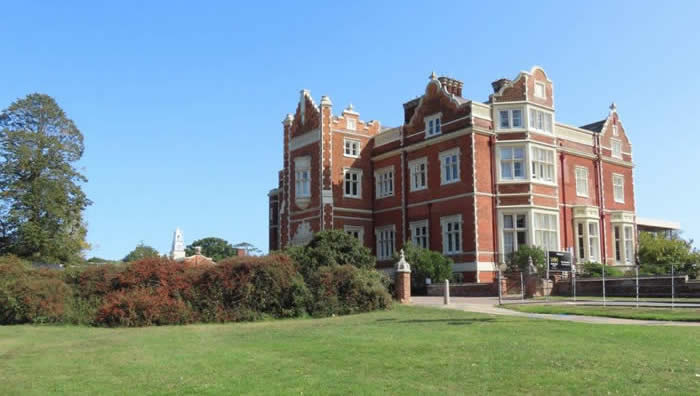 Wivenhoe House Hotel
It is set within Wivenhoe Park, famously captured on canvas by Constable, and now home to the University of Essex.
You can look forward to comfort, good food and full Covid-safety awareness.
En suite facilities.
For anyone who is interested, please contact us and we will email with details of how to book the special package arranged for Honeyguiders. This package includes breakfast and an evening meal. Arrangements for you to pick up food for lunch in the field are included in the plan. The hotel's practice is "No cancellation fee on all bedroom packages", to give reassurance should plans have to change e.g. due to coronavirus circumstances.
How to book
Step 1: tell us you wish to come. Step 2: book a room at the hotel.
No Honeyguide booking form is needed. Just keep us informed!
Hotel cost: the hotel's classic rooms are reserved for our group; upgrades may also be available. You will be advised about prices and the booking process by email. There will be no fee for cancellation if Covid circumstances/rules change.

Holiday details
Days/dates: the dates above are three full days and two half days in the field, Monday to Friday. Some people may have four nights at the Wivenhoe Park, to arrive on the Monday and leave on Friday morning, though arriving earlier (the Sunday) and leaving later is also an option.
Price: £100 per day fee for your guide (including guide's expenses and conservation contribution).
Deposit: none to Honeyguide. You will be invoiced after the break.
Local travel: in your car, or options by train. Car sharing by mutual agreement and according to any Covid-19 protocols that may be in place. No minibus is being booked.
Group size (one guide): 8 plus guide.
Conservation project
£40 per person will be donated to Essex Wildlife Trust.
Guide
Dr Chris Gibson www.chrisgibsonwildlife.co.uk is both a local resident in Wivenhoe, north Essex and an experienced tour leader. Chris regularly leads for Honeyguide in the Spanish Pyrenees and elsewhere. Chris was a marine conservation specialist for Natural England. He is an outstanding all rounder, from birds through flowers to moths, recognised as a 'naturalist of distinction' by the British Naturalists' Association. Photos on this page by Chris Gibson.