Serranía de Ronda
24 February – 2 March 2022
Springtime in southern Spain – during our winter
Inland from Málaga, the hills of the Serranía de Ronda offer an attractive mix of white-washed villages, varied landscapes and wildlife. The area's rich history and gastronomic delights add to the appeal as a late winter destination – with spring well underway in Andalucía.
The Serranía de Ronda combines two areas. Rugged limestone cliffs in the Sierra de Grazalema have vulture colonies and a range of unusual plants, including the rare Spanish fir, within the Natural Park. Parts of the Sierra de las Nieves are snow-covered in winter, as the name suggests, and wild enough for Spanish ibex and mouflon, albeit rarely easy to see. Spanish daffodils grow here and at the edge of the tree line we have an introduction to black redstarts, firecrests, short-toed treecreepers, crested tits and the chance of a golden eagle.
We are also within range of steppes and wetlands. On the plains around Osuna we'll be looking for bustards with a supporting cast of big flocks of wintering skylarks, corn buntings, Spanish sparrows and calandra larks as well as Iberian grey shrike, Dartford warblers, wintering bluethroats, ravens and hoopoes. Rock formations and Osuna's striking architecture featured in Game of Thrones.
We spend a day in the wetlands at Fuente de Piedra, enjoying the spectacle of hundreds of greater flamingos. Also there are black-winged kites and purple swamphens with avocets, black-winged stilts, stone-curlews, Kentish plovers among a variety of waders. As well as wintering shelducks, shovelers and teals we will look for red-crested pochards and white-headed ducks.
A leisurely day includes time spent in and around the historic city of Ronda. There are palaces, churches and and a bullring though the dominant sight is the dramatic El Tajo gorge with its three bridges: one Roman, one Moorish and one 18th century. Birdwatchers may get distracted by crag martins and red-billed choughs and crossbills are possible in the town parks.
Gastronomic delights
Our base of Júzcar was one of the pueblos blancos – white villages – until painted blue for a Smurf film, and for now the town has voted to keep its new colour. The charming Hotel-Restaurant Bandolero offers comfort and stunning views of the surrounding mountains but it's the reputation of the food that is a special draw. Chef Iván worked in top London restaurants before returning to his home area to run this business with his partner. Complementing this theme are Simon and Niki's picnics, also prepared with local ingredients including home-baked bread.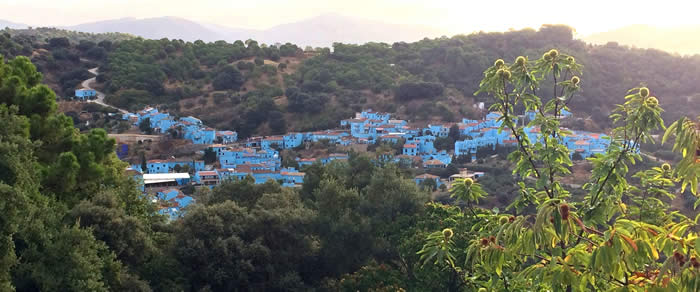 The former white (now blue) village of Júzcar.
Birds
Birdwatching is the main focus on this holiday. As well as those noted above, wintering ring ouzel and hen harriers are possible here, as well as black wheatears, alpine accentors, rock buntings, Bonelli's eagles, blue rock thrushes, rock sparrows, Thekla and crested larks, cirl buntings, hawfinches, dipper and grey wagtail. Swallows and martins add a springtime feel.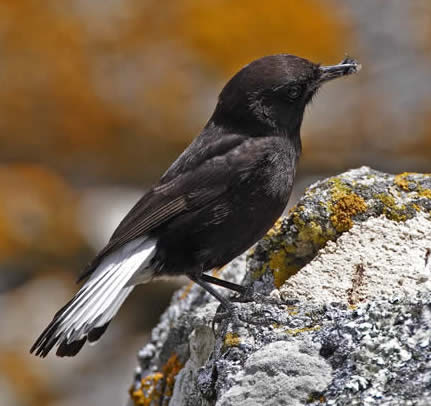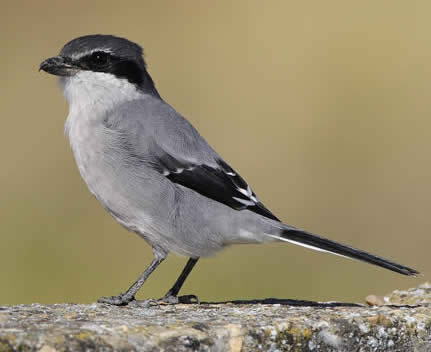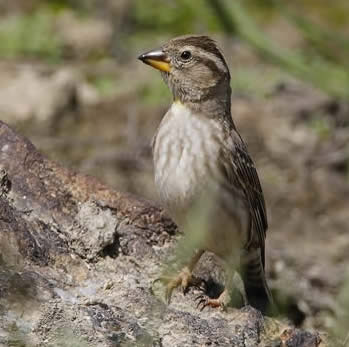 Black wheatear, Iberian grey shrike, rock sparrow (Steve Fletcher).
Flowers
We are here at the start of spring and early orchids are likely, such as giant orchid and sombre bee orchid. We expect paperwhite narcissi, irises and red-berry mistletoe plus more to be discovered.
Other wildlife
Bright days will bring out butterflies and lizards. It's a surprisingly good time for moths and our leaders plan to run a moth trap. Giant peacock moth is very possible and out in force at this time of year is the elegant-looking Lemonia philopalus.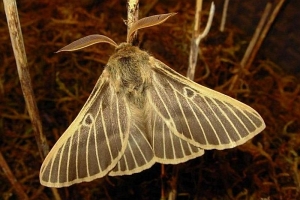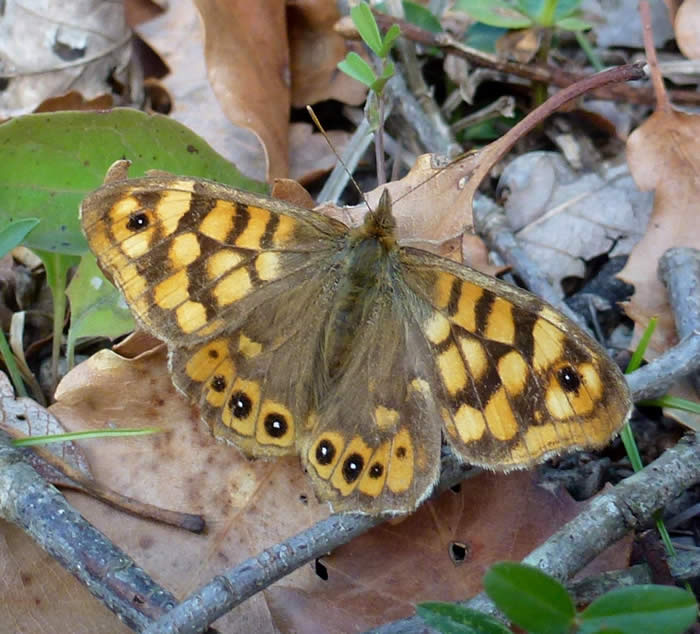 Lemonia philopalus (c/o lepiwiki); southern speckled wood.
Itinerary
As well as travel days the five full days will be a mountain birdwatching day, a wetlands day, Ronda and around, the plains, and a local day in and around local sweet chestnut and holm oak woods and elsewhere in the limestone Serranía de Ronda.
Holiday details
Price: £1,600 per person in in twin or double room for six nights (Thursday to Wednesday).
Single room supplement: £120
En suite facilities
Flights: Scheduled easyJet flights Gatwick to Málaga.
24 February: EZY 8601 depart London Gatwick 06:45 arrive Málaga 10:40.
2 March: EZY 8606 depart Málaga 14:00 arrive Gatwick 15:55.
Deposit: £400
Maximum number (two leaders): 14.
Leaders
Simon Tonkin worked as an RSPB conservation officer for many years, specialising in the challenging job of stopping the decline of farmland wildlife. He also lectures in ornithology and regularly leads wildlife holidays.
Niki Williamson was a warden at the RSPB's Ouse Washes nature reserve, then worked on projects for helping farmland birds in the Fens and subsequently managed the RSPB Eastern England's farm wildlife advisory team. Both Simon and Niki are now full-time nature guides under the name Inglorious Bustards, based in the Strait of Gibraltar and specialising in leading tours all along the East Atlantic Flyway.
Conservation project
| | |
| --- | --- |
| SUPPORTING | Migres monitors bird migration though the Strait of Gibraltar. A key role is measuring the impact of the many wind turbines in the area on migrant birds of prey. This includes advising on when to switch off turbines, when migration is heavy. |