The Cévennes
31 May – 8 June 2017
Causses and gorges in a little-known corner of France
The southernmost outpost of the Massif Central, before it plunges down into the Mediterranean heat of the Languedoc plain, is the vast limestone plateau of the Grands Causses. Monstrous movements of the earth's surface cracked this slab into sections, and water poured into the cracks, forming deep, dramatic gorges.
The largest of these carries the Tarn, one of France's most famous and spectacular rivers. Smaller rivers, the Jonte and the Dourbie, flow into the Tarn and the ancient town of Millau, near their confluence, is now famous for its magnificent bridge, the Millau Viaduct. Enchanting villages of honey-coloured stone are scattered in strategic positions on hillsides and beside rivers, each with its Romanesque church; the Knights Templar had strongholds in the area.
To the east of the Grands Causses, limestone gives way to schist and granite hills, culminating in the peaks of Mont Aigoual (1567 m) and Mont Lozère (1702 m). This is the true Cévennes, made famous some 130 years ago when the youthful Robert Louis Stevenson narrated his 'Travels with a Donkey'. The whole area is now recognised for its landscape and natural history as the Parc Regional Naturel des Grands Causses and the Parc National des Cévennes.
Ancient landscapes are entwined with cultural history. On the steppe-like plateaux of the Grands Causses, the characteristic small brown sheep, the brebis, have been fundamental to agriculture for many centuries. The sheep are milked for what many consider to be the finest cheese in the world – Roquefort. The cuisine is rich and inventive. The sweet, flavourful meat of the brebis and Roquefort cheese often play a part: you can have Roquefort in every course! Aligot, a dish of soft cheese and potato, devised by shepherds to prepare far from home, is not to be missed.
For many years, a railway transported people and produce across the Causse. The line itself is long defunct but several railway buildings remain along the old track. Above Nant, up on the Causse du Larzac, the Gare aux Ânes, the 'donkey station', renowned for many years as a restaurant, is a perfect base for Honeyguide.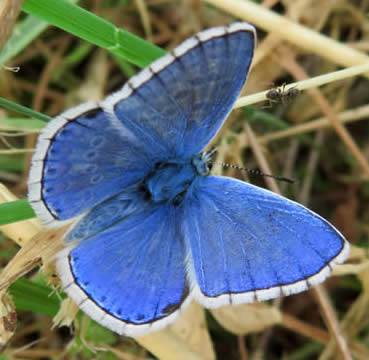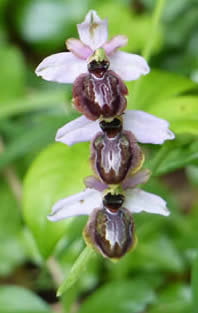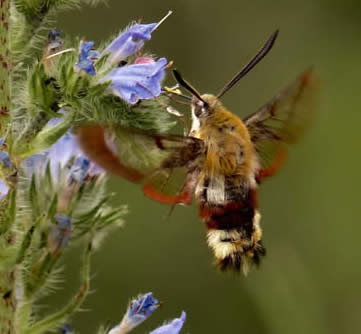 Photos from 2017: Adonis blue (Ron Fitton & Val Appleyard), Aveyron orchid, broad-bordered bee hawkmoth (Heather & Leslie Green). 
Birds
If there is an iconic bird of the region, it is the griffon vulture, thanks to a highly successful reintroduction programme. Craggy cliffs of the gorges also provide nesting sites for choughs and golden eagles. The open, rocky causse landscape offers productive feeding for short-toed eagles, harriers, shrikes and wheatears. Woodlands and scrub echo to the song of nightingales, joined at nightfall by churring nightjars. Around villages, the song of serins and black redstarts may be heard, and the air is alive with swifts and crag martins.
Flowers
Nothing can outdo limestone for the richness of its flora. Grassland is white and yellow with rockroses and fragrant underfoot with wild thymes. Roadside screes are pink and blue with rock soapwort, fairy foxglove, flax and aphyllanthes. On granites and schists we find saxifrages and cinquefoils; in the rich meadows, wild tulips and narcissi.
There are orchids too, a wide range of species, some in great profusion: carpets of lesser butterfly orchids among feather grass, banks of early purple and elder-flowered orchids on damp streamsides. Lady, monkey, man and military orchids are abundant (and hybridising!). There are two endemic Ophrys species.
Other wildlife
European beavers have been successfully reintroduced into the river Dourbie, close to our base. A herd of the rare Przewalski's horses has been established on the Causse Méjean, in a habitat akin to their native steppes. Reptiles are abundant: green and wall lizards and harmless viperine and grass snakes.We may hear the bell-like call of midwife toads at night. The open scrub and grassland of the causse is rich in butterflies and other insects.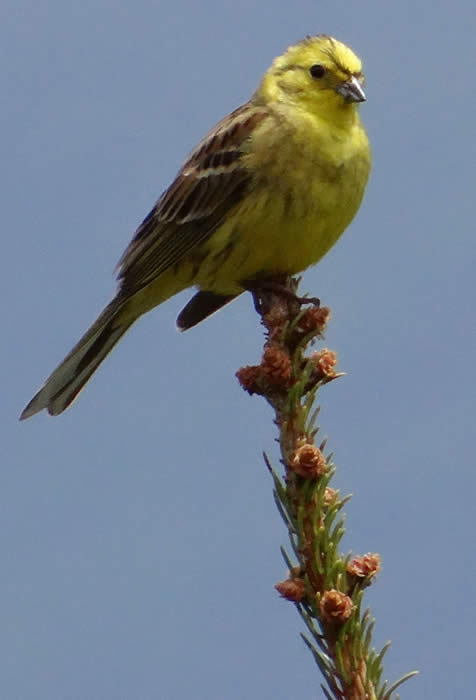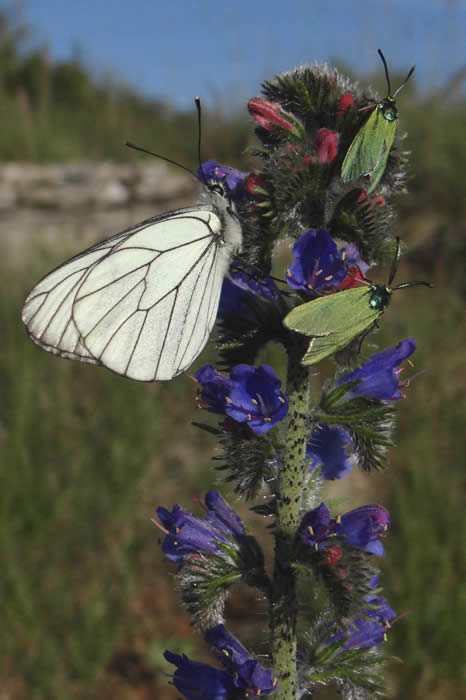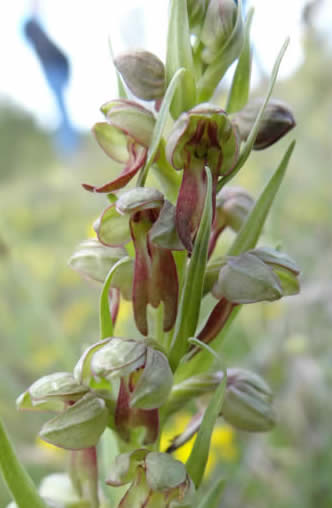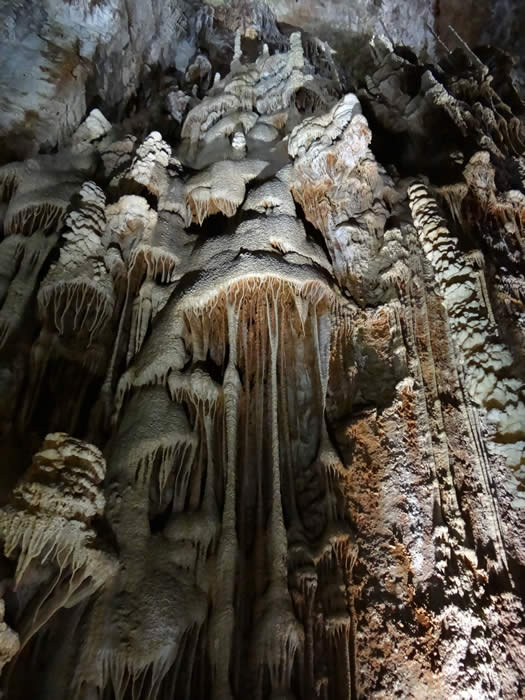 Photos from 2014, all by John Rumpus: yellowhammer; black-veined white with forester moths on vipers bugloss; frog orchid; in the cavern of Aven Armand.
Holiday details
We have limestone and granite to explore, three rivers with their magnificent gorges and several causses, each with its own individuality. There are flower-rich grasslands, pine, oak and sweet chestnut woods, rocky cliffs and scree and tumbling rivers. We shall drive to the top of Mont Aigoual, visit the Templar village of la Couvertoirade, the Roquefort Caves and the famous Aven Armand – a beautiful cavern big enough to accommodate Notre Dame Cathedral. A good look at the Millau Viaduct is a must and lunch one day at the best local ferme auberge is on the schedule.
Price: £1,500 per person in twin room for eight nights (Wednesday to Thursday)
Single room supplement: £200 (two only)
En suite facilities
Flights: scheduled easyJet flights London Gatwick to Montpellier.

Deposit: £300
Maximum number: 14
Leaders
Robin Hamilton has a wide knowledge of western and central Europe and its wildlife, especially birds. He worked for many years for English Nature.
Rachel Hamilton spent her working life teaching natural history and conservation with the Field Studies Council and at Otley College in Suffolk. She is an enthusiastic all round naturalist, though her first interest is botany. Robin and Rachel, both of whom are experienced wildlife leaders and keen linguists, are regular leaders in France.
Conservation project
Conservation contributions from this holiday support work to protect the vultures and other wildlife of the Grands Causses. La Ligue pour la Protection des Oiseaux (LPO, the French Bird Protection League) runs a programme of habitat management in partnership with landowners, combined with research, survey and education.

Lammergeiers in the Cévennes
Future groups in the Cévennes may be able to see lammergeiers, in addition to other vulture species.
Two young captive-bred 'casseurs d'os' (bone-breakers) were set free on a cliff in June 2012 by a project involving La Ligue pour la Protection des Oiseaux (LPO), Cévennes National Park, European Union, Vulture Conservation Foundation and the Grands Causses Regional Natural Park (pictured, above), where the birds were released.
It's part of a project to re-establish lammergeiers in their former range in Europe, here between the thriving wild population seen by many Honeyguiders in the Pyrenees and reintroduced birds in the Alps. More information here, in French.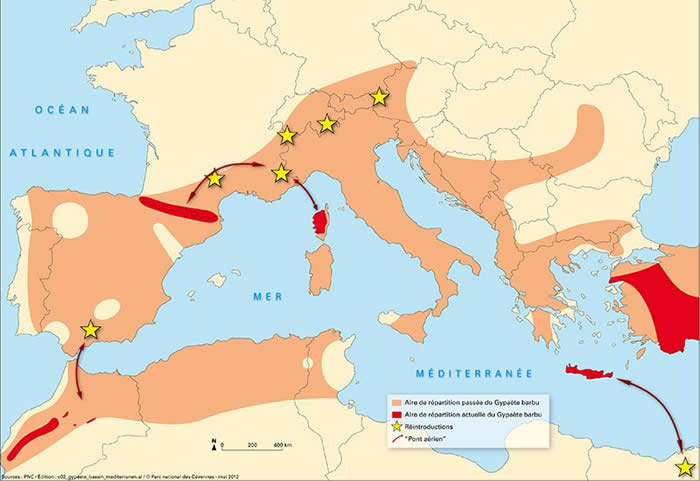 Distribution of lammergeiers in Europe (courtesy LPO)
Red: present distribution. Pink: former distribution. Stars: reintroductions.