Portugal in winter
21 — 28 January 2023
L
isbon, Alentejo and bit of the Algarve
These are the likely dates (plus or minus the odd day) for 2023.
This is a holiday twice thwarted by coronavirus restrictions, in 2021 and 2022. It's still to be decided if this will run in 2023: expressions of interest will help a great deal.
Mainland Portugal receives wintering birds from most of north-western Europe. Large congregations of birds join local residents to give visitors a festival of birds, based on big numbers.
Combined with a relatively mild climate in mid- and late winter, beautiful landscapes, plenty of other wildlife plus good food and wine, this holiday offers the ingredients for a nice break from the British winter. Spring arrives early here: the first few house martins and swallows should be in and white storks will be displaying.
This is a two-centre holiday, starting in Alcochete near Lisbon, then moving to Castro Verde in Portugal's celebrated Alentejo region
Our holiday partner SPEA (BirdLife Portugal) has the 'Clean & Safe stamp'.

Turismo de Portugal created the 'Clean and Safe' stamp of approval "to distinguish tourist activities which are compliant with hygiene and cleaning requirements for the prevention and control of COVID-19 and other possible infections."
Lisbon area, especially Tejo Estuary (3 nights)
After arriving at Lisbon International Airport we have a 30 minute crossing of the Tejo Estuary to Companhia das Lezírias, where we will spend the next three nights.
Samouco saltpans give our first insight on the large diversity of waders and other waterbirds that winter in Portugal. Large flocks of grey, ringed and Kentish plovers, together with dunlin, redshank, greenshank, bar-tailed and black-tailed godwits use the saltpans and high tide roosts, while greater flamingos, avocets and black-winged stilts feed here.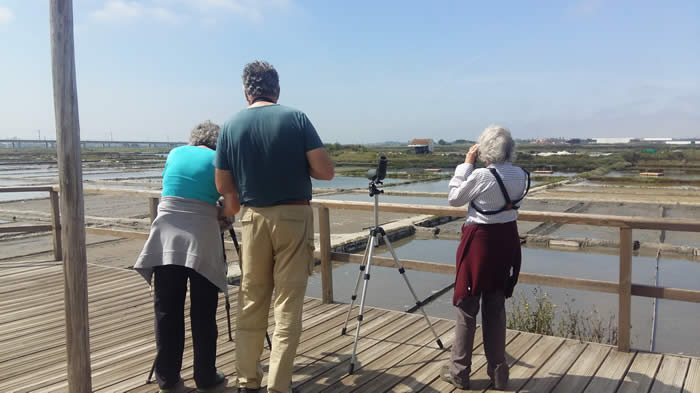 Saltpans offer good birdwatching (SPEA).
We spend a day exploring the huge wetland area of the Tejo Estuary. In the mudflats near Alcochete we can see the waders mentioned above plus little egret, spoonbill, little stint, knot, curlew, whimbrel, common sandpiper and Sandwich tern. An unpaved road runs close to the estuary and by grassland and cork oak montados (wood pasture). Here we can find black-winged kites and marsh and hen harriers. Hoopoes increasing overwinter in Portugal and woodlarks sing on sunny winter days. Iberian grey shrike, azure-winged magpie, rock sparrow and cirl bunting are also possible, among plenty of lapwings and thousands of woodpigeons. At Barroca D'Alva marshes and rice fields there should be white storks, already starting their breeding season, among great white egrets, night and squacco herons.
We leave the hotel a bit early one day to try to catch the movements of massive flocks of black-tailed godwits between their high tide roosts and the rice fields where they feed during the day. In late winter up to 50,000 of these godwits use the Tejo Estuary as a stopover site in their migration from west Africa to West Europe. We then explore the vast grasslands and reedbeds of Ponta da Erva, where we will find large numbers of birds. Geese here are mainly greylags, but also white-fronted and barnacle, among thousands of glossy ibises and golden plovers. Other interesting birds, like little bustard, short-eared owl, peregrine and merlin, might occur in smaller numbers.
The Sado Estuary we explore for waders and waterbirds, perhaps including flamingos, red-breasted merganser and great northern diver. We cross the estuary by ferry boat, with a good chance of bottle-nosed dolphin.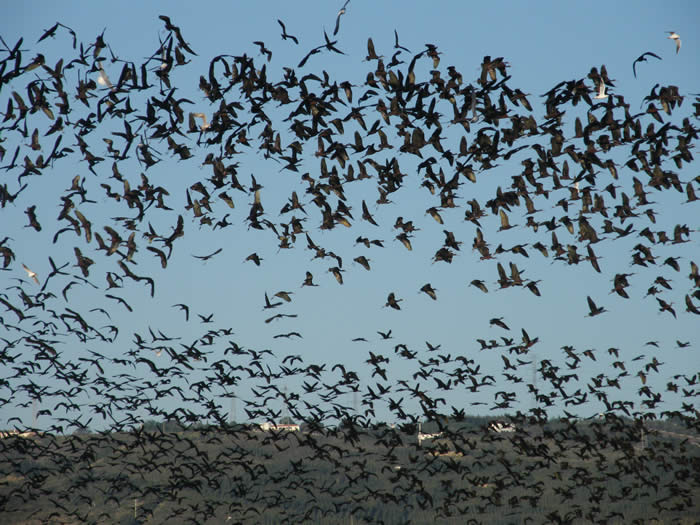 There can be thousands of glossy ibises (SPEA).
Castro Verde (4 nights)
The second part of this holiday is based in Castro Verde in the heart of the Alentejo.
Castro Verde Special Protection Area is the most important dry grassland area in Portugal, which supports more than 1,000 great bustards. Other grassland birds include little bustard, black-bellied sandgrouse and stone-curlew. Larks include calandra and Thekla, and Spanish sparrows occur in flocks.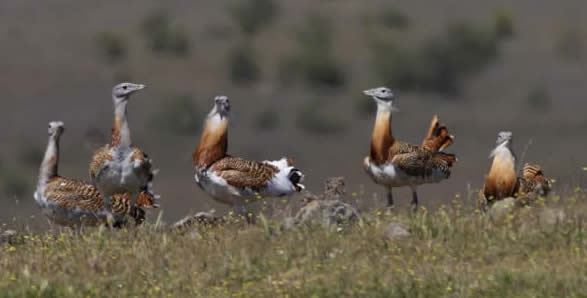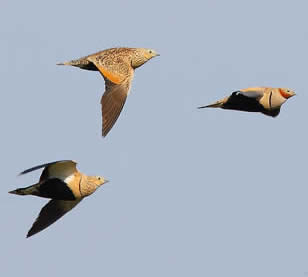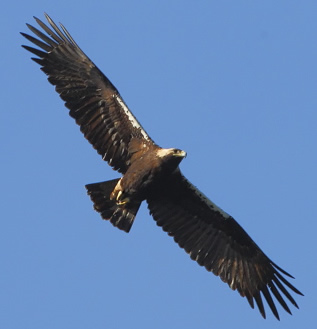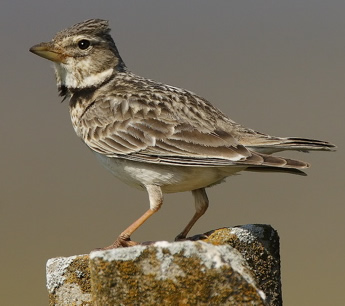 Great bustards, black-bellied sandgrouse, Spanish imperial eagle, calandra lark (all by Steve Fletcher)
This part of our itinerary includes one day on the coast of Algarve. At Ria Formosa Nature Park, at Quinta do Lago, the mudflats and lagoons of the area have a variety of waterbirds including specialities like purple swamphen, little bittern and red-crested pochard. Greater flamingos are likely here and at Salgados lagoon near Pêra. This coastal lagoon can be crowded with migratory waterbirds.
Our final day in the field takes us east to the hills of Mértola, in the Guadiana Valley Nature Park. Birds of prey can be outstanding here, including griffon and black vultures, golden and Spanish imperial eagles and red kites. Pulo do Lobo is an impressive canyon in the Guadiana River where, besides raptors, we expect to see blue rock thrush and rock bunting.
We will visit the charming medieval town of Mértola around lunchtime, and in the afternoon we search for cranes moving from their feeding areas to roosting sites.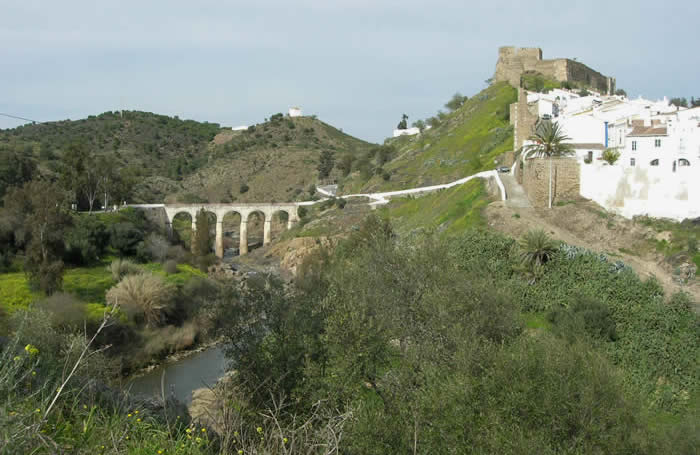 Mértola
Flowers and other wildlife
We hope to find early orchids, like giant, green-winged and sombre bee orchids. Paperwhite narcissi are winter-flowering and hoop petticoat narcissi bloom early. The timing is perfect for the Iberian version of friar's cowl Arisarum simorrhinum. and a good number of more ruderal species, such as field marigold, paronychia and henbit dead-nettle, also come into flower very early. We will be on the alert for early butterflies, such as western marbled white, and various reptiles such as wall lizards.


Field mayweed near Mértola.
Holiday details
Our first base is Companhia das Lezírias staying in twin-bedded wooden lodges in a countryside setting, surrounded by montados (wood pasture) (3 nights). More photos of this accommodation here.
In Castro Verde we stay at Hotel A Esteva (4 nights).
Price for 2023: £1600 per person in twin room (or lodge for the first stop) for a full week (Saturday to Saturday)
Single room supplement: £120
En suite facilities.
Flights: there may be other flights possible from elsewhere in the UK, though they'd need to tie in with the arrival of the main group.
Ryanair flights, London Stansted to Lisbon.
21 Jan 2023: FR2874 depart London Stansted 11:50 arrive Lisbon 14:35
28 Jan 2023: FR2875 depart Lisbon 14:55 arrive London Stansted 17:35 
Deposit: £400
Maximum numbers: (two leaders): 14.

Leaders
Chris Durdin is the driving force behind Honeyguide, running holidays since 1991. For many years he combined this with his work for the RSPB in Eastern England, often the Society's spokesman, but has been concentrating on Honeyguide full-time since 2009. Chris is the co-author of a book about Norfolk's cranes and leads regular walks on his local wildlife trust nature reserve, Norfolk Wildlife Trust's Thorpe Marshes. He's also a barbershop singer. As a naturalist, Chris is an all rounder.
The SPEA leader is likely to be Lara Broom, who is SPEA's Sales and Membership Officer (pictured). Other SPEA leaders in the past are Hugo Sampaio (in the group of three). Originally Honeyguide's holidays in Portugal were co-led by Domingos Leitão, who maintains a close interest and help. When Domingos became SPEA's Executive Director, its senior staff member, it became impractical for him to take a week out to be a Honeyguide leader, though he will join the group for a time if his busy diary allows.
Conservation project
Sociedade Portuguesa para o Estudo das Aves (SPEA, BirdLife in Portugal) will receive our donation, and SPEA advises on a current priority project for funding.
The donation in November 2017 (Algarve holiday) was directed to SPEA's Marine Conservation Department, to a campaign against oil drilling off-shore by the Algarve coast. New release and news coverage here.

Donations in Portugal for the holiday here in November 2015 supported campaigning against the illegal capture and sale of wild birds - more about that in our news release here. Also more on previous projects and Honeyguide's links with SPEA) here.

SUPPORTING